In the age of online shopping where every brand tries to advance their online presence and win more sales, how can your online store triumph over the others? There are many vital factors contributing to a successful eCommerce website, such as product quality, delivery costs, customer service, and more. However, one thing that is often overlooked but highly essential to keep customers staying at your store is to present an excellent web design.
It's long been known that users spend around only 0.05 seconds to make their opinions about your website and determine whether they will stay or leave. Therefore, it's essential to wrap your eCommerce website in cool and attractive designs that can easily grab users' attention, and at the same time deliver a satisfying and friction-free shopping experience. Let's dive into the best practices of how you can design your eCommerce website following the customer journey to make sure they can enjoy the best shopping experience at your e-store.
eCommerce website design checklist
What makes a successful eCommerce store design? Let's review five major features that are considered must-haves for an online site.
1. Trust and security
First and foremost, customers need to feel that they can trust your brand, especially those who are first-time visitors. They haven't learned anything about your site yet and have no idea about your store, the product quality, or your customer service, so their initial impression about your brand might rely solely on what your website presents to them. Findings from Adobe revealed that 71% of UK consumers will make more purchases from brands they trust, and abandon brands they don't. Therefore, it's pivotal to design a store where customers feel that their privacy and payment information are protected, and they can trust your site and your product.
2. Responsive format
The idea that customers only browse websites and online stores on desktops is a story from the past, as customers now love searching for product information and making purchases on smart devices. In fact, almost 62% of smartphone owners use mobile devices to shop, meaning that making your eCommerce site responsive to all devices is a must. Your store should be designed to be friendly with different smart devices and screen sizes, be it a desktop, tablet, or smartphone.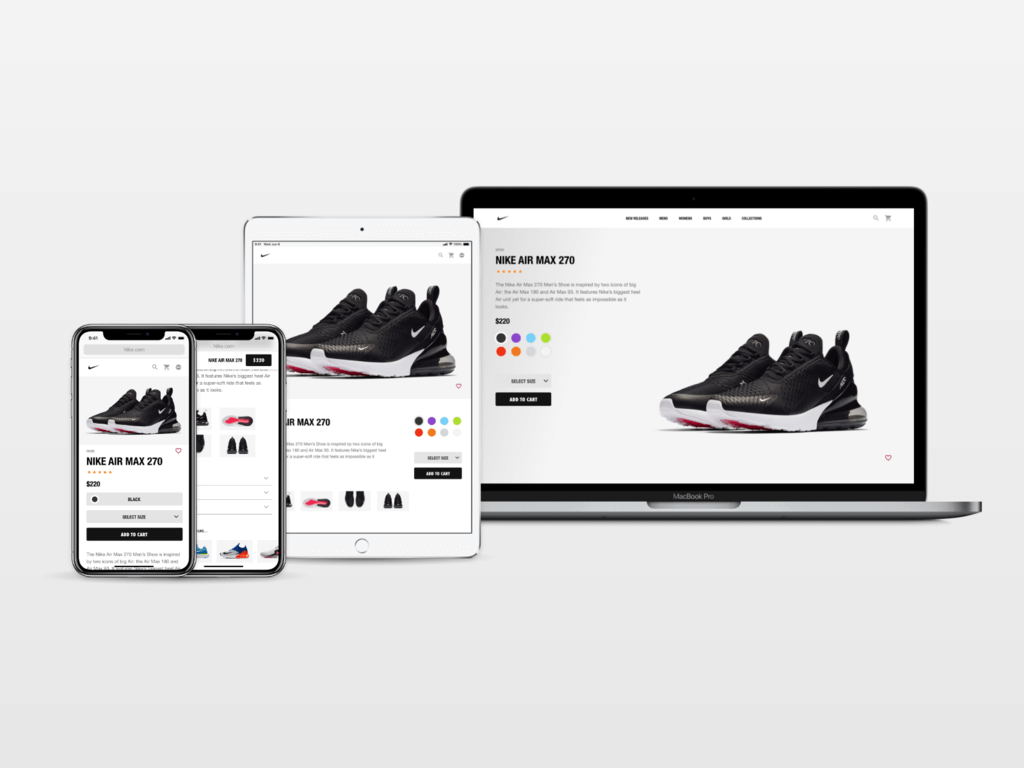 3. Attractive visual design
Visual appeal is apparently the main, or in fact, the only way, to help customers imagine your product and decide to make a purchase at your store or not. Selling online means that customers have no ability to touch, taste, smell, wear or try on your product before they buy, so beautiful visuals, such as image and video demonstrated in a clever frame will surely be the weapon to entice customers to stay longer. Consider using eCommerce product configurator to better present your products and let customers configure items the way they want to.
4. Easy-to-follow navigation
Navigation is an umbrella term referring to all UI elements or navigational components that help users to move around your website or around a specific product category. Easy-to-follow navigation is what customers need to browse your site and find what they need without any difficulty, which helps them save time and enhance their shopping experience. Choosing the best navigation theme might depend highly on your product types and catalog size, so make sure to analyze your business before deciding on a proper navigation style.
5. Excellent UX/UI
There's nothing customers want more than enjoying an attractive online website design and a seamless shopping experience. In order to do so, it's essential to implement a clever UX/UI design that goes along with customer shopping flow, pay close attention to user experience and adhere to best practices of eCommerce website design that we will explore in the next part.
Best practices for a successful eCommerce website design
The best way to prepare your eCommerce website design for success is to optimize every page of your site following the customer purchase journey. By intelligently designing every step in the roadmap of how potential customers interact with your business, not only could you convert potential clicks into actual transactions but also persuade customers to come back to your site multiple times. In short, an excellent eCommerce website should be able to take a new visitor who doesn't know anything about your business to buy your products and even become a loyal customer in the future.
1. Navigation elements
The first and foremost important task of designing your online websites is to determine the structure and composition of your site. This is not only crucial to let customers move around your website without any hindrance, but well-structured navigation is also a deciding factor contributing to your site's SEO ranking. Your navigation should be intuitive with clear demonstration to help visitors effortlessly search for desired information and go to whatever pages they want to at any time during their purchasing process.
One easy but powerful tip when it comes to designing the navigation menu is to make it simple. Don't get too fancy unless you want your visitors to get lost and leave your site without finding any valuable information.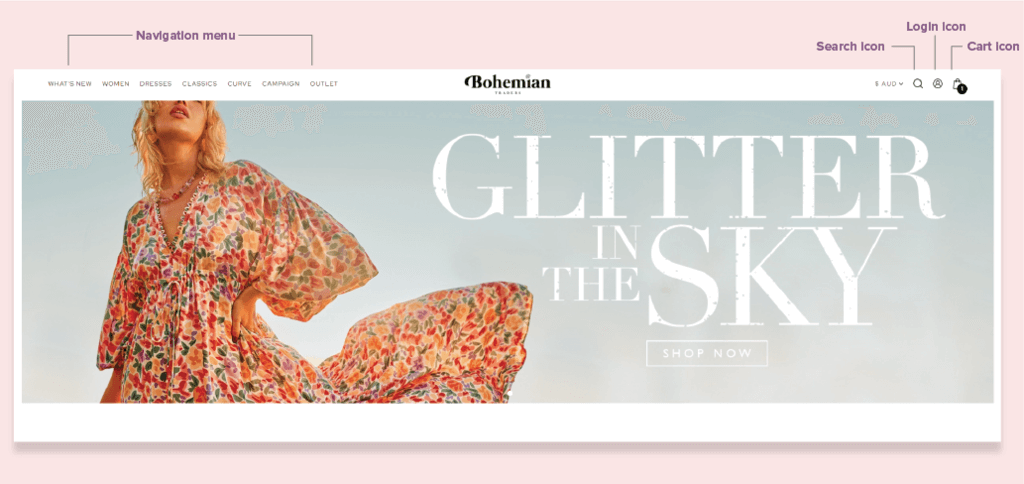 – Menus
An easy-to-follow navigation menu should present all sets of categories that your site offers. All your main pages should take up the top level of the dropdown menu. Depending on your product types, group your items into sub-categories to appear beneath the top-level menus.
– Product search
Product search icons should be visible on every page of your eCommerce website. What will your customers buy if they can't find their wanted items? Therefore, you should invest time and effort in building your product research with some useful functions that help customers to find what they are looking for in a blink of an eye.
Support all kinds of search queries: Search function should involve all types of queries that customers might come up with, such as item names, product category and relevant keywords.
AI-powered search bar: In the past, eCommerce stores often utilized sample search query in the input to suggest to customers the information type that they can search for. With the advancement of AI, now you can place an AI-powered search tool to auto-complete customers' search queries. This function makes it easier for users to find exactly what they are looking for, as the suggested term can lead to a more exact result at your online store as well.
– Cart icon
Along with the search bar, your cart icon should also be omnipresent on every page at your site. This helps customers know how many items they have added to their cart and easily review them when clicking on the cart button. A more advanced idea is to enable preview mode when they hover over the cart icon. Simply clicking on the shopping cart icon takes buyers directly to the checkout page to finish their purchase anytime. 
– Login icon
This icon lets your user click to either log in or visit their account. Similar to the cart icon, this button should also be placed visibly on every page of your online site so that customers can click on it every time they want to. Even when you do not require your customers to login in order to view items or make a purchase, it's still beneficial in the long term to prompt them to sign in, as you can collect their information like email and birthday date easier. This is one simple yet powerful tactic to convert one-time visitors to loyal customers that many online stores have yet to think about.
2. Homepage
Imagine your eCommerce website is like a house, and visitors are guests that come to your house for the first time. Home Page is like your living room, and you might want to make it nice so that they will have a good impression of you and your home. Design your homepage to not only impress new visitors but also help them to understand your business in a matter of seconds. Here are a few ideas of how you can design the homepage of your eCommerce website to make an immediate good impression:
Image delivering your business ideas
Should you use high-quality pictures on every page of your site? Of course. But the picture on your homepage is more special, as it should be able to clearly represent your brand and evoke customers' trust. Make use of this chance to show customers your professionalism and again, make a strong impression in customers' minds. After all, a picture is worth a thousand words.
Attention-grabbing headline
Many of us often focus on images and graphics over text when designing, but actually, both are equally important when it comes to planning your homepage header. Your headline should grab visitors' attention in seconds, and immediately highlight what your business offers.
Call-to-action above the fold
It's true that not many customers decide to make a purchase after they have just landed on your eCommerce site for seconds, but it is still a good practice to put a prominent CTA that is relevant to your products. This encourages your customers to take action after scrolling your site, or they might come back the second time and easily find the CTA button to click. For many lazy users, a bold and clear CTA that directly takes them to the category page is a good idea.
Present best sellers and featured products
Place best-sellers products on your home page to capture customer attention. Your homepage is the place where you introduce visitors to your site and try to make a good impression, so don't throw everything you have in front of them. Try to only select the most-wanted items or featured products for special events and occasions.

Product quick view displays the most essential product details in a modal window to help customers view any wanted product in seconds without having to load a new page. This feature may not be widely adopted yet, but many fashion and clothes retailers have taken advantage of product quick view to eliminate unnecessary page loads, which helps window shoppers truly enjoy the shopping experience. Do not try to show every detail of your product, instead, include a link to the product page, and don't forget to include the "Add to cart" and "Save to wishlist" buttons. Product quick view can be placed either on your homepage or on the category page or both depending on your business intentions.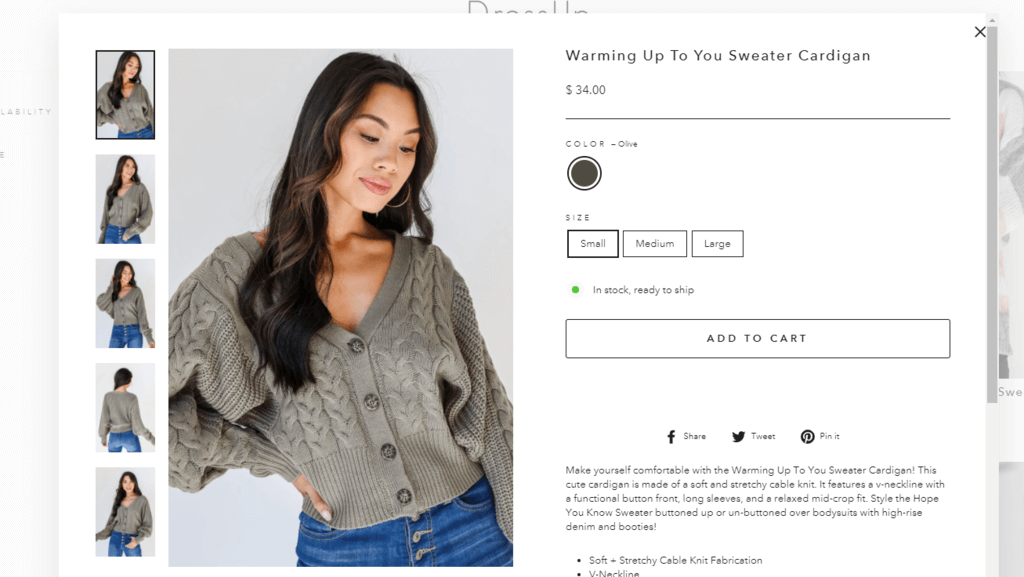 3. Category page
The category or product listing page is the place where every product of your store is listed under the product category that you have defined. For example, a skincare retail brand might have more than hundreds of products, but they are categorized under 'face', 'body', 'hands', etc. page. The main purpose of the category page is to help visitors easily find what they want to shop among hundreds or even thousands of items on your site. The product-searching task might be painful for users if you fail to design a clear and useful category page.
If your store is only selling a few products, there's no need to divide them into smaller groups, and you can place all of your items on the product listing page. However, most eCommerce will normally have to divide products into several categories, so you can make your product listing page effective by focusing on the product category grouping and filter function.
Category name: Your category name should be clear and immediately highlight all products customers can find in this section. Try to use universal names, rather than branded or too specific names for categories.
Filtering and sorting functions: On each category, there are still hundreds of items that customers need to browse. Even inside a single category, filtering and sorting functions are still essential to help customers look for a specific product. Let them sort the results based on various criteria (price range, size, color, brands, product rating, etc.).
Stock availability: It's better that you display the "out of stock" sign upfront, rather than let customers find out when they have decided to move to the checkout stage. Besides, stock availability can help you highlight which items are in short supply, or about to run out of stock, which motivates customers to purchase them quickly.
A great example of category page design is from Bliss, a beauty & skincare brand. Everything customers need to find is presented clearly and beautifully in a grid view.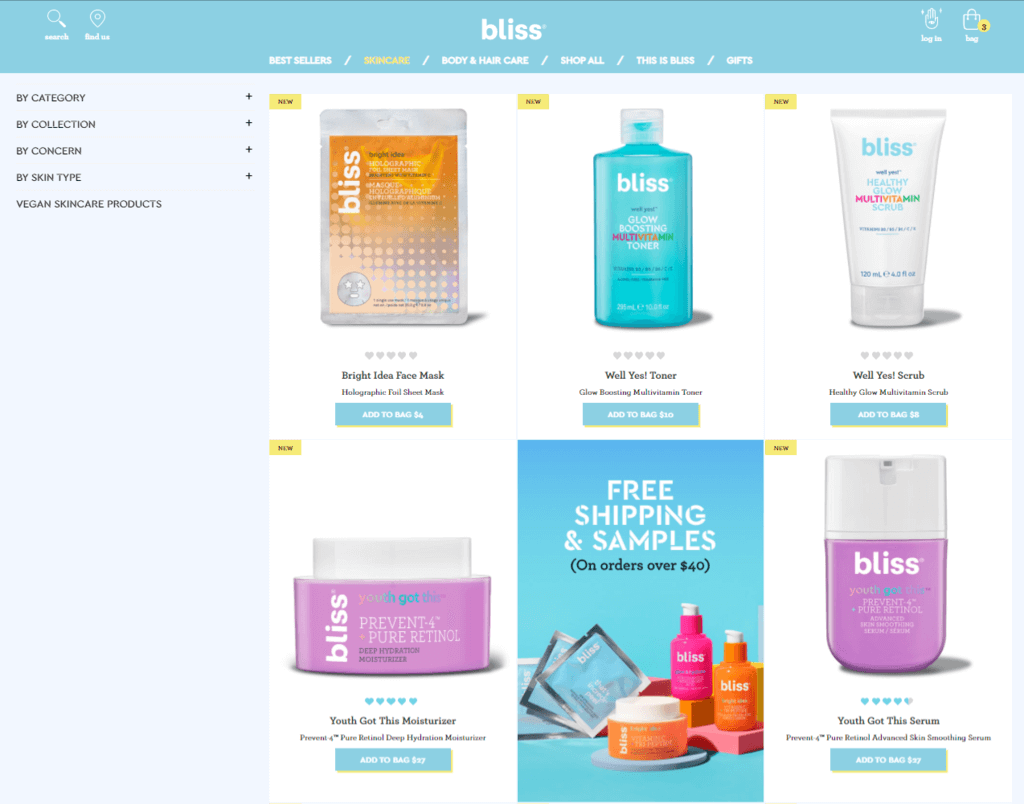 4. Product page
At this stage, customers have successfully found the product they want and decided to click on a specific item to obtain more information and decide whether to make a purchase or not. As online shopping means customers can't physically see, touch, or try out an item, they can only rely on what you offer on the product page to visualize what they are going to buy. Therefore, your individual product page should be as descriptive and informative as possible to create an in-person shopping experience. Here are some practices you can apply to design your product page:
– Product visualization
White background: The background needs to make your product stand out. A white background works best with almost any color scheme, so it will help customers view your product clearly.
High-quality images:  Good images help customers visualize what they are going to buy better. High-quality and attractive images in all product angles will deliver a more complete sense of the product. Consider using a photo slideshow with a zoom-in feature to help customers view details of your product.
Product configurator: Give customers an effective tool to configure what they want to buy and have a vivid visualization of products in 2D or 3D dimensions.
Product video: A video can deliver more information in only a short amount of time and it has the ability to show off the product in use and functional information.
– Product descriptions
Customers need to have detailed information on everything related to the product, including sizes and colors options, size chart, total cost, estimated shipping time, returns policy, and more. The better customers understand your product, the more likely they will make a purchase at your store.
Though your product description should be as detailed as possible, you might not want to confuse customers with too much information at the first glance. Try to include a summary next to the product image and provide details after the "Add to cart" button. By doing so, customers will not be overwhelmed and they can come to detailed descriptions when needed.
– "Add to cart" button
The "Add to cart" button should be the center of your product page. It should be big, prominently displayed and contrasted with other colors on the page. The best practice to design the "Add to cart" button is to make it simple but stand out so that customers don't have to look elsewhere when they want to make a purchase.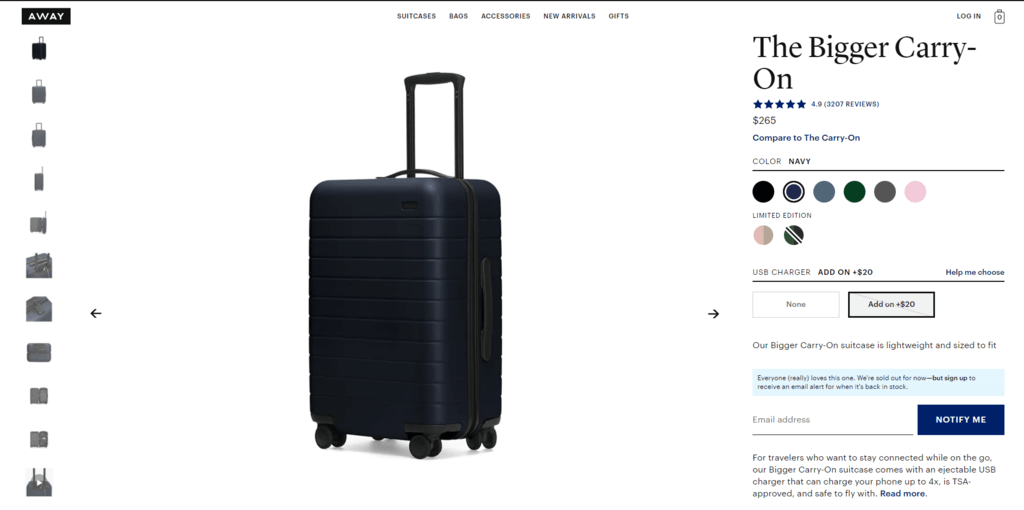 – Recommended products
Your product detail page is a great place to up-sell related items. Simply placing a related or recommended products section on the product page will gently demonstrate what customers might need and potentially encourage them to continue shopping. However, this strategy is only effective if your suggested products are relevant and able to meet customers' demands.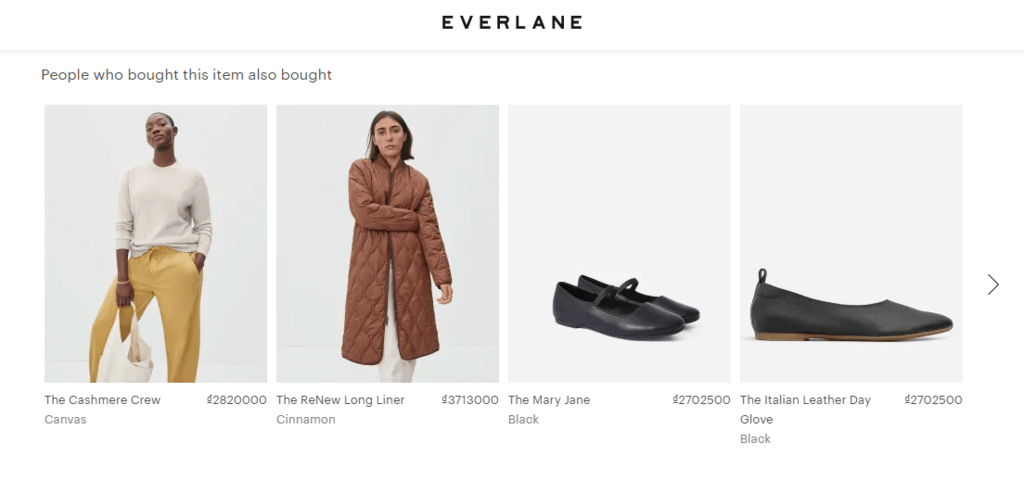 – Customer reviews & testimonials
The ultimate goal of the product page is to persuade customers to make an order, so trustful customer reviews and testimonials can help customers gain a reliable view of your product. The customer review section can come in different styles, but remember to keep it short and provide authentic reviews from customers.
5. Shopping cart
The shopping cart is the place where customers review their orders, make the final decision about what they are going to buy, and finally proceed to the checkout screen. In order to lead customers from the shopping cart to the checkout screen, there are some practices to craft a user-friendly cart:
Adequate information: In the shopping cart, customers should be able to review four mandatory elements: product information with pictures, product quantity, individual & total price. These elements should be arranged clearly without any confusion. Remember to link products in the cart to the detailed product pages so customers can find more details when necessary.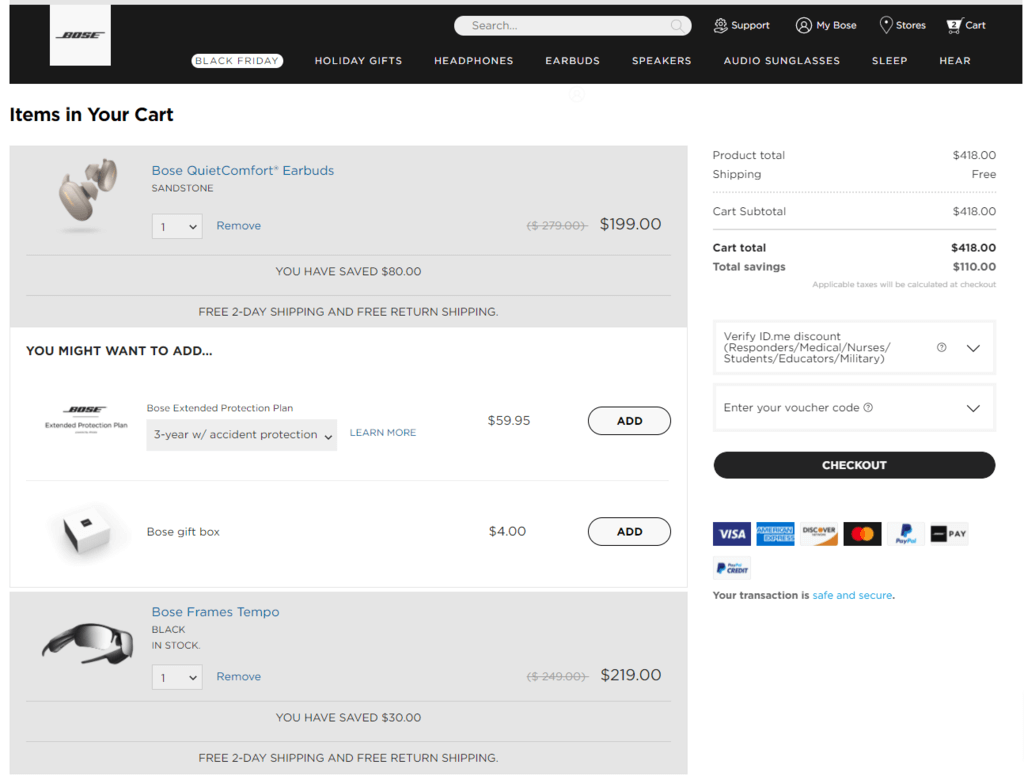 Easily editable: Shoppers might want to make adjustments or changes to product quantity, color, or size after they review their shopping cart. Besides, it's essential that they can remove items or save their cart for later review without any difficulty.
Clear Call-to-action (CTA): Once customers finish reviewing items, they will move to the checkout screen. Similar to the "Add to cart" button, CTA should be simple to use, and straightforward with outstanding colors.
Mini cart widget: The shopping cart should not break customer shopping flow, but rather be a window to help customers easily review what is in their cart and come back to shopping if they want. A mini cart widget allows shoppers to navigate, add products, and review items quickly right from the product page.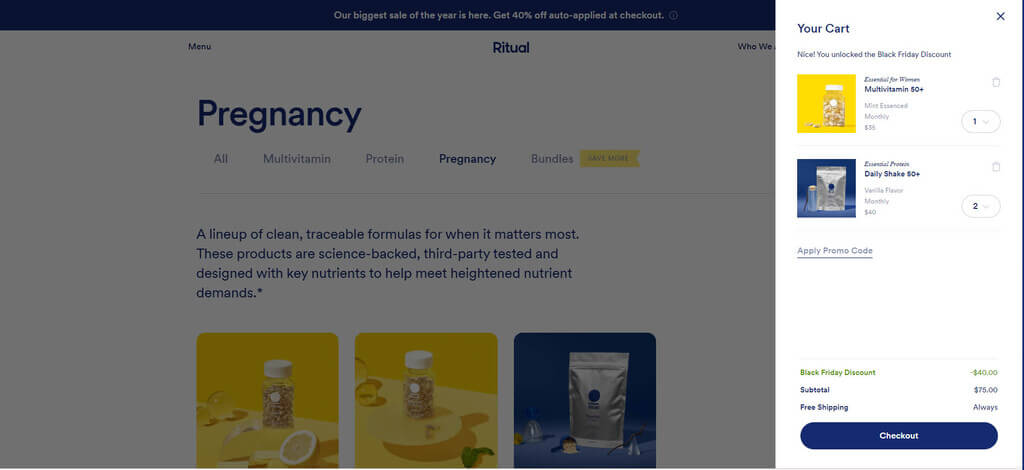 6. Checkout page
The final step to complete customer purchases at your eCommerce store is when they finally place an order at the checkout screen. Normally, the checkout flow often contains 4 essential sections:
Shipping information
Shipping method
Payment method
Order confirmation
For each section and the whole chẹkout process in general, there are many factors contributing to a successful checkout screen that will help your store convert:
Make registration optional: Many shoppers prefer to make purchases without signing in, so don't force them to create an account to finish orders if they don't want to. Leave registration their choice. If you want to encourage them to create an account at your online store, present clearly which benefits they can reap, such as discounts on shipping, exclusive offers, or additional gifts.
Include various payment methods: Providing users with multiple payment options is expected to be an eCommerce trend that will continue to strongly grow in the near future. As customers nowadays have diversified their payment methods with digital wallets, credit cards, COD, etc., it's essential that you offer them multiple financing options at the checkout screen.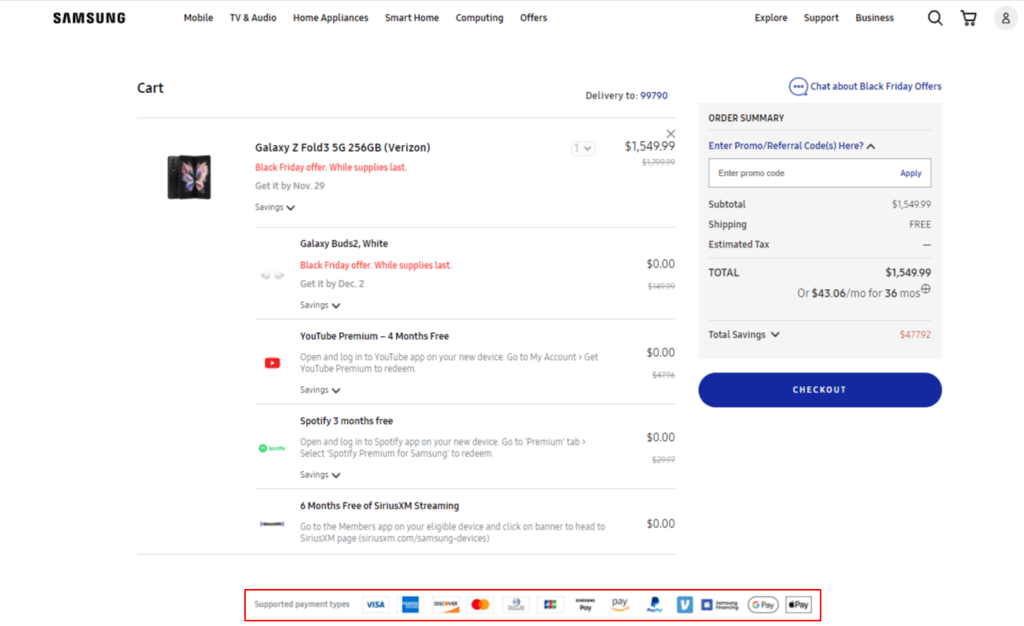 Employ one-page checkout: The traditional multi-page checkout screen is no longer beneficial when customers want a quick and seamless shopping experience. One-page checkout makes the checkout process much more convenient for customers, especially those who shop on mobile, and it can prevent the frustration of time-consuming and sluggish loading as when using the multi-page checkout.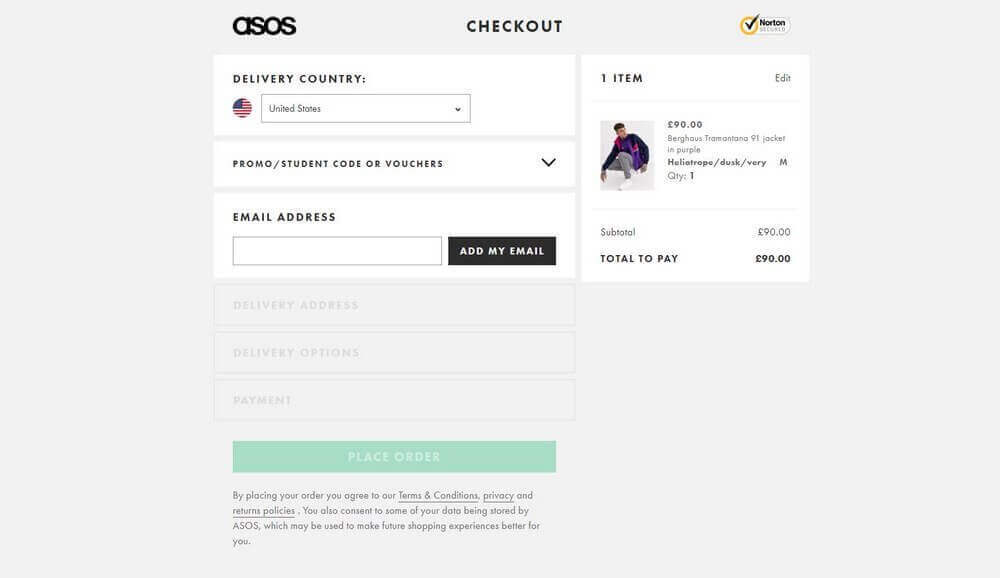 Use clear error indicators: Many customers will find it frustrating when they are unable to submit a form but don't know which information piece they have provided wrong. Rather than showing all errors after customers have submitted their forms, it's much better to show real-time errors that need to be corrected so that they can make adjustments right away.
So far we have gone through all pages on your website that go with the customer journey at your eCommerce stores along with the best practices to design them. In the following parts, we will take a look at other pages on your site that are not closely pertinent to the customer purchase but still contribute a pivotal part to the success of your online store site. Most of the below practices will relate to designing your site to introduce your brand, build trust and connect with your customers.
7. About Us page
About us is the place where customers can learn about your brand & brand history, your team, and your business visions. It's always good to make human connections with customers, especially when all of their shopping experience happens online. Additionally, by displaying all business information and contact on multiple social channels clearly on the About us, users will have a sense of trust, as your brand is transparent in your communications channels.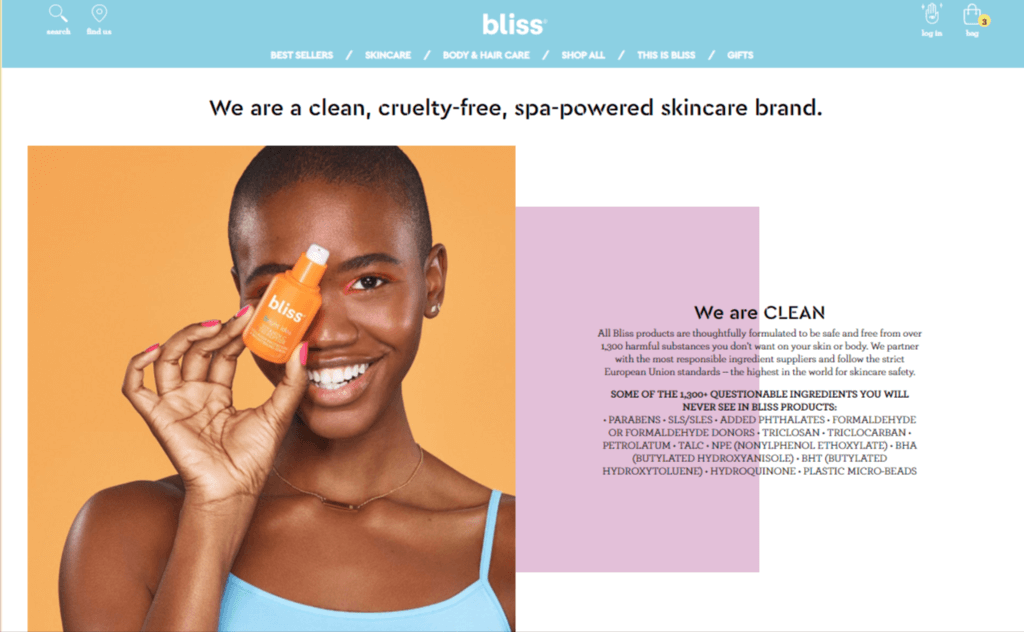 About us is also the first stop of many new visitors, especially when they haven't gotten a clear idea of your brand, or they want to testify if your brand is trustworthy enough to take further actions. Designing your About us page is as important as your homepage when you are trying to make a good impression. This could be done by emphasizing your business values and telling your inspiring ideas behind your brand, for example.
8. Website Footer
After all the time and effort you spend on designing your eCommerce store, it can be easy to neglect the website footer, as many believe that no customer will come to the bottom of your web when there are many interesting parts above. However, though the web footer may be placed at the end of your store, this is not the end of the customer experience. This place can help you collect customer emails, connect with customers through multiple social media channels and provide additional information for customers.
Enticing social icons: Present all icons of your social media channels to encourage users to connect with your brands. Many users have no idea how they can find your authentic social media accounts, so display all your channels to them.
Privacy and return policy: Link these two pages with your footer. Though not many customers will look for these types of information when they first visit your site, they may try to learn more about these policies when they are making up their minds to make a purchase at your store.
Short business information: Place a short description of your business information so that customers can have a quick idea of what your business is about. This business info can be short, but it's essential for those who don't have much time to scroll through your About us page, and it's handy to have this section on every page for users to view when they reach the end of your store web.

eCommerce website design general tips
In this section, we will go through some general practices that can be applied to the whole website design process in order to present your store in the best light and also leverage the shopping experience. These tactics might sound similar as you have heard of them several times before, yet not all eCommerce businesses have successfully utilized these tips.
1. Keep it simple
One of the top rules you should keep in mind during the web design process is to keep it simple. The more elements you have on the page, the more distracted your customers can be. Many believe placing a wide range of banner ads and pop-ups with various colors can attract customers' attention, but in fact, customers might be overwhelmed with too much information and don't know what to focus on. Besides, the messy website layout with inconsistent fonts and styles will make a bad user experience. Therefore, keep your design on every page simple, clean, and clear – and always keep the focus on the product.
2. Employ persuasive design
Persuasive design refers to the understanding of psychological triggers and user behavior in order to improve user experience. This can be done by making a site easy to use and engaging users to take action. Simply understanding, persuasive design utilizes insights from human psychology into design patterns on the website to encourage users into making a purchasing decision quickly. Persuasive design could be used in eCommerce web design under many forms, such as the recommended product sections, customer testimonial or social proofs, and CTA button. All these elements have taken advantage of human psychological insights to persuade customers that they need to make an order immediately without putting too much thought.
If the persuasive design method is employed properly on every destination of the customer journey, your users will naturally engage more with your store and make a decision quicker.
3. Use A/B testing
When designing your online website, there might be many options available that make it hard to decide which one will work best for your eCommerce store. At this point, you can always utilize A/B testing to decide on the website layouts that convert better. A/B testing means you use two different website layouts simultaneously. After some time, you can compare the metrics for each version to determine which website layout gains higher conversion, and you can finalize to present this version to all users coming to your site.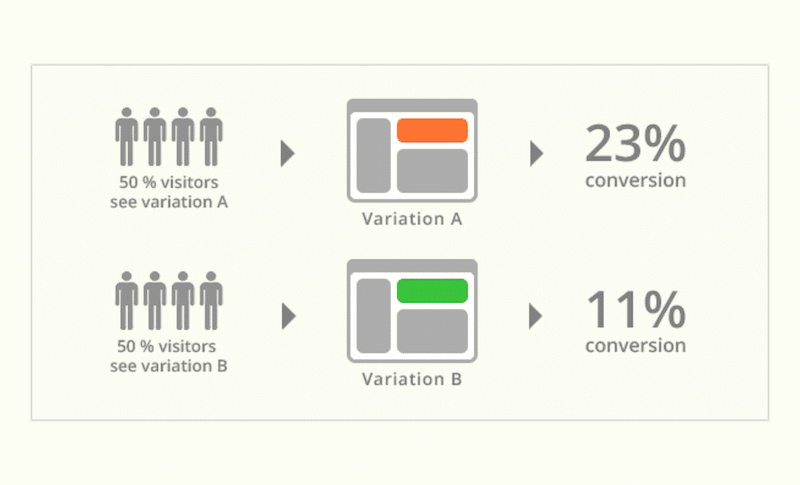 As there are many different parts in an online website, and even small changes in design can have significant impacts on customer experience at your store, it's essential that you run A/B testing to gain a holistic view of your current design and make improvements if needed.
Inspiring examples of eCommerce website design
When designing your eCommerce website, it's crucial to be aware that there's no single way to make your site successful. All the best practices above are set to help you get a general idea of how your online store should look and ensure that customers can enjoy a comfortable shopping experience when they come to your site. However, there is always room for creativity, and it might require you to do something different in order to stand out in this fierce competition. Below are some of the eCommerce brands that have successfully designed their sites for excellent user experience and given out an inspirational vibe.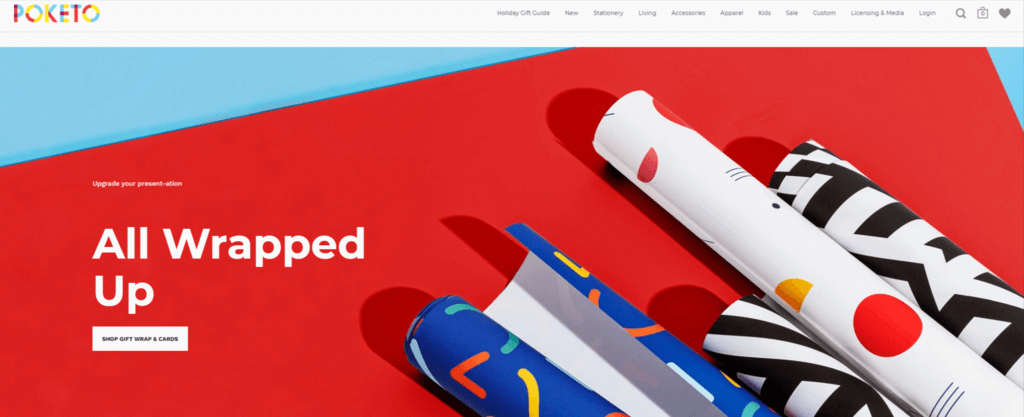 Poketo, a brand that designs stationery and distributes housewares, apparel, and accessories, has successfully combined various bright and vibrant colors to deliver the theme of their products and business value. To use that many bright colors in one layout is never easy, but Poketo did an excellent job by using white color for the text and call-to-action button, making the content stands out even among many vibrant hues.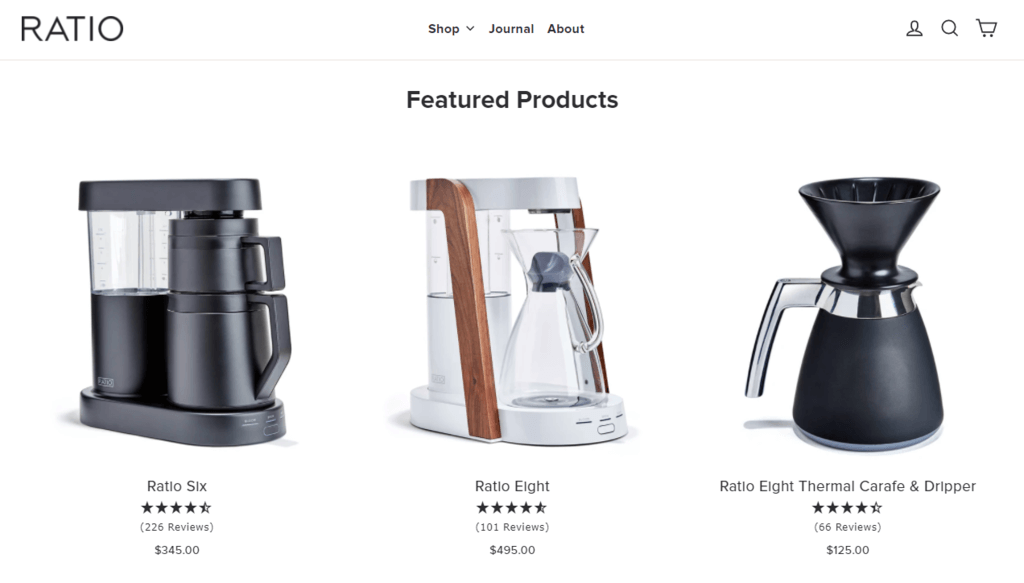 Ratio is a Thailand-based brand that sells high-end coffee machines, especially for coffee enthusiasts. Their web design aims at simplicity and elegance but still gives out a high-class vibe when users first land at their site. As they don't have a lot of products, their Home Page focuses on presenting their outstanding features for coffee lovers and customer testimonials from trustful sources. Ratio web design is a perfect example for "Simple is the best" practice.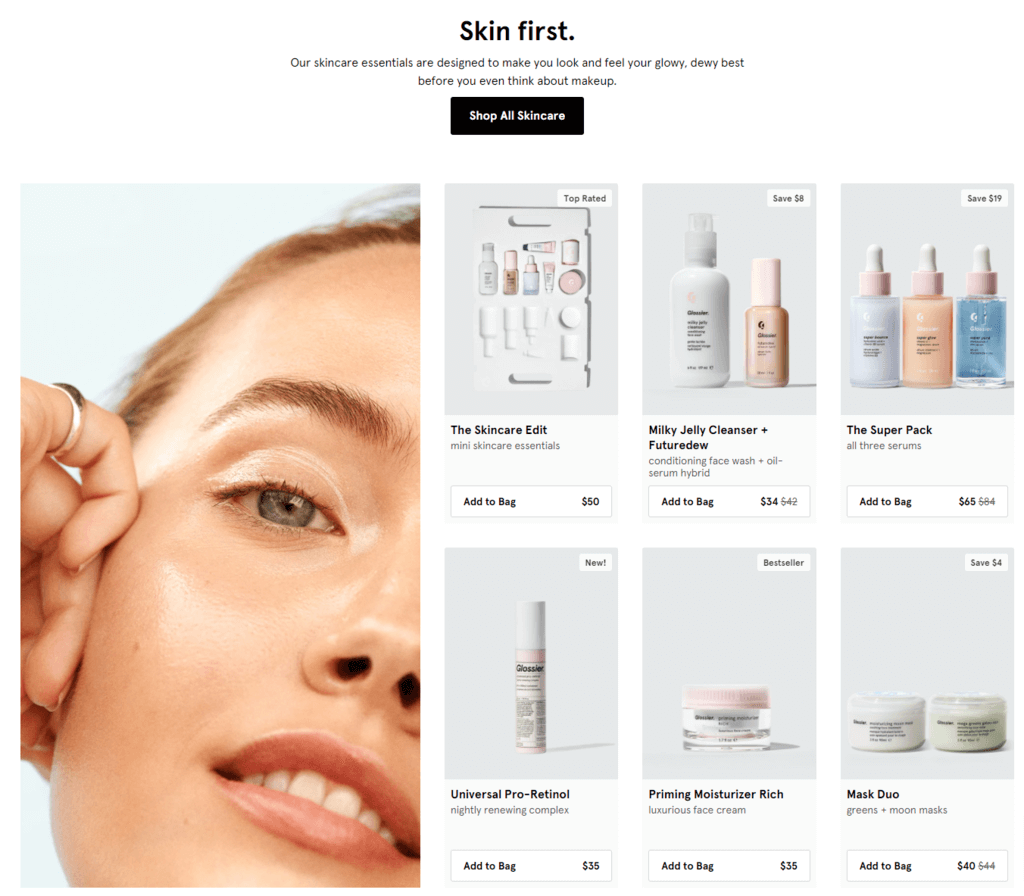 Skincare and beauty brand websites are always full of products from various categories, so it might look messy to present too many items on the homepage. Therefore, Glossier has divided skincare and makeup products into two separate categories on the homepage so that customers can easily select what they want. Glossier site represents all best practices we have mentioned above with enough white space, stunning product photos, and easy-to-use navigation.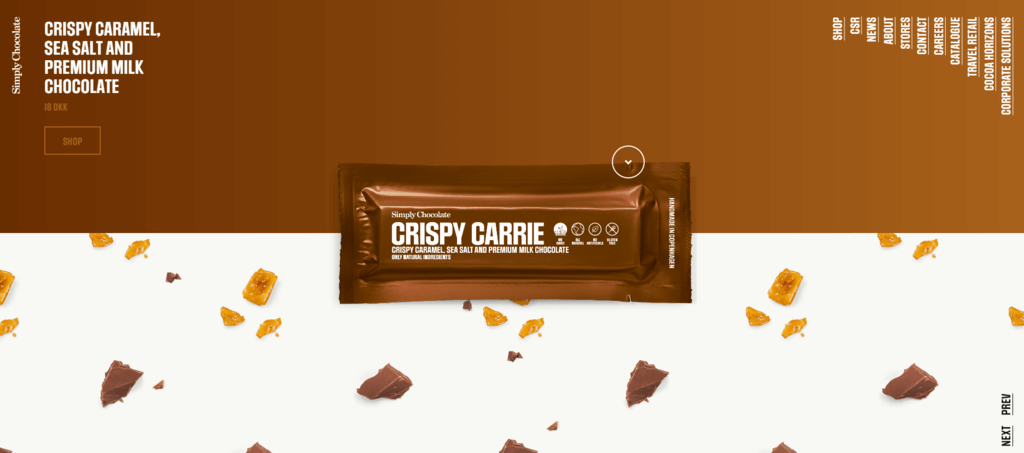 Simply Chocolate is a chocolate company based in Copenhagen, Denmark. Though the design of Simply Chocolate didn't follow a lot of design practices we have mentioned so far, it's still included in this list for creativity. When you scroll down the site, a new chocolate bar will float up in the middle of the page, along with all the ingredients listed and a "Shop" button. The background color will change to match with each introduced chocolate type, and how we unbox the chocolate bar when scrolling down the product page turns the shopping experience into a fun activity.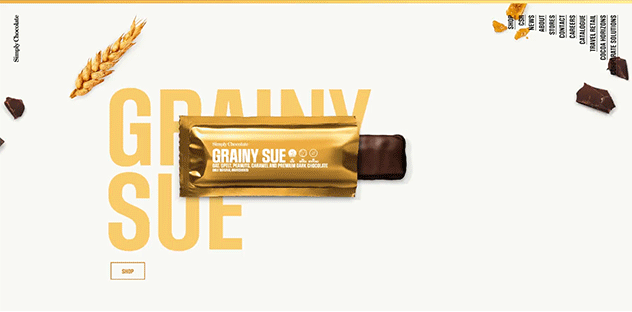 Design your eCommerce website with SimiCart
In this article, we have provided you with the most detailed guidelines and practices along with the best examples to help you design your eCommerce store for success. There are always tons of ready-made website themes for you to choose from, including some free ones for almost all platforms. But if you want to skip pre-built templates to craft your eCommerce site for seamless UX and excellent performance, don't hesitate to contact us. SimiCart has over 10 years of experience working in eCommerce development. We have delivered highly efficient websites to 1000+ small and big companies around the globe, and we promise to design for you an eCommerce site that is worth your investment.