Reviews play a significant role in converting your website visitors into customers. To some consumers, 5-star reviews are one of the indicators if they're going to purchase from a specific eCommerce store.
It's a big deal because at least 89% of consumers read product reviews before purchasing a product. And that is a significant number of consumers.
That's why you need to earn 5-star reviews from your consumers.
But the question is, "how?" How can you get 5-star reviews? Because usually, 5-star reviews mean your products or services are flawless. They don't have any negative things to say about them.
So… It's not that easy to get 5-star product reviews, but it's achievable when you do it right. And this blog will tell you…
Why do you need to get 5-star eCommerce reviews?
7 actionable ways how to get 5-star product reviews
Are you ready to get 5-star product reviews? Before we go there, let me tell you…
Why are 5-star reviews important for your eCommerce store?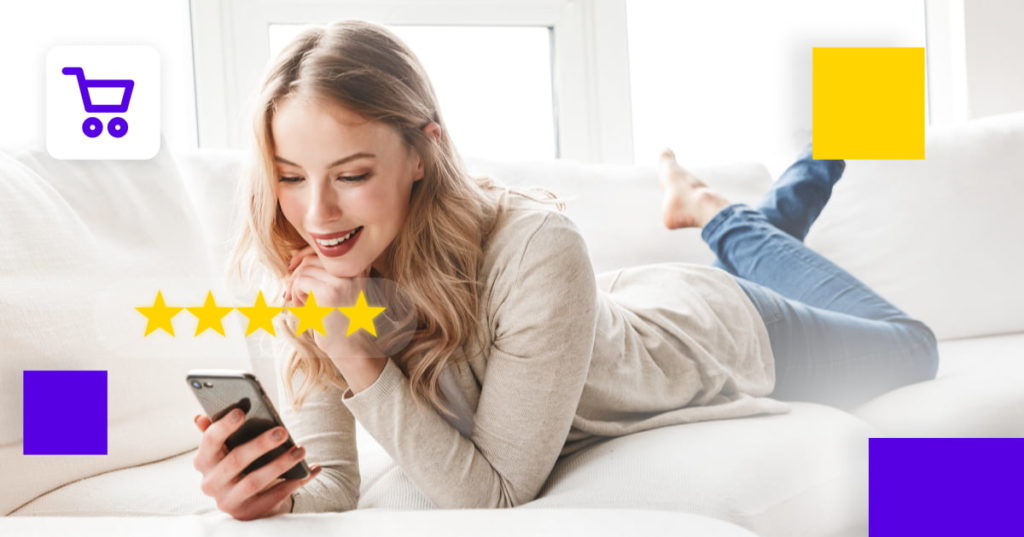 1. Build consumer trust
Trust affects the purchase decision of your potential customers, especially if they're just hearing about your brand for the first time.
But if you have 5-star product reviews, that will encourage them to buy from your eCommerce store. Why? Because they can see that a lot of past customers are saying good things about your products.
2. Increase your sales
Since product reviews can influence more people's purchasing decisions, this also means an increase in sales. Because when more potential customers trust you, you can convert them into sales.
What if existing customers like your products and give them a 5-star rating? They will come back to your eCommerce store.
That will increase your sales, boost loyalty, and…
3. Strengthen your brand reputation
Having 5-star product reviews means your products are top-notch… which affects your brand reputation.
Of course, you want to be known as an eCommerce brand with the best product among your competitors. That's why the market purchases from you.
If you want to experience these benefits, you need to get 5-star eCommerce reviews. And here are…
7 Ways to get 5-star product reviews that you can implement now
1. Ensure that products are high-quality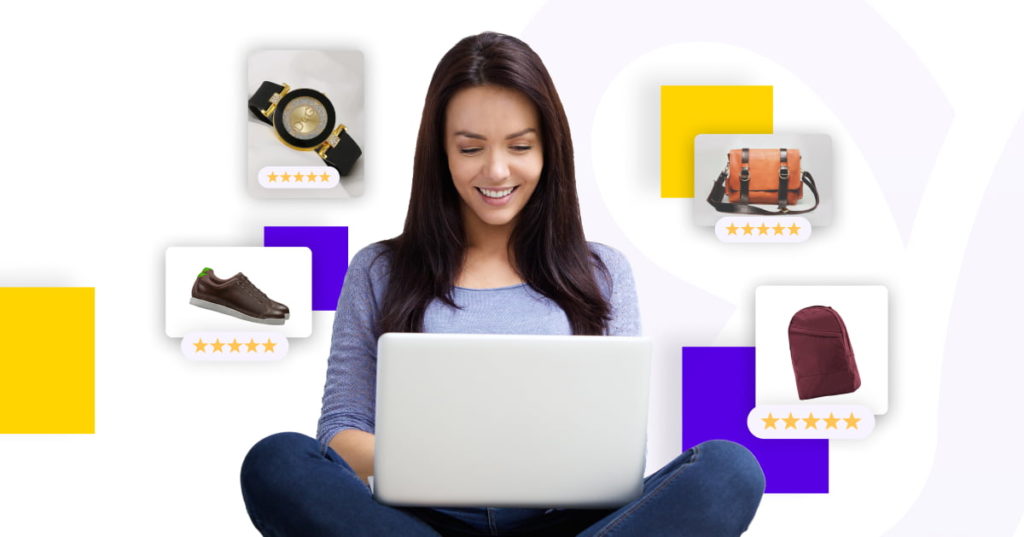 To get 5-star product reviews, your products must have excellent quality. That's one way to get 5-star ratings on your products.
More customers will leave you 5-star ratings promptly if they like the quality of your products. This will also avoid future inconveniences for both parties, like returns and refunds.
So, how can you achieve this?
First, you have to check with your suppliers. This is important, especially if you're using third-party logistics to fulfill your products. It's essential to do business with a credible one.
If you're the one packing the products, you need to inspect them before shipping. Double-check if the quality of your products is fine. This will ensure that there is no damage before shipment.
It's also critical to have a product strategy. This will help you put your product vision into reality while ensuring that all materials and features are in superb condition.
And if you make your own products for selling, you need constantly improve their quality. You also need to pack them properly to avoid damage during shipment.
And speaking of which, you need to…
2. Ensure the safety of the packaging
If you're selling fragile or vulnerable products, make sure that the products are packed properly and safely.
If you think of it, this is a win-win because you're getting reviews and increasing your sales… while they're getting discounts.
If their orders get damaged in transit, it might affect how they feel about purchasing from your brand. To avoid this, use protective packaging.
You can use bubble wraps, bubble bags, or other materials that will keep the products inside the box safe. Also, use the right box sizes for each order. This will prevent the product from being tossed within the package.
The next tip on getting 5-star product reviews is to…
3. Offer customer support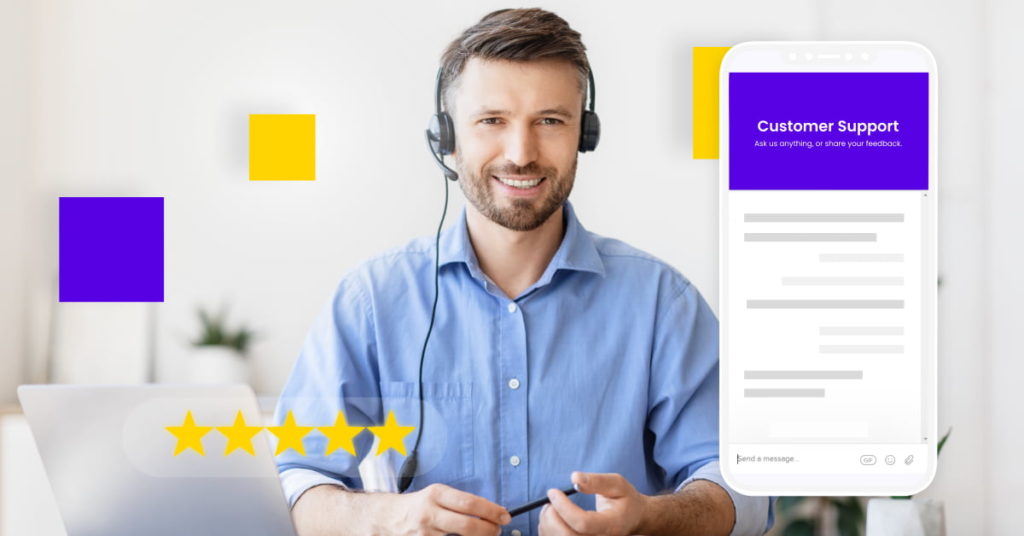 Even if you put all the necessary details on your product descriptions, some customers will still have questions before purchasing.
If they have concerns, you need to address them patiently. This is because offering excellent customer service plays a key role in whether consumers will recommend your products or not.
How can you offer the best customer support? Be accessible. When your customers need you, reply promptly. You can do this by using the right tools, like Messenger integration or keeping track of your emails.
So, you need to provide your number or email address on your website. By doing so, they can contact you immediately if they have concerns.
The point is, to make your customers feel supported during online shopping. Attend to their needs as fast as possible so you will leave a good impression.
4. Give your customers the best online shopping experience
Even if they're not physically shopping, make their online shopping experience convenient.
They must not experience any hurdles when shopping. This can be one of the factors why they'll give you 5-star eCommerce reviews.
Wondering how? Make sure that your website is working fine. Here's a starter checklist:
Test your loading speed and remove elements that are making your website slow
Make the checkout page uncomplicated
Inspect if all the buttons and links are working
Check if the fonts are easy to read
Remove broken images or videos
If your website has any problems that stop your customers from finishing their purchases, that will affect your sales and customer experience. Avoid that and be proactive.
You can conduct a regular website check-up to make sure everything works well. This will give them a seamless online shopping experience.
And when they have already received the product, don't be scared to…
5. Ask for reviews
How can you get 5-star product reviews if you won't ask them to leave reviews in the first place?
Some customers forget to leave reviews after they receive their orders. They're probably busy after receiving the products or just totally forgot about it… but you can get them to leave reviews if you remind them.
You can do this by sending a follow-up email once they receive their orders. Ask them politely so they wouldn't feel obliged to do it.
You can also include a note in their package, encouraging them to leave reviews on your website or post your products on social media. Another way is to have a dedicated page or button where customers can leave their thoughts.
There is nothing wrong with asking for reviews. They will help them make your eCommerce store more trustworthy. Just do it in a friendly way.
6. Make leaving reviews convenient
If leaving reviews would take a few minutes, some customers might not have that much time. So, to get more reviews, make it convenient for them.
How? You can include a link to the review page when you send them an email. Or, you can insert the actual review form in the email so they don't have to leave the page to give reviews.
To get 5-star eCommerce ratings, you can use a star rating system to make it easier for them to indicate their shopping experience.
Star ratings are convenient because customers can easily make their choice by seeing and clicking on the stars. They don't have to type a few sentences to leave reviews and spare a minute.
And when they do, you can also…
7. Give them incentives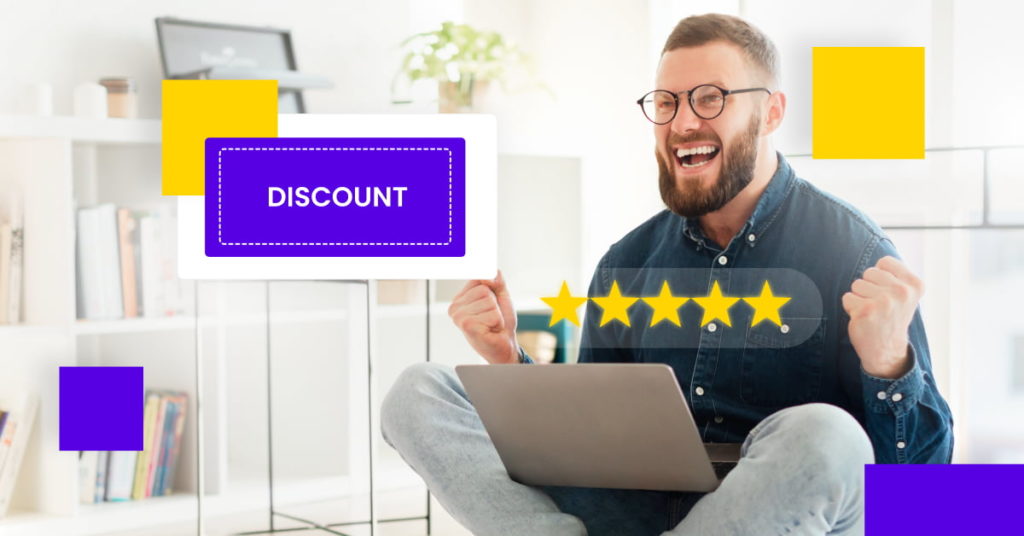 Incentives don't have to be grand. But it will encourage more customers to leave reviews.
Don't have any incentive ideas? You can give exclusive discount codes or a percentage off their next purchase. You can also implement a point system, where they gain points for every review they give you.
Consumers love some good deals where they can save money. And this is a fantastic way to give it to them.
If you think of it… this is a win-win because you're getting reviews and increasing your sales while they're getting discounts.
Get more 5-star product reviews by implementing these tips
Customers have great expectations for their orders. And for them to give you 5-star reviews, you need to live up to their expectations.
But if you implement any of these tips, it will not be as challenging anymore. You'll get more 5-star product reviews from your customers.
And having 5-star ratings from your existing customers will urge new customers to buy from you. Just remember… always put your customer needs above because they can make or break your business.
But hear me out… It's not a one-time thing.
Once you get a 5-star rating, it doesn't mean you'll stop there. You need to maintain that rating. Why? To build an excellent brand reputation and increase repeat customers.
So, make sure that you're giving them a seamless experience while shopping on your eCommerce website.