Magento 2 Speed Optimization
The last thing customers coming into your website want to see is slow performance.
Unlock your potential today by optimizing your website for speed

A 1-second delay (or 3 seconds of waiting) decreases customer satisfaction by about 16%
40% of online shoppers abandon a website that takes more than 3 seconds to load

52% of online shoppers state that quick page loading is important to their site loyalty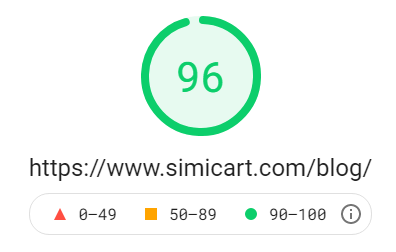 Why performance is a deciding factor for the success of your business
Performance equals conversions
Statistics have consistently shown that the loading speed of your website directly affects your revenue
Performance means higher rankings
Loading speed is one of the many ranking signals that Google bots use to rank your website on Google Search
Performance is about your customers
Customers expect decent performance from your website regardless of the device they use
To ensure the best possible performance for your website, we follow a strict process consisting of various steps
Data collection
We get in touch with you to get a better understanding of your needs and collect all the necessary data for our optimization works
Analyzing
We analyze the collected data and brainstorm solutions for your problems. The final result of this stage is a timeline of the project.
Apply optimization
We start applying optimization techniques to your store step by step, starting with making a backup of your store.
Database optimization
We go through all your SQL queries and try to reduce the total execution time for each query by making them more efficient
Quality assurance
We make sure that your website's performance meets all the page experience criteria, and if there is any conflict or glitch after the optimization
Optimization Techniques Used
To ensure optimal performance for your store, we employ a wide variety of optimization techniques and cutting-edge tools in our service
Code clean up
We find out the smallest inefficiencies in your store's code and look for ways to improve upon them
Set up Varnish/Fastly CDN
To speed up the content delivery process of your website, Varnish/Fastly is employed. You will be consulted of the pros & cons of each approach, along with expected results when implementing one
Third-party extensions review
Third-party extensions that are harmful to the performance of your website will be evaluated and suggested removing/replacing
Hosting setup optimization
A fast and stable server acts as the base for everything that goes on within your website. During the Evaluation step, we will do a thorough review of your current hosting setup and see if further optimizations are needed
Image optimization
Lazy load, WebP, along with other image optimization techniques are used here in order to reduce the total weight of your images
HTTP/2
The entire infrastructure of your website will be moved to HTTP/2, which has been proven to deliver up to 14% improvement in page load and other benefits
Remove unused modules
Based on your specific needs, we will do a total evaluation to determine which core module is absolutely necessary for your daily operations, and remove unused core modules in order to enable more performance
CSS & JS Minifying
All the unnecessary parts in your HTML, JavaScript, or CSS files will be removed, ensuring that your page's resources are kept as lean as possible
A new definition of fast with PWA
With its limitless scalability and flexibility, a headless PWA storefront takes your existing Magento store to a whole new level. It is an entirely new frontend experience, free of the usual, speed-related stress that comes with a typical website.
At SimiCart, we use Magento PWA Studio—a set of tools proven to improve conversions for Magento merchants —to build our headless PWA storefronts.
We know exactly what works for you
Over 8 years of experience in Magento allows us to know exactly where the platform is lacking in terms of performance, as well as which changes could be made to bring more performance uplifts into your store.
When going for our performance optimization service, you can be guaranteed that your needs will be at the focal point of all our planning and execution, and you will be consulted of the best route to take.