Hey guys,
Have you ever wondered why French women seem so effortlessly chic?
They typically have small closets, few clothes, and little debt, yet they still manage to create a head-turning style. When we made a research on Zara app, we had the same question like that: Why Zara app gains such strong impressions and high credibility with the consumers all over the world.
There is no behind-the-scene secret here!
Zara app is impressed because of their basic and minimal design with no heavy graphics, using elegant color scheme and well-structured layout.

Screenshots of Zara App – the best Magento mobile apps
Inspired by Zara's app design, we strongly desire to bring the head-turning style to Magento apps world. Not simply showcase some dresses, pants,.. on mobile, Zara theme was born to impress your customers at first-sight and intrigue them to buy whatever you're selling. Even on mobile.

Screenshot of Zara Themes
Less than 3 months after release, Zara theme quickly becomes one of top 3 best-selling plugins of SimiCart.
Wonder why? Take a look at one of our customers' Magento apps below: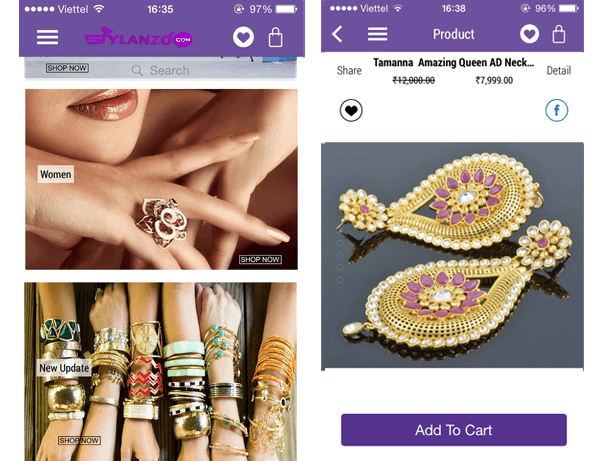 Screenshots of our customer's app using Zara Theme  
With Zara theme – specialized for Fashion store, your customers can enjoy the best functionalities, the look and feel from the best fashion apps. It not only helps to best showcase some dresses, pants, shoes or accessories on mobile but also creates a great shopping experience for even the most high-demanding fashion lovers.

Customers' reviews of Zara Theme
If you want to get a full Magento apps package for your Fashion store, we encourage you to see our Zara package, which comprises SimiCart core, Zara theme, and many other fashion-targeting features!
Outstanding Features of Zara Theme for Magento Apps:
For Customers:
Run on all Android, iPhone, and iPad devices

Easy to search/sort for products

Grid layout, showing 2 or 4 products per row

Spot new arrival/best-sellers/featured products with banners on homepage

Swipe left/right to view show other products

Show recently viewed products
For Admin:
Allow configuring categories in homepage

Allow configuring spot products in homepage

Compatible with Magento Community version 1.4 – 1.9 and Magento 2 as well.