In recent years, China is known as an ideal destination for technology companies. So many investors poured more money into China. But sadly, not all most of them is successful. Many big companies leave China in the bitter failure. What markets would you go after?
According to a recent report made by Mashable, China is currently leading in e-commerce industry with skyrocketing growth ahead. However, is this market still potential in the future? Going by this chart leaves out the elephant in the room: India.
If India is not at the top of the e-commerce revenue charts, why it matter for online small and medium-sized companies? Let's figure out the facts!
For starters, More Indians own smartphone by the end of 2014. This figure is more than when comparing to who people living in Australia, South Korea, Taiwan, Germany, and the UK combined. The latest predictions say that India will overtake the US in smartphone ownership this year. Based on the current context, people estimate that India will behold a surprising result with over 382.mn smartphone user in 2016. These indicate that India is an extremely potential market!
In the competition in attracting foreign online small and medium-sized companies, China vs. India who's the winner?
China still remains a big challenge of political barriers for all e-commerce foreign companies when they intend to enter this market. Not only local regulations and publishing rules which make this country become a grey area but also barriers in language and culture. These maybe cause Amazon, Ebay, Facebook and even Google to fail bitterly. In order to obtain a publishing license in China may take up to 12 months to complete. I don't mean that your online company should ignore China, but it's important to understand that entering the Chinese market requires so much effort, time and even money.
Unlike China, India is a relatively westernized country in the technology industry. All most of population speak English. Here is a big distinction compared to China. On the other hand, all global app distribution channels are available in India. In some sectors, there is no competition from giants who have been attained a critical mass among consumers so India is still a green field opportunity for any company even online small and medium-sized companies. However, what about the revenue?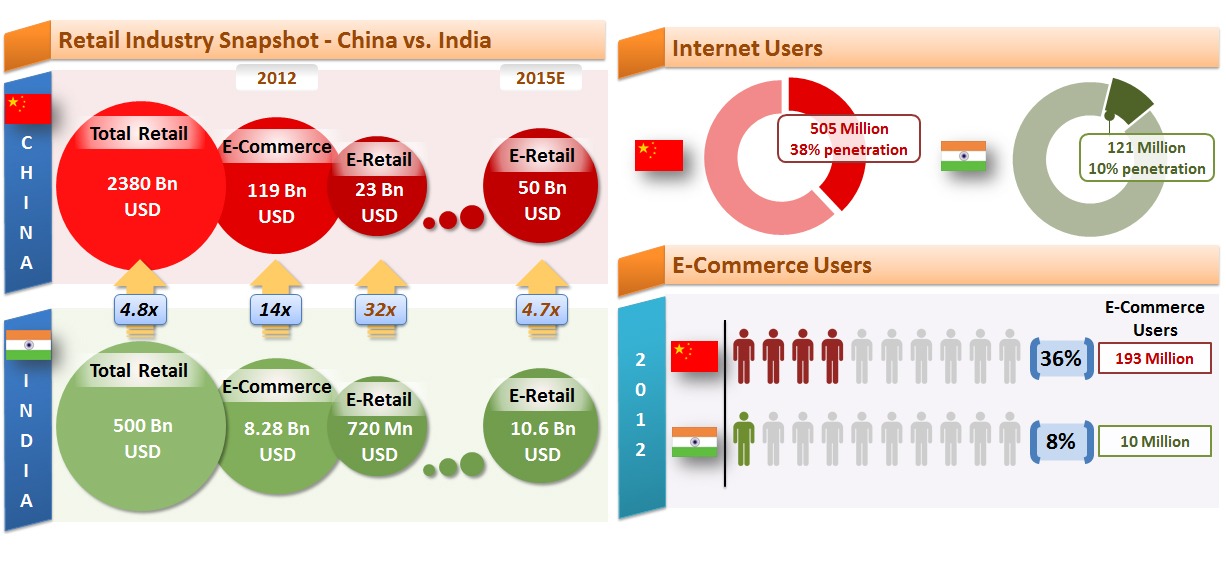 Lifetime value is key to revenue in India
10 to 15 percent of monthly mobile ARPU (average revenue per user) in India is spent on content or value added services. This is approximately 20 INR ($0.3). With Western standards, it is perhaps quite low. However, with 1 million users, this would already convert into $300,000 monthly additional revenue. However, can admit that it's quite optimistic when Indian ARPU is expected to grow fast in the near future.
So far making revenue in India faces three key challenges. The biggest challenge is finding an appropriate payment solution for the e-commerce industry. An enormous distinction exists between online payment methods that consumers are applying. One side, consumers can only pay via mortar and brick methods (credit cards or transferring via banks) and on the other side they are able to implement an online payment. Going after online payment methods with credit cards, in this market, only 1.7 percent of the people own a credit card and less than that use cards that allow implementing international payments. The last key obstacle is distribution, how to reach potential consumers. Unlike China, popular social media network and ad networks haven't met any barrier so online SME is provided significant thrust in connecting with local merchants. In fact, the online SME works very closely with our partner in their distribution chains.
India's e-commerce market is really attractive. US giant – Amazon and Alibaba – The Chinese giant have established its presence in India. Despite having the third largest internet user base in the world with 200 million users by 2015, the speed of Internet reach is quite low. In addition is slow internet speeds outside the metropolitan cities and poor customer services.
"If you look at Japan, China and US, e-commerce come popular early 2002. It has taken them about 12-13 years to develop and just a few year from 2012 with Indian e-commerce industry. Anyway, it no longer matters, experts forecast that India will rocket their development speed in the next few years.

Source: Emarketer Get the data
It is important to get most out of customer lifetime value – remain and interact users for a reasonably long time. The amount invested into user acquisition need to be more emphasize.
To succeed, always keep in your mind the rule "The competitor in winning the customer's mind is nothing new, It's just you have to understand them". However, all most of Indian speak English when online SME tends to enter this market need to localize all their process fit to Indian culture. It means not just translation the language into Hindi and other local languages. It also means localizing your content. We call it by the name fitting to Bollywood culture. Moreover, nearly 700 million Indians are using feature phone in India. So adapting existing content to meet local needs is nothing new. Adding 700 million feature phone owners to your potential customer base.
The booming mobile gaming market in India has proven that such scene can be reversed. As if India is no longer becoming huge in the next few years, would you be happy with the missed opportunity?
SEE ALSO: Mobile App Startups Failure: What Are The Reasons? »