E-commerce platform is a software application that allows business to enter E-commerce market by developing an E-commerce website. Magento E-commerce is defined as an open source E-commerce platform which is used to sell products online. This platform allows developers to significantly customize their own E-commerce store while also offering a large number of differing functions to increase utility. The software provides transaction solutions, E-marketing tools such as search engine optimization, stock management tools, and is scalable to both small or large enterprises, too.
Magento's management system is based on PHP and MySQL, which is compatible with Linux, requiring no investment in software licenses.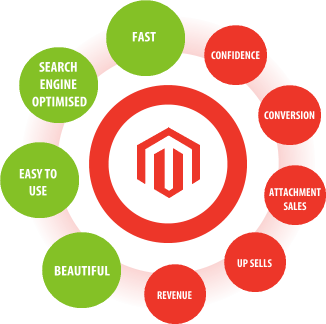 2. What makes Magento the best E-commerce platform?
Among the E-commerce platforms available nowadays, Magento is the most favorable one and widely trusted globally because of its distinctive advantages.
a. Open source
Magento is a free E-commerce platform which uses open source technologies and programming languages, and the first key benefit of using Magento platform lies there. Open source means that Magento is not only more flexible for developers but also more easily to access (in terms of cost) and ensures a better security for users.
b. Popularity
Magento is now ranked number 3 in the US and Canada's top 500 E-commerce traders. There are thousands of Magento developers, agencies and users in every corner of the world, meaning that you've never been alone. There are so many experienced  agencies out there and you can freely switch to other providers (unless you sign a contract). In addition, Magento has a huge community support from expert Magento developers, making it easy to find solutions or help related to Magento should you are indeed.
c. Mobile-friendly configuration
In these days when Smartphone, iPad and M-commerce are now the hottest keywords for any business, especially E-commerce agencies; thus, it is a must for every E-commerce retailer to choose a mobile-friendly platform. At this point, Magento platform is definitely the best choice as the apps allow store integration across multiple devices to work properly on smartphones, tablets, etc.
d. Extension
One of the major advantages of Magento is its giant store of extensions. Magento users can find it easily to expand and differentiate their websites from other competitors' by using different extensions. Moreover, the market for Magento extension is now flourishing, which allows you to have so many choices of versions for each extension with a very reasonable price integrated perfectly with your store.
e. Multiple stores
The fact that Magento can run multiple storefronts from a single backend system gives it a big bonus point to compare with other competitors. If you are running multiple stores for multiple brands but want to maintain one harmonized backend system then Magento should be the best E-commerce platform for you.
3. Magento for mobile – the best E-commerce platform and the latest trend
For anyone who wants to build an application on mobile devices, mobile Magento is an ideal choice and SimiCart is the best friend you can ever have. Visit https://www.simicart.com to know more about outstanding features and make your choice.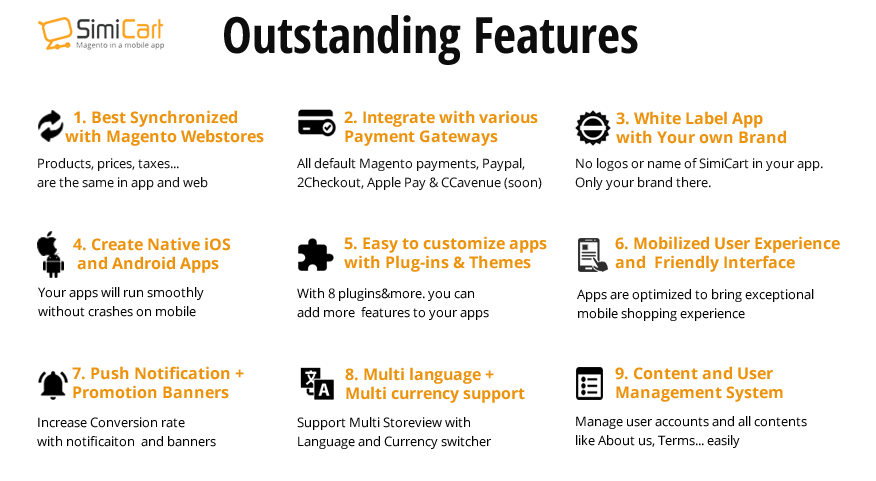 Do not hesitate. Thousands of dollar is just 30 mins away from you!