No matter when you start your business, in 2023 or 50 years ago, one thing never changes: you need to be great at sourcing products. It may be easier now than 50 years ago since we have the internet and global commerce. However, there are lots of wholesalers out there. For starters, how could you know which one can truly benefit your business? Which one will only try to profit from you with a high membership fee and outdated suppliers? Our list of the best reliable wholesale vendors and suppliers will help.
In this article, we use Trustpilot as well as other reputable means of reviews such as Shopify AppStore reviews & ConsumerAffairs as references. Any name in this list must have abundant up-to-date reviews to ensure its reliability and time relevance.
Also, for the sake of our international readers, we try our best to include in this list a geological diversity of trustful wholesale vendors & suppliers. Some are in the US, some are in Europe and Asia. And more importantly, almost all of them support international shipping. 
So, let's get started!
Wholesale vendors, wholesale suppliers, retailers & dropshippers: What are the differences?
As you step foot into the wholesale industry, you must have come across these terms a lot. Although you may know them clearly, we still want to explain them for novice buyers who look at these terms with ambiguity.  
So, simply speaking
Wholesale suppliers: Wholesale suppliers work in B2B business. They act as a middleman connecting manufacturers to other businesses in need of products to sell. Many suppliers are also manufacturers themselves.
Wholesale vendors:

Wholesale vendors act as a middleman like the suppliers. Nevertheless, they differ from wholesale suppliers since they do not take part in any manufacturing process.

Retailers: Retailers buy products from suppliers or vendors and sell them directly to the customers. They are B2C businesses. Retailers have stores or warehouses to stock their own products. 
Dropshippers

: Dropshipper advertises products to customers and have the suppliers/vendors shipped the products directly to their customers. Dropshippers do not need to have a store or buy products in advance. Instead, their job focuses on marketing and customer service. 
So basically, this list includes:
1. Big wholesale vendors connecting you with smaller wholesale suppliers 
2. Independent wholesale suppliers selling their own manufacturing niche products. 
What does a small business need in a wholesale vendor/supplier?
Reliability, a wide variety of products, fast shipping, etc are what every business needs. However, for small local businesses, these essential needs can be specified further for small local businesses. 
We bet that you already have some expectations in mind. But let's see if it's enough. So what should small businesses have in mind when finding a good wholesale vendor?
Reliable shipping (and fast)
The worst nightmare is that you paid for a package that never came. Or you have waited for months for a single order but it comes out smashed and broken. Therefore, you should check if your suppliers and vendors are capable of reliable shipping services or not.
Lots of suppliers do not own delivery services but instead, use services from third-party companies. This is perfectly fine too, as long as the delivery company they use is trustworthy. You should find information on their website or ask them directly what delivery company they offer. Normally, if it's FedEx, EMS, DHL or any well-grounded shipping companies you trust, it's OK.
As for speed, it depends on two factors: handling time and shipping location. 
While investigating or discussing with your vendors, you can always ask how much time they often take to prepare products before sending them to the delivery companies. It may take from 1 to 6 days depending on the vendors.
Also, bear in mind that geological location plays a key part in shipping time. If you want it to be fast, you'd better opt for wholesale vendors whose warehouses or distributors are near your region. 
In our list, we purposely chose international suppliers with multiple warehouses or international shipping abilities to help you maximize your delivery time. 
Right products & right prices
Reliable wholesale vendors will not over-advertise their products, leading you (and your customers) to huge disappointment and anger when the items arrive at your doorstep. They would rather have a precise description of their products of sizes, colors and materials, so you know what exactly to expect before buying.
Another important thing is the price. Rather than marking up a high market price, a good wholesale vendor can provide bulk prices much cheaper than in the retail market. Besides, customer-focused vendors make sure shoppers' experience when scrolling the platform is as smooth as possible. They use eCommerce shopping cart software to create on-site carts where users can save the needed products and return to them later, embed instant switching between menus, and more
So to evaluate any wholesale vendor's products, you should check as many reviews as you can. Plus, you can simply google search the market prices to see how much actual profit you can earn. 
A good return policy & customer care
Your orders could arrive late. Items could be wrong in size. Or worse, due to some shipping problems, when they reach you, they are leaked, broken or torn. These things can happen even with the most reputable suppliers. 
But what differentiates a great supplier from a scam one is how they deal with it. A bad one will try to dodge their responsibility and leave you frustrated. On the other hand, a good vendor will try their best to work out their problems with you. 
That's why a good return policy and sincere customer service are key factors when seeking out a wholesale vendor.
A dropshipping program
Dropship, as we have explained earlier, enables people to sell products without having their own inventories. People are dropshipping more and more, and maybe you, the person reading this, are a dropshipper too.
Thus, a wholesale dropshipping program will create greater buying experiences for dropshippers. Lots of vendors can support as far as having integration apps with top eCommerce platforms such as Shopify, WooCommerce or Wix. With these, dropshippers can import products into their eCommerce stores automatically. For wholesale vendors who don't have app integration, their basic dropshipping program can still give you a regular update of their inventory and offer a white-label service. 
Check their websites if they have a dropship program. If they don't, remember that you can always ask them directly. 
Read more:  
20+ best dropshipping suppliers in the USA
Small minimum order quantities
Last but not least, as a small business, you would probably not want to buy a great number of items at once. It costs a fortune, not to mention that you need to see your customers' reactions and calculate how many you can sell first. This is when the minimum order quantities (MOQ) & minimum order amount (MOA) terms come in handy. 
Although the wholesale industry works on the simple logic of "buying more means buying cheaper", lots of companies have MOQs suitable for small businesses. Please always check the numbers, and if it's a bit too big for your store, you can ask if they provide samples so that you can make a better decision. 
Secure payment 
Last but not least, small companies without big IT teams are the most vulnerable if there's any transaction loss. You should trust wholesale vendors that can prove a trustable payment process. Alibaba, for example, offers an advanced payment method in which it only pays suppliers after your order is received. 
Make sure you read the suppliers' payment process and find nothing fishy. 
Best practices to find the best wholesale suppliers for your small business
It's not easy at all to find a good wholesale vendor for your small business. It depends on the many aforementioned factors as well as your business niches.
But overall, here are the golden practices:
Know the return & refund policy
"If you know the enemy and know yourself, you need not fear the result of a hundred battles!"

–  The Art of War by Sun Tzu.
Lots of people got into trouble yet did not receive the expected support from their purchasing company because it was out of the company's policy. 
Do the items need to have full tags in order to return them? Do they require a restocking fee? Do you have to report your problems within certain days after receiving your orders?
Take your time to research, and you may avoid lots of trouble afterward. And if they do not state it well enough, simply ask them to. 
Do your research on products and suppliers.
Every time you find a new supplier, you should do further research on suppliers and their products. Many big platforms will have reviews and supplier info sections to help you find the info easier. 
Also, if the supplier offers samples, please make good use of them
Negotiate & build a relationship
Lots of wholesale vendors connect you to the suppliers and from then, you have to directly negotiate with them for the best prices. Even for platforms with upfront prices, you are likely to be able to contact suppliers to bargain further. Thus, negotiation is indeed important. Hone your skills before stepping into any negotiating session.
Moreover, once you have found great suppliers, you should develop a win-win relationship with them. For example, you can push the suppliers to give you even better prices. In return, you can promise to order from them regularly and in a greater numbers. 
Don't have a website for wholesale yet?
Try our SimiCommerce solution to get a ready-to-sell eCommerce website in 24 hours. It is the easiest way to start your online wholesale business.
20 most reliable wholesale vendors for small businesses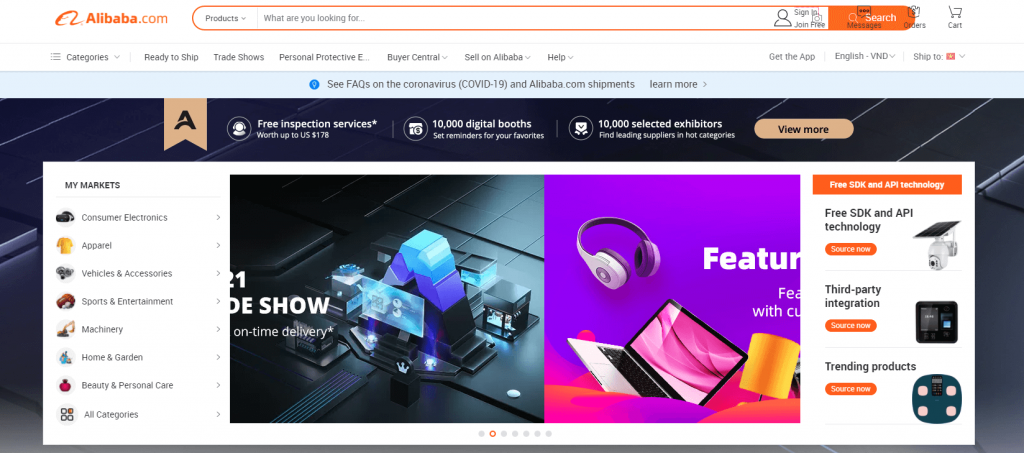 Alibaba is probably one of the most popular one-stop shops for sourcing wholesale items globally. The China-based vendor covers more than 40 categories from house & garden, fashions, electronics, tools & hardware with competent delivery services reaching up to 190+ countries. 
It's too famous, you probably know it. But the question is:
Is it reliable?
Yes. Alibaba is rated 4.3 stars on Trustpilot by 21.000 buyers. It's well-established and it's still growing dramatically. However, the problem with Alibaba is that it has millions of suppliers. Unfortunate buyers may have encountered a minor unethical one. 
To help us source trustworthy suppliers, Alibaba offers Trade Assurance. To explain more clearly, if you purchase from a supplier with Alibaba Trade Assurance, Alibaba will make sure of your product quality, shipping time, and payment security and resolve any disputes you may have.
In addition, each supplier has a whole company profile page for you to check. You can request samples as well. Plus, Alibaba has an inspection service that sends local inspectors to your supplier's warehouse to make sure everything is OK. Buyers must pay for the service, but it's worth the penny. 
What more? You can put more trust in Alibaba's verified suppliers. These suppliers' production capabilities, products and operation ability are closely inspected by independent third-party companies in order to get verifications. All inspection reports are available for free download so you can judge them on your own.
Pricing: FREE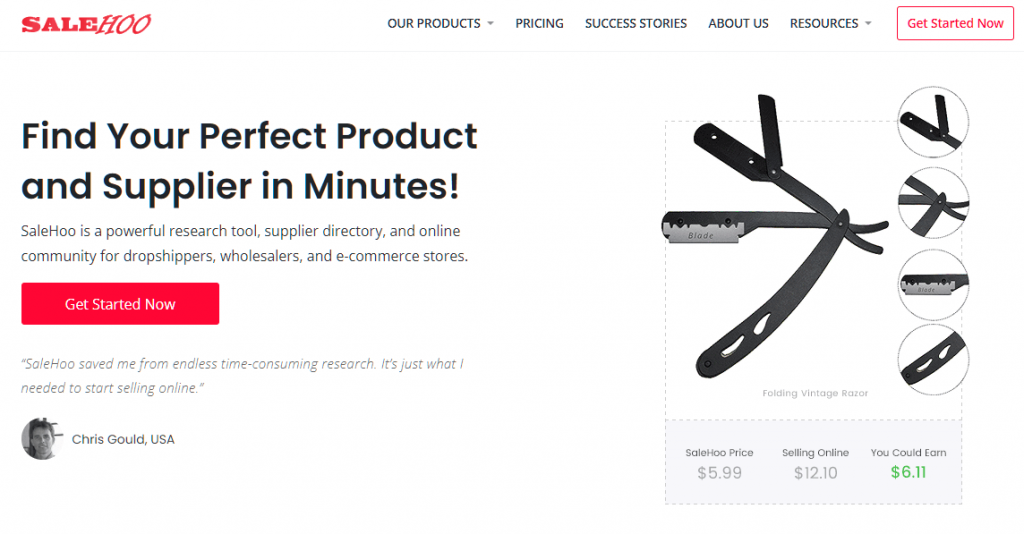 Salehoo is a helpful wholesale directory that connects you to over 8000+ verified suppliers with 1600+ brand products. They cover a great variety of products from cameras, home & beauty, baby books and gears. Buyers can also get lots of valuable products from reputable brands such as Levi's, XBOX, etc
The helpful lab tool lets small businesses spot the most trendy products that drive great profit. Plus, if you have a Shopify store, it can integrate with Saleho to automatically import products for your dropshipping business.
The company is based in New Zealand, yet its markets are in the US, UK, Canada and Australia. Therefore, we can expect suppliers to provide reliable and decent delivery services to customers in the countries.
And last but not least, Salehoo offers a full refund if you are not satisfied for any reason.
Pricing: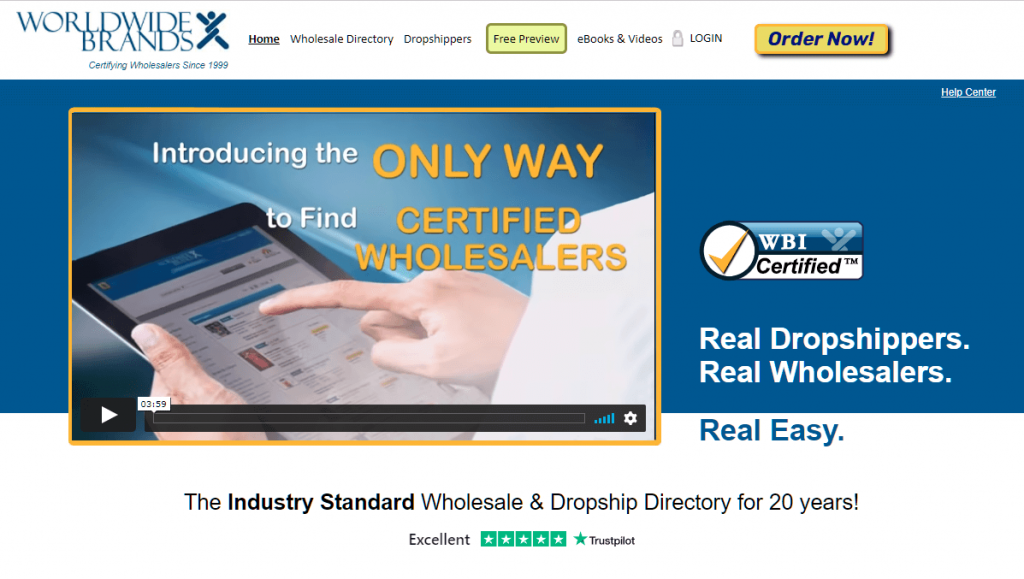 Worldwidebrands offers a valuable list of wholesale & dropship suppliers in 20+ niches. All suppliers are thoroughly certified to ensure 100% scam-free. Also, they update their list every week so you can always find a better deal.
This company provides a professional and helpful customer service team. If you can not find what you need in their directory, they will do it for you.
Pricing: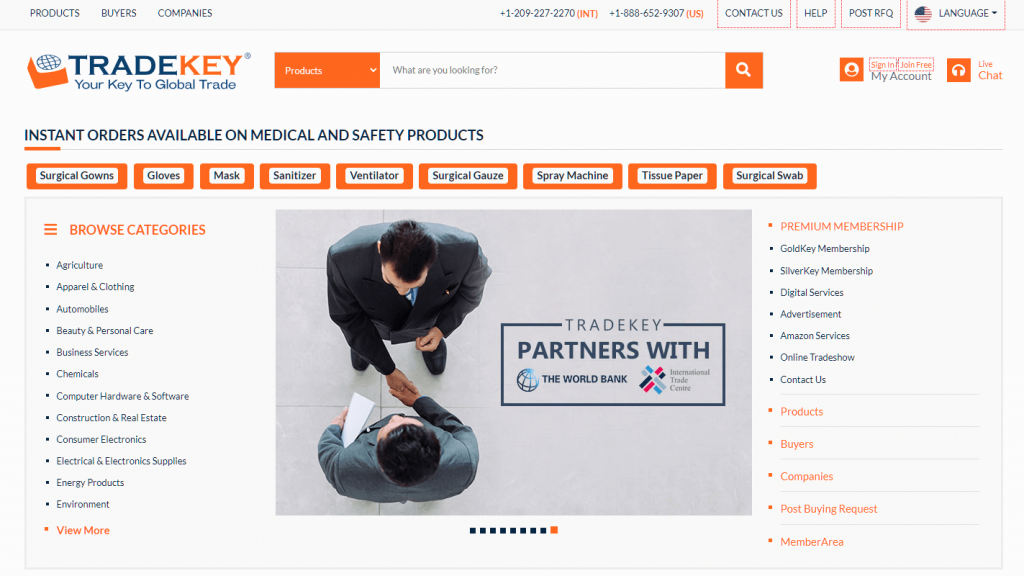 Tradekey is an international B2B company connecting over 9 million small and medium businesses for global trade. It has a wide range of 30 + product categories from agriculture, chemicals, environment to F&B, toys, sports & entertainment. 
Their suppliers are truly global coming from 16+ countries in Asia, Europe and the Middle East. You can easily filter suppliers by country to choose one in your region. Furthermore, in its suppliers' product and profile pages, you can simply find essential products description, MOQ, as well as the suppliers' trust points – Tradekey's rating system for reliable suppliers. 
One small disadvantage is that you can not access the product's prices upfront. Instead, buyers need to contact the suppliers to get quotations. But this is also the chance to brush up on your negotiation skills. 
Pricing: FREE for buyers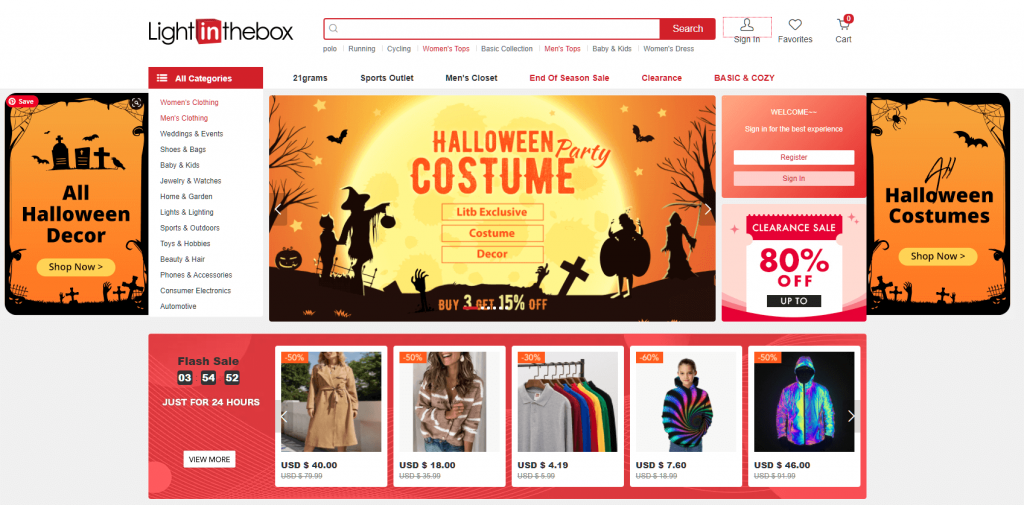 Lightinthebox is a Chinese-based global wholesale vendor focusing on apparel, accessories, gadgets, and home & garden products. They add new items every day to ensure their best diversity for the sake of buyers.
The vendor offers a powerful shipping service partnered with DHL. They claim that they can ship to almost every country and give you tracking information for every order. You can also choose different shipping methods and opt for shipping insurance. Depending on location and shipping method, delivery can take from 3 to 45 days. 
Before your orders are shipped, the company also gives them a thorough inspection to make sure packaging, order details, and everything else are done right. 
Pricing: FREE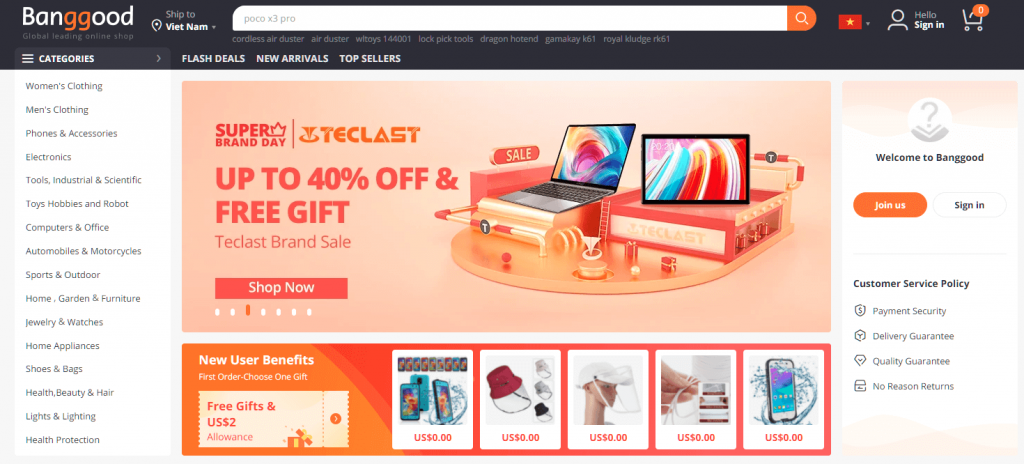 Banggood is another reputable China-based company committed to global wholesale. It has 1 million+ of products in 30+ categories from 100.000+ trustable suppliers. The company also has warehouses in 37 countries, promising reliable global shipping to America, Asian Pacifics and the Middle East. 
Their wholesale program can offer 5% to 30% discounts along with attractive coupons and bulk buy discounts. There is no MOQ. Also, you can get a free sample and, if you order above US$100, the shipping fee will be waived. 
Furthermore, wholesale buyers can benefit from a one-to-one sales manager who provides 24/7 support and recommends products suitable to your business. 
They also enable dropshipping services with integrations to Shopify, eBay as well as a custom integration. Wholesale buyers can enjoy a 5%-20% discount on this compelling program.
Pricing: FREE

Poundwholesale is a well-established vendor in the UK, connecting you to hundreds of reliable suppliers in the region. The company is devoted to product quality while enabling delivery services in the UK, EU countries and worldwide. 
Their products range from home products, health, beauty to clothing, vaping and so on. There is no MOQ. The downside is that you have to register in order to see detailed prices.
For shipping, the company offers free delivery for UK orders above £600. Regarding international shipping, however, they advise you to find your own shipping agent. This will cost you more time and effort. But the good thing is you can choose a reliable one and have better control over shipping quality.
Poundwholesale also has a basic dropshipping program if you're interested.
Pricing: not mentioned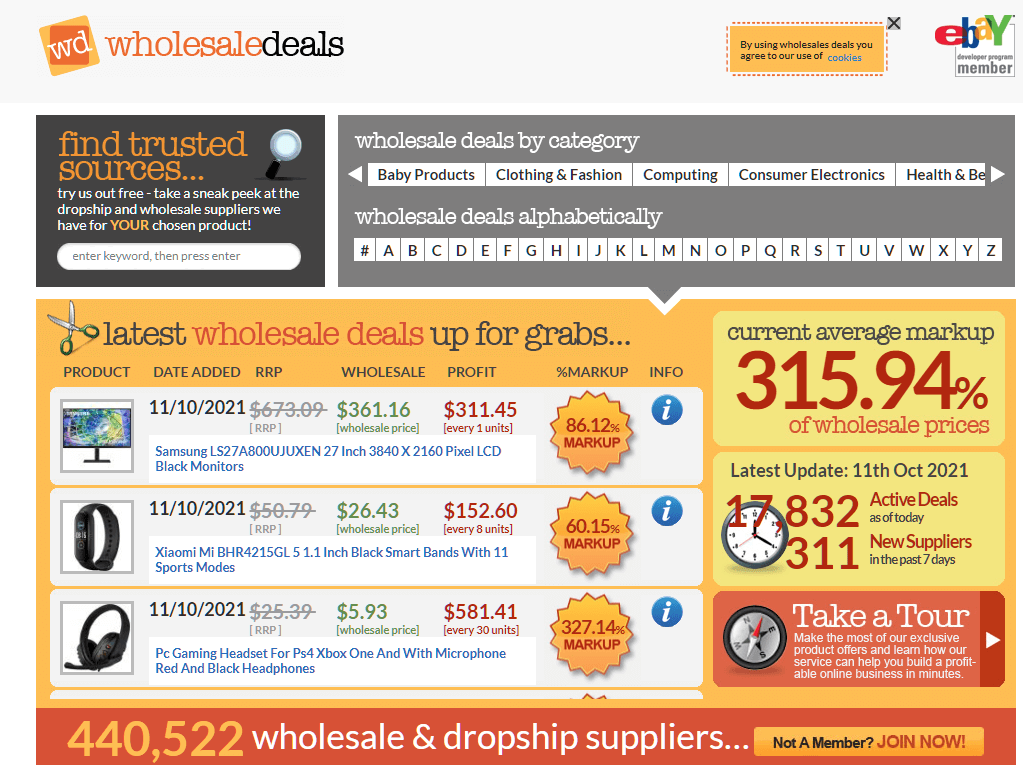 Wholesaledeals collect the best profitable deals from eBay suppliers for wholesale and dropship businesses. Their products cover baby products, clothing & fashion, electronics and gadgets. You can get high-quality products at 45% to 95% margins from plenty of famous brands such as Adidas, Skullcandy and CK.
Their deals vary in locations worldwide with a focus on EU and US markets. There are MOQs, which depend on each specific product.
Pricing:
Wholesaledeals' pricing plans vary in fees and subscription durations for you to choose. The cheapest plan is $20.38/ mo and the highest one costs roughly $96.18/year.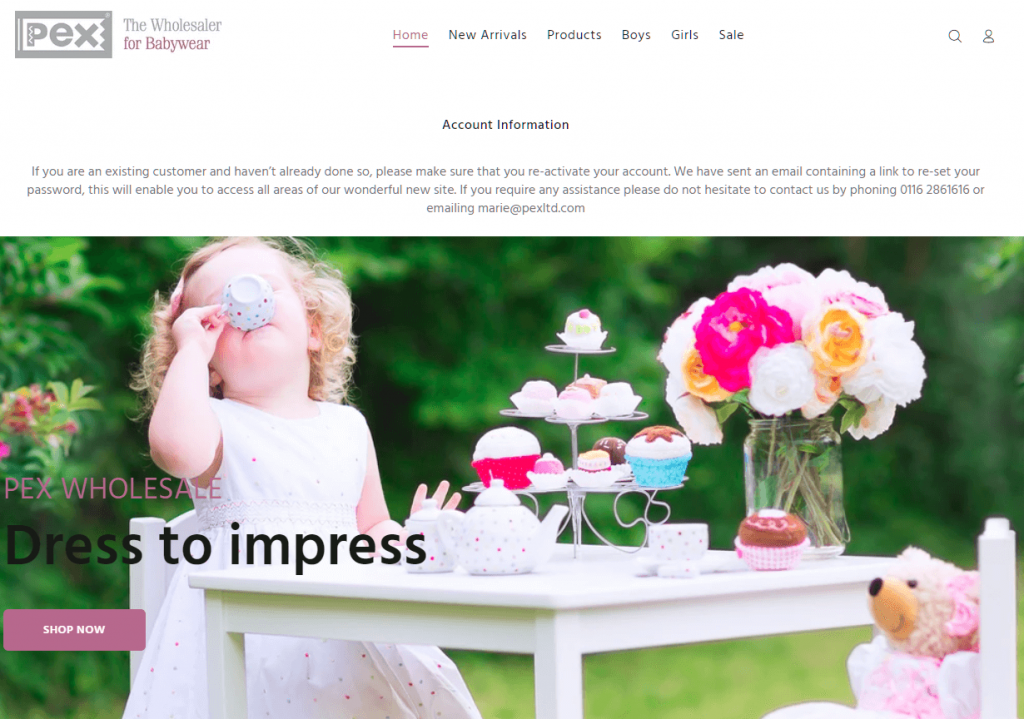 Pex Wholesale UK has supplied baby clothes to UK and EU buyers for 80 years. Their products are diverse in designs, size & colors as well as decently made for the best comfort of sensitive babies.
There is no MOQ yet your order must be more than £200. You can also get a freeship for orders in the UK above £350.
Pricing: Free

Takaski offers high-quality Japanese goods focusing on the niches of clothing, F&B, health, home & craft. The company is in partnership with many famous Japanese brands such as Meji, Kao, Kose and Muji. 
Takaski delivery service can reach plenty of countries in America, the EU, Asia, the Middle East and Oceania, all are shipped by EMS. It also offers FREE shipping for orders above $149. 
They apply a strict QAP (Quality Assurance Policy) which promises a 100% damage refund. You can also get 3-5 free samples with every order placed. 
Finally, wholesale buyers can buy as few as 1 product, whereas the more you buy, the cheaper it gets.
Pricing: FREE

Q-depot is another Asian wholesale vendor providing authentic cosmetics from 70+ Japanese brands and 250+ Korean brands. For Korean products, wholesale buyers can request a Certificate of Origin issued by the Chamber of Commerce. Thus, you and your customers can buy with confidence.
The company can ship to 100 countries using EMS, FedEx, UPS Express and UPS saver. While it depends on your location and current Covid19 situation, in general, shipping impressively takes within 9 days.
Q-depot applies an MOA(minimum order amount) of $300 for every order, which is quite low considering the average price of cosmetics products.
Pricing: FREE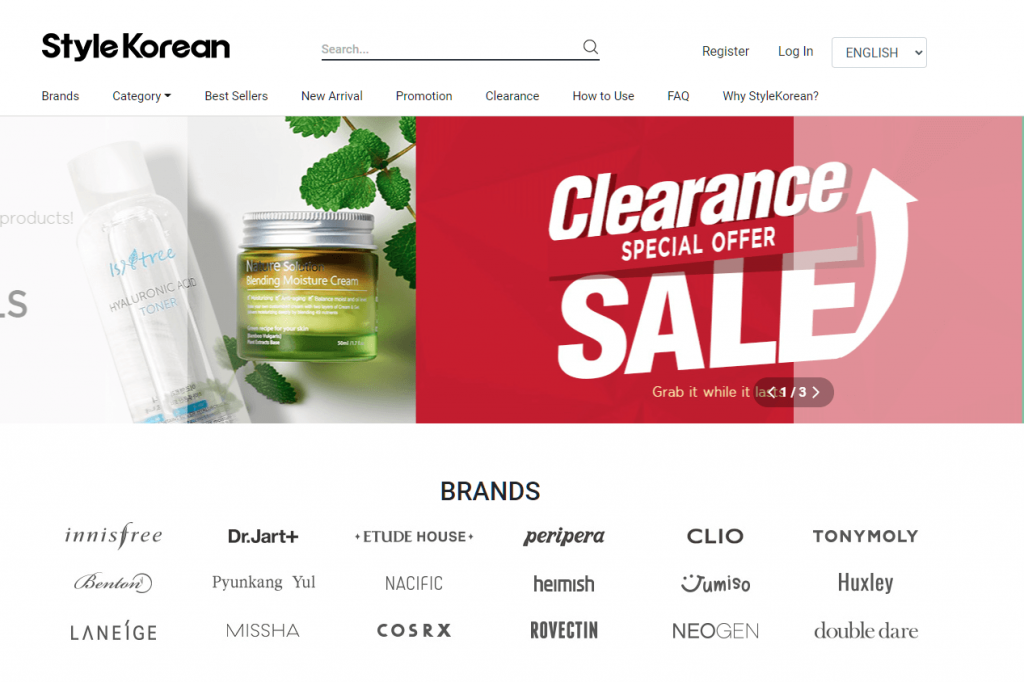 StyleKorea is your trustworthy gateway to Korean beauty products with 12.000 + SKUs of 220+ brands. It has 6 brand offices and warehouses worldwide, two of which are in the US. With 500+ distribution channels in 60 countries, the company can also ship worldwide promptly.
Wholesale buyers can access their website 24/7 to get real-time inventory access and order status. The company also houses a competent customer support team that is fluent in 11 languages including English and Chinese. 
As for MOQ, you have to purchase at least 10pc, or $1.000 of MOA.
Pricing: FREE

Asianbeautywholesale is a Hong Kong-based company featuring more than 700 brands and 20.000 SKUs in the niches of cosmetics and fashion. Most suppliers are household brands in Korea and Japan.
They offer an attractively small MOA at $250 with no MOQ required. This can be a great start for new businesses. Unlike many websites, Asianbeautywholesale has a useful review section with lots of actual reviews for you to understand the products better.
The company supports shipping to nearly 54 countries with tracking numbers. The estimated delivery time ranges from 3 – 30 business days.
Pricing: FREE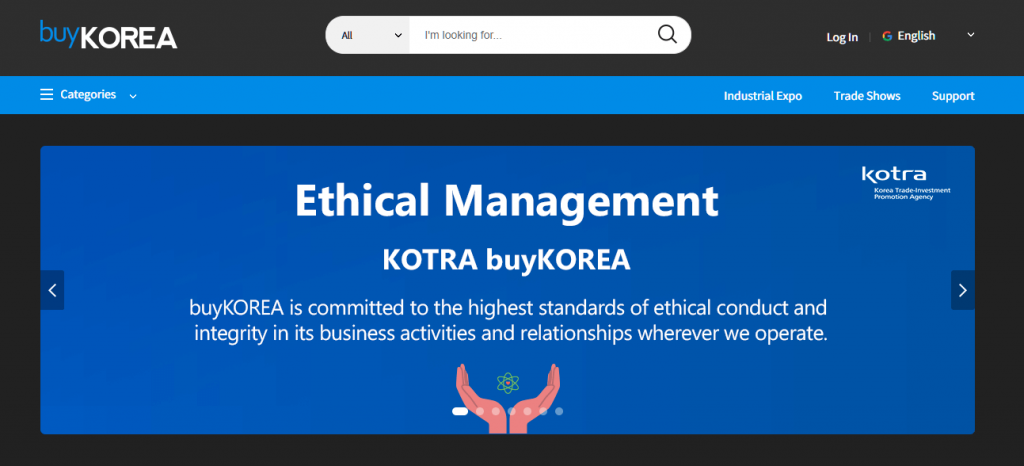 BuyKorea connects global buyers to 50.000 + Korean sellers with more than 260.000 SKUs from health, beauty, furniture to fashion and F&B. For reliability, the platform is operated by KOTRA – the official trade promotion agency of Korea. 
Small businesses can benefit from its easy-to-navigate website, helpful tradeshow and instructions to help gain better product insights. The MOQ is applied differently for each product.
The company allows you to contact your suppliers in person to get the best deals. You can also post a buying offer so that suitable suppliers can directly introduce their products to you. 
While delivery varies among suppliers, most of them use EMS or DHL as their shipping agency. However, a tracking system is not widely available yet, so you should ask your supplier for more details.
Pricing: FREE

TradeKorea is another reliable wholesale vendor powered by KITA (Korean International Trade Association). It provides you with a lot of Korean products from various categories (fashion, beauty, F&B, home & kitchenware, electronics and more).
For wholesale buyers, TradeKorea gives a free matching service. All you need is to submit your detailed requests and they will get back to you with your suitable suppliers within two business days. From then, small businesses can negotiate directly with Korean suppliers for the best prices and MOQs.
Like BuyKorea, you can post your buying offers, which are then shown on their website for suitable suppliers to contact.
Pricing: FREE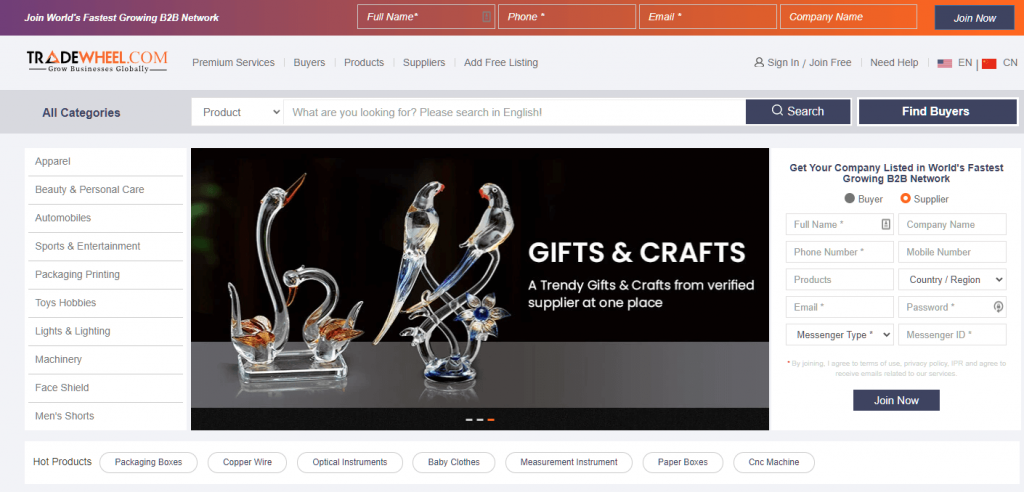 Tradewheel is another well-grounded global vendor with 6+ million suppliers and 22 million SKUs. Their suppliers come from more than 27+ countries in Asia, America, EU and the Middle East. And their category includes apparel, beauty, sports, toys, machines, homes & gardens and many more. 
Wholesale buyers can easily browse for suppliers, post buying offers or contact customer support to find their ideal suppliers. Tradewheel uses premium badges for their well-verified authentic sellers, you can utilize this feature to source the most trustworthy ones. Furthermore, although prices are included in product pages, you can always bargain directly with your suppliers for even juicier prices.
Pricing:
FREE
Premium: not published.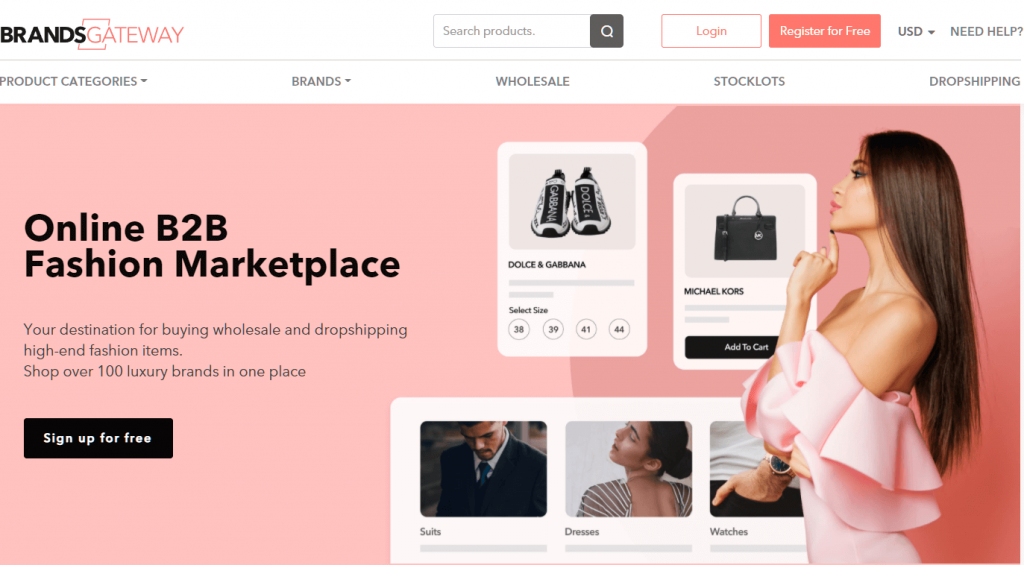 Brandsgateway is a popular B2B marketplace for high-end fashion. The platform offers you great wholesale deals from over 70 luxury brands with 15.000+ items. Some of these reputable brands, for instance, are Dolce & Gabbana, Jimmy Choo and Tom Ford. 
The company requires a MOQ of $12.000, which is not too bad for luxury goods. On top of that, wholesale buyers can get support from a sales manager who will help source the best-selling products. Every month, they will send you their stock offers from which you can purchase well-selected products at up to 95% discounts. 
As for delivery, Brandsgateway claims a fast express delivery of 5 days worldwide and 3 days in the EU. For more information, their shipping partners are all internationally acclaimed companies like DHL, FedX and UPS. 
The company also has competent dropship and affiliate programs for your interest.
Pricing: FREE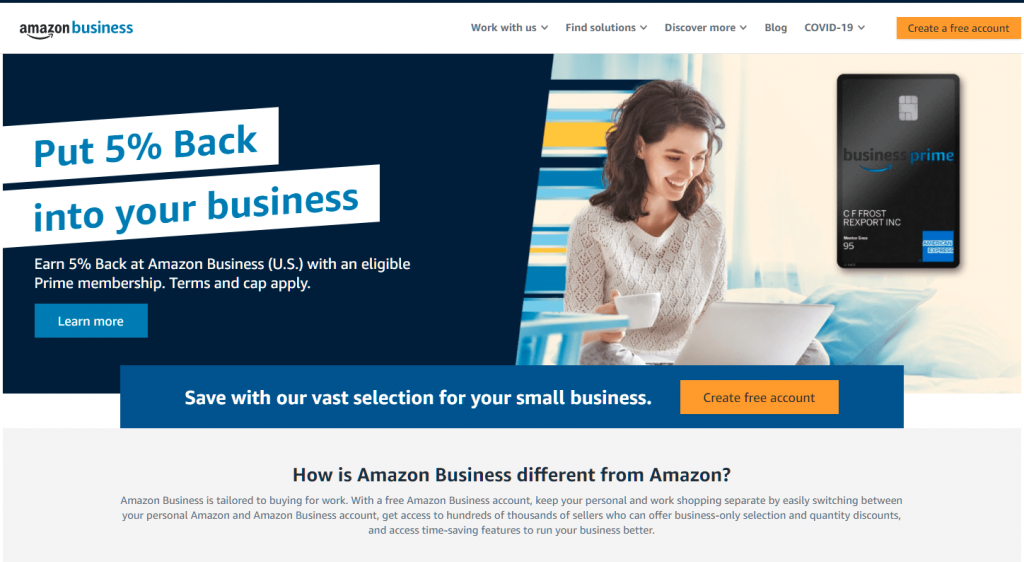 Amazon Business, as you can guess, is a sub-program of Amazon dedicated to, well, business. They exclusively have a landing page for small businesses offering a streamlined buying experience, quantity discounts and flexible shipping options.
Applying for Amazon Business, members can benefit from useful integrations, workflows, and one-channel-suppliers feed to maximize your business efficiency.
Furthermore, aside from bulk price discounts, regular buyers can get a 5% further discount for recurring delivery.
Pricing: FREE

Go4Worldbusiness is a global B2B marketplace headquartered in India. The company connects wholesale buyers to nearly 2 million worldwide suppliers in various niches of agriculture, electronics, construction, furnishing, beauty and so on. 
On any product page, you can easily find product descriptions, MOQs and company profiles. Score and reviews system called Trust Score is used to measure reliability. In order to get a high Trust Score, the company must receive great reviews from their customers, be a long-time member of Go4Worldbusiness as well as pass their verification test. 
Same as many other companies, to source suppliers, you have to contact suppliers to get quotations or post a buying offer on their website. Their English-fluent 24/7 support team can also help you find your products effectively. 
Pricing: FREE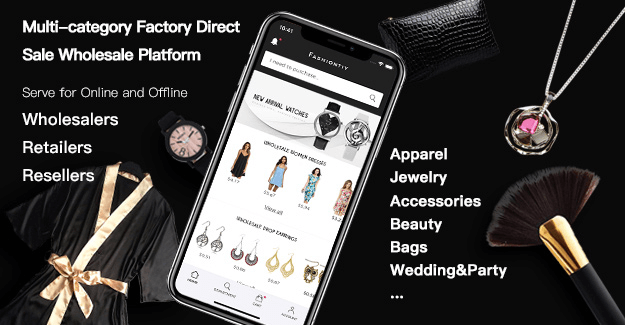 FashionTIY is a big US-based wholesale marketplace for fashion, accessories, kids products, home & garden, etc. They handpicked products from over 1000 suppliers and deliver them to wholesale buyers at 30%-70% cheaper prices.
The best thing is FashionTIY does not have any MOQs, so small businesses can buy as few as they can. Also, you can request sample packs for every order you make.
The company takes pride in its reliable delivery services partnered with DHL, FedEx and UPS, along with careful package inspection and real-time tracking services.
Finally, FashionTIY also offers a dropshipping program for aspirational fashion sellers who do not own an inventory.
Pricing: FREE
Source unique items now!
So this is our list of the most reliable wholesale vendors and their highlighted services. Not only trustworthy, but all wholesale vendors here are also awesome for their products' quality & quantity, customer services, and shipping capability.   
We sincerely hope you can find some vendors that actually help find amazing products and suppliers.
Tell us if you have tried any of them. We are happy to hear your success story on how your small business grows and scales up.