After 5 years from the first time it launched, with over 4 million times of download, Magento is now the most powerful platform that empowers brands and businesses from B2C to B2B industries quickly and cost-effectively deliver shopping experiences and interact with customer in omnichannel. Recently, the next generation – Magento 2 platform is released. People forecast that it won't much longer open a new era of commerce innovation.
Similar to previous versions, Magento 2 platform is available with both Community and Enterprise editions. So it offers user the flexibility of choosing one option which meet their requirements in the best way.
Please keep eyes to continue reading this post to learn everything about Magento 2 platform. We're sure that at the end of this article, you'll realize the reasons why Magento 2 platform has been one of the most discussed topics in the wide developer community and why Simicart is trying our best to up to date all of our products.
1. An improved level of flexibility
Magento 2 platform comes with a new structure which inculcate a unique proportion of flexibility. With a perfect combination of high code coupling, developers can conveniently create a major of features including checkout, CRM, CMS, sales and so on. You can enable or disable any component while keeping the code-base tidy.
2. Magento 2 platform provide a better code quality and testing
Magento 2 platform is equipped an improved Testing Framework. It's able for developers automatically test the generated functionality easily than before. Being a Magento 1.x developer, sometimes we feel confused a lot when Magento comes to the new version. Most of our working files have been reorganized in a distinct way. Everything is now moved under "app" file, except for config.xml where you register your specific module. Next, Templates; layouts and JS or CSS files are now placed under the file of each module. Moreover, there is now only one code pool for all core and custom modules.
In this version, let's say goodbye to Prototypes, say hello to jQuery. In Magento 1.x, Prototype is the main javascript library as jQuery wasn't stable. Now after many feedback from the developers community, the host company made jQuery the default library from Magento 2 platform.
And anything else? What is the new in this version?
Look at the picture to know more what's the new they updated in this version!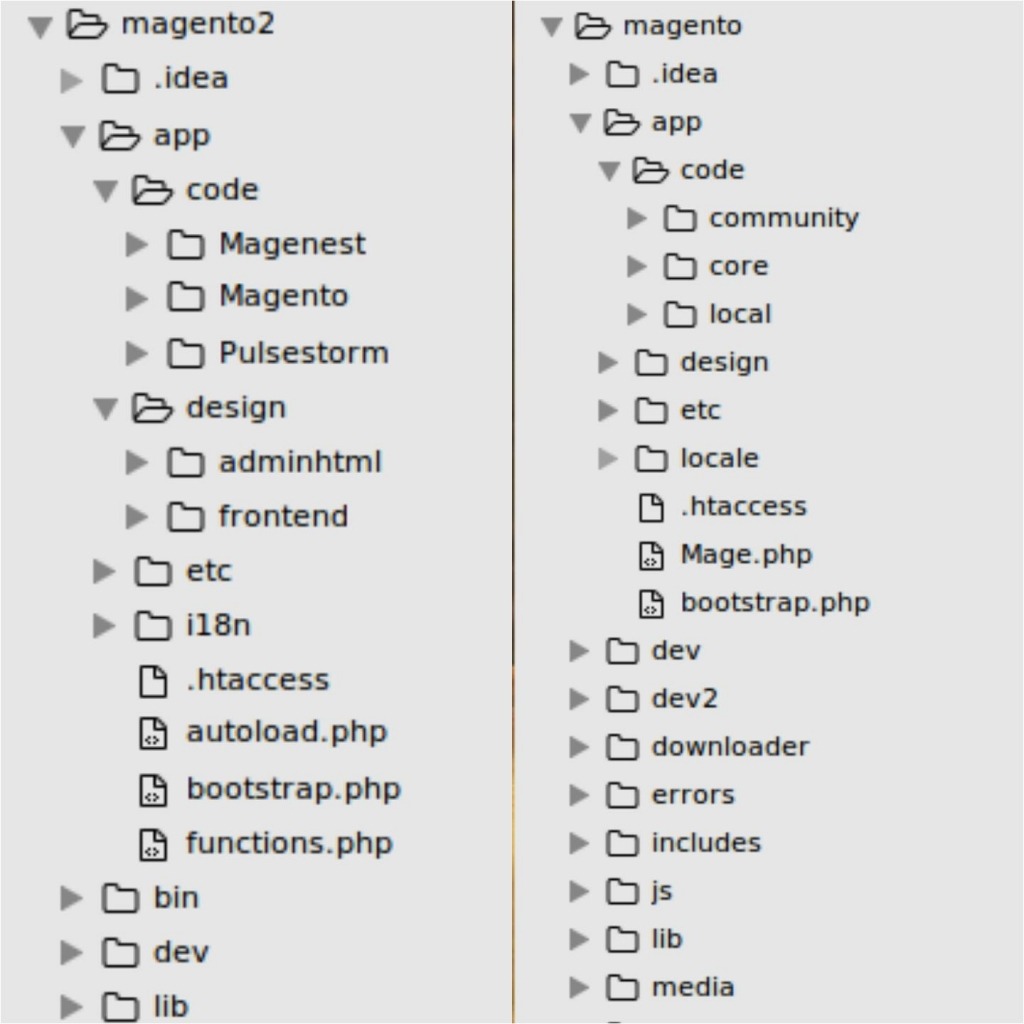 3. Magento 2 provides an improved performance and scalability
Magento ver. 2 comes with full page cache by default. The refactored indexers won't block the processes because they would be working in the background. With a majority of core improvements, Magento 2 users will be able to create an update e-commerce store while reducing the count of data conflicts. You can definitely view their revised format and deliver you efficient updates and faster query performance as the previous enterprise versions of Magento.
4. Wrapping Up
When it comes to architecture, Magento 2 will be different from the previous version. It absolutely stuns e-commerce platform so take your best foot forward and install an overwhelming e-commerce store development experience.
5. Reduced upgrade costs and efforts
With Magento 2, you can upgrade core Magento software and extensions easier than before with lower upgrade costs and efforts. To support developer upgrade new version easier, Magento 2 platform includes information on policies. You will be provided all necessary info about the compatibility of upgrades. With the support of new standalone installer, installing Magento 2 platform will be much faster. This tool will check for prerequisites before starting the installation.
6. It comes with new default theme and admin GUI
Magento 2 platform brings new default theme, codename "Luma", which is really an eye-catching theme that has some substantial changes compared to previous version – Madison Island theme. The new theme includes tiles structure, typography, fully responsive images and better performance.
The core team also introduced an user-friendly backend UI for store owners.
After Magento 2 platform has been released, we work day and night to support customer if they have any question with this version, upgrade and supplement new extensions. Keep follow to ensure that your store has been equipped overwhelming functions! In the next post, we will provide you further information about the new points.
UPDATE 20-12-2016: We have just released our beta version of Mobile App extension for Magento 2. Try it for free NOW»
SEE ALSO: