[sg_popup id="2″ event="onload"][/sg_popup]Build an app in your mobile devices? Have no coding skills? Don't worry! You just need an app builder! Let's look at the 6 best app builder reviews in 2015!
Building an app in your mobile devices is becoming easier than ever. No need to have coding skills, you just need an app builder to create your own app with customizable features. So what have been the best app builder in the past year?
Let's look at 6 top app builder reviews in 2015
1. Como- A Big Solution for Small Businesses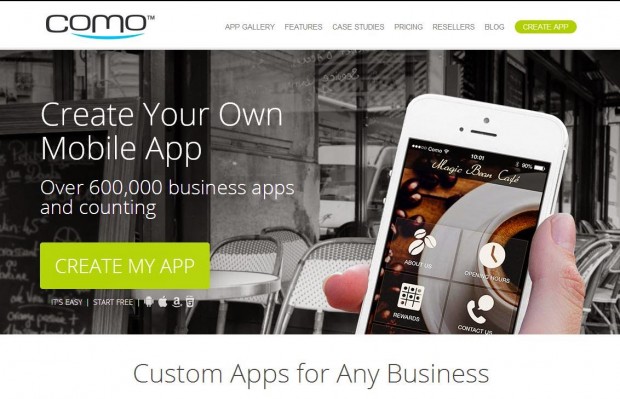 Como
Price:
$39/month
$396/year
$696 for 2 years
Review:
Como guarantees that You will see results within 6 months or you'll get an extra 6 months free. This app is appreciated because it is easy to use with great looking designs. The users can customize different features including themes, colors, layouts, styles, icons and backgrounds. Another noteworthy point is that this app requires no coding skill so it is really simple for you to build your own app. Besides, Como has excellent customer service, especially via email.
However,  Como is now only available for Android and IOS mobile devices. Another disadvantage is that the users cannot get access to live chat or phone support.
2. Appy Pie – Make an App, As Easy as Pie.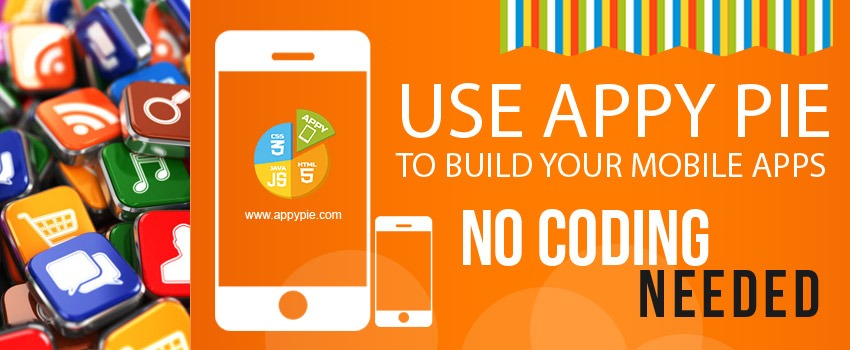 Appy Pie
Price:
Appy Pie offers a 15-day money back guarantee with all of it's paid plans.
Free (Kindle, iOS, Android and HTML5)
Basic: $7/month (Android and HTML5)
Gold: $19/month (iOS, Android and HTML5)
Platinum: $33/month (Windows, Blackberry, Kindle, iOS, Android and HTML5)
Appy Pie also offers Lifetime plans per app:
Basic: $499
Gold: $999
Platinum: $1,499
Review:
Similar to Como, with Appy Pie, the users do not need to have coding skill to create an app on their own. Appy Pie supports a wide range of systems such as HTML5, Android, iOS, Blackberry, Windows, and Kindle. On paid versions, the app analytics and Google analytics are integrated without automated ads. Furthermore, Appy Pie allows the users to monetize with iAds, to get supported through live chat. The reseller program is also applied.
The downside of Appy Pie is that when you build an app, its brand is on all versions except Platinum plan. This means that you have to buy the most expensive version to remove the brand. Moreover, Appy Pie is said to have a small selection of icons and backgrounds.
3. AppMakr – The easiest way to create an app

AppMakr
Price:
App Basics: $1/month
App Pro: $9/month
Become a Reseller: $499/year
Review:
Appmakr also allows the users to build an app without coding skill. There is no ad in the app, but you can install your own ads to make a profit. The users can customize all the features with unlimited updates. What is more, you can charge for your app in the app store.
However, the apps created with Appmachine can be tricky when published on iPhone. The version in Windows has fewer features and the live chat is only available for Pro users.
4. AppMachine – Develop an app for every event

AppMachine
Price:
Basic: $19 (Basic Blocks, App Previewer, Live Updates)
Plus: $49 ( Basic Blocks, App Previewer, Live Updates, Plus Blocks, Analytics, Push Notifications, Advanced Design Options, Automatic app updates)
Pro: $69 (Basic Blocks, App Previewer, Live Updates, Plus Blocks, Analytics, Push Notifications, Advanced Design Options, Automatic app updates, Excel Import, Add Custom JavaScript, magento mobile iPad Support, Custom Web Services, Add business logic)
Review:
AppMachine is another app builder which is very simple to use. Pro options are available right in the trial version. You can play around with designs and functions and only start paying when you decide to publish your app. AppMachine offers a variety of templates and designs for you to choose, which gives you a lot of ideas for your own app.
The downside of AppMachine is that there is no ad support in the app and it is not available for HTML5. Moreover, some pro features seem not really ready.
5. Shoutem – Everything you need to create amazing apps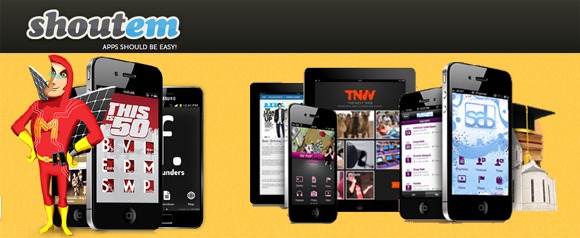 Shoutem
Price:
Basic: $19.90 (HTML5)
Advanced: $49.00 (iPhone, Android, HTML5, Push notifications)
Unlimited: $119.90 (iPad, iPhone, Android, HTML5, Push notifications, API access/ data sync)
Review:
Shoutem has useful loyalty features including the loyalty reward and a 'Special Deals' section. The support from Shoutem is particularly fast and friendly. One more highlight of Shoutem is social media integration with Shout platform apart from normal social media options. Also, the multilingual app capability allows you to translate everything in the app into your language.
In contrast, the interface language of Shoutem is English only. This app builder also lacks eCommerce options and has confusing menu structure.
Simicart – Solution for Magento Merchants to have a Mobile Shopping App

SimiCart
Price:
Lite: $299
Ultimate: $599
Superior: $1299
Review:
SimiCart is a Magento mobile app builder of Magestore to generate your mobile shopping app for your own business. Without any coding, you can customize it with different plugins, which enables you to  create a unique app full of necessary features. SimiCart is considered a wise choice for Magento stores because it is specially designed for them, it is directly connected with your systems with a user-friendly interface in any current language.
However, some features such as mobile coupon, mobile gift card and running via the third party should be integrated into SimiCart to give the users better experience.
Create your own shopping app with the best app builder reviews in 2015?!
If you want to create your own app in your mobile devices, this top 6 app builder reviews in 2015 will be really helpful for you. Especially,  if you have an online business with a Magento website and you are looking for a solution to a mobile shopping app to boost your sales, your choice should surely be Simicart which contains full of features for the best shopping app ever!
>>>> Related Post: How to choose the best mobile shopping apps builder?