The rule for every business is that: No matter which marketing strategy a business carries out, a lively way of transmission will result in a happy outcome – customers' willingness to pay thousands of dollars. The same rule also applies for e-commerce industry, especially mobile commerce.
Honestly, mobile shopping app is becoming a dominant channel of products transaction. And thanks to one of the greatest mobile connectors which help integrates Magento web store with a Magento mobile app more and more online businesses are finding the way to determine themselves and their high profit.
But behind Simicart, there exists a big treasure, usually called The list of Simicart plugins, which is considered what makes Simicart desired by tons of Magento merchants. If you are also a Magento merchant and wish to make customers happy to pay $5000 each day for your products, so video plugin from Simicart can make your dream come true.
Where to find Video plugin from Simicart?
It is a plugin provided by Simicart, so you need to go for User experience to see the storage of it.
Then clicking on the Video plugin symbol, popping up will be the product page of it.

Now, it's time to discover the most prominent features of Video plugin.
Earn $5000 per day with Video plugin from Simicart – feasible mission!
It may sound hilarious, but in fact, everything can happen and it happens for a reason. The reason is the installation of Video plugin from Simicart. Do you believe?…. I will make you believe. 😀
What it has:
Video plugin is like a tool to help e-commerce merchants to introduce their products to customers effectively. We all know that, user-experience plays a very important role in every screen from mobile to desktop, so optimization in user experience becomes the essential part in doing m-commerce. With Video plugin, customers will be provided with enough information of products in the most impressive and real way, in the end, it can amaze them with an enjoyable experience. Customers will also not feel bored of text, lines of boring description or technical specs.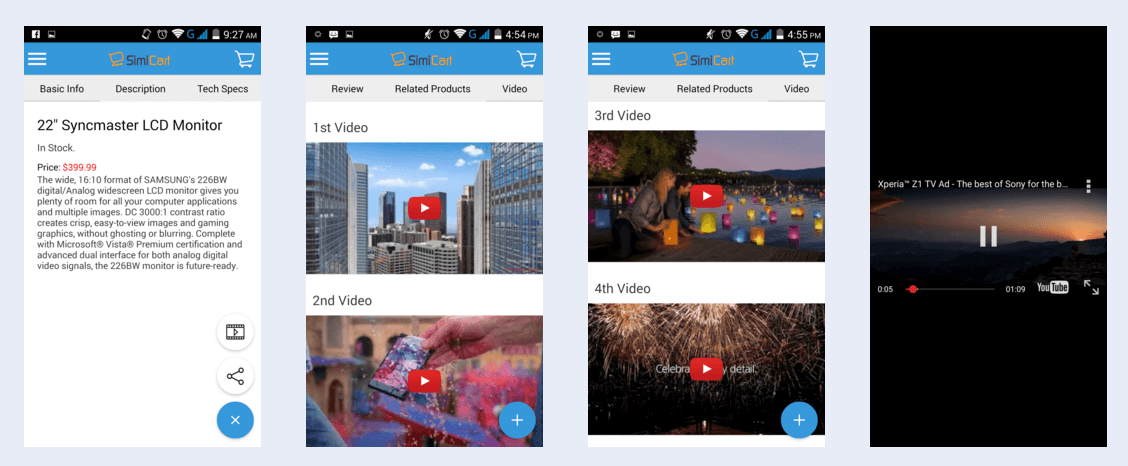 Believe me, you can make your customers desire for your products by their sticking with the lively video. Utilizing video plugin, in fact, is really an excellent way to catch customers' attention and carve your products to their mind, thereby keeping them stay in your store longer. Of course, it is the most vivid way to acquire customers and boost your sales revenue thoroughly in the end. And the sales may reach $5000 per day in the future for sure.
Outstanding features:
Users
 Run on all devices of Android, magento mobile iPad, and iPhone.

 User-friendly interface

 Unlimited number of video to be shown

 Two ways to access video on product detail page

 Elegant and trendy with flat design
Admin
Support videos on YouTube

Easy to install and configure

Compatible with Magento version 1.4 – 1.9
Some reviews:

How to get Video plugin for your mobile app
Actually, it is very simple to install and configure Video plugin. To get it, you just need to download the user guide, follow the guide and experience its greatest functions.
Take a look at its price. How amazing it is when requiring just $49 to pay for it! So it is really reasonable to purchase one.
Hopefully, with the dynamic support from SimiCart like Video plugin, you can have more and more lively videos illustrating your products in the most impressive ways, attain high customers loyalty, and, of course, boost the sales revenue by tripled times. You do not believe, let's try and feel the beat! 😀
* Please note that you need to purchase SimiCart first to be able to use this plugin.
* * Video plugin is only compatible with SimiCart version 3.0.
>>>Related posts: 
Matrix theme plugin – Brighten the interface of your Magento shopping app
Ipay 88 Payment Solution – Gain High Profit With Just Less Than $50
Let's Dig Into CCAvenue Payment Solution For Ios Shopping App!