It has been quite a long time since Magento introduced their 2.0 version. With a more friendly user interface and improved performance, it is likely that many existing Magento 1 users will move to Magento 2 sooner or later. Flowing with the trend, SimiCart also released Magento 2 app in December 2016. Since then, we realized that many people out there need helps with this platform, hence this tutorial series.
Continuing to How to configure Magento 2 websites – General, in this article, I will help you understand Product Dashboard and Six default product types in Magento 2.
Introduction Magento 2 Products Dashboard
Products are the most important thing in any E-commerce websites. Before selling online with Magento 2, we will have a quick look at the dashboard of Magento 2 which can manage all of your products.
You have to follow this path to open Magento 2 Product Dashboard: Product >> Catalog.

On the image below, you can see that Magento 2 product dashboard includes these functions for you to manage products: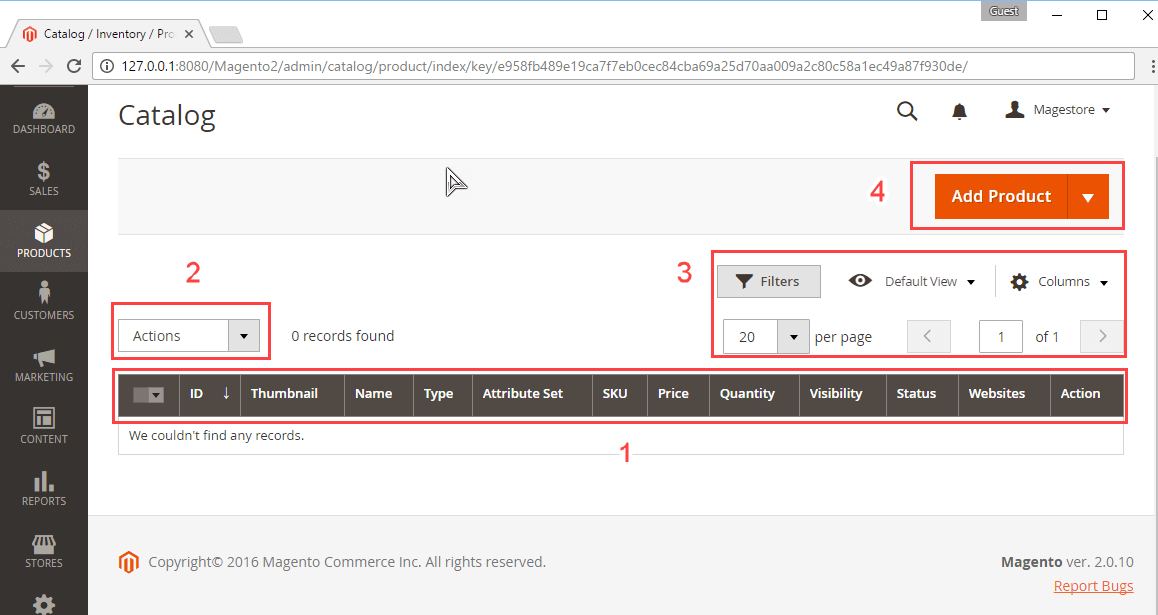 There are 4 main function panels:
1 Products Table: a place that contains all of your products information such as images, name, price, quantity, identification code (SKU) …etc.
2 Action Box: Where you can edit, change, update products in bulk easily.
3 Filter and View modes:
Filter:  you can select product with specific information such as: price, quantity .. ( you can see the products that cheaper than $100, or available quantity is under 10 … with this function)
Number of products view in the first page: Choose to see 20 or 50 … products in 1 views from dashboard.
Product listing page: Go to next and previous pages of products.
View shortcut: Want to quickly access some special view such as : Filter Number of products that have quantity under 10 to purchase more from suppliers, you can save this view as a shortcut to quickly access in the next time in 1 click without using filter again.
Column display setting in the table: Choose which information will be shown in the table by tick on it.
4 Add Product button: You can start to add a new product by click on this button.
Six default product types in Magento 2
You can create any different kind of product types that you want with Magento 2. However, in default mode, Magento 2 has the same 6 product types but it has some improvements in detail of each type in comparison with Magento 1:
Simple Products
Grouped Products
Bundled Products
Configurable Products
Virtual Products
Downloadable Products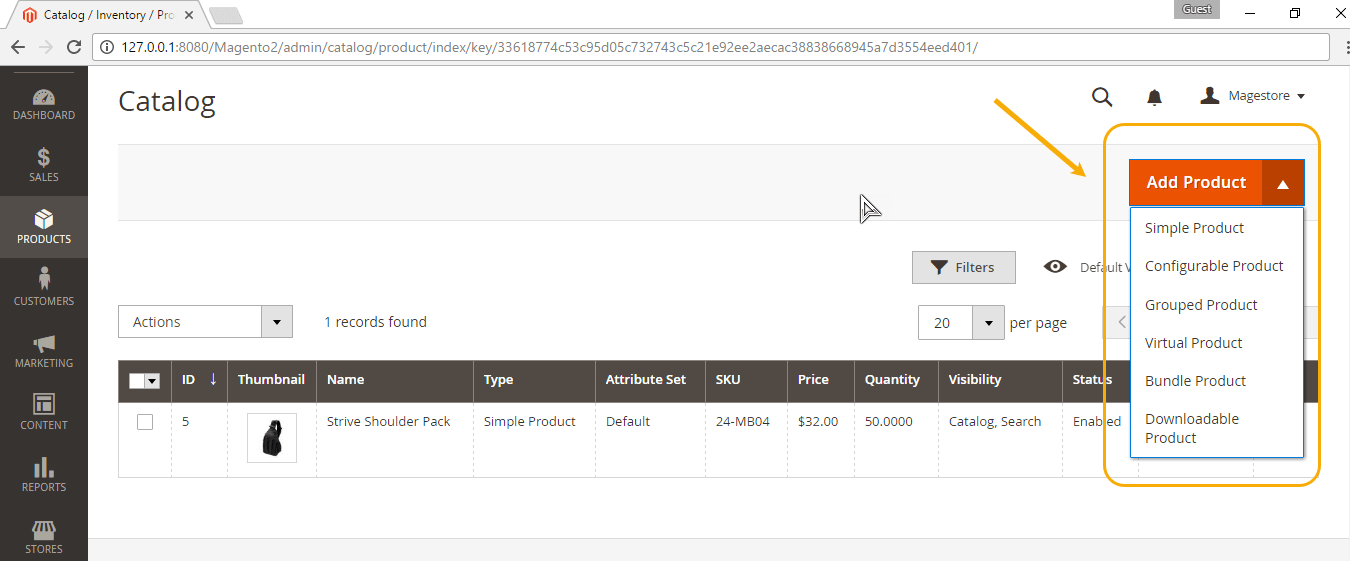 It is really important to understand about 6 default product types because each one of them has its specific type and attributes.
Simple Product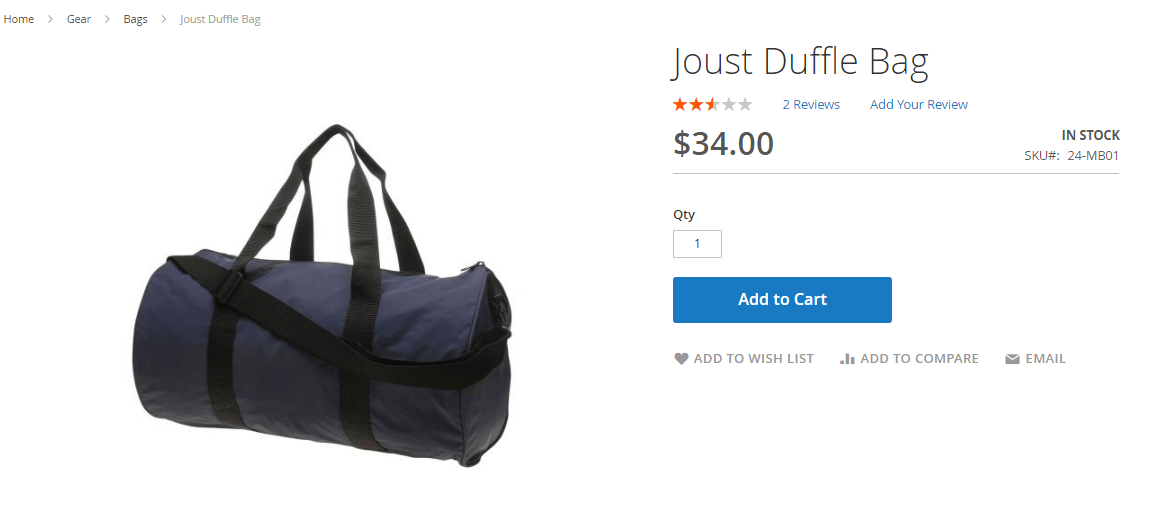 As it's named, a simple product is a physical item with a single SKU. This type of products has a variety of pricing and of input controls which make it possible to sell variations of the product. Simple products can be used in association with grouped, bundle, and configurable products.
Configurable Product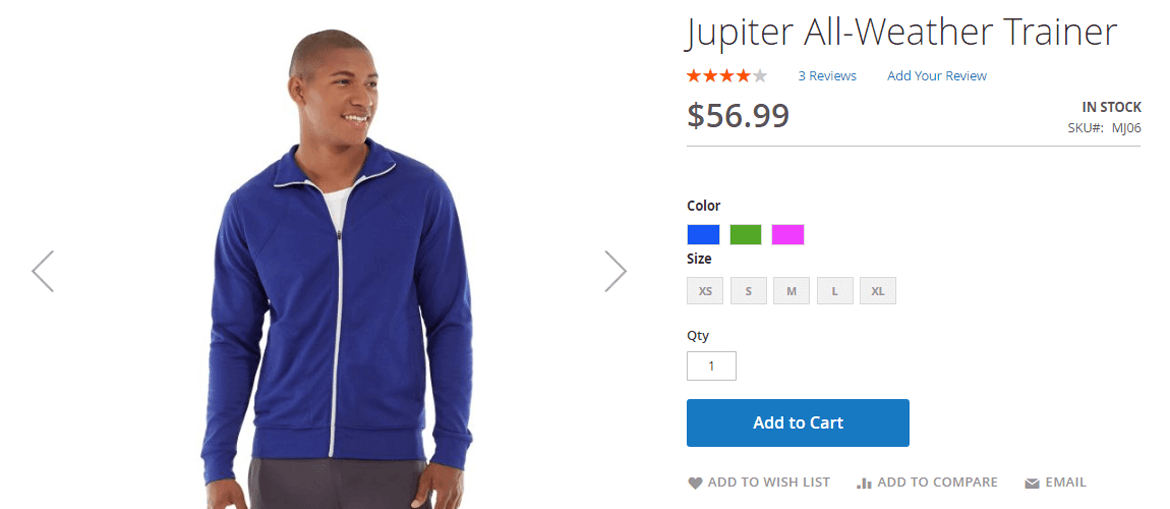 A configurable product looks like a single product with drop-down lists of options for each variation. Each option is actually a separate simple product with a unique SKU, which makes it possible to track inventory for each product variation. You could achieve a similar effect by using a simple product with custom options, but without the ability to track inventory for each variation.
Grouped Product
Different with 2 types above, grouped product is made up of simple standalone products that are presented as a group. You can offer variations of a single product, or group them by season or theme to create a set of different products. Each product can be purchased separately or as part of the group. In the shopping cart, each item is listed separately.
Virtual Product

Virtual products are not tangible products and are typically used for products such as services, memberships, warranties, and subscriptions. Virtual products can be sold individually, or included as part of the following product types: Grouped Product and Bundle Product.
Bundle Product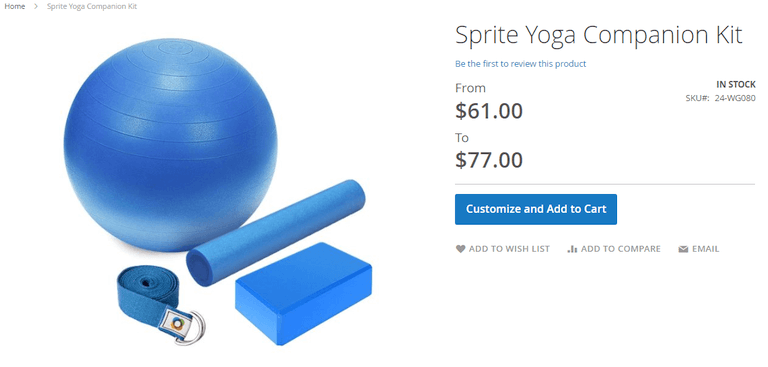 A bundled product let customers "build their own" from an assortment of options. The bundle could be a gift basket, computer, or anything else that can be customized. Each item in a bundle can be based on one of the following product types: Simple Product and Virtual Product.
Downloadable Product
A downloadable product can be anything that you can deliver as a file, such as an eBook, music, video, software application, or update. You can offer an album for sale, and sell each song individually. You can also use a downloadable product to deliver an electronic version of your product catalog.
Because the actual download doesn't become available until after the purchase, you can provide samples, such as an excerpt from a book, a clip from an audio file, or a trailer from a video that the customer can try before purchasing the product. The files that you make available for download can be either uploaded to your server, or from a different server.
That's it! You have finished general configuration of Magento 2. I hope you find this post helpful.