After building a magento mobile app and selling product, merchants need to track sales to improve the performance. But how can they do that? Do they track their company sales by using traditional ways like putting data in an Excel file or a thick notebook? If you're doing that ways, stop doing this from now. There is a great solution for tracking company sales called SimiTrackinng- a free mobile app to track sales and order status through mobile.
Tracking company sales: Why do we need it?
Creating database to develop in the future: Tracking company sales creates the database about customers and sold products as well. Merchants can save this data for future forecast about shopping trend of different customers on their store. It's also a future reference to develop and promote products to serve customers better and catch up the new trend.
Identify patterns: If you see spending pattern or purchasing pattern of a particular group of customer, you can use it to expansion business.
How does SimiCart help in tracking company sales?

Manage orders occur in your Magento store 
With SimiTracking, merchants can monitor activities occur in their store. The date will be recorded in few seconds after each activity happens. Moreover, it also helps merchants to see order status and detail including specific time periods such as today, yesterday, etc and its status like Complete, Canceled, Closed, On Hold… All information of each order will be reported and it help in tracking company sales because your sales are based on the number of orders. Merchants also see Bestselling products through SimiTracking by clicking on Bestseller report and see how many products are sold most to develop or promote for these range of products.
Saving time with full overview about sales
Using SimiTracking, you can see overview in Dashboard. This dashboard will help in sales tracking by providing overview information such as today's sales, orders status, bestsellers and others. All of the important information will be shown in dashboard and merchants can review it every day. It takes just a few minutes to look at all of the matters about your company sales. Time saving is another benefit that SimiTracking has to help you in sales tracking.
Customer insight
Besides tracking company sales, SimiTracking also helps merchants to understand their customers. They can see the purchase history of their customers on their Magento store. All personal information about customers is also shown such as Phone number or Email. From the information about purchase history and personal information, merchants can know what products do they like and buy most, and merchants also tap on the phone number and email to contact to customers immediately.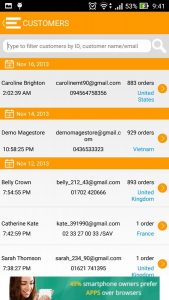 How to get SimiTracking for tracking company sales
As a merchant, you can get SimiTracking now to track for sales with some simple steps. You can install this app within 5 minutes and see how fast and easy SimiTracking is. There are 3 steps to install SimiTracking for tracking company sales:
Step 1: Download connector
This is the first step, you need to download Connector to connect sales information to the app.
Step 2: Install on Magento backend
Like any magento mobile website extension, now you need to install the Connector on the Magento backend to start tracking.
Step 3: Download the app
In the final step, you need to download the app and start tracking company sales.
Sales tracking is necessary for every merchant to manage company sales and understand their customers through purchase history to develop and promote products better. SimiTracking is a great free app for tracking company sales, helping Magento merchants in monitoring business efficiently.