E-commerce is booming with over 20 million businesses, more than 370 platforms, and no sign of slowing down. This quick change gives new businesses a chance to catch up with the ones that are already there and compete in the market. Appearing on an e-commerce platform also helps businesses quickly get recognized and increase revenue.
However, choosing a suitable platform is quite a challenge with such diverse options, all providing assured quality, a wide range of features, and affordable prices.

Based on understanding most merchants' needs and difficulties in getting online, to make your deciding process less exhausting, our e-commerce experts and experienced developers have picked the top 10 E-Commerce platforms in 2022 along with the latest updates for various business types and scales.
What is an E-Commerce platform?
An e-commerce platform is a piece of software that lets businesses set up and run their online stores, as well as handle business transactions with their customers. This process can include everything from cataloging products and registering purchases to relationship management with users, payment processing, shipping, web design, marketing, and beyond.
Some well-known e-commerce platforms having a large number of business customers are Shopify, WooCommerce, Wix, Squarespace, Magento, etc.
So what makes the best e-commerce platform?
The best e-commerce platforms are the ones that work best for your business based on the features, sizes, models, and plans for growth of your products. Commonly, merchants would prefer platforms that can offer a variety of useful features and integrations to choose from with reasonable costs, especially enabling them to quickly launch their stores, attract more traffic, and lead to quality customers as well as orders.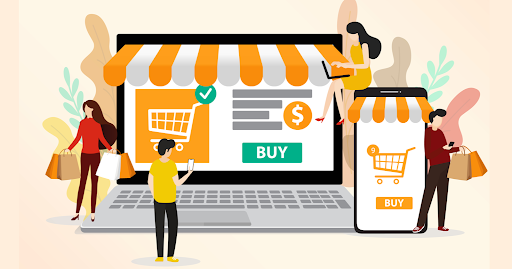 Why should businesses join the e-commerce playfield?
Playing the role of a shop window, an e-commerce site helps display the products, attracting potential clients and introducing your brand to the world. So, being online and having a well-organized website will set you apart from other businesses and bring in more customers. When you are visible to your customers, there are chances that they will buy your products or services and then suggest them to others through reviews or word of mouth, both on and off the internet. Especially for businesses with a small scale and running on a modest budget, E-commerce is an ideal place for them.
Here are some significant benefits of joining the e-commerce world:
Increase sales
Online stores' capacity isn't limited like the local market or brick-and-mortar stores, so you can spend less of your budget running a store and make more capital at the same time by selling as many products as you can with the price adjusted at your own will. And an escalation in sales is a certain thing.
Reduce operational costs
E-commerce doesn't demand huge initial capital and can be an economical way to grow your business. Besides, when compared to purchasing or renting actual business space, purchasing a domain, hosting, or paying for web design and reliable e-commerce services is less expensive in the long run. Also, with automation, all of your inventory and finances are kept in one place, and chatbots can help you with consumer concerns, which can optimize your expenses.
Broaden the range of customers
As mentioned previously, e-commerce platforms push your business in front of more customers, reaching a broad range of buyers both locally and globally on the wider market. After that, by scaling up your business, more and more customers will come.
Simplify buying process and flexibility
Selling and buying online is a more direct form of commerce. After searching and finding a desired product, customers don't have to go to the store or physically carry out the buying process. They also don't have to visit the store and can have their products shipped from anywhere in the world, saving much time and effort. It can also be clearly seen how beneficial e-commerce was at the time of the pandemic.
Lower advertising and promotion costs
Increasing brand awareness and customer advocacy both contribute to lower marketing and advertising expenses. With every product review or comment about your brand posted on Google or other independent consumer review websites, you can reach potential buyers as word quickly spreads online. More illustrations of your store, products, and services can be portrayed by lively photos, video banners, or animation. When integrated with SEO and some digital marketing tools, websites will be ranked highly on the search result page and reach more target customers.
Analyze consumer behavior
With the help of a number of analytics tools and AI technologies, you can learn about the buying habits of your customers. This lets you tailor your offer and act quickly in response to their needs and changing trends.
How to choose the best e-commerce platform for your business
Types of e-commerce platforms you can choose
Before going over some of the most important factors to consider for your business, you should be aware of the various types of e-commerce platforms available.
There are 3 main types of platforms: Open-source, SaaS (Software as a service) and Headless.
Open-source e-commerce platforms
An open-source platform is a platform that allows you to get access to all the aspects of the system to make any modifications or have self-control over your e-commerce site. With such ownership comes a higher cost to maintain and greater responsibilities for hosting, manual updates, or security. That's why this type of platform is not a proper choice for small and medium-sized businesses and those with little technical knowledge or no development team. This is, however, highly recommended for tech-heavy merchants who also have a team of experienced developers to run their sites smoothly with that extra control.
Software as a Service e-commerce platforms
Rather than building the site and developing customized solutions as in an open-source platform, with Software as a Service (SaaS), you don't have to worry about all that, as this type of platform is similar to paying to rent a place on the provider's systems. SaaS will have control over security, product updates, hosting, PCI compliance, and managing your software.
Therefore, it requires a monthly fee to use the site with the software. As you are provided and assisted with those aspects under an offered cost and plan, the budget spent will be lower than that on an open-source platform. And don't worry, this option still allows you to modify or redesign the UX buildout as well as integrate with your existing tools to improve the platform's performance.
Headless e-commerce platforms
A headless e-commerce platform is often called a CaaS platform, as it manages and provides content distribution as a service (CaaS), where the store is totally detached from the Content Management Systems. This type adds flexibility to front-end services by utilizing APIs to create a separate SaaS shopping cart and change it because they are not limited by monolithic SaaS. As such, the high cost of monolithic technology and marketing innovation requirements will be addressed by headless commerce with a considerably lower cost of ownership and a quicker go-to-market process.
To make things easier, most modern e-commerce platforms are divided into two types based on hosting methods: self-hosted and cloud-based (hosted).
Self-hosted platforms
To self-host your e-commerce site, you are in charge of looking after your own server, which can be a challenge, but in exchange, it provides you more control over issues like security, reliability, and scalability. Self-hosted e-commerce requires developers to maintain and update the website in order for it to function, which can be expensive and time-consuming. If you choose this option, you will have more control over your online retail platform, be more aware of data protection, and be able to see more of your own data.
Some well-known self-hosted platforms are Magento, WooCommerce, and Joomla!.
Cloud-based platforms
Conversely, cloud-based e-commerce platforms will be managed by the platform provider. This frees you from having to worry about things like server upkeep, but it also gives you less control over your website. A benefit of using a cloud-hosted e-commerce platform is that it is less expensive since you won't need to pay for servers, maintenance, or updates. The hosting service provider will also offer you customer support when needed. Using cloud hosting has various drawbacks, such as the requirement to pay a licensing fee in addition to the cost of hosting. Additionally, you have less control over the servers and can't modify them to fulfill particular requirements.
Some well-known cloud-based platforms are Shopify, Wix, BigCommerce, and Weebly.
Factors to consider in choosing E-commerce platforms
Sure, after getting familiar with all types of platforms, you might have some expectations or an understanding of which type suits best for your business. Now come to the choosing provider stage. Some merchants choose one platform because of its reasonable plan price or easy setup, and some choose another for its majority of extensions and integrations, anything that aligns with your needs. With so many great choices in the line, there are some attributes you should put into consideration.
The total budget
The costs for setting up a business on an E-commerce platform can vary depending on the plans and types of each platform. Calculating the cost is not limited to the price of the platform itself but also needs to count any costs of maintenance or other development and integrations. Besides, with each type of platform, there's a difference in the whole price or the package price. These costs are determined by several factors: web design, platform development and integration, custom app creation, security, monthly hosting, maintenance, licensing, etc.
Decide the features you need then compare the cost of the platform to ensure it is a good fit for your business.
Scalability
Business owners should bear in mind the prospect of scaling up which requires a platform that can grow with that business. One can start modestly on a small budget but e-commerce growth can be assured, leading your business to be able to acquire more customers, followed by more traffic and orders. Therefore, it would be a waste of time and money if you chose one that is not able to handle high traffics in the future and then have to switch to another. Your hosting infrastructure needs to be flexible enough in order to avoid crashing your site or to meet any further needs.
Customer services
Choosing a provider means choosing the along services in case problems arise or require guidance in setting up stores on the platform. Quick response and providers' availability are two things you need to look into as in such urgent situations you would want to be assisted through any kind of communication so that your business' e-commerce website can get back on track. Some can provide 24/7 live chat, and some support through direct calls or with detailed guidelines but with every provider, make sure you cooperate with a credit-proven one.
Integrations
Setting up a store online takes a great deal of time and budget, which means you need a platform that is capable of integrating with your current solutions, software and whole systems without being charged additional costs. Also adapting more external softwares is a need for better business optimization and operation, then poor integration will block your way to achieving all that, restricting your business prospect to grow bigger and bring the best experience for your customers. Depending on your business strategy, product, order fulfillment process, and company size, you may need a specific type of integration.
Customization
Surely after trusting a platform to build your store online, you would want to carry out some adjustments to get along well with your selling process and product features. Customization will probably play a key role in choosing between an open-source or SaaS platform. Although more adaptable systems may require higher costs, ultimately they will save you a lot more than to spend on workarounds.
10 best e-commerce platforms in 2022
Now you have some information on which types of platforms and essential criteria applied to select the most suitable one for your business. As E-commerce thrives throughout the decade, thousands of platforms as well as software have been developed to meet from basic needs to more complicated requirements with the growth of every E-commerce merchant.
We have gone through multiple popular e-commerce platforms and shortlisted these platforms based on business purpose, price, features, scalability, and more. With each platform, we also give you some pros and cons along with price references for your better consideration. Here are our top picks.
G2 ratings: 4.4/5 (1,010+ reviews)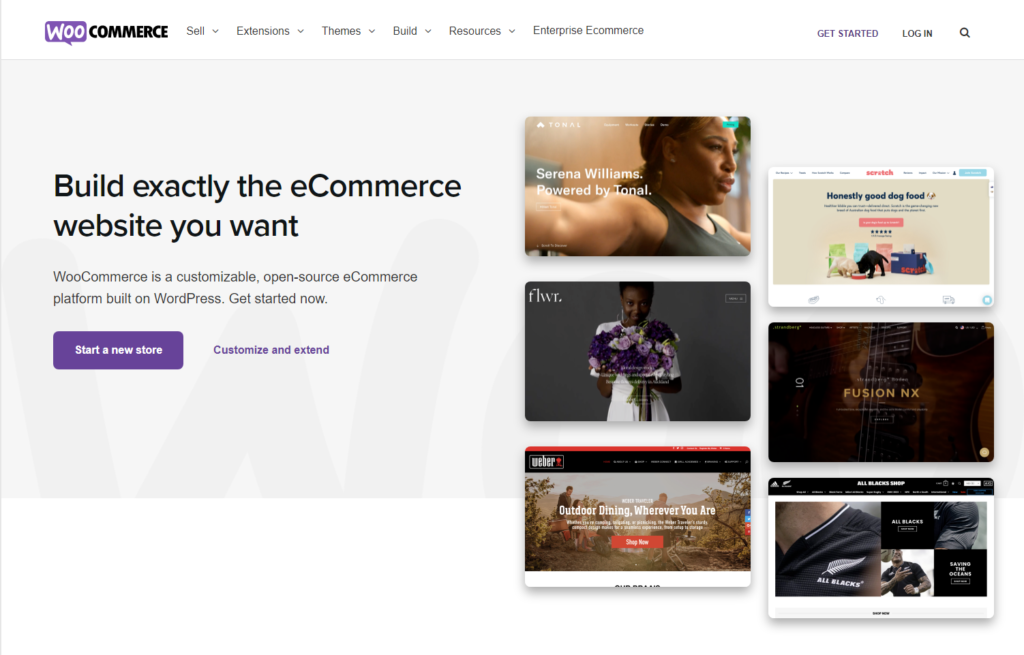 WooCommerce, developed by WooThemes in 2011, is an e-commerce extension for the WordPress content management system. Therefore, customers have to install the WooCommerce plugin, then buy a hosting package, a theme, and some more extensions to fully function as a store. This means WooCommerce can transform a WordPress site into a shopping cart with some form of payment. As it is based on WordPress, this platform offers free basic management with an average order volume, which businesses can easily customize due to their growing status and demands.
WooCommerce is suitable for those who want an online store where they can self-manage and have high customization.
Pros:
Free installation with a number of free extensions
Rich source of extensions and themes to choose from
Significant free features such as analytics, reporting, shipping, and tax tools
Good SEO assistance as WordPress is one of the best SEO platforms on the market
Cons:
Must pay additional costs for hosting, theme, maintenance and other useful extensions
Involves a steep learning curve for those who don't have any technical knowledge and coding skills
Pricing/Plan:
Free
Hosting: $120/year, Domain name registration: $15/year, Theme: up to $100/year; SSL certificate: up to $65/year.
Customer support:
Only available with live chat or email; no support offered for third-party apps and plug-ins.
G2 ratings: 4.4/5 (4170+ reviews)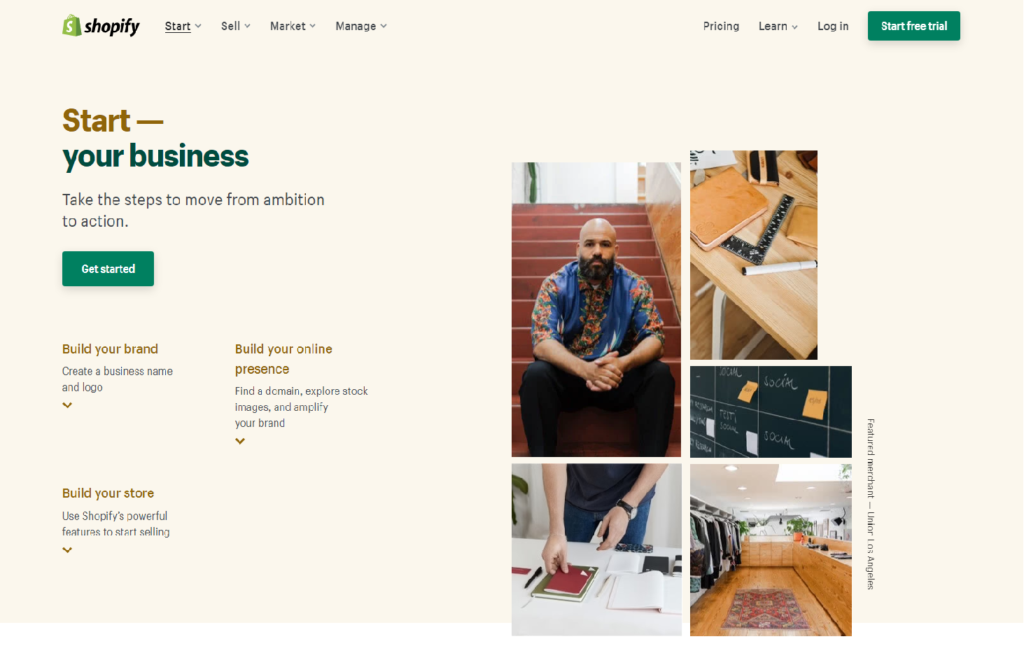 Shopify is considered the best software-as-a-service (SaaS) platform for e-commerce with the biggest market share. People prefer Shopify as it is easy to set up and administer for any kind of business, especially providing the most advanced management features for multi-channel sellers and dropshipping merchants. It also supports a built-in payment processor that works with some major credit cards, debit cards, Apple Pay, and Google Pay.
In general, Shopify is the best choice for omnichannel sellers and dropshipping businesses.
Pros:
Easy and quick to set up stores

Rich built-in eCommerce features and themes

Provide POS function
Have the most dropshipping integrations for businesses
Buyers can make payments through a variety of popular methods
Cons:
No free plan
Shopify Payments is limited to some countries
Not all themes are supported for multi-languages
Pricing/Plan:
Basic Shopify: $29.99/month;
Shopify: $79/month;
Advanced Shopify: $299/month
Shopify Plus (for high-volume business): start from $2,000/month
Customer support
Phone support; email support; community forum; content support.
3. Magento (now Abobe Commerce)
G2 ratings: 4.0/5 (480+ reviews)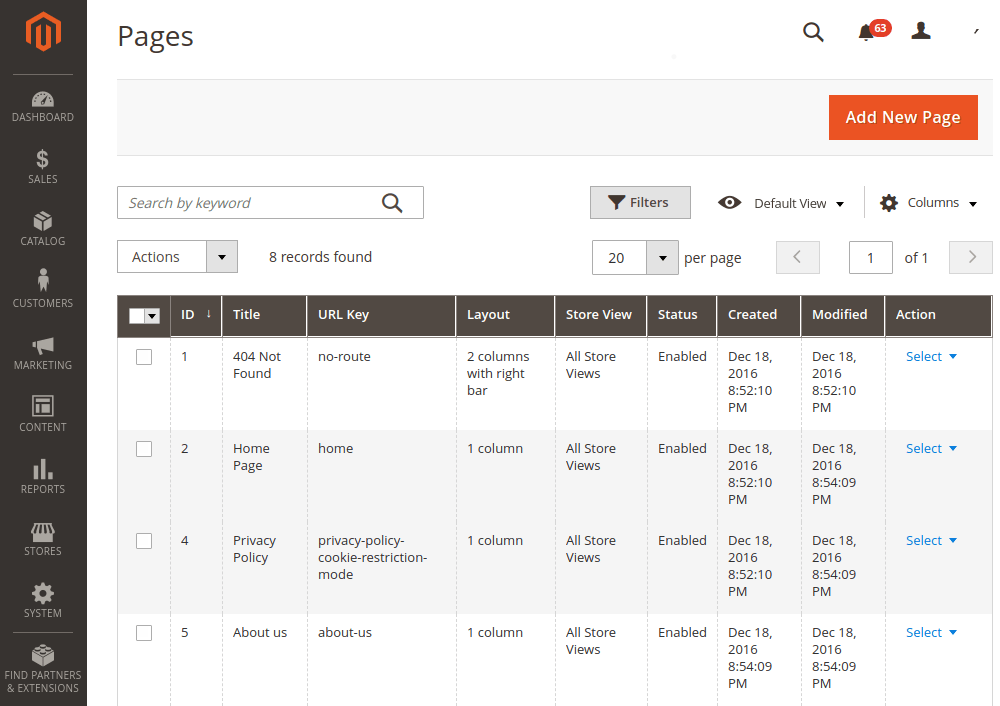 As an open-source platform, Magento, now Adobe Commerce, is famous for its great potential for customization and scalability thanks to its flexible system and multiple impressive extensions. There's Magento Open-source for starters with free source code and Magento Commerce as an upgraded version. One special thing about Magento is that this platform greatly supports Progressive Web Applications (PWAs).
However being an open-source platform, Magento again requires high expenses and advanced skills from the development team due to its complexity in setting up completely and running the entire infrastructure.
Magento is suitable for businesses that need a powerful platform at the enterprise level with high customization capabilities.
Pros:
Best support scalable and customizable needs
Free to install and set up
Shoppers experience personalization through AI application
Pre-built integrations with Adobe software
Powerful tools for catalog management, SEO & Marketing tool
Support Progressive Web Applications
Cons:
Considerably high expenses for full buildup, maintenance, and some extensions
Short of automatic features
Require skillful code experts to create and run smoothly
Pricing/Plan:
Magento Open Source: Free
Magento Commerce: from $22,000/year (depending on the extent of customization)
Customer support:
Phone support, online help center, technical support resources.
G2 ratings: 4.2/5 (1500+ reviews)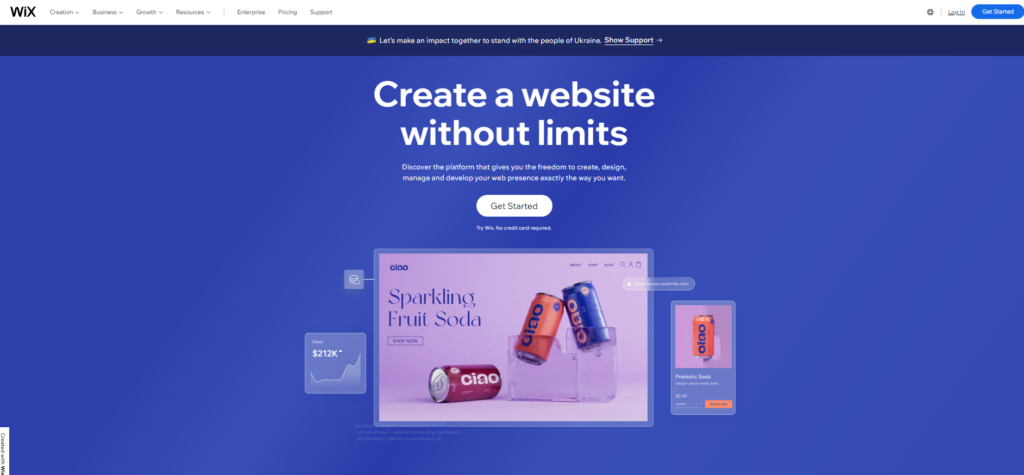 Besides WordPress, Wix is a popular Content Management System with an enormous number of subscribers and is widely agreed to give the best user experience, followed by rich built-in features and competitive pricing. This is a type of drag-and-drop website builder offering customizable templates, hosting, and domain name registration. Some remarkable features are online payment acceptance, multi-channel selling, and order tracking. But because Wix may lack some crucial features for product-based businesses and social commerce integrations, you must use a third-party application.
Wix is a great choice for individuals and businesses that prefer easy-to-use site builders with available and affordable templates.
Pros:
Friendly for starters as easy to build
Provide full package pricing with hosting, domain and SSL certificate
Great support to anyone involved in site building
Allows selling unlimited products
Rich source of tools especially for SEO & Marketing
Cons:
No free tracking and analytics
Switching templates requires having all the settings done again
Limited dropshipping integrations
Pricing/Plan:
Business Basic: $17/month
Business Unlimited: $25/month
Business VIP: $35/month
Customer service:
24/7 callback service.
G2 ratings: 4.4/5 (1000+ reviews)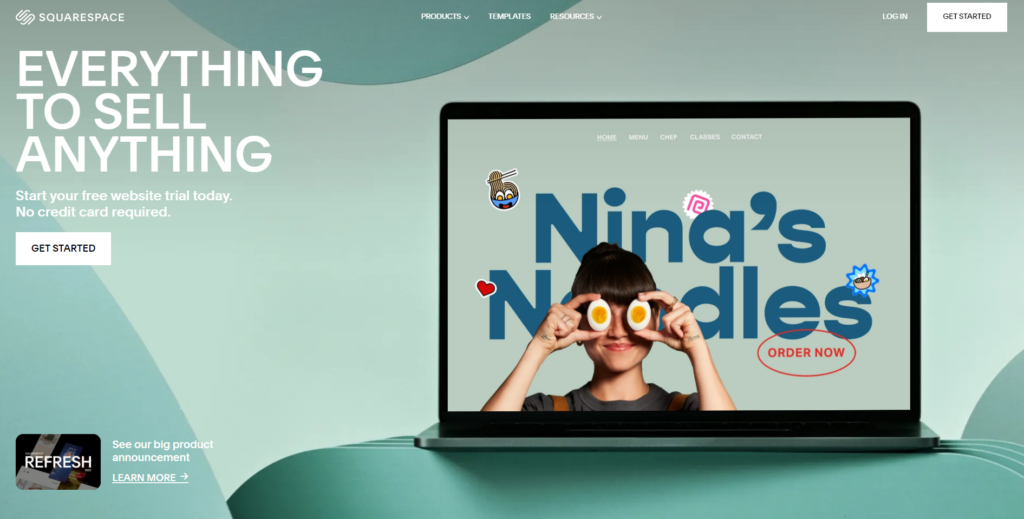 Like Wix, Squarespace is a drag-and-drop functional site with an impressive artistic interface that is really suitable for users who want to pursue building a portfolio-style site and selling their creative works. This platform brings a better blogging experience than its competitors, with great SEO and blogging content support. Therefore, it is easy to use and doesn't require much technical know-how. When diving into e-commerce, Squarespace provides inventory tracking tools, supports selling services and gift cards, and creates subscriptions and membership programs. Spacesquare comes with easy social integrations (with Facebook, Twitter, Pinterest, Tumblr, and LinkedIn) too.
Pros:
Visually appealing and abundant templates
Beginner-friendly
No transaction fees
Free domain name and SSL certificate
Cons:
Multichannel selling is limited
Not strong in E-commerce functionality
Pricing/Plan:
Personal: $12/month
Business: $18/month
Basic Commerce: $26/month
Advanced Commerce: $40/month
Customer service:
24/7 email support; live chat available Monday through Friday.
G2 ratings: 4.2/5 (440+ reviews)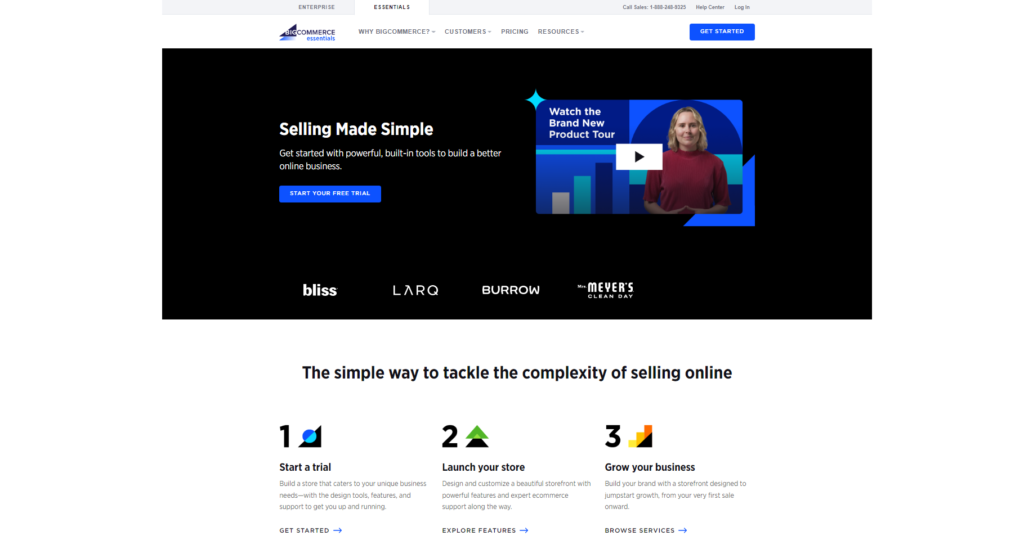 BigCommerce is a real competitor to Shopify for its abundance of features and for being a reasonable choice for robust eCommerce. This platform offers multiple plans to choose from to best fit the business's size and growth. In terms of SEO, BigCommerce exceeds other platforms with faster page loading and SEO improvements for a higher place on search result pages. Other features of BigCommerce involve social channel selling, third-party marketplaces, and several payment processors without extra fees. However, you are unable to get your domain name registered through this platform and have to do it elsewhere and port it over.
Pros:
Rich e-commerce plans and features
Strong marketing and SEO tools
Many payment methods with no transaction fees
Cons:
Lack of flexibility and ease of use
No domain name registration
Themes can be expensive
Pricing/Plan:
Standard: $29.95/month
Plus: $79.95/month
Pro: $299.95/month
Enterprise: Custom
Customer service:
24/7 phone, email, or chat support.
G2 ratings: 4.4/5 (600+ reviews)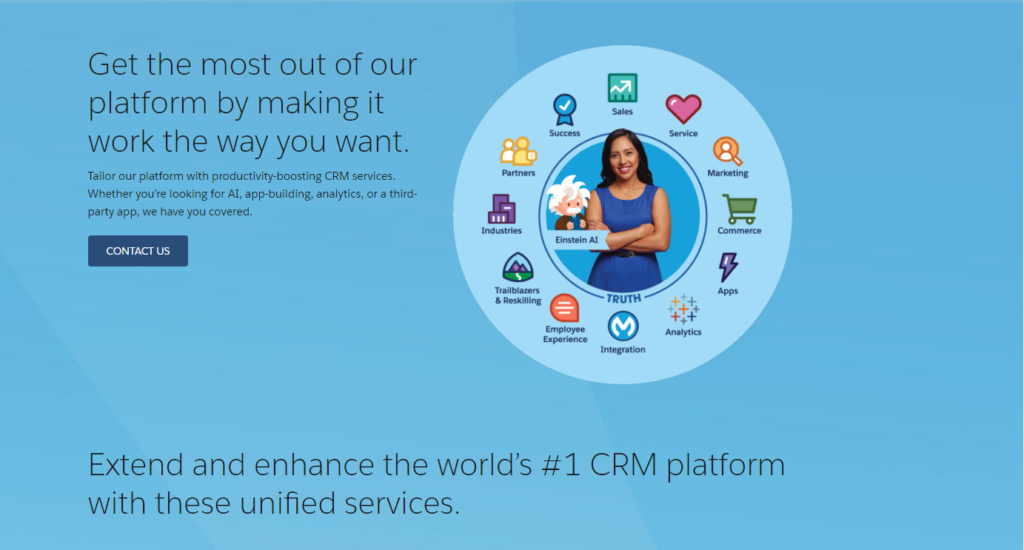 Salesforce offers a robust ecosystem that helps organizations at every stage of the customer journey, including eCommerce, order management, customer success, and more, besides its most well-known feature: CRM.
Salesforce Commerce is a strong platform for B2B, B2C, and even B2B companies looking to dive into B2C due to its ecosystem integration. It is designed to enable businesses to easily expand and go worldwide while adapting to market demands.
Pros:
Offers many options for B2B, B2C, and B2B2C businesses.
Deep, insightful data can be derived from sophisticated AI technologies
Provides easy, automatic upgrades without interfering with business operations
Cons:
Limits customization
Software integration can be complicated and challenging for beginners
Pricing/Plan:
Platform starter: $25/month
Platform plus: $100/month
Platform unlimited: contact for quotation
Customer service:
Email, chat, and phone support.
G2 ratings: 4.2/5 (440+ reviews)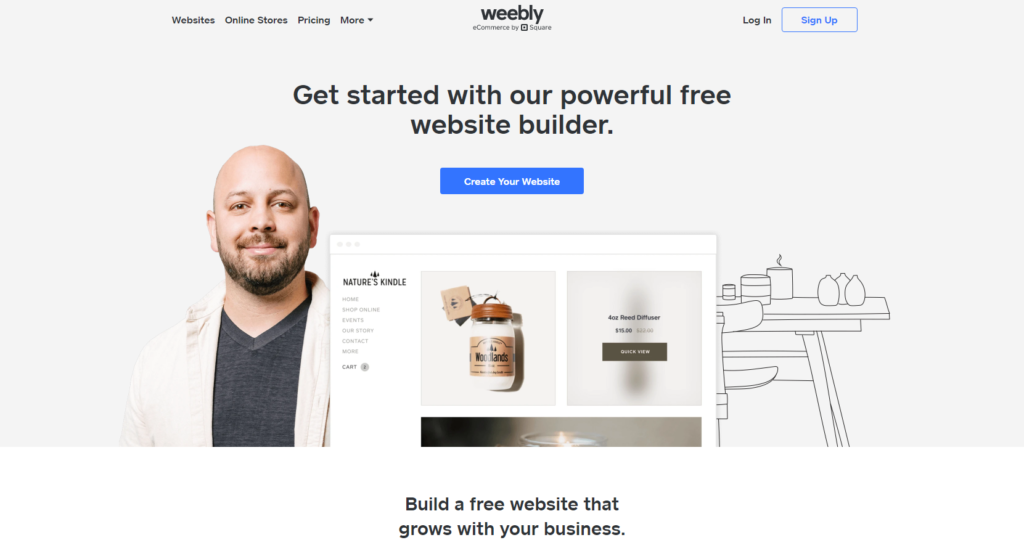 Weebly, which was acquired by Square, a payment company, is a better choice for small businesses or those who are just starting to sell products online. Any merchant can set up an e-commerce site with easily understandable guidance. Weebly now can expand its payment function thanks to Square POS integrated into the platform. Also just like Wix, it's a drag-and-drop site builder so that users can create beautiful storefronts. Only have to pay lower fees and require less technical knowledge, surely the stores can only maintain their basic status. One other thing is that you have to buy Weebly's e-commerce plan to use your domain name and avoid in-app ads.
Pros:
Free basic plan and competitive price
Easy to build and use
Cons:
Blogging tools are limited
The free plan doesn't support domain customization and getting rid of ads
Pricing/Plan:
Free plan
Starter: $8/month
Pro: $12/month
Business: $25/month
Customer service:
Email, chat and phone support.
G2 ratings: 3.8/5 (32+ reviews)
Formerly known as 3DCart, Shift4Shop is a free SaaS eCommerce platform but still offers the ability to sell unlimited both digital and physical products, along with fraud protection. Moreover, it provides native SEO tools and templates for online merchants to run their shops. This platform is for sellers on a tight budget.
Pros:
100+ free templates
Free plan with sufficient tools
Easy to use
Fraud protection including
Cons:
Limited customization options
Sales limit even with paid plans
Pricing/Plan:
End-to-End e-commerce: Free
Basic store: $29/month
Plus store: $79/month
Pro store: $229/month
Customer service:
24/7 customer support, including live chat, email and phone.
G2 ratings: 4.8/5 (260+ reviews)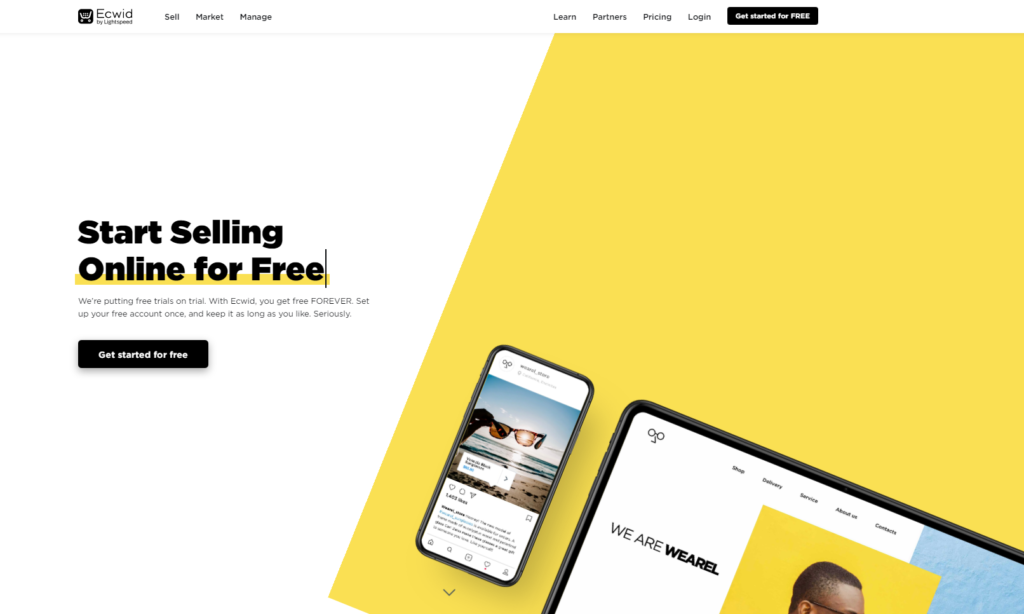 Ecwid is a plugin that adds e-commerce capabilities to pre-existing websites, rather than a standalone e-commerce platform. As a result, with Ecwid, you can transform your website into a fully functional e-commerce store. Ecwid includes all the key features that novice store owners would appreciate, from email marketing and advertising capabilities to simple synchronization with all major marketplaces, social networks, and applications. This platform is suitable for sellers who already have blogs or websites.
Pros:
Affordable paid plans
No transaction fees
POS functionality in the unlimited plan
Pre-built integrations to sell on social networks and marketplaces
Cons:
Not suitable for high-volume businesses
Poor source of extensions
Lack of flexibility in theme adjustments
Pricing/Plan:
Free plan
Venture: $19/month
Business: $39/month
Unlimited: $99/month
Customer service:
Live and phone call support
It's time to choose your best e-commerce platform
No platform can satisfy all needs, but the best one is the one that suits your business. Every business has distinct requirements for e-commerce functionality, whether it's payment methods, dropshipping potential, real-time inventory management, or a user-friendly interface, therefore, the "best" e-commerce platform for you will be the one that satisfies your particular requirements.
Consider all of your alternatives carefully, and don't be hesitant to utilize free trials to check out the distinctive benefits and features of each platform. We wish you to have the best prospect in the E-commerce industry.