With the development of M-commerce (mobile commerce), using mobile apps to do business is becoming very popular over the world. In the world, more and more customers tend to use a mobile phone to purchase products and the sales generated from mobile app accounts for 40% of the total sales in the US. It is necessary to invest in mobile apps to help your business to gain a competitive edge over your competitors. In this article, I will demonstrate top reasons why you should create a mobile app for your own business.
1, Mobile app is present
The mobile app is developing over the world and changing the way merchants do their business. More than 50% of merchant has had a mobile app besides Magento website to sell their products. In terms of customers, 60% of them used to search information and buy products via mobile. Is it a surprising information, right? Customers are changing purchasing channel from a website to a mobile app that bring to them more convenience.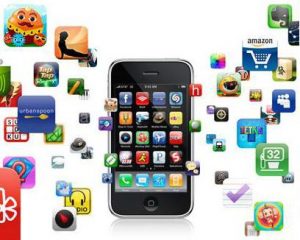 2. Increase customer engagement 
Customers can reach you in a single touch. They can interact with your business every time and everywhere. With an app, you can promote something or create a value through the app, so your customers will be engaged naturally. A value that you can create for customers on the mobile app may be interesting information around products and related issues, small games. By creating value through above thing, customers will be involved in your business, not just in sales pages. Higher customer engagement is considered when making a decision to invest in mobile apps.
3. Identify the needs of your customers
By using mobile app analysis, you can find the best-selling products and the sales of products. A mobile shopping app with many functions will help you to identify customer's needs and plan for selling products. If there is any product that customers love and buy the most, you know what to do next, right? 🙂 Mobile analysis is a powerful tool to help you to maximize sales and revenue.
4. Opportunity for higher profit and customer's satisfaction
Of course, the final purpose of a business is profit and customer satisfaction, am I right? Thanks to mobile apps, now a merchant can reach the mobile commerce trend in the world when customers change the way to buy products. Your business can catch up the trend by investing in mobile apps. 60% of customers have bought products through mobile apps and this is a chance for you to get profit by this type of customers who prefer online buying. eBay, Amazon are very successful with selling through their mobile apps and gain a huge profit from it. 
You also can increase customer's satisfaction by providing useful information to customers through mobile apps, sending them push notification about product update, discount program. Customers can get information quickly and can easily buy products in a few minutes. Oh, wait, if you have a physical store, a mobile app also can support for your sales in store through Store Locator- a tool help customers to find your physical store easily, it will make your customers satisfied by convenience.
5. Create competitive edge for your business
Let's make your business different from other competitors by making a decision to invest in mobile app development. Mobile commerce will be stronger in the future, every company invest in mobile apps more to do business and increase sales besides websites or the traditional channels. Don't stand behind your competitor and move to a mobile app to take mobile app's advantages and create a competitive edge for your business.
Invest in mobile apps now
With outstanding benefits of a mobile app, investment in a mobile app is necessary for any business to gain higher profit and customer's satisfaction as well as catch up the M-commerce trend that will bring many benefits for your business in the future. Don't hesitate to invest in mobile apps now.
RELATED: