At the moment, We are living in the age of technology with smart devices help people can
Comfortable
shopping via mobile.
So Mobile Shopping Apps is an inevitable trend mobile commerce, indispensable in the media industry in today's mobile era.
And CUSTOMERS ARE MOVING TO MOBILE – What are you thinking about this trend ?Every year, big enterprises lose about $18 billion in sales from customers who abandoned their online shopping carts. Just between black Friday and cyber Monday, there are 79% of mobile shoppers left the mobile shopping cart of some businesses. While the mobile shopping cart abandonment affects both small and large enterprises, it is becoming a real concern for startups.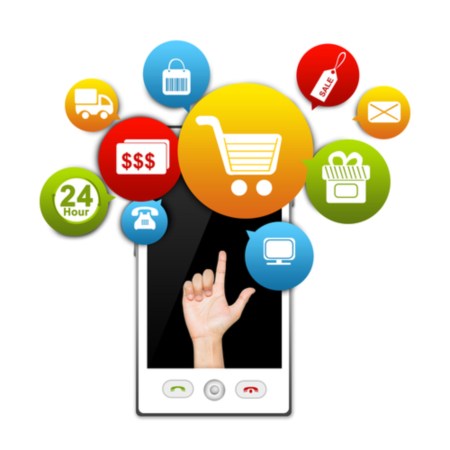 Simicart – the best solution shopping apps!
But everything has its own solution. Apply the following 5 simple and low-cost strategies to get the high number of purchasers and lower the number of abandoned mobile shopping carts.
1.Poll before creating the mobile shopping cart
The most important strategy to prevent the mobile shopping cart abandonment lies in the app-planning process. Before you create your mobile shopping app, make sure to do research on your customers to make a decision on how they would be engaged to your app. Mock up the screens to put them in front of the customers before building them.
Understanding your customers and provide them with user-friendly experience basing on their expectations is a great way to increase sales steadily.
A potential company should continue to communicate with customers through the building process. Also, let them have the chance to test your app's features before release and remember to record their feedbacks. You will understand what is the most important thing to them whether they mean efficiency, speed, security, simplicity or all of the above things.
2.Simplify the checkout process

Your e-commerce business should avoid confusing the mobile shopping cart customers due to the complicated checkout process. Many businesses are making the mistakes of asking the customers so many questions that they are fed up with purchasing their products. Customers of the mobile shopping cart are always interested in what is left to complete their order, not abundant information. A neat and clean interface with a short and simple pathway will be the most ideal to keep customers comfortable without getting frustrated.
There exists a simple way to cut the length of checkout process which is to allow a customers' zip code to auto populate his state and town. You can migrate automatically the sign-up information you collected into the checkout form. By doing so, all the fields will be filled out immediately, then the buyers just need to confirm them.
3.Add security measures to mobile shopping cart
A mobile shopping cart will not be potent unless it is secure enough. Identity theft is a growing concern – more than 12 million Americans fall victim to it every year – and consumers are the ones most worried about this issue. The truth is, 17% of mobile shoppers abandon their mobile shopping cart due to the security problem.
An effective way to deal with this is using verification products and services that verify the transaction through a third party. These security measures ensure the safe consumers' information. Do not forget to let the customers know that you encrypt their information. Customers who get nervous will look for security measures and they are less likely to abandon the mobile shopping cart if they know their concern has been addressed.
4.Send polite reminders to mobile customers
One of the advantages of a mobile shopping app is that you can freely send push notifications to your mobile shoppers. Your business can take advantage of this feature to let them know their shopping cart status, but be careful of antagonizing them. You should program the app which just sends alerts to users who selected high-value items on your shopping cart or spent several minutes browsing before filling their carts.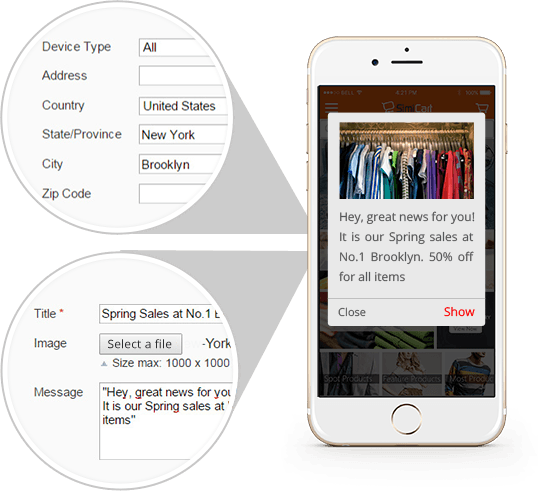 Push notifications can be useful to provide purchase confirmation and track updates and inform customers of special offers.
5.Encourage sales with discounts
Your mobile shopping cart should offer usual incentives to customers to make purchases. Although discounts require an initial cost, they can help grow your user base effectively, boost the customers' satisfaction and jump-start your revenue if it is utilized correctly.
A typical example is the food delivery startup Caviar, which just waives its delivery fees for first-time customers. This company also offers a $20 credit for users who share the app and introduce friends to make purchases.
In conclusion,
Above are the five easy and cost-saving ways to improve your mobile experience and turn those abandoned shopping carts into sales again. Listen to your customers from the get-go and make sure that they feel safe soon, and the customers of mobile shopping cart will click "buy" button at ease.
Read more : Create A Mobile App NOW !
SimiCart