As a Magento mobile app builder, we work with this platform every day on both development and SEO projects. There is no exception in the rule "having a successful online business means that you have to fight for the struggle of getting more traffic, highest positions in the search engines and higher conversion rate". Same here, we are!
In this competition, the winner is who know more and optimize better compared to rival companies. But sadly, not all of who have an online store can run it successfully in getting a strong impression on search engines and are also under the pressure to deliver targeted customers traffic and conversions. Normally, you won't take the higher place in the competition without extending the functionality and changing the default settings. So what are errors in Magento SEO? Let's dig deeper!
#1 Not optimizing title tags correctly
Keep the title tag as the default settings is the one of the common mistakes that kill your chances to show up in the search engine result pages. During supporting customer, we've realized a big mistake our customer often get: The website's homepage title as "home" which is absolutely unacceptable. Instead, it should be directly represented your business and reflects your products and services. For instance, we are a Magento mobile app developer, a relevant home page title could be set like "Magento mobile apps | Best Mobile Shopping Apps Builder". Here are 4 mistakes that are often committed with title tags:
Don't change the alt title text on Images and especially on the Logo
Only create a similar title tag for multiple pages
Don't change the default Homepage Title
Set long non-sense titles without including keywords
Suggested solution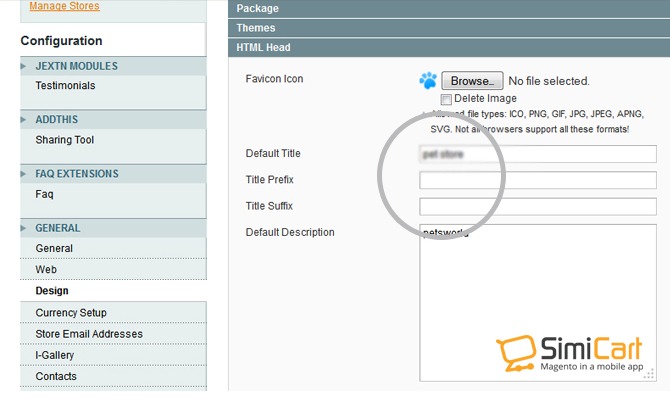 Go to your admin dashboard > System > Configuration > Design –>HTML Head. Change into the new title in the "Default Title" field. Ensure that the title contains your focus keyword. It is descriptive, absolutely unique and relevant to your products or services. Remember that your keywords need to be chosen carefully with the logically meaningful phrases instead of non-sense copy pasted stuff. Limit your title to 60 characters and your descriptions to maximum 160 characters. All defaults that you want to fill out are Default Description, Default Title and Default Robots.  I highly recommend putting your company name in as the Default Title and using a description of your company for the Default Description. Your Default Robots have to set to index and follow if your store is live. During store maintenance, switch it to no-index, no-follow. (Remember to swap it back when you go live)
#2 Duplicated URLs
This internal duplicate content issue can weaken your SEO effect. Magento allows store owners to add a series of numbers product per product page. However, store owners sometimes forget to designate unique URL keys at the end of each product's URL. Let's say you don't create numerous categories of inner pages with distinct products or information. For example, if you want to create similar products, add a series of numbers with the end of the new pages URL key to differentiating from the original.
For example, when the original has page URL: www.example.com/simicartplugin. Create other similar product with URL: www.example.com/simicartplugin-1234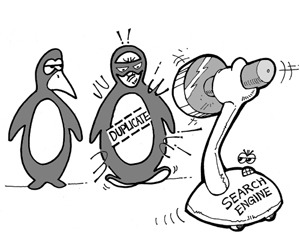 There are two main ways in which this can happen. First, using the Magento Duplicate function to create a replica of any product. It's so useful if you have similar variations of a single product and want to create simple products of them all. If you don't amend the URL key field of the new product, Magento will append the series of numbers. Second, when a CSV product upload is used and unique content is not included. It can be a real problem. There is no real quick fix other than identifying the size of the issue and working through them manually. To ensure this does not occur, all those involved in adding products need to understand the potential issues that can come if the unique content is not prioritized.
#3 XML Sitemap Generation
In order to make search engines fast crawl your website, you need to create a sitemap that submitted to Google, Bing and Yahoo. Magento will keep your sitemap up to date and automatically generate this for you. To enable this, go to System > Configuration > Google Sitemap.
Configure the priority of each page with two question: How often they're updated and how often you want the sitemap to be updated.
Here are the priority and frequency of some pages
Category Options: Set to Daily and 1 for the priority.
Product Options: Set to daily and 0.5 for the priority.
CMS Page Options:  Set to weekly and 0.25 for the priority.
If your product catalog and categories don't change very often, you could drop the frequency down to weekly. With the Generation Settings, you need to generate the actual sitemap file. To do this, go to Catalog > Google Sitemap >Add Sitemap, then give your sitemap a name and put a forward slash in the path file to save it in the root directory. Click Save & Generate and your sitemap should be viewable at yourdomain.com/sitemap.xml. Go to Google, Bing and Yahoo to submit the sitemap URL you've generated.

Note: If you're running multiple stores from the same Magento installation, you want to separate the sitemaps. For instance, if you own both English and French store, call one sitemap-en.xml and the other sitemap-fr.xml. And then put these into a subdirectory. Before doing this, ensure that the folder has CHMOD permissions to write. Never set your CHMOD permissions to 777. CHMOD 755 should be fine, change this to 775 on certain setups.
#4 Robots.txt
Sometimes, store owner makes errors in Magento SEO. They forget to turn meta-robots to index or follow and remove it disallow after migrating to the live server.
Webmasters sometimes forget to change robots.txt and meta robots directives to enable site indexing after staging. As a result, your site won't get indexed and can't rank in the search engines. So check your robots.txt file to make sure that it allow your site indexing and check meta robots directives which are found in the <head> section of each page. They should be set to index, follow by default. You can check it at system > configuration > general > design > HTML Head > default robots.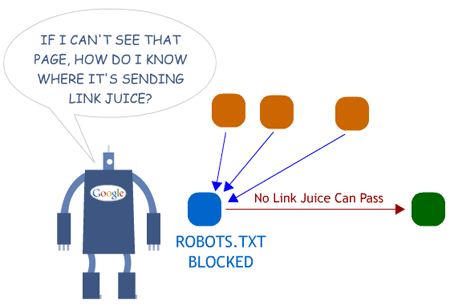 We worked with thousands of clients all over the world to help them build and promote their Magento stores. If you have any questions regarding Magento mobile app, post a comment below and we will respond as soon as possible. You can access this link to read more other Magento Knowledge Camps.
I hope this article has been helpful! Thanks for reading!
SEE ALSO: What is most common online payment mistakes of merchants?