Like many other eCommerce stores at the time, Temoorst, the Kuwait-based store in the disposable goods industry, found themselves in a tough spot during the first half of 2020—which is right at the beginning of this pandemic when almost every country was under state-mandated lockdown. At a time when everyone was at home and eCommerce was booming more than ever, Temoorst was in a desperate need of a solution to help them stay afloat and to deliver the kind of shopping experience that modern day customers are after.
What the brand didn't know at the time was that, not only did they manage to stay afloat in this uncertain time, but they also thrived against competition.
The challenges
The original Temoorst website was not the best. From first glance, we could tell that it looked dated, sluggish, and the shopping experience overall leaves much to be desired. Upon closer inspection, our team of developers was able to tell that the website was based on an inefficient platform, which consequently leads to many challenges in need of addressing:
Lack of mobile channel
Temoorst's old website did not follow the responsive design and was not mobile-friendly. Mobile customers coming into the website had to pinch in and zoom to order to read product descriptions and other small texts; needless to say, they were not happy with the experience, and this really reflected on the brand's less-than-optimal mobile purchase conversion rates.
Since mobile purchases take up most of Temoorst's revenue, the brand found that a mobile-focused channel could be the answer.
Inefficient eCommerce platform
The old Temoorst website was based on an outdated eCommerce platform that made managing harder than it should. Product inventory syncing was slow and performed even worse as the brand scales up and has more products in their inventory. Whenever the brand wanted to run a new campaign with dozens of new products, they had to spend at least half a day setting up things on the backend in order to keep things running smoothly, and it was overall a dull and tedious process.
And as for innovating and implementing new features on the old Temoorst website, it was close to impossible. The brand shared that it used to take forever and required tons of resources for just a small feature implemented. All this adds up, and Temoorst was seeing themselves spending too much time on the backend configuring products and promotions—time which could be spent doing something else instead.
Bad page speed
In terms of performance, Temoorst's old website used to have disappointingly high time to interactive which made their customer experience—especially the mobile shopping experience—frustrating. Customers were dropping at various points of the customer journey, and most of them did not find themselves motivated enough to deal with the bad customer experience caused by slow page loads. And since speed is one of the crucial factors determining the Google ranking of a page, this affected the rankings of their product pages too which further on limited the brand's potential.
How Temoorst tackled all the challenges with SimiCart solutions
Temoorst decided to rely on SimiCart's solutions to bring a digital transformation to their business, and the results just speak for themselves.
A new app well-equipped with everything mobile shoppers need
After consulting with SimiCart to figure out what's the best route they can take to enhance their mobile presence, the brand decided to go with a custom Android & iOS app. The app took only two months to complete, and comes packed with features tailored to the brand's needs:
Customized checkout address fields
For Temoorst, the checkout process is vital since they don't want to lose customers half-way through the buyer's journey. To address this, the brand wanted a customized checkout page with input fields tailored for their specific Kuwaiti audience base.
New customized checkout address fields such as Floor, Avenue, Apartment, Delivery Instructions, etc are added in to accommodate the different formats of Kuwait addresses; and in case the brand needs to make changes to these fields, the new Checkout Information Management feature should be able to help, as with this feature, checkout fields can be freely configured in the Magento backend.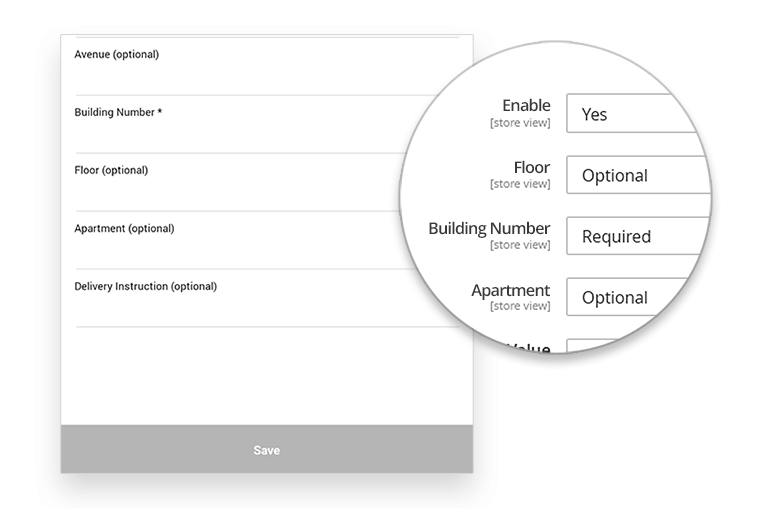 UI tailored for Arabic languages
To ensure that the shopping experience is ideal for their Kuwaiti customers, the Temoorst app has support for multi-languages (both right-to-left languages and left-to-right languages) and multi-currencies. Customers first coming into contact with the app are asked for a preferred language and the app will adjust its UI accordingly.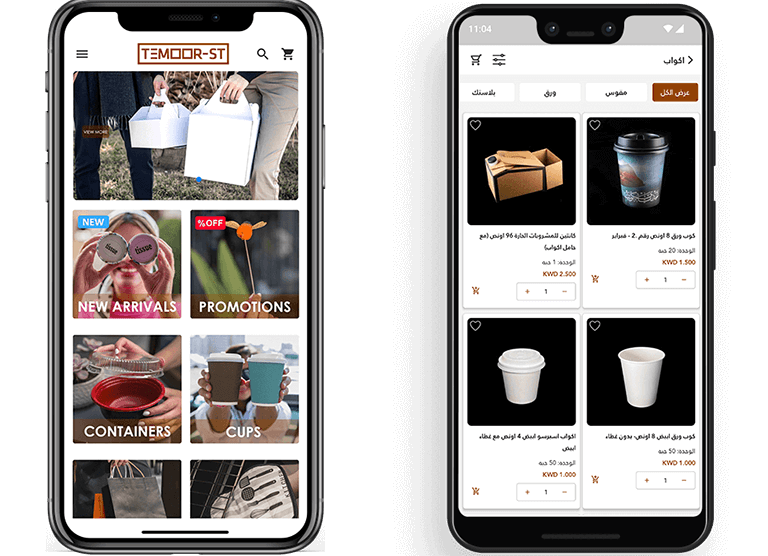 For Temoorst's customers , this means an experience tailored to their specific language, effectively creating a familiar and personalized shopping experience.
Integration for Kuwait's most popular payment method
Since KNET is the most popular payment method for Kuwait online retailers, the brand specifically requested for this one to be integrated in their app. With KNET, customers shopping on the new Temoorst can complete orders using their debit cards in a more secure and quicker way, as all they need is a OTP (one-time password) to complete the order.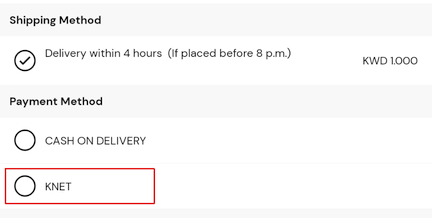 Find Temoorst on Google Play Store & Apple App Store
A scalable, headless website based on Magento 2 and PWA
With the new website (https://temoorst.com/), Temoorst was able to find the customer experience they were looking for. The new headless Magento PWA website is built for speed, feature-packed, and relies on the Magento platform for all the scalability and flexibility that the brand needs.
Built for speed
Since performance was one of the weak points of the old Temoorst website, the brand wanted to take the new website to another notch and make performance the highest priority in their new website. As a result, when it comes to performance, there's nothing to complain about, and the new Temoorst website scores a perfect 97/100 in Google's PageSpeed Insights.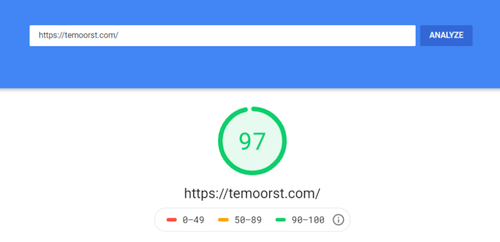 This is achieved with the use of Fastly and various optimization works done on the frontend. With the enhanced full-page caching solution that Fastly offers, Temoorst can now have all the tools they need to deliver a snappy shopping experience.
And to tie it all together, Temoorst went with a PWA for the seamless shopping experience that it offers. Due to the single-page nature of PWA, the page needs to load only once and all the subsequent content will be automatically cached and served to customers afterwards. This creates a connected, smooth-flowing shopping experience that rivals top brands.
A robust eCommerce platform to handle everything
After much consideration on which eCommerce platform to choose, Temoorst decided to go with Magento Community, and it sure didn't disappoint. With the new eCommerce platform, Temoorst found that inventory synching isn't a concern anymore, as everything is now dynamically reported to the Magento backend in real-time with flawless accuracy.
Updating products, processing orders, inventory management are all made significantly easier with the new Magento Admin dashboard, using which the brand can now create campaigns, import & export products, and add attributes to hundreds of products at once without requiring much effort.
Additionally, via Simiconnector in the Magento Admin dashboard, the brand found that managing their native app is easier than they initially thought, as they only need to make changes in the Magento backend in order to have everything running. By this way, management is a breeze, and the brand no longer has to spend hours configuring things on the backend in order to create a new campaign or update new products.
A scalable infrastructure
And since the new Temoorst PWA is headless in nature, the brand benefits from a much more flexible infrastructure that enables more innovation. Headless means that the frontend of the website is now separated from the backend and communicate to the Magento backend through API. In this way, there are no more restrictions in designing customer experience, and there's more scalability to find should the brand want to scale upward.
For Temoorst, omnichannel is a possibility now, and the brand feels confident to rely on SimiCart to further equip the brand with more progressive features.
Progressive features
The new Magento website leverages PWA technology to enable next-gen shopping experience and progressive capabilities. Customers first coming into the new Temoorst website are greeted with an invitation to add Temoorst PWA to their home screen.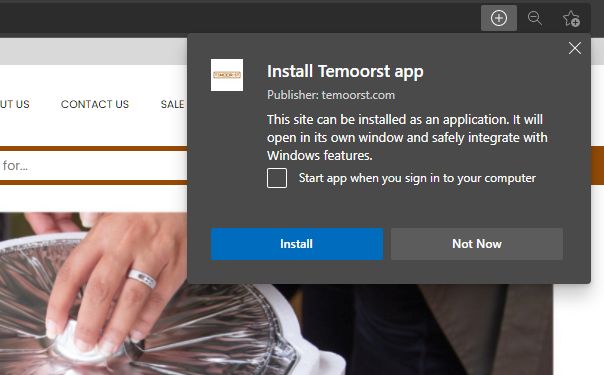 When added to homescreen, Temoorst PWA behaves similarly to an application—capable of sending push notifications even when the customer does not have the app running, and works regardless of internet condition.
And all the essential customer-facing functions
The new Temoorst website comes with all the essential functions that a store would need to compete in today's competitive market.
There's a Sale section where special products on promotion are featured. And even when browsing as a guest, customers can choose to conveniently checkout and track orders, effectively shortening the checkout process and allowing for more sales to be made.
On the homepage, the new Temoorst website features a carousel banner to help increase engagements and bring a modern look and feel to the storefront. Combined with Elasticsearch and Arabic search analyzer as part of the Elastic stack, Kuwait customers can benefit from an intuitive, snappy in-store searching experience that is made for their language. With Elasticsearch, in-store search queries are completed almost instantly, and the results are always relevant and accurate.
Reporting & analytics
To help Temoorst better keep track of their sales performance, reporting & analytics are integrated in, and with which the brand can have a holistic view of important customer data in real-time through Facebook Pixel Analytics dashboard. The dashboard provide an in-depth look into Temoorst's website & native app performance across multiple timeframes, using which the brand can generate actionable insights for their future campaigns.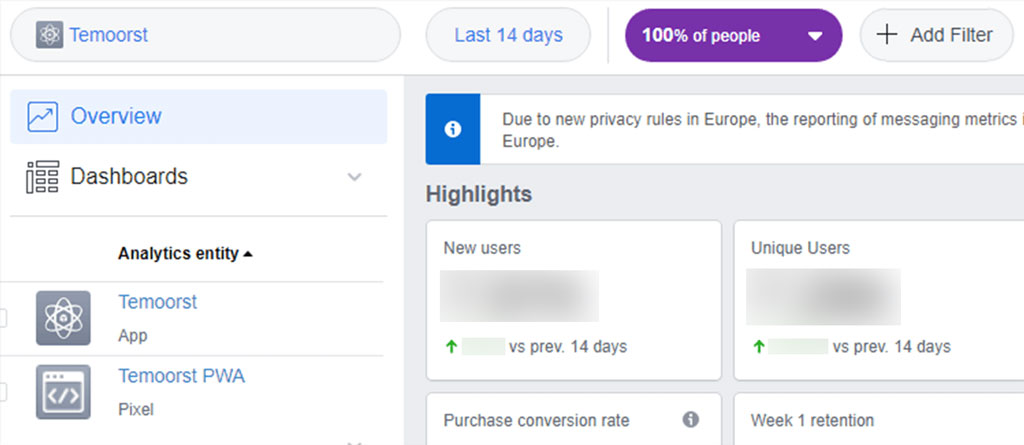 Why going with SimiCart was ultimately the right choice for Temoorst
Thanks to SimiCart, Temoorst was able to find success in an unlikely time. The new Temoorst native mobile shopping app boasts a conversion rate significantly higher than the industry average, and it is still growing at a rapid rate. And despite having been on the market for quite some time, the app still finds its new users increasingly engaged with the app.
With all these positive results, the brand found that their mobile channel is now in good shape, and that it was time they should work on their dated website. Temoorst was particularly interested in Progressive Web App and all its strengths to transform their website, but they had doubts about potential conflict of interest between it and their native app. As with every brand who wants to develop both a native and a PWA, this was a reasonable reaction, since the app-like nature of PWA is bound to cause some confusion.
So why should Temoorst still want to maintain their native app after developing a feature-packed PWA?
Having been developing PWA for quite some time—and being an early adopter of the PWA movement—we can tell you that PWA's job is not to replace native apps, at least not for the time being. PWA has many strong points, but what it lacks is still the hardware capabilities and the superior user experience of native apps. And since the trend for in-app user experience right now is gesture-driven, native apps remain a brand's best bet at creating an engaging mobile customer experience—an experience capable of retaining customers and building a loyal customer base.
However, that doesn't mean that a PWA doesn't have its place either. A PWA is the next natural progression of the Web, and it is capable of delivering next-gen shopping experiences without compromises thanks to its single-page nature. With features like push notifications, a PWA can re-engage customers far more effectively than a typical website; and when combined with offline capabilities achieved with service workers, PWA is the perfect solution for eCommerce websites in need of a digital transformation.
All this is why Temoorst decided to go with a PWA—not to replace native apps, but to enhance the desktop/mobile experience. And despite only just getting started, the results are exceptional.
With the new PWA, the brand was able to see tremendous revenue uplift thanks to the increased conversion rate. And when it comes to performance, the new Temoorst PWA is outstanding. It does amazingly well in all the tests and there's virtually no sign of cumulative layout shift.

Digital transformation with SimiCart
Temoorst can now finally find themselves surviving—or rather, competing—in this unprecedented time. And if you find these results impressive, know that your business could, too, undergo the same digital transformation with SimiCart. Here at SimiCart, we provide a complete solution to build iOS & Android mobile shopping apps and PWA for Magento merchants.
Is it helpful?
Let us know if you liked the post. That's the only way we can improve.