Today, we announce the new option to drag and drop product detail page for PWA studio in our headless storefront builder – Tapita.
What is Tapita?
Tapita is a project of SimiCart dedicated to code-free storefront design for headless eCommerce. The tool tackles the untouched challenge of simplifying the headless storefronts making process for non-technical users. Since every business using headless technology deserves an effortless experience creating their own websites, Tapita helps make it time-saving, enjoyable and rewarding.
So how exactly does Tapita work?
Tapita brings the simple yet powerful drag-and-drop builder tool for headless storefronts. With various elements and pre-built templates, users can create a retina-ready, eye-catching user interface within the time of sipping a cup of coffee. Moreover, while the tool is 100% beginner-friendly, users can flexibly and creatively add custom CSS/JS to create unique UX-UI designs. 
What's better? Frontends can be edited for different devices specifically. You will have more control over mobile optimization & tablet optimization, thus, guarantee a smooth and stellar omnichannel experience for your customers.
The product details page for PWA studio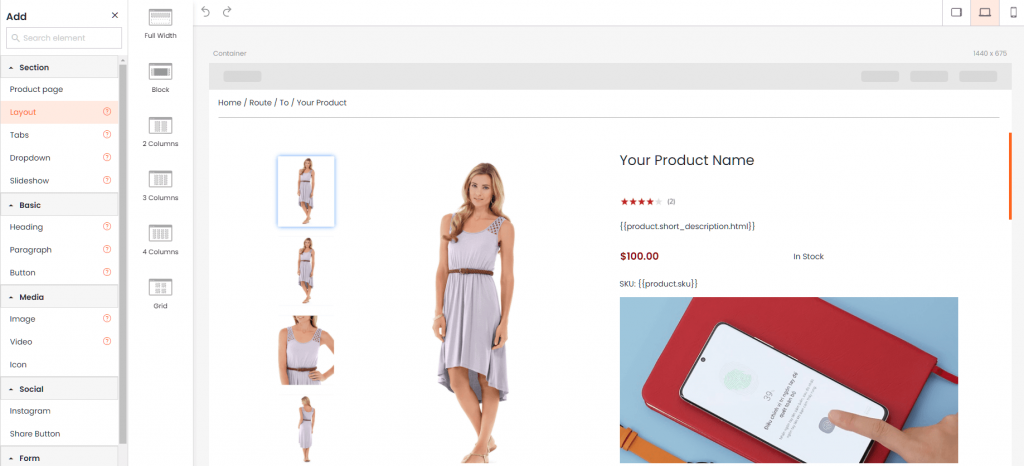 Tapita has just added the feature for building product detail pages in our professional and premium plans. Now you can create almost every aspect of your frontend with our headless drag-and-drop builder tool: from homepage, about us, to privacy policy to product detail pages.
Creating product detail pages is a similar experience to creating homepages and other pages with the same elements access, same great customizability and creativity.
Check our demo pages for PWA studio:
Our roadmap and next improvements
New features are being added to Tapita frequently as we try hard to improve Tapita to truly revolutionalize the headless experience.
We are now compatible with the most popular headless frontend platforms namely Vue Storefront, PWA studio, ScandiPWA, and Next.js Commerce; as well as eCommerce platforms namely Magento, Shopify, BigCommerce. The list is not ended here yet.
A feature for listing pages is coming in a little while. Also, in the near future, there will be more elements, themes and updates to come.
Tapita has a free plan with all drag-and-drop elements available.