Nowadays, M-commerce becomes very popular all over the world and many merchants are succeeded in boosting company sales with M-commerce by doing their business through a mobile app. According to Statistics from Javelin Strategy and Research, sales through mobile devices amounted to $59.7 billion in 2013, which is increased by 300% compared to the previous year. It means that M-commerce is really necessary for companies to boost sales. It's time for every company to take advantages of M-commerce to boost company sales now.
What is M-commerce?
Mobile commerce (M-commerce) is online sales transactions using wireless electronic devices such as tablets, mobile phones. Today, more people use mobile or tablets to get online and purchase products than PCs. More than 25% of mobile users are making purchases online, especially young people. Mobile commerce accounted for 24.6% total sales of all US E-commerce in 2014 and it is predicted to increase rapidly in the future. Nowadays, many merchants have taken advantages of M-commerce to boost their company sales and mobile commerce has affected positively their business.
What are advantages of M-commerce to boost company sales?
Before applying M-commerce to any business, we should look at advantages of M-commerce for your business first. Mobile commerce has some primary advantages that can positively impact on your company:
Flexible accessibility: It's one of the primary advantages of M-commerce. Your customers over the world can search information and purchase products anytime, anywhere by using their mobile phone. It is really convenient for them because they can still purchase online without coming to stores. M-commerce is really flexible, so it will be an advantage for your business.

Help customers to save:  According to Nielsen, 34% of mobile shoppers avail mobile coupons when purchasing. It means that they can save money with mobile shopping and it will help customers to buy more. Moreover, customers could join in reward programs on a mobile app to take benefits from these programs. Purchasing through mobile app saves a lot of money for them and customers will come back to you.

Easy-to-reach customers: Your business can reach customers anytime at anywhere through mobile. According to Nielsen report, 63% of shoppers search products and prices with their smartphones. It means that with mobile commerce, your business can reach customers over the world and do online transaction easily and quickly. Easy-to-reach customers is one of the most advantages of M-commerce for your business.
How to take advantages of M-commerce to boost sales
M-commerce is a great way to boost sales, right? To take advantage of M-commerce, merchants can build a mobile app to sell products online. SimiCart is a great app builder to help you in creating a mobile app. SimiCart has more than 20 Plug-in to build a mobile shopping app for merchants.

How to have SimiCart solution to take advantages of M-commerce
You can buy SimiCart and then do these steps to create a mobile shopping app:
Step 1. App information
Configure your own mobile app information such as name, logo, icon, theme color
Step 2. Install connector
You will use connector and plugins and configure your mobile apps as a guide.
Step 3. Create mobile app
Now, you will create an app and test it on a mobile device. If you are not satisfied with the app, you can back to step 2 and create again.
Step 4. Publish
You will publish your mobile apps to Apple Store and/or Google Play or SimiCart will do it for you with a fee. When the mobile app is approved, your customers can download the mobile app and purchase online.
Example of mobile app created with SimiCart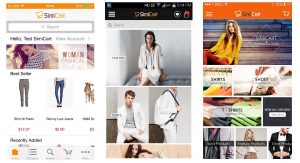 M-commerce is a hot trend and merchants should take its benefits to boost sales now. SimiCart will be a great choice to help them catch up the trend and take its advantages.