[sg_popup id="2″ event="onload"][/sg_popup]Overview to Submit Android Mobile App
After building a  Android mobile app successfully with SimiCart, you need to submit your app to app marketplaces so your customers can download and install it into their mobile devices. However, for many people this process might not really simple to conduct. So in this blog, I will show you how to publish your SimiCart's Android app into Google Play Store.
Let's start with some steps of preparation!
1. Test your mobile app
When you have completed app building process, you can test your app by scanning QR code or download APK file to your mobile devices. Google Store advises you to test app carefully before submitting it to make sure that your app is free from errors. And you should notice that the testing app can't be uploaded to app store.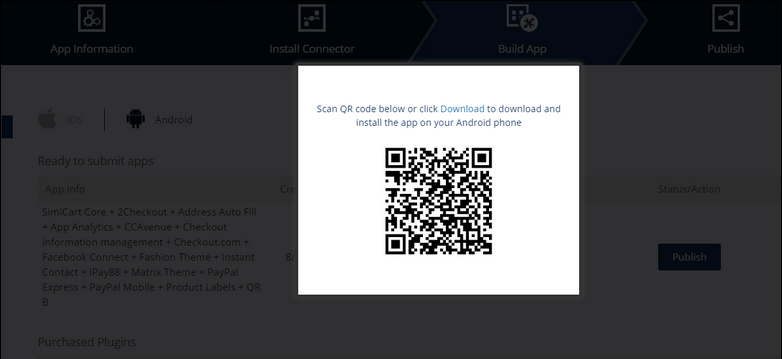 2. Create a full package for app submission
When you have tested your app carefully, please follow the steps below to prepare a full package for app submission:
Step 1: Get an APK file
To submit android mobile app via your own account, please select "Your Google Play developer account". After you click on "Submit app", the release app will be automatically built.  Then, you click on "Release File" to download your app APK file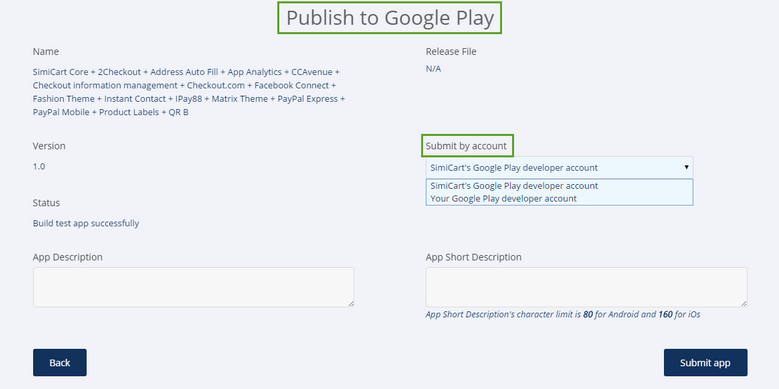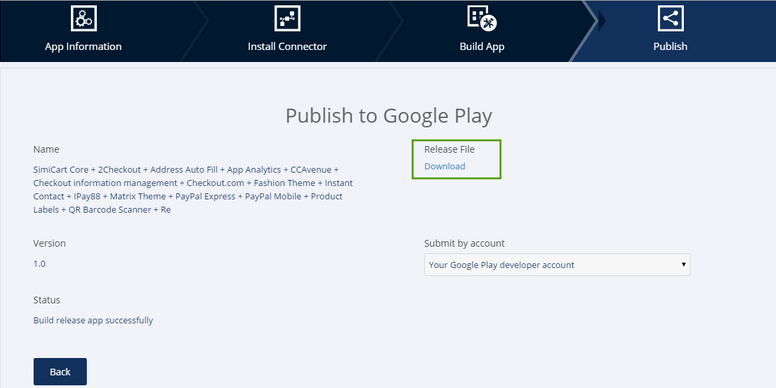 Step 2: Create a folder containing app's icon, app banner and screen images.
You need to run your android mobile app on mobile and tablet to take screenshots. 5 screenshots (Homepage, Category, All product page, Product detail and Cart) on mobile and 3 screenshots (Homepage, Category, Product Page) on 7 and 10 inch tablets are recommended. Please notice that you should avoid images that contain violent or sensitive content.
When you finish this step, your folder needs to contain: icon (512 x 512 px), app banner (1024 x 500 px), screen images, screenshots, and APK file.
Then, it takes you a few steps to submit app!
If you don't have account on Google store, please register for a publisher account at Google Play Developer Console. When your registration is verified, you will be notified via email. Now, let's take your first step!
Step 1: Classification
If your app has already got a name on Google store, you just need to update information. Otherwise, you will have to choose "Add new application".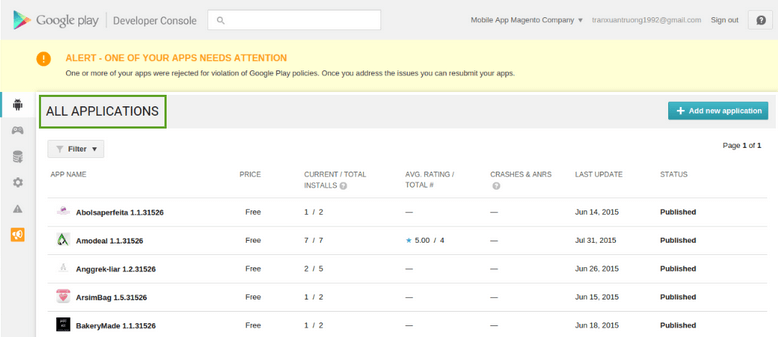 Then you choose your language as default language, choose your app's name as the title
and upload APK.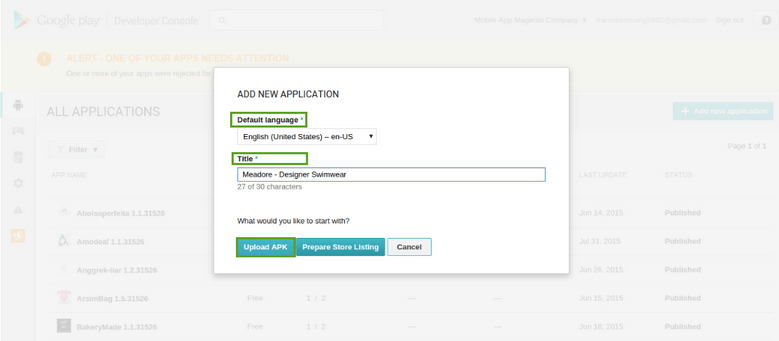 Step 2: Store listing
In this step, you need to fill in required information:
Title:less than 30 characters

Full description: less than 80 characters

Short description: less than 4000 characters
Note: In the description, you have to remove words or content that contain sensitive information. Also, you should avoid repeating keywords or Google might reject your android mobile app.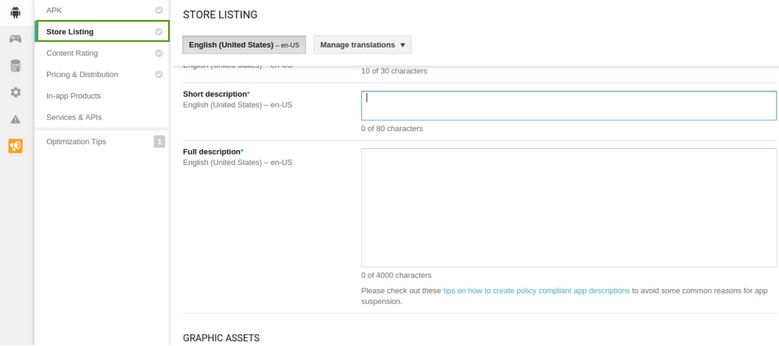 Then, in Graphic Assets, you upload icon, app banner, screen images and screenshots. You should make sure that all the images have the suitable sizes so you need to edit image sizes before you upload into Google store.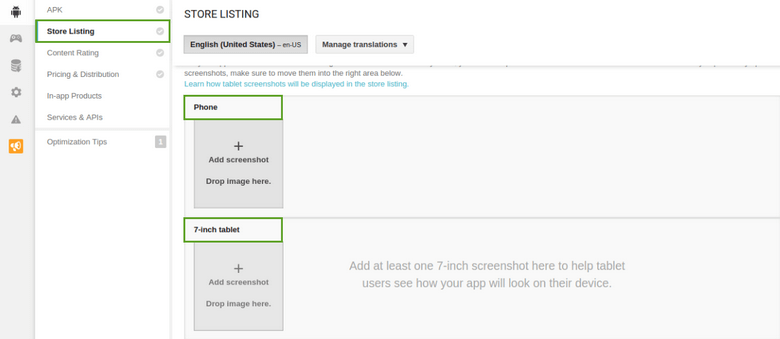 You scroll down to enter Categorisation section then choose:
Type: Application

Category: Shopping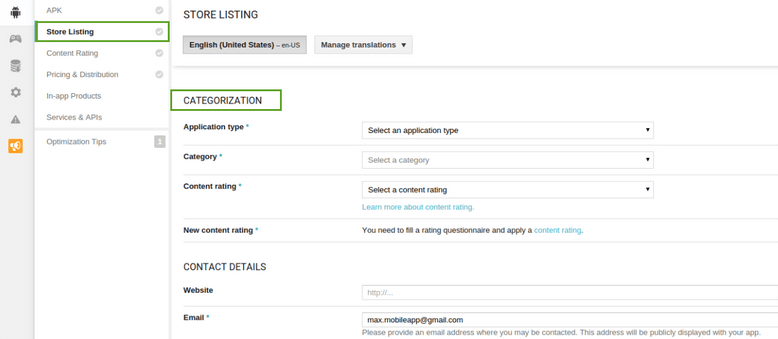 Please enter your website and email address into the blank in Contact Details section and tick on "Not submitting" in Privacy Policy. Then, you click on "Save" to complete step 2.
Step 3: Content Rating
In this step, you will choose level that is compatible with your app content. Normally, people usually choose "Normal" to "Medium" Maturity. If your app contain sensitive content, you should choose "High Maturity".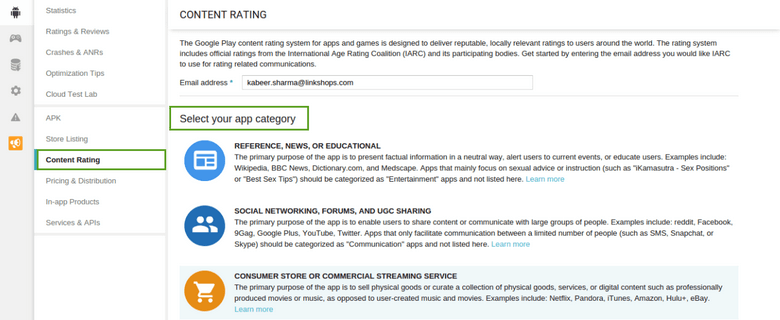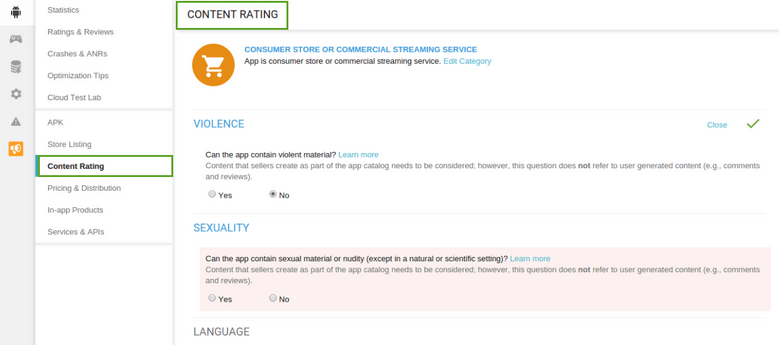 Step 4: Pricing and Distribution
In this section, you need to select all countries or some defined regions where your app will be distributed. Then you scroll down till the end of page and tick on "Content guidelines" and "US export laws'.
You will finish this step by click on "Save".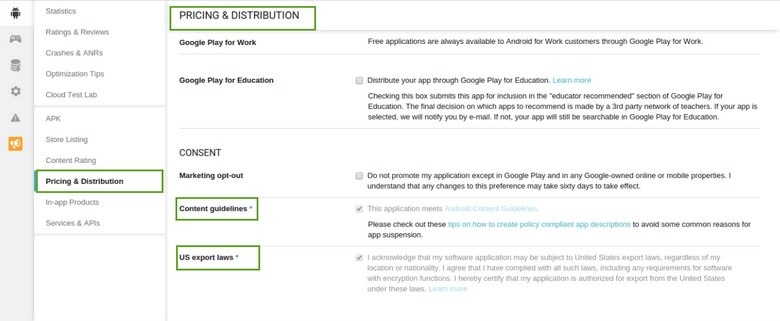 Step 5: Publish app
Please note that 4 categories on the left-bar including APK, Store listing, Content rating and Price distribution must turn into green after you finish each category. After completing step 4, you need to choose "Publish your app" on the drop-down on the right corner.

You have now submitted your android mobile app into Google Play Store. Normally, it might takes 1-2 days to get approval from Google. You can check the status of your app in the Publish tap off App Management. Once your app is approved, your customers then can download it directly from app marketplace.  
Yeah, now you got the way to submit your Android mobile app! If you have any difficulties with this process, don't hesitate to let me know. We will solve it together and soon find your app on Google Store!
SEE ALSO: 7 steps to install 2Checkout Plugin by SimiCart like a boss