(SIMICART) – In today mobile era, people start a new day with a cup of coffee and reading news, order food online for lunch, book movie tickets or search for a good restaurant for a night date, all with their mobile phone in hand.
M-Commerce concept has changed the way of doing business in this modern world and several major advantages of M-Commerce are clear to consumers.
More than 32%  of customers using mobile to locate a store. Instead of searching directly on Google or navigating to your website and Facebook, find store location page and get back to search on map, if you own a mobile app of your store that's sitting in customer's phone, let your customers find you from your app. Make the locating process much simpler and faster by adding store locator feature right in your app.
Store Locator in mobile app can benefit both of you and your customers
A customer receives notification from your mobile app about new products which have just arrived in store. She is on the way shopping and wants to pass by to purchase a favorite item. What she needs to know now, of course, is the nearest store of your brand.
Via mobile shopping apps, you can help her find your stores conveniently just in some seconds. That will enhance your customer's shopping experience, help her find the desired item quickly and as a result, will reduce her procrastination to buy. From your side, you will get not only more customers to your stores, which can lead to more sales but also more engaging app users later on.
Store locator could be a plus for your app. However, how you can make an informative and helpful store locator page?
What should be included in your store locator
Detailed and consistent store information
Store locator page in your mobile app will help navigate customers to your stores. Therefore, first of all, the information needs to be updated consistently with real in-store information.
All stores should be listed clearly with exact address and special description and note if any. Besides, you should add some updated images of each store as well to make it easier for your customers to imagine how the store looks like and recognize at a glance among a lot of other stores in shopping mall. Also do not forget the correct opening hours so that customers can estimate their time to arrive at your store and get some time left to walk around and purchase several items.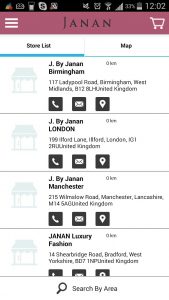 The Magic of Push Notification: how to make use of it
Store map and location marker
Not just a list, you can make your store locator even more visualized with store map. Customers can see exact location of your stores and find direction much more conveniently without going anywhere to search. With each store, make a map marker where you can show all detailed information including address, description, contact info and some images. Everything is so clear in front of customer's eyes and lead them to your store in some minutes.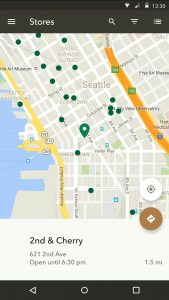 How to create mobile app without coding skills!
Store Locator Interaction
In addition to detailed information of each store, your store locator should also be a place where customers can find your physical store or interact with you directly via mobile.
Direction to stores
With geo-location technology, app users can turn on location finder in their mobile and look for nearest stores and get direction in map based on their current location.
Interaction
Not only show the contact info there, let customers contact you in some finger tips. Right in their mobile, they can touch email address to send email or tap in phone number to make a call to store hotline shown in store locator. Keep in touch with customers to maintain a good relationship and more professional customer service.
Search Store
Sometimes customers forget location or want to find more information of a certain store. Let them search and get the result with no effort. It is even more great if you can make live search function work for store search also.
SimiCart store locator gives you all you need
We understand the important of store locator in mobile app so we developed store locator with all fundamental features you want to save time and effort of customers to reach you.
Automatically detect users' location with GPS functionality
Tap-to-call, tab to send email to store
Works with Android, iPhone, magento mobile iPad
Display store's information: image, address, open hour,…
Show the nearest stores based on the device's location
Show directions to physical stores
Search by address, zip or postal code, city or tag
Synced with existing data on website (if you purchased Magestore's store Locator extension)