Simicart – Rated best Magento mobile application builder !
Startup Asia is a annually conference for startup companies all over Asia to join, enlarge their networks, showcase their products as well as to take part in Startup Arena- a contest to gain Chevrolet investment.
This year, it is held in Singapore from SimiCommerce team has an opportunity to join Bootstrap Alley exhibition at Startup Asia from May 7th to May 9th,2014. With the eager for learning and the excitement of a new player, we hope that we will succeed in introducing SimiCart, SimiPOS to more and more people.
Time is limited and we have just a few minutes to drop some lines for you! Check it out regularly since we will update this post daily.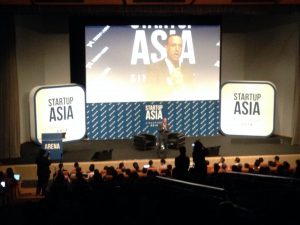 Singapore, May 6th,2014
A short flight from Hanoi to Singapore landed in the afternoon brought us to this fabulous city- one of the fastest growing cities all over the world. After resting and preparing for our booth, SimiCommerce team with 3 members starts to explore the city centre. A little bit tired due to the hot weather in Singapore, we were all eager for two upcoming important days at Biopolis where various startup companies in Asia would head to.
Speed dating at Biopolis
Preparation is finished, three of us headed to Biopolis to join Startup Asia. 8 am on the morning, we arrived in this modern building and climbed to the level 2 where all activities take place within 2 days. Like we guessed, it was packed with hundreds of people including startup owners, investors, developers and so on.
Since we did not have enough time while a lot of wonderful event was happening, we decided to join Startup investors speed dating. It was a great chance for us to learn more about new interesting things which have been happening in Tech world.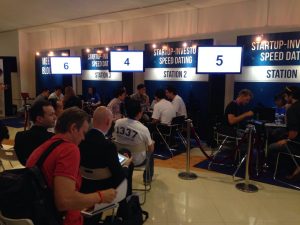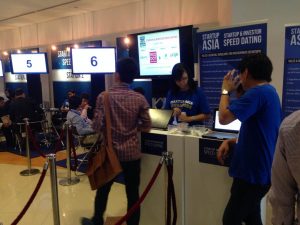 After dating in speed time, we went to Bootstrap Alley where the booth 85 was waiting for us and just 5 minutes later, we were ready to introduce SimiCommerce to all visitors here.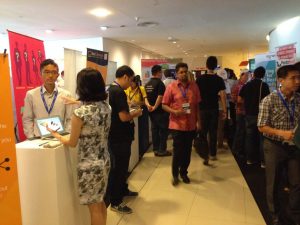 It was not so long until we got our first visitors. They were all excited for the new technology we are working on especially SimiCart- Magento mobile app and SimiPOS– Magento mobile POS.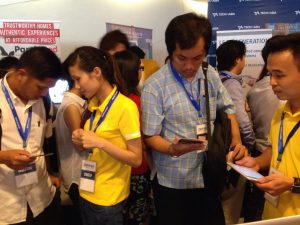 Day 2 and interesting visitors:
Day 1 went by so fast and excited and we hoped for a crazier day ahead!Just like we expected, more and more people appeared in Biopolis.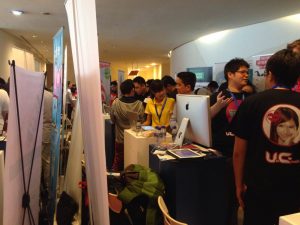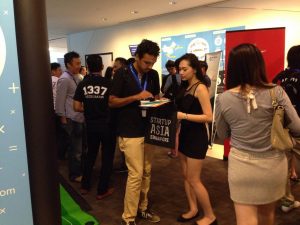 And of course, many tech guys also gathered around our booth. Most of them when asked, said that SimiCommerce products were fantastic and so incredible and all of them hoped to collaborate with us. Despite the heat from the weather, atmosphere in Biopolis and the crazily growing crowd around us, we felt happier than ever. [box type="shadow" align="aligncenter" ]"Ok, thank you for entertaining us that SimiCart. I think SimiCommerce is a beautiful product for mobile application. And I believe that since we are also Magento e-commerce developers We will look at developing mobile applications for SimiCommerce And hopefully, we should be going together."- Mr.Gautum Shankar, Business Consultant of Top3Media gave us his opinions about SimiCart and SimiCommere on the whole[/box]
Fortunately, we've captured him in a video as follows:
Buddies, if any of you are in Singapore, why don't you spare us a visit? We are at booth 85, Level 2, Matrix, Biopolis , no. 31 Biopolis Way, Singapore 138669
Notice: our SimiPOS- Android version is already on air now, come and experience with us now!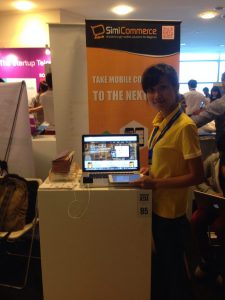 Simicart