[sg_popup id="2″ event="onload"][/sg_popup]Magento mobile shopping apps is becoming the dominant trend in e-commerce industry as more and more online businesses go mobile nowadays.
But among the most popular mobile app builders, there emerge two solutions which are thought to be capable of integrating a Magento website with Magento mobile application built on both Android and iOS OS: Simicart vs Mofluid.
As they are both effective to some extents, mobile app developers sometimes get confused about which is the better for their own app. By following this article, you will be provided with a detailed comparison between these two outstanding mobile app builders, thereby choosing for your app the best solution.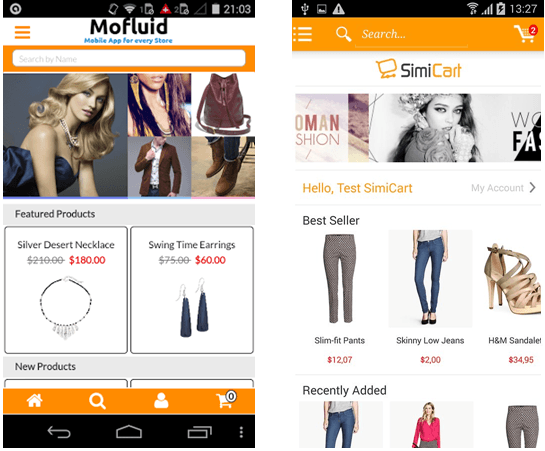 Each of them will be compared basing on different criteria:
Integration with Magento Website
App customization
Price, support, update.
Mobile optimization
Mobile marketing
Other features: Security, Platform support…
Simicart vs Mofluid: Which is born for Magento mobile shopping apps?
1.Integration with Magento website
Integration with Magento website is the most critical requirement for every mobile app platform including Simicart and Mofluid, the problem is that which one has the ability to integrate a Magento website fully in the product catalog, prices, taxes, shipping,… not just about running the app without any conflict with the Magento website.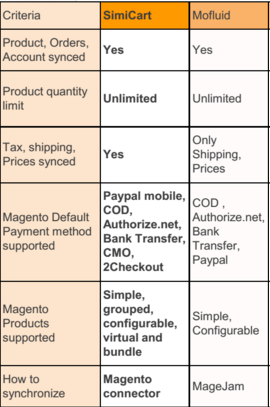 From the table above, you can see that Simicart and Mofluid have quite the same qualities, but to some aspects such as taxes, shipping, prices, payment method supported,…it is definite that Simicart is better-synchronized solution in comparison with Mofluid
2.App customization
This requirement is really necessary for every mobile app developer. As anyone will want to edit, modify, update and design the app,…optimally customizable app will be more appealing to most of app developer.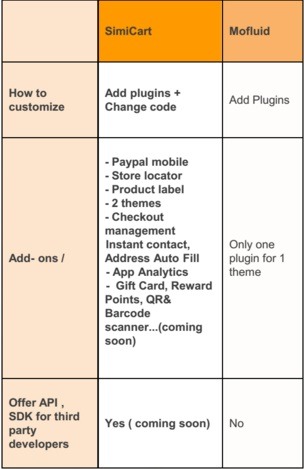 You can see from the above table there is an obvious difference in the features between Simicart and Mofluid. Even though both of the app platforms provide plugins for management, marketing, layout,…Simicart seems to be more advanced as it can even support so many useful add-ons (store locator, product label….) while Mofluid just shows off one plugin for 1 theme.
3.Price, support and update service
One of the most concerning problems for most of mobile app developers is the offering of price support as well as the update service. Whether the app builder is potent and fascinating enough to attract a high number of mobile developers depends much on the price level as well as update services that each of the solutions can offer.

It seems that both Simicart and Mofluid provide intense incentives aiming at winning customers' heart. However, though Mofluid does not require installation fee and Simicart needs $100 for one-time installation, with the more favorable campaign like prices of $299 and a free update for a lifetime, Simicart deserves to win in this combat.
4.Mobile optimization
In addition to app optimization, mobile optimization is also an imperative mission for any mobile app builders. Supplying friendly experience for mobile users is really crucial for app developers, let's see which one is better at optimizing mobile devices.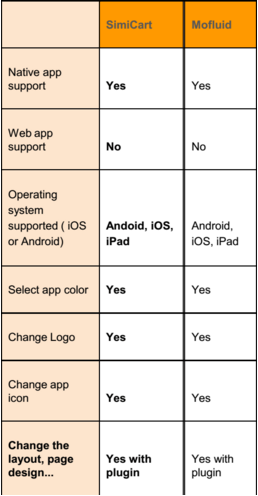 As you can see, both Simicart and Mofuild offer the solution for Android, iOS, and iPad. Besides, with plugin, the layout and page design can be changed easily. As a result, both Simicart and Mofluid platform are worth being utilized regarding mobile optimization aspect.
5.Mobile marketing strategy
After launching an expected app, what owners care about most is also the development strategy of such app, that is the reason why mobile marketing features are among the most concerns of app developers.

In seems like that both Simicart and Mofluid are facing the difficulties relating to mobile marketing. In the position of mobile app developer, you should really keep track with the mobile marketing insights, then choosing the better app solution. In the position of mobile app builder expert, you should pay attention to this aspect in order to get more attention from mobile developers.
>>>Related: Mobile Shopping App Marketing Insights: What Wikipedia Can Not Tell You
6.Other aspects
Among the most important factors, such factors as platform support, security, multi-store view allow, white label, content management system,…should not be ignored.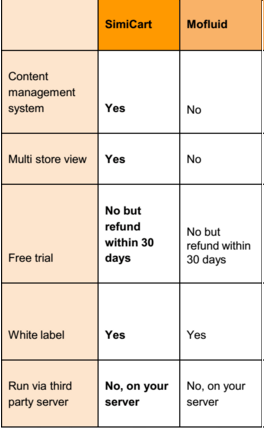 From the comparison table, you can see that both Simicart and Mofluid have quite the same attributes. Especially, about the security and safety aspect, both of them offer the safest system as it runs only on your server, not on the third party's or it's own. And you also do not need to worry about the data transfer and management problem.
In conclusion,
Simicart and Mofluid are both dominant mobile app builders in the market. In the opinion of but to some customers, Mofluid may be more attractive, but in the viewpoint of the writer of this article, Simicart is worth being taken as it offers so many special incentives with reasonable prices.
If you intend to build a Magento shopping app, then Simicart is really a perfect choice of you, you can see the unique features of Simicart and track the price here!
Now, do not hesitate to launch a desirable Magento sales app.