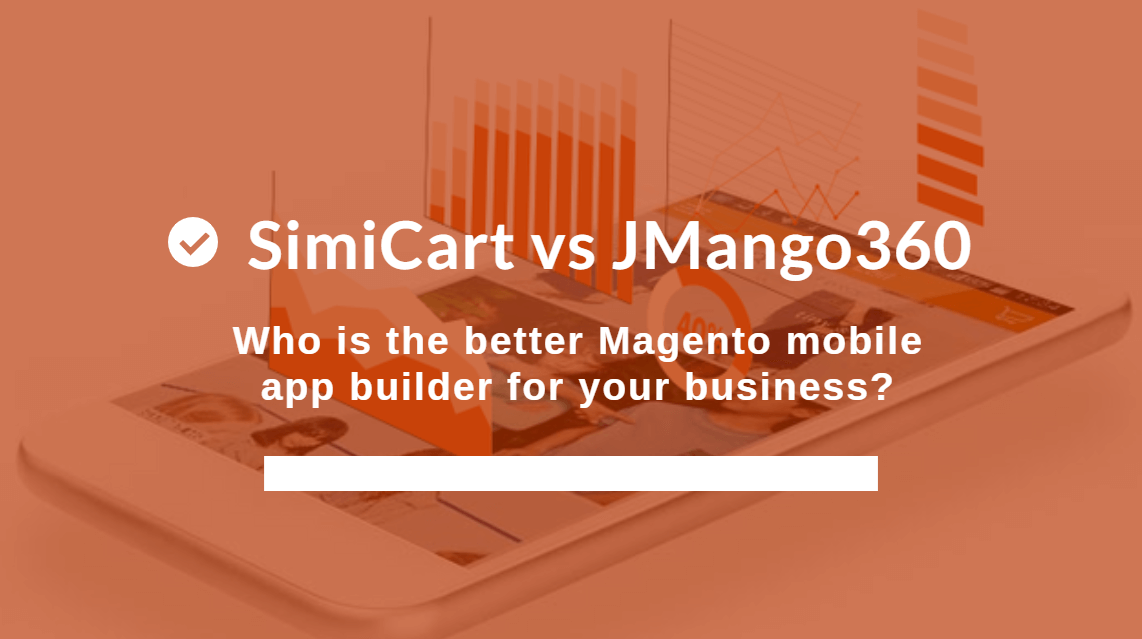 If you are considering investing in a mobile app for your Magento business, chances are you have come across solutions like SimiCart and JMango360. You're here because you want to know which solution is the best Magento mobile app builder for your specific needs. With this post, we hope to answer your question and help you make faster decision with confidence.

Comparison between SimiCart and JMango360 platforms

To understand which is the best way to go mobile with your Magento store, we need to take a deeper look into both SimiCart and JMango360 platforms and how each solution differs from one another, on the following aspects:

1. Magento integration

| | | |
| --- | --- | --- |
| | JMango360 | SimiCart |
| Products, Orders, Accounts | Yes | Yes |
| Tax, Shipping, Price | Yes | Yes |
| Supported Magento Default Payment Methods | COD, Bank Transfer, Paypal | COD, Bank Transfer, Paypal, Checkout.com, CCAvenue, PayU and more.. |
| Supported Product Types | Simple and configurable products | Simple, configurable, grouped, bundle and virtual products |
| Magento-specialized Platform | No | Yes |
| Magento Partner | No | Magento Technology Partner |
| Years of Experience | 5+ | 8+ |
Certified as Magento Technology Partners, both platforms offer considerable advantages for Magento integration: products, orders and account information synced in real time. However, SimiCart has managed to support more Magento default payment methods than JMango360: Checkout.com, CCAvenue, PayU, etc. At the sametime, SimiCart is able to support all product types for Magento when JMango360 only offers simple and configurable products.

In fact, Magento is not the only e-commerce platform that is compatible with JMango360 solution. JMango360 also support other e-commerce platforms like Prestashop, LightSpeed and BigCommerce. Unlike JMango360, SimiCart is a Magento-specialized solution in which our shopping apps are built only for Magento platform, both Open Source and Commerce versions. Focusing on only one e-commerce platform allows SimiCart to do a better job of full integration with Magento, in terms of payment methods, product types supported and more. With significantly longer experience in Magento platform, SimiCart is more well-suited for online stores based on Magento.

2. Products

| | | |
| --- | --- | --- |
| | JMango360 | SimiCart |
| Native App | Yes | Yes |
| Progressive Web App | No | Yes |
| Hybrid App | Yes | Yes |
Both SimiCart and JMango360 provides a platform to build native commerce apps for Android & iOS. However, their solutions are not limited to native apps. For JMango360, the platform also powers hybrid app, which is a lower-cost alternative to native app. Hybrid app is basically web pages running from a browser embedded in a native app shell, which enables them to be distributed via app stores. So if you have built your very own native app, there is no point in investing in another hybrid app for the same store.
Meanwhile, SimiCart offer both native apps and progressive web apps for Magento, to provide a more complete mobile commerce solution. Progressive Web Apps (PWAs) allows businesses to have an app-like presence on the web, which is ideal to acquire new customers on your mobile websites. To deepen engagement with them, businesses seamlessly convert these customers into native app users that ultimately grows loyalty and long-term value. Unlike hybrid apps, PWAs can work with native apps to boost mobile conversion and revenue.

In case you need a comprehensive solution to convert sales and drive retention on mobile, SimiCart would be a better fit for your Magento store.

3. E-commerce features
| | | |
| --- | --- | --- |
| | JMango360 | SimiCart |
| Generic App Features | Multi-store, All languages & currencies supported, Product search & filters | Multi-store, All languages & currencies supported, Product search & filters |
| Custom App Design | Upload logo & banners, change app colors, adjust layouts | Upload logo & banners, change app colors, adjust layouts with 3 ready-made themes |
| App Promotion Features | Smart Banner | Smart banner, Deep link, Facebook connect, Social share |
| Sales Conversion Features | Lookbook, Wishlist | Wishlist, Store locator, Code scanner, Voice search, Video, Reviews, Instant contact, Address auto-fill & more |
| Engagement & Loyalty Features | Push notification, Coupon code | Push notification, Coupon code, Reward points, Gift card |
| Live Chat | No | Yes (Zendesk, Intercom) |
| App Analytics | Google Analytics | Google Analytics, Mixpanel, Firebase |
A clear similarity is that both platforms enables default Magento e-commerce capabilities, including multi-store views, all languages & currencies, search & filters. Also JMango360 & SimiCart allows their users to customize app design by uploading logo, banners, configuring colors and layouts. SimiCart even provides 3 ready-made theme to save your time in creating your branded app look.

For more advanced ecommerce capabilities, SimiCart offer a much wider range of features from promotion, conversion to engagement and loyalty. These built-in functionalities allow any business to create a complete mobile app with all their desired features, with no added cost and time. If a multi-functional app for marketing, sale and analytics is critical to your business, you will find SimiCart a better solution.
4. Customization and other services

| | | |
| --- | --- | --- |
| | JMango360 | SimiCart |
| Installation & App Publish Services | Yes (Included in Setup Costs) | Yes (Free) |
| App Customization Service | Yes (Code modification) | Yes (Code modification/ Plugin or 3rd party integration via API, SDK,..) |
| App Design Service | Yes (Included in Setup Costs) | Yes (Available for purchase) |
| App Marketing Services | No | Yes (App Store Optimization, Optimized Push Notifications & more) |
While SimiCart offers installation & app publish services for free, JMango360 will charge you for these services, included in the setup costs.

Both platforms offer app design service: JMango360 include their design service in the setup costs as well, which means that you will be inevitably be charged for this service when choosing JMango360 solution—whether you need it or not. At SimiCart, app design service is available for purchase, which is absolutely up to your business requirements.

Understanding the importance of app marketing, SimiCart provides a suite of services for this: from app store optimization, targeted app downloads to optimized push notifications & advanced reporting, which are not available with JMango360.

In comparison with JMango360, SimiCart gives you more customization options to speed up the process and increase efficiency. Apart from code modification, SimiCart platform allows for third party integration via API, SDK to seamlessly connect with your existing plugin, extension or backend system. By eliminating the need to build everything from scratch, this customization option can save your business lots of time and money in customizing the app of your choice.

When it comes to customization and other app services, SimiCart can provide more capabilities than JMango360, with less additional cost.

5. Pricing, policy, support

JMango360
SimiCart
Payment options
Subscription
Subscription / One-time
Pricing
$299/month (Magento Open Source)
$599/month (Magento Commerce)
Subscription: $83/month (billed annually)
One-time purchase: Contact SimiCart for custom pricing
Setup costs
$1200 (Magento Open Source)
$5990+ (Magento Commerce)
Free

Refund policy
No
Yes (30-day money back)
Support
Free lifetime support
Free lifetime support
Compared to JMango360, SimiCart pricing is more flexible with 2 payments options which allows their customers to subscribe with an annual fee or purchase lifetime license at a custom quote. While JMango360 pricing starts at $299/month, SimiCart subscription pricing is billed annually at $83/month. With SimiCart, all setup costs are free while JMango360 charges their customers $1200 for Magento Open Source or at least $5990 for Magento Commerce. As a result, businesses looking to go mobile with their Magento stores are turning to SimiCart solution for a better pricing.

Although both platforms offer free demo app on request, JMango360 does not have a refund policy for their customers. In this case, SimiCart can solve the problem better than JMango360 with a 30-day money back guarantee. Unlike JMango360, SimiCart customers enjoy a risk-free solution for their business apps, which allows them to make more confident decisions.
In conclusion

Businesses looking to gain a competitive advantage need to make sure their apps are professionally developed and stay in line with industry best practices. Choosing the right mobile app builder for your Magento store is critical to your business growth and success. If you're planning to improve mobile experience with a shopping app, SimiCart would potentially be the solution that works best for your business.
Perry
Marketing Executive/ Product Designer at SimiCart