SimiCart – The best solution for e-commerce merchants to build
mobile shopping app
s without coding skill. Struggling with different solutions to have an mobile shopping app for your own Magento stores, why don't you take it easy at SimiCart?
YOUR CUSTOMERS ARE MOVING INTO MOBILE, and your competitors are not exception. Don't be left behind!
LET'S GO retail shopping apps for your Website to stunningly boost sales!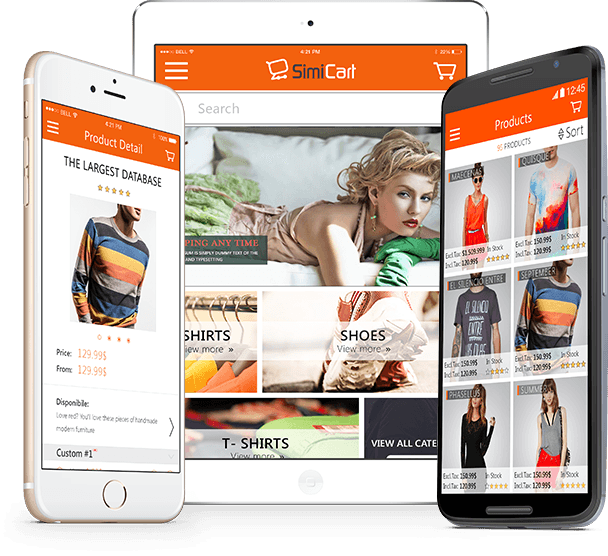 Simicart – Create a mobile app is new trend of mobile commerce !
SimiCart is a solution that helps Magento Merchants build Magento mobile apps.
Magento merchants: Our solution is specially designed for Magento platform so you can get all the best features of Magento to apps. If you use a solution for every platform you're missing many good things.
Mobile shopping apps: You will have apps that are coded separately and specifically for iPhone and android.
Your customers can search and download your shopping apps from Google Play and Apple stores. And again, such tailored apps will bring the best user experience!
Overview:
The first and best Solution to create Magento Mobile App
We provide the most functions for apps with over 20+ plugins that merchants can choose from
We offer 30-day-money back guarantee. Besides, our support is free for lifetime. Once you buy SimiCart, you don't have to worry about extra fee if you have any issues.
HOW IT WORK :
Step 1. App information:  In this step, you can configure your app information such as name, logo, icon, theme colour,…
Step 2. Install connector: Install your connector and purchased plugins and configure your app.
Step 3. Build app: Build and have your test app created here .If you are not satisfied with the test one, simply rebuild it.
Step 4. Publish: It's time to submit apps to Apple and/or Google Play Store .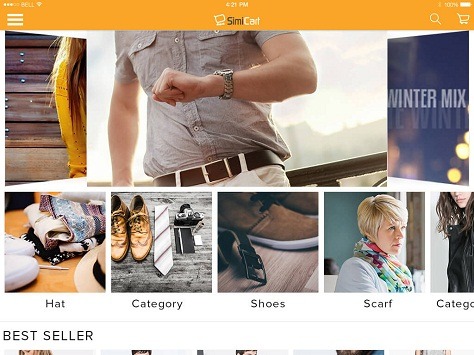 SimiCart is the best solution that helps e-commerce merchants build mobile shopping apps without coding skill.
Mobile Shopping App Made Fun and Very Easy:
No coding skills needed, native apps, Full synchronization, Personalization: 4 packages, 3 themes, 20+ plugins to chose freely
UI friendly:
Support all Magento default products types: Simple, Grouped, Bundle, Virtual
Support Products Labels, and Category Filters.
Made to please:
Store locators, instant contacts, 20 payment method, all languages and currencies, and Wishlist. All to make a better experience for your customers. Don't lose another customer again.
Sales Booster:
Push notifications, rewards points, coupon system.  Helping you to engage customers more into purchasing your products
Your app – your management:
Promote your apps with ease, app analytics – having your app connected to Google Analytics for better data and information of your customers activities.
BUILD YOUR MOBILE SHOPPING APPS NOW!
Simicart – The simplest and fastest way of creating mobile shopping apps for your Magento store.
Simicart