You know how they say, competition benefits customers; and it turns out that partnerships benefit customers even more—as our recent partnership with Magestore recently demonstrated this.
With our partnership with Magestore, your business can now take full advantage of Magestore POS as a daily driver for your offline operation and, combined with SimiCart PWA as a next-gen headless eCommerce storefront, your store will have all the advantages it needs to better compete in today's omnichannel commerce world.
What is Magestore POS?
Magestore POS is a PWA-powered, hardware-independent software to help you run your daily operations from one centralized system. With Magestore POS, you can sell in-store or on the go with any device that has a browser, irrespective of network condition.
The centralized system of Magestore POS also allows for an easier time of managing your store since the system is dynamically synchronized with your Magento backend, and any change made to the database on one POS device is reflected in real-time on another POS devices, thus making inventory management an easier job for your business.
Features:
Web-based POS
Self-checkout and in-store pickup
Real-time inventory visibility
Offline mode
Custom receipts
Fully compatible with Magento
What is SimiCart PWA?
SimiCart PWA is an engaging, headless storefront that aims to solve the online customer experience challenge for Magento merchants. Similarly to Magestore POS, it is also powered by PWA which is the technology behind all the cutting-edge features that you see in a next-gen eCommerce storefront.
A SimiCart PWA storefront, as you see in the following showcase, is app-like, responsive, and optimized to drive more engagements: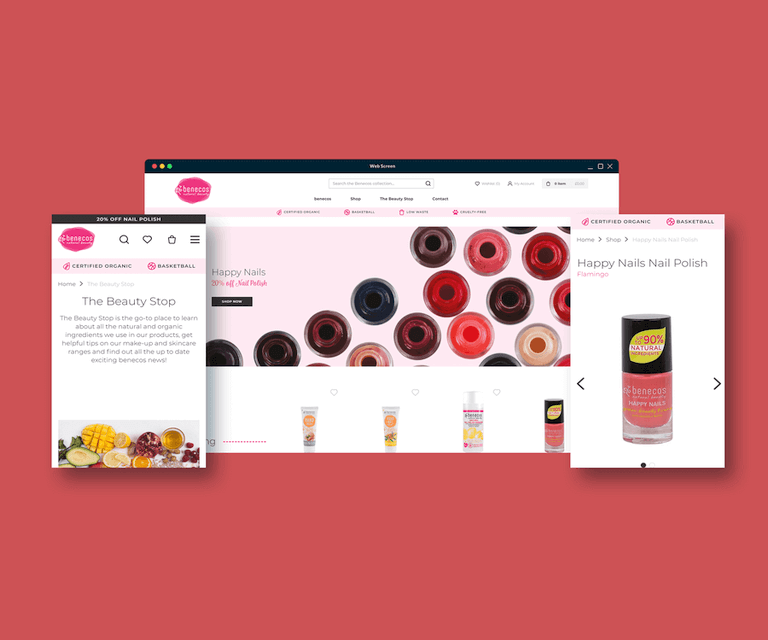 The headless nature of SimiCart PWA means that your storefront is more flexible and more performant, as the headless architecture is a more practical solution that allows for more scalability and flexibility for your business.
Features:
Headless PWA storefront
Responsive experience
Highly flexible, scalable, and customizable
Installable and re-engageable with PWA add to home screen and push notifications
Offline-available
How do they work together?
These two technologies—Magestore POS and SimiCart PWA—are brought together to keep your customers connected through an omnichannel network: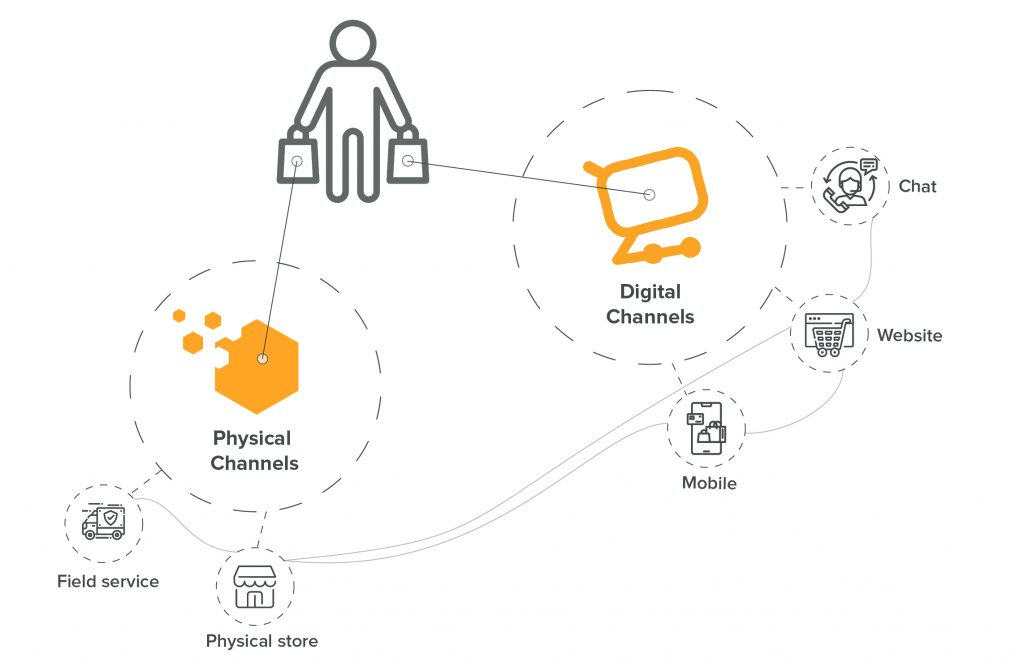 Customers coming into contact with your physical channels (brick-and-mortar stores, field services, etc) can buy directly on-site from your sales associates equipped with POS hardware. These POS hardware are based on the Magestore POS system and can work both online and offline, consequently allowing for more sales to be made and a more smooth-flowing operation for your physical channels.
SimiCart PWA, on the other hand, is an online storefront for your business on which your customers spend most of their time browsing for products. The responsive nature of SimiCart PWA means that customers can come into contact with your digital channels through various means, typically by phone, by PC, or by chatting with your online chatbots.
Both your physical and digital channels are interconnected and have all their data dynamically synchronized to your Magento backend in real-time. This in turns allows for an easier time of managing your business, as almost everything is easily configurable from your Magento backend.
What you can get out of this
Our partnership with Magestore, as we have stated in the beginning of this article, is a win-win-win situation for all the parties involved. When going for our joint solution, you too are eligible for the following benefits:
A true omnichannel experience
As modern shopping is an omnichannel journey, businesses that want to gain a competitive edge over their competitors must have a solid, flexible omnichannel experience to meet customers' needs where it matters. Seeing that a true omnichannel customer experience is vital for emerging businesses such as yourself, our joint solution aims to make this its main strength.
SimiCart PWA enables a responsive, multi-device experience which, when combined with the highly flexible Magestore POS, results in a true friction-free omnichannel experience for your customers. This means that, for your customers, the shopping experience is consistent and without any hiccup. Customers wanting to buy a product from your store can choose to do it the omnichannel way:
They find a product of yours on Google Search results
They then proceed to create orders on your SimiCart PWA storefront
They pick up the orders in-store or have the orders shipped to their homes
Performance enhancements
Raw performance
Besides the usual perks associated with the PWA technology, SimiCart PWA also tries to take it one step further and optimizes your storefront for performance, as well as brings more security enhancements to your existing infrastructure. SimiCart PWA uses PWA Studio—a set of tools containing the latest web technologies—to develop a PWA storefront project. The PWA storefront will then be equipped with latest technologies to reduce incoming & outgoing network traffic, as well as to streamline data processing speed. As a result, the raw performance of your online storefront will be substantially improved, bringing a snappy experience to your online customers.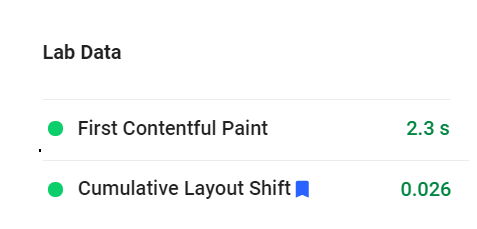 Perceived performance
In terms of perceived performance, your store—from your online storefront to your brick-and-mortar store—will experience a major transformation in the way that your operation is run, as well as in customer experience.
With Magestore POS, you can expect the in-store performance of your brick-and-mortar store to be vastly different from other POS systems, as everything is run from one centralized system. Because of which, there's less friction, less complexity involved in the process; and the web-based nature of Magestore POS also means that there's no more need for in-store servers since everything is dynamically synchronized to the Magento backend in real-time.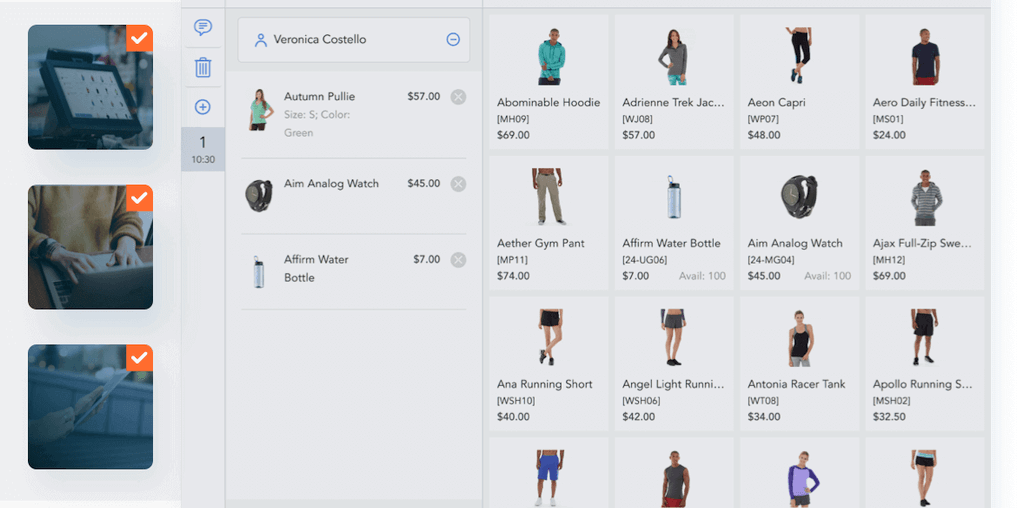 Additionally, thanks to the superior caching mechanism employed in SimiCart PWA, customers browsing your online storefront will experience a more connected and smooth-flowing experience, as they have to load the site only once and all the content from your store will be progressively served to them afterward.
More scalability
Scalability is no longer an issue with our joint solution as it's based on the latest web technologies, made to be hardware-independent and more scalable into the future.
Thanks to the headless nature of SimiCart PWA, our team of developers can make & implement features more easily, to the point that your entire online storefront can even be replaced with a better one at a moment's notice, without crippling your whole operation. This is made possible by the fact that we keep your online storefront separated from the core Magento backend in order for a more flexible development pathway, and a more stable operation for your business.
The headless architecture itself is a choice to not be tied down to a single platform and everything that comes with it.

The pros and cons of headless CMS
Your brick-and-mortar store, additionally, also has unlimited potential since Magestore POS is integratable with Magento modules, effectively expanding the scalability of your brick-and-mortar store(s) to the vast selection of extensions on Magento marketplace.
Better cost-efficiency
Because our joint solution is web-based and powered by PWA , there's no further need to develop for a specific device as the solution requires only a supporting browser for full functionality. And in the event that your need to implement cutting-edge features that require advanced development skill, the headless nature of SimiCart PWA allows for cheaper overall costs since the knowledge required for the development of a PWA storefront are more commonplace among frontend developers, making finding help easier and not as expensive.
Related article: How much does it cost to build a PWA for Magento?
Up and running without a connection
Our joint solution adopts the latest web technologies to ensure that your operation remains up and running all the time, even when network connection is lost or unstable. Magestore POS, for example, has a fallback offline database in the event that connection with the channel database is lost, effectively making sure that you never lose out on any sales. And similarly to Magestore POS, SimiCart PWA is also offline-available, as it utilizes the superior caching mechanism found in service workers to make sure your store's content is avaialble to the customers at all times.
Jumpstart your business with our joint solution
For Magento merchants looking for an overhaul of their storefront—or simply wanting a place to start from the ground up—our joint solution is the answer to all your needs. With a single Magento backend to work with, we can deliver to you an engaging and fully functional PWA storefront, capable of driving next-gen eCommerce experiences. And as for the in-store experience, our partnership with Magestore means that you can now finally bring your digital Magento storefront to the real-world.