Over the past few months, we've been working on a complete, PWA-powered solution for our clients in the F&B industry. Everything is getting in shape, and we honestly can't be any more excited to show you our hard work. Let's not keep you waiting any longer! Here's a sneak peek into our work:
Who can benefit from this
Our food ordering solution is targeted at the F&B industry, which means anyone in the F&B industry can rely on the solution for a complete makeover of their business—on both desktop and mobile. What's special is that you don't even need to own a Magento website to make the transformation, as the solution will take care of everything for you.
How the solution works
For your in-store customers, our solution introduces an omnichannel ordering experience:
Customers can scan your menu directly with the solution's QR Scan feature and, upon successful scan, they are then taken to a Product List page which shows currently available items in your store to order. When customers are finished ordering, cart information is printable into a QR code scannable by your cashier. By this way, customers can skip the usual checkout queue and have their order processed almost instantly—and this means there's no more waiting in the checkout queue, no more payment fees, and customers get the true omnichannel shopping experience that they want.
That's only how our Scan & Pay feature works. Our solution, on both mobile and website, introduces an improved order flow, as well as more features and functionalities for your business to take advantage of.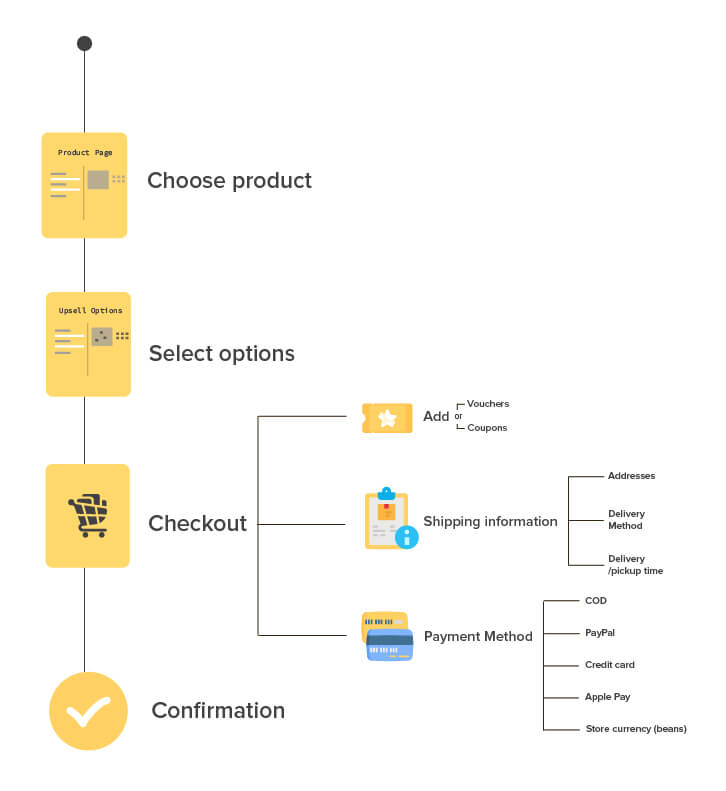 The traditional Cart page is now merged within the Checkout page, effectively shortening the checkout process without hurting usability. The checkout flow—the centerpiece of your store, is therefore made painless with our solution. We removed the usual distractions in the checkout stage that might hurt your conversion rates and made sure that everything is fast, connected, and without any hiccup.
Why choose it
You get the full package when going for our food ordering solution, and this means a feature-packed, industry-tailored Progressive Web App(?) that is available on both desktop and mobile.
Tailored for F&B businesses
Restaurant look and feel
Our food ordering solution aims to capture a unique yet familiar feeling: from the Product List page to the checkout process, everything is made to resemble the ordering experience from that of a restaurant.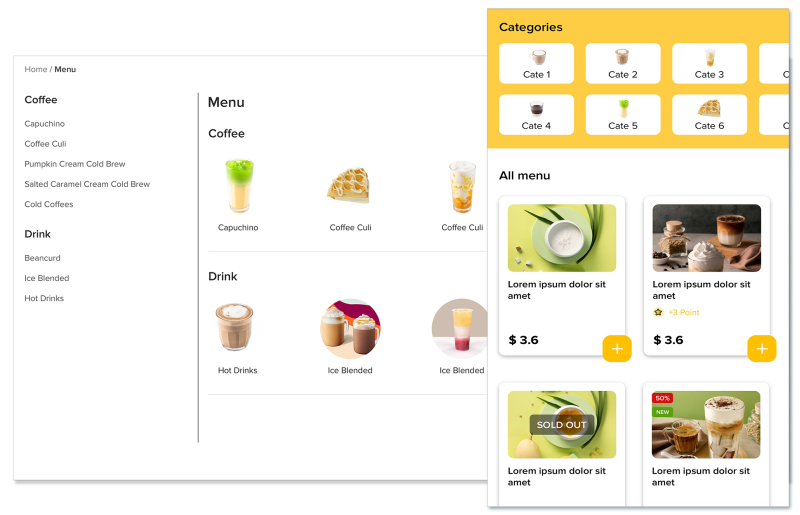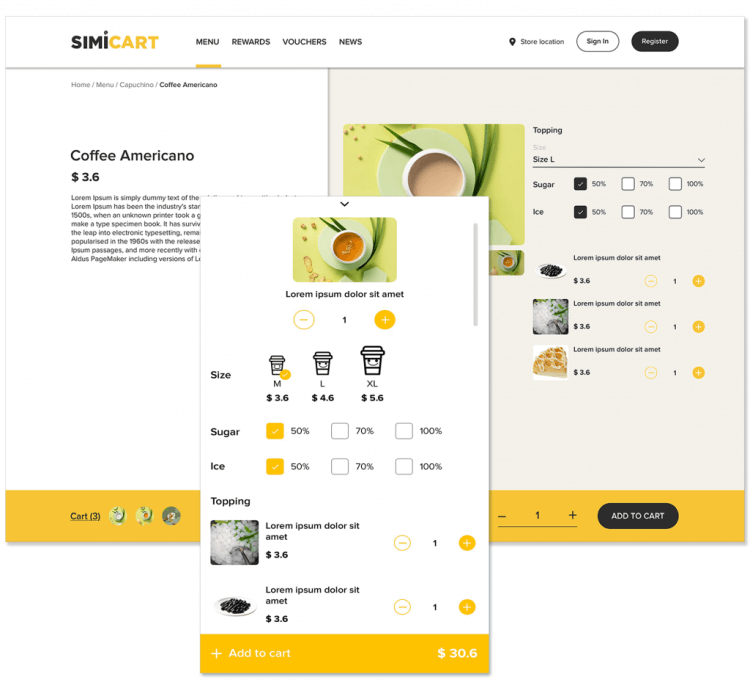 The Product Detail page of our solution, for example, went through a major overhaul: We moved product names, product descriptions, and product prices to the left page, leaving space on the right page for the visually appealing stuff. The Add to Cart button, along with other information related to the cart, is conveniently located at the bottom of the screen allowing for a more intuitive shopping experience.
Next-gen Checkout page
And it's not just the look. One game-changing change that you can see in our solution is the Cart-Checkout page – a marriage between the traditional Cart page and the Checkout page.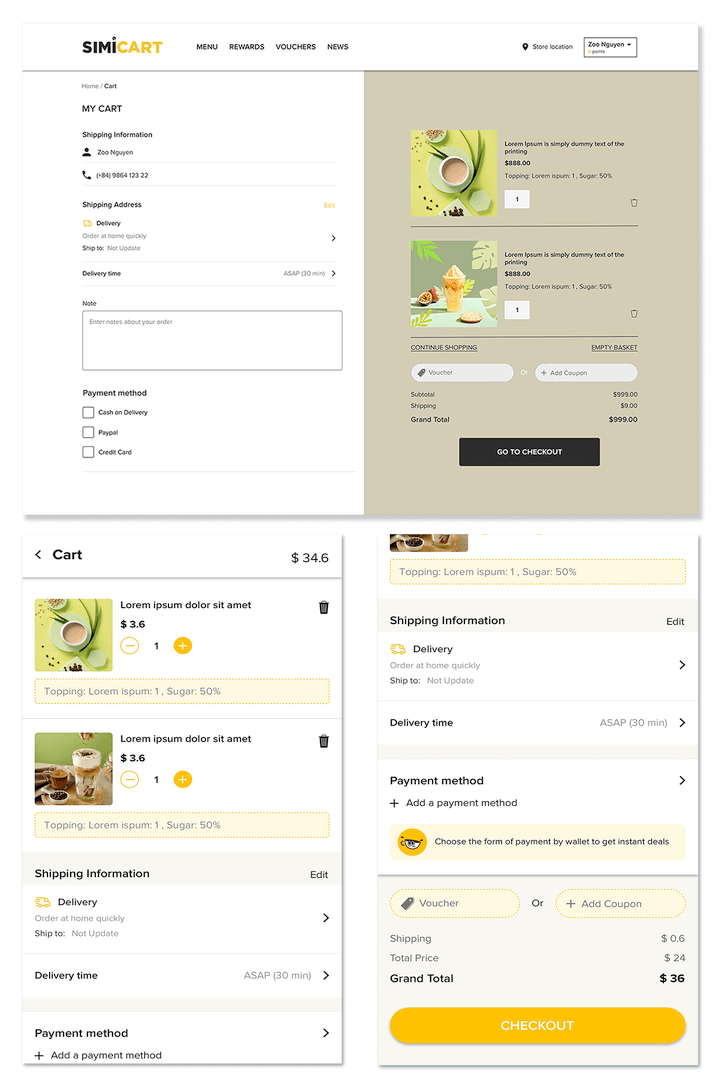 With this new and improved Checkout page, cart items are managed directly on the Checkout page, thus eliminating the need for a separate Cart page. Manual inputting on this page is also reduced to a minimal amount: shipping information and shipping address are automatically generated with data from the customer's account, and Store Location does its job to help customers find the nearest branch of your store.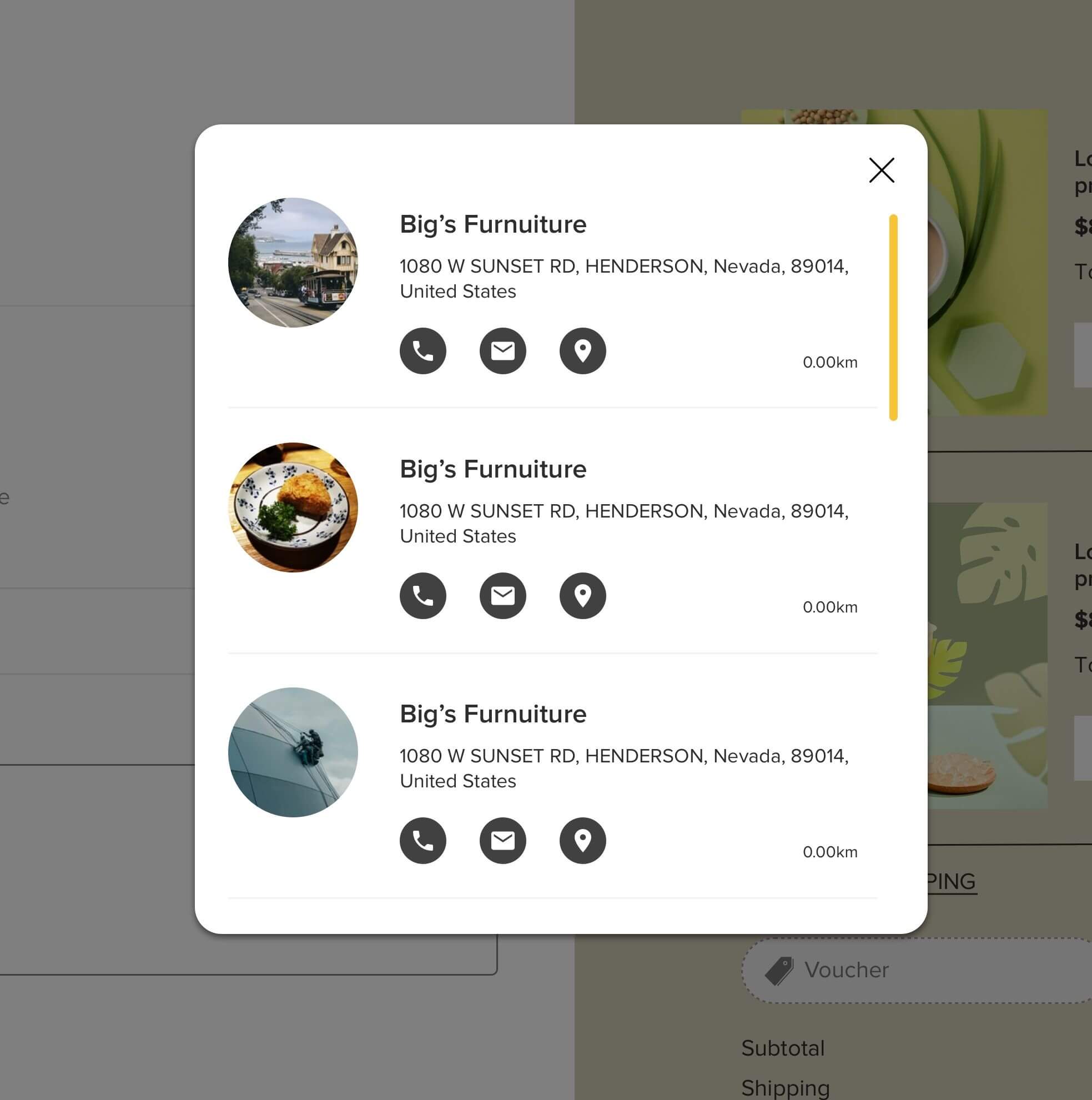 Find your store wherever
Understanding that getting in touch with your brand—especially in these pandemic times—isn't always easy, Store Location makes reaching you easier. The feature shows the nearest location of your store(s) to the customer, as well as other information necessary for getting in touch with your brand such as store addresses, opening hours, phone numbers, and directions.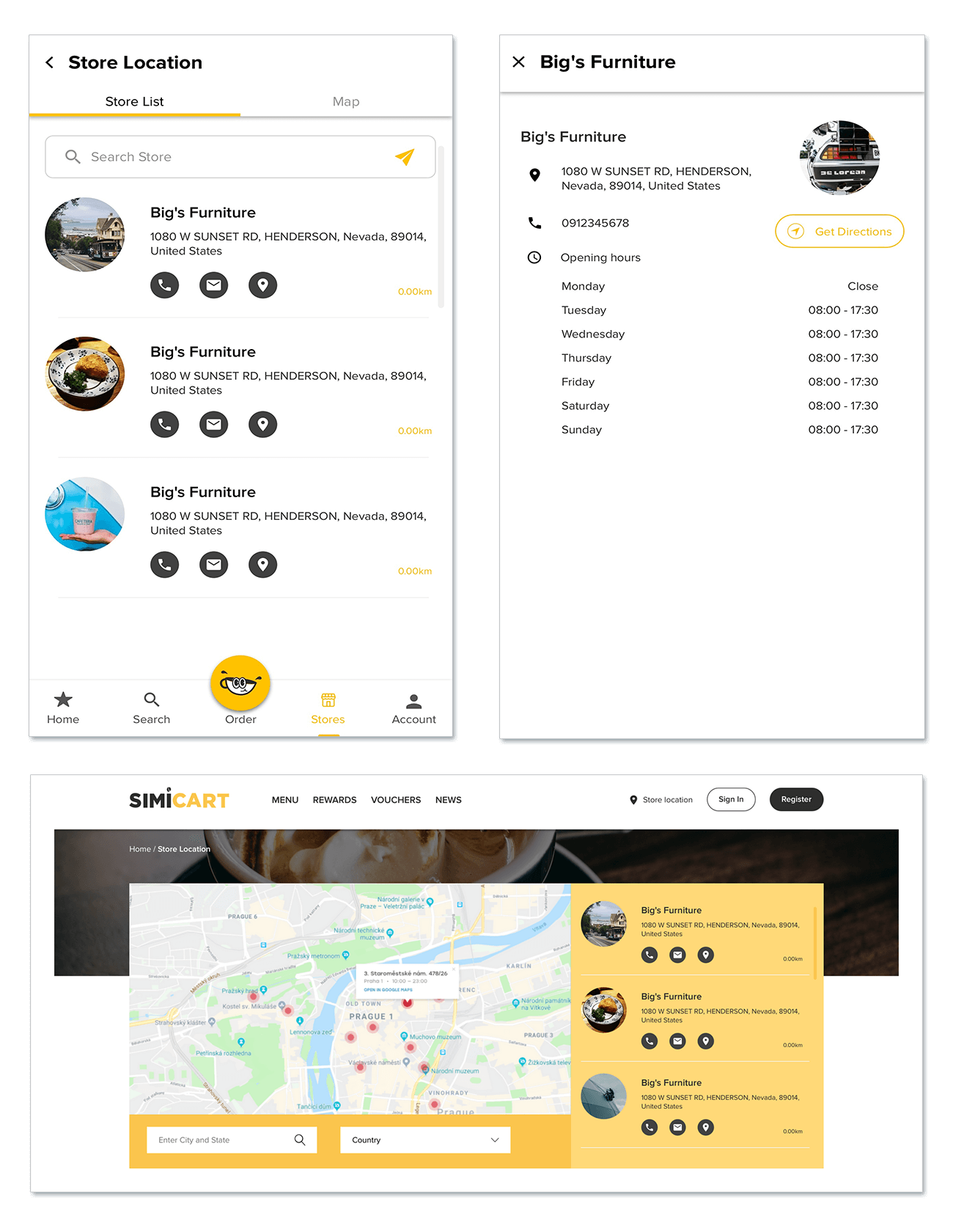 Built for customer loyalty
Our solution puts a special emphasis on customer loyalty. When you first get in touch with the site, the first things that stand out are the Vouchers and the Rewards sections visibly located at the top of the page.

Rewards
Let customers earn reward points (stars) for any purchase that they make. Stars are redeemable for in-store rewards such as free food, drinks, vouchers, etc; and when reaching a certain threshold, customers can gain different membership levels which come with even more perks when buying from your store.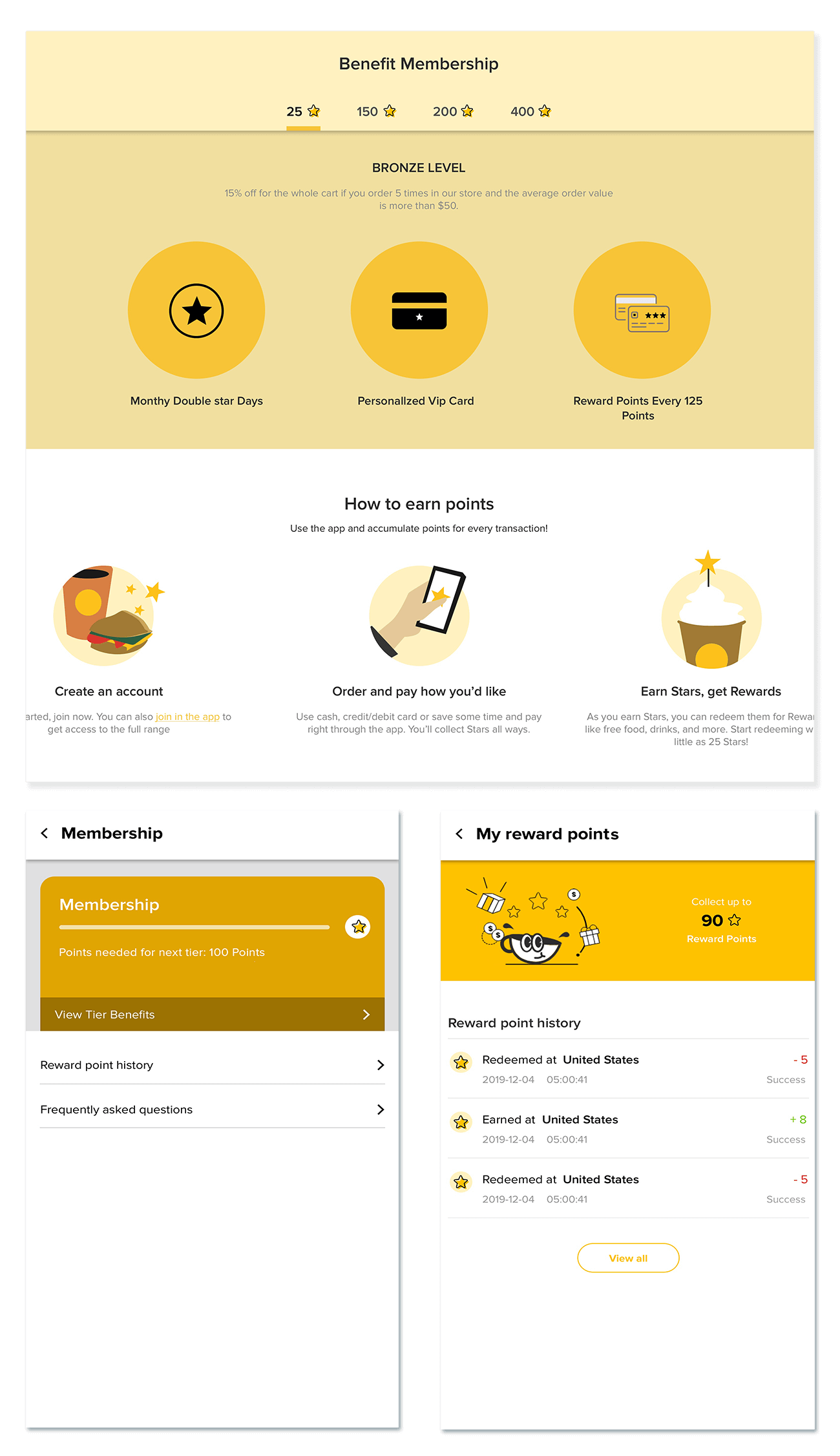 Vouchers
Use time-limited and personalized vouchers to make customers keep coming back to your store. Vouchers are conveniently redeemed in a separate Vouchers page and are managed in the user's account. Only one voucher is allowed in the checkout page, and vouchers can't be used in combination with coupons.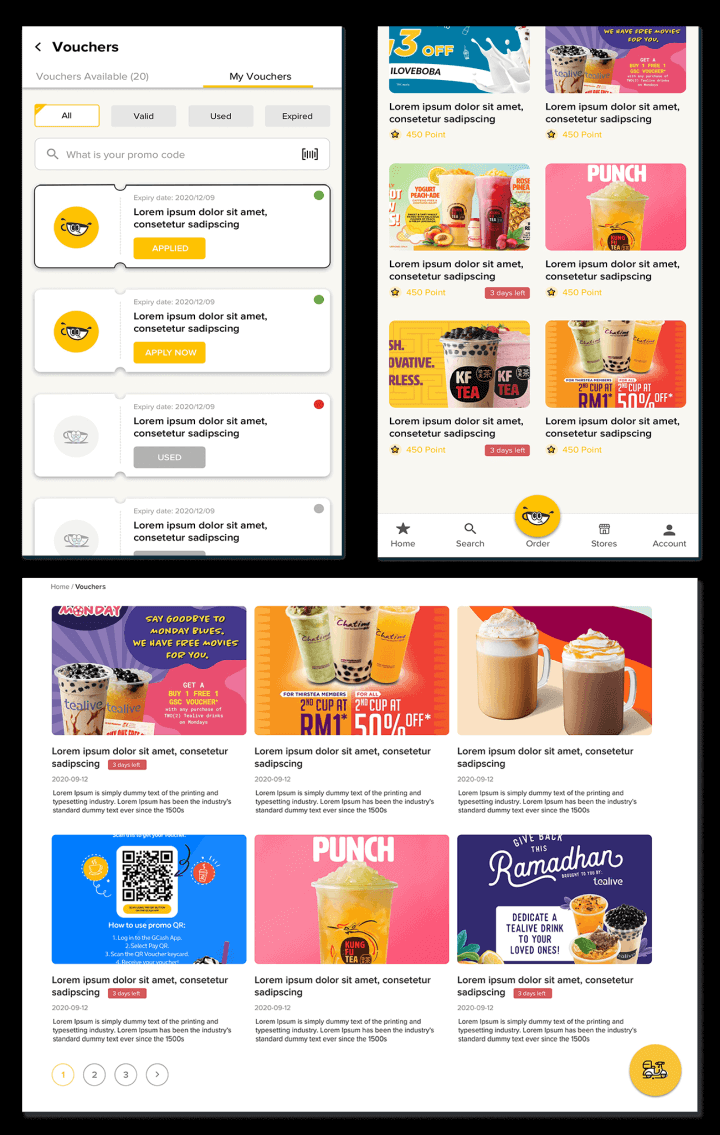 Top-up
Top-up lets your customers buy "bean" – your store currency. Beans can be used as a kind of payment method and help build customer loyalty by allowing your customers to conveniently checkout and receive refunds instantly. And in case your customers want to transfer beans to their friends, the feature is supported in our solution. Beans are transferable to other users using either phone numbers or deposit codes.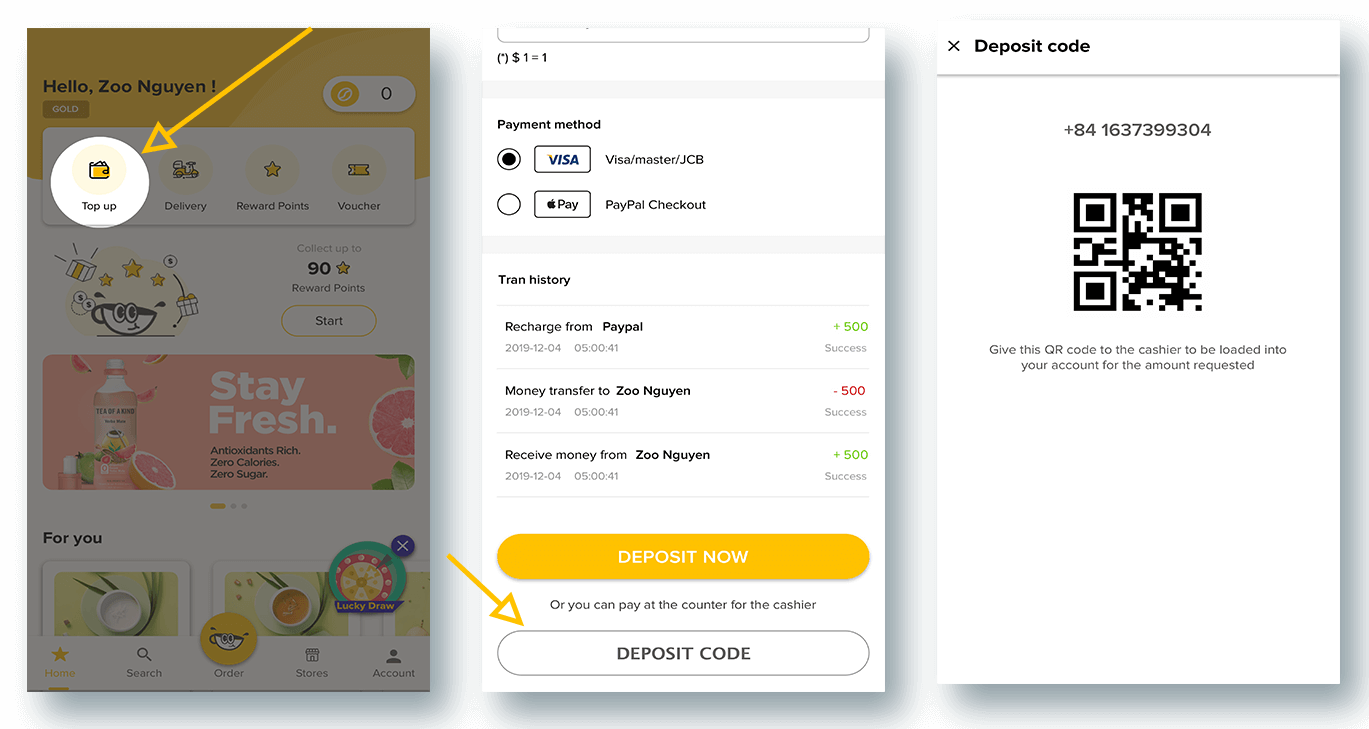 Tweaks to build more customer loyalty
In addition to the three main functionalities of our loyalty system (Rewards, Vouchers, and Top-up), there are also more initiatives introduced to make building customer loyalty easier for you:
Sign in to add a product to cart
By requiring customers to sign-in first in order to add products to cart, you can use the data from registered customers for more retargeting campaigns. And this means reminding customers to come back for more vouchers, more discounts, and eventually, building a more loyal customer base.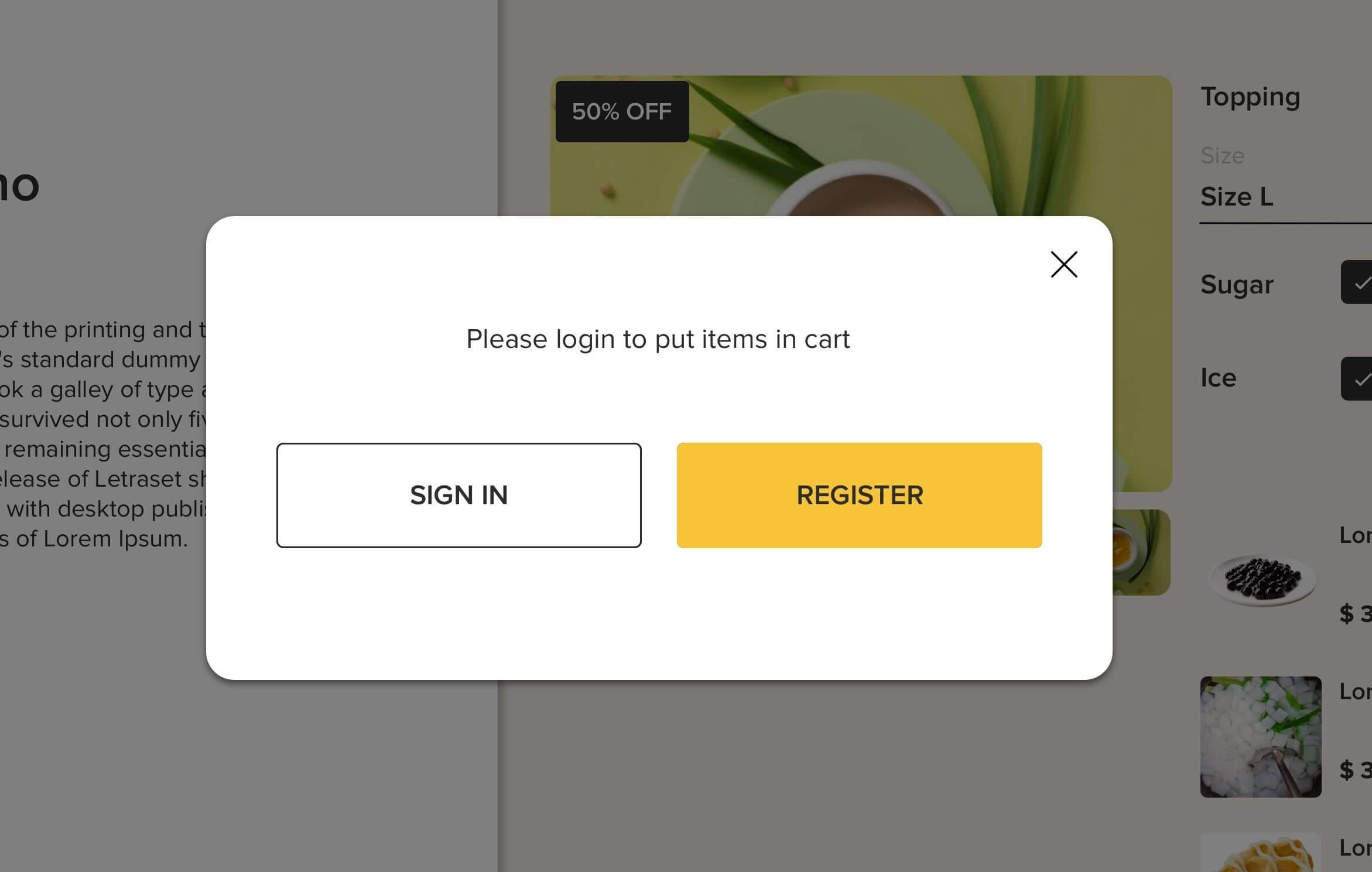 And to ensure that abuse of the loyalty system is reduced to a minimal amount, we made sure that phone number is the only method of signing-in, and all sign-ins are to go through an OTP verification step.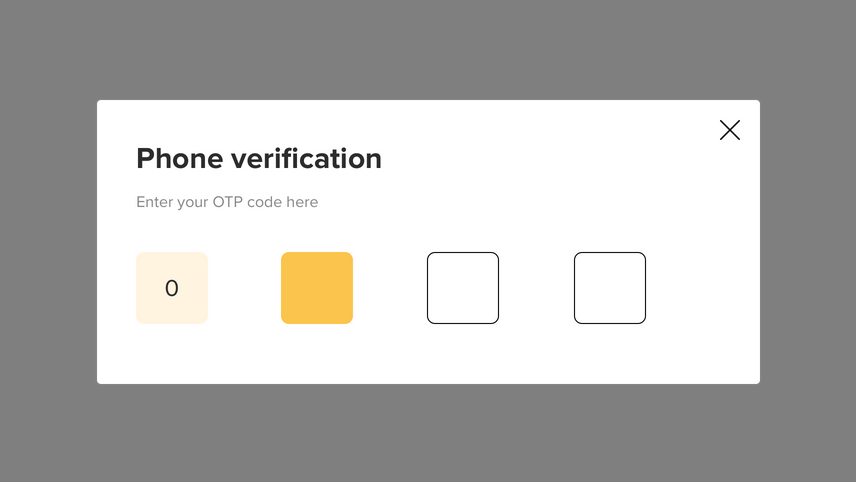 Earnable reward points next to product prices
Let customers know exactly how many reward points they can earn when buying a product. This makes shopping an overall more rewarding experience for your customers, and you can even make your products appeal more attractive by increasing earnable reward points next to the product's price.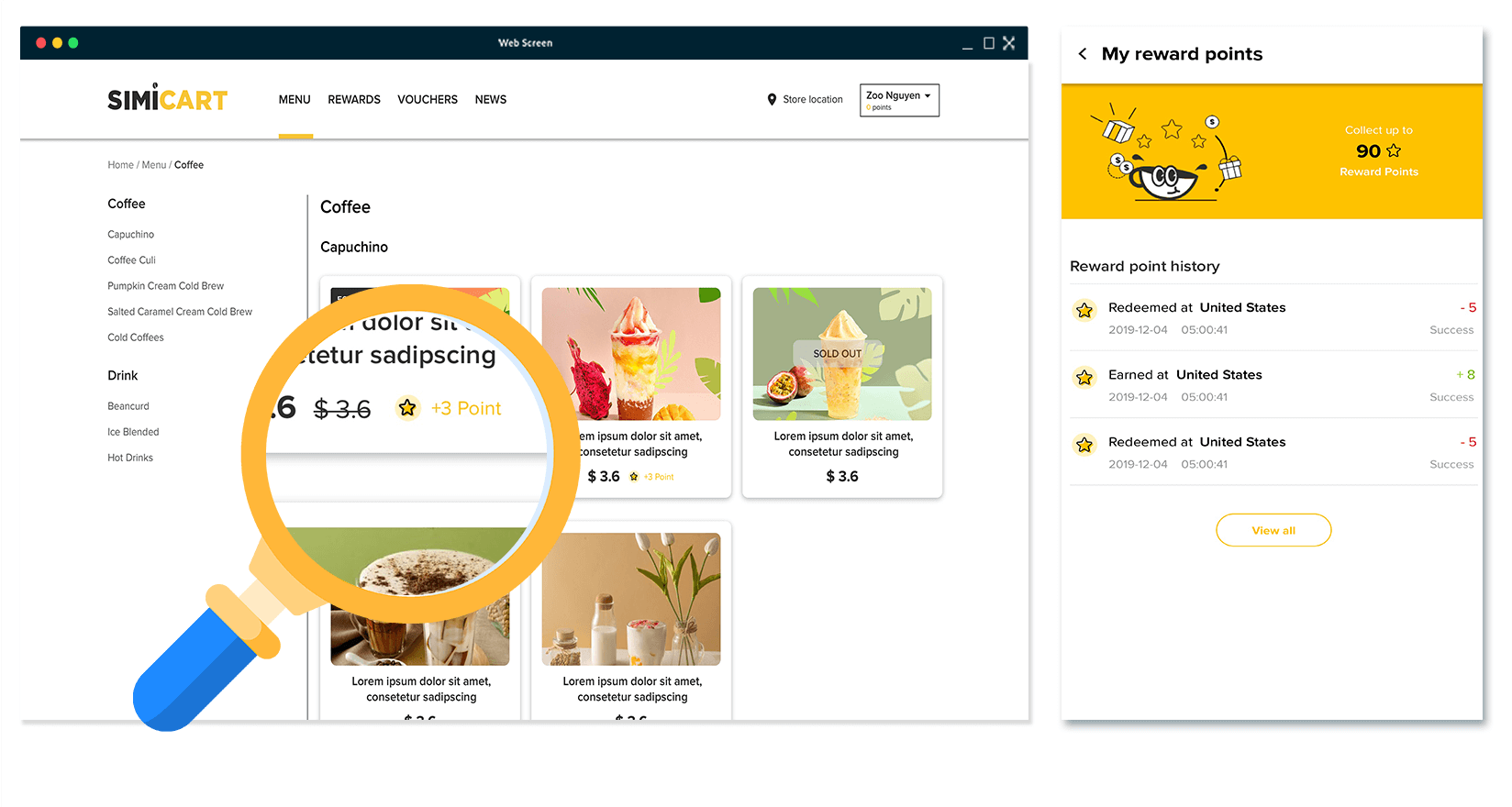 Gamification
Motivate your customers to come back with our Lucky Draw minigame. Lucky Draw lets your customers try their luck for a chance to win prizes such as free drinks, vouchers, coupons, and more.
True omnichannel
Interconnected operation
True omnichannel means delivering a unified, uninterrupted customer experience across all channels. And as a prerequisite for this experience, we made sure that every channel of your business is interconnected and synchronized with the Magento backend.
This means that any changes made on the store(s) will be dynamically reflected on the Magento backend and vice versa, effectively allowing for a unified experience across all channels. Managing your website is also made easier, as everything is configured on the Magento backend.
QR/Barcode
QR/Barcode are integrated in various stages of the customer's journey to make omnichannel shopping possible and more effortless for your customers.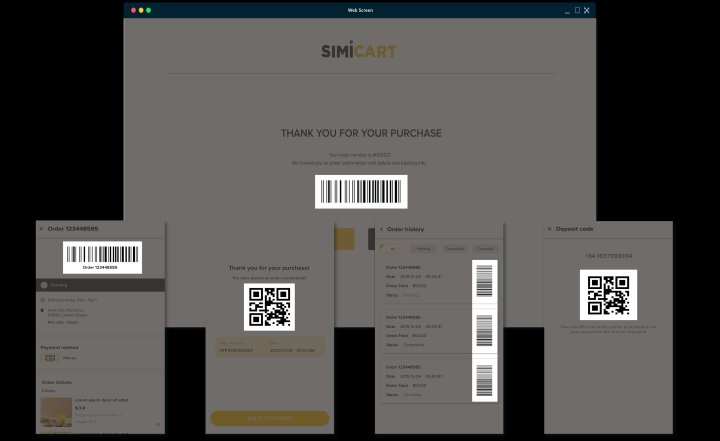 QR/Barcodes are located in the Thank You page, the Order History page, the Order Detail page, and the Deposit Code page. These pages are all essential to the aftersales customer's journey which, when correctly done, win over customer loyalty and build lasting relationships with your customers.
And as mentioned in How the solution works, the Scan & Pay feature of our solution also utilizes QR code to bring omnichannel shopping to your customers. Customers wanting to buy from your store can buy in whichever way that they find best.
For example, ordering the Scan & Pay way:
In-store customer scans a QR code to get your menu
Customer adds items to cart
Customer prints their order into a QR code
Your cashier scans the QR code to get cart information
Customer pays for their order in person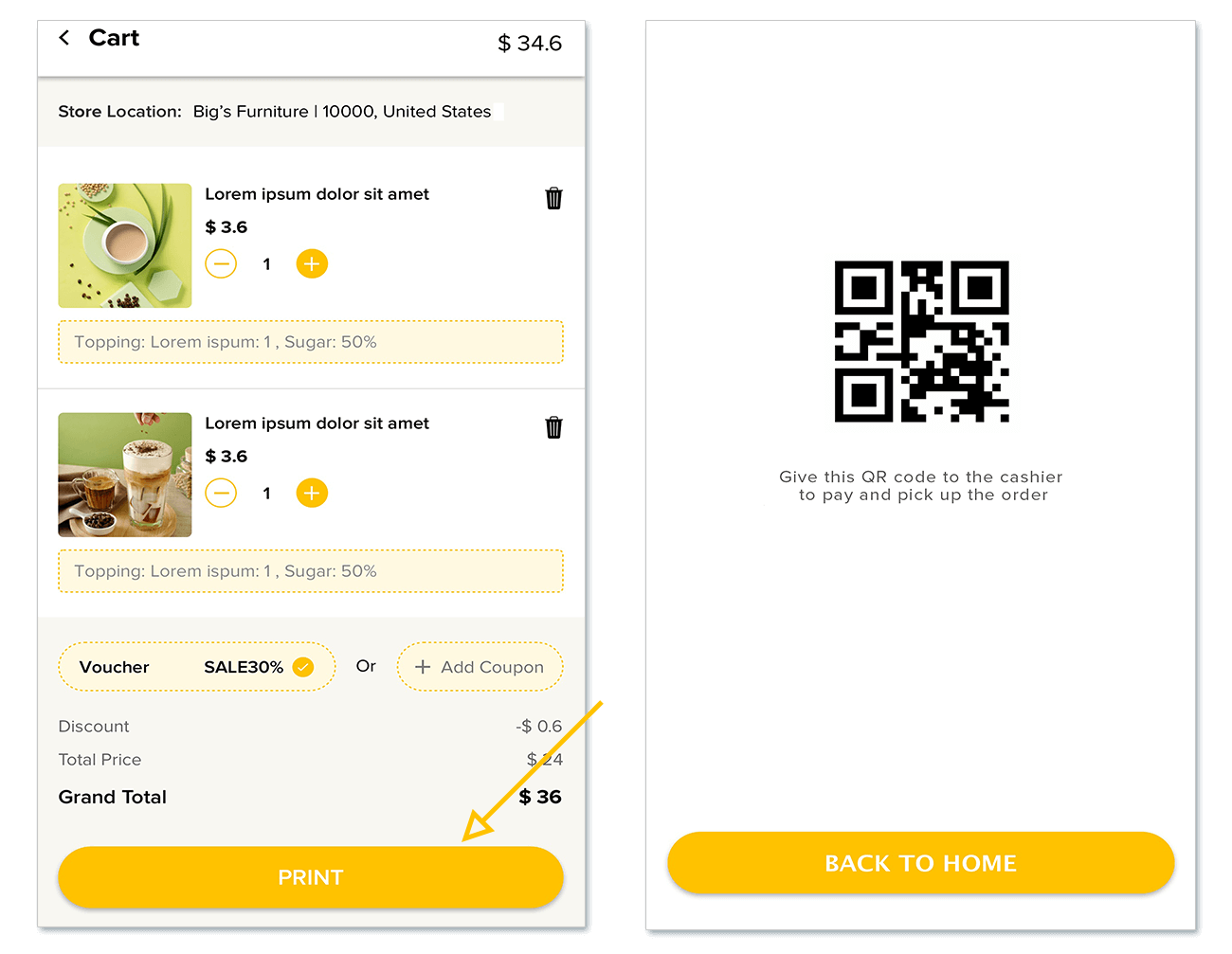 Or alternatively, ordering the in-store pickup way:
Customers order from your website
Customers obtain QR/barcodes when completing the order(s)
Customers use Store Location to find a nearby branch of your brand and pick up orders using given QR/barcodes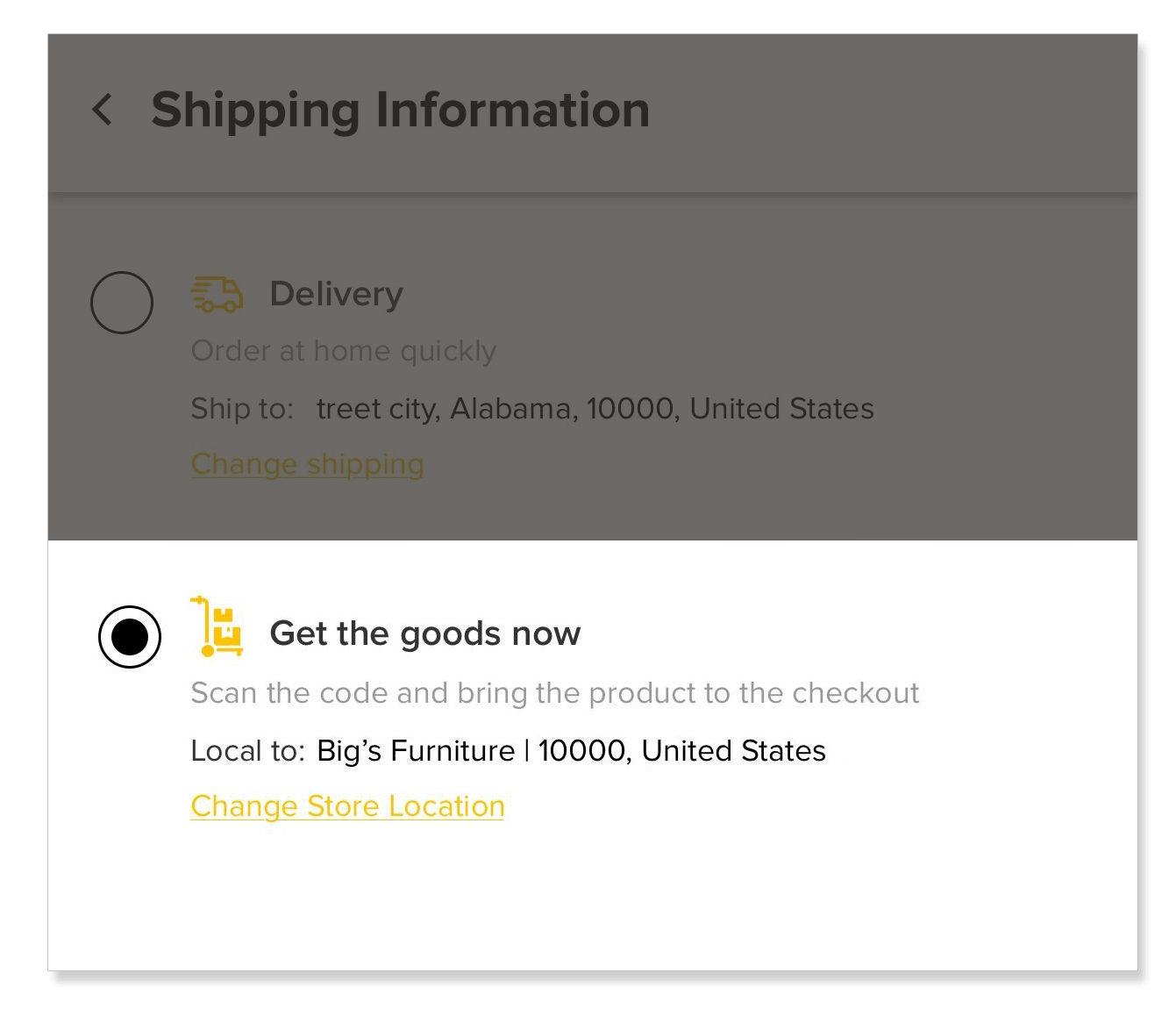 Stay tuned
We know you're getting excited about this complete food ordering solution—and so are we. One thing we can say for sure is that it is coming, as we're getting all the finishing touches done. And in case you're getting impatient, subscribe now and be the first to know when the solution is ready!