Simi Sales Assistant – All you need to mobilize your sales team
Why should you use Simi Sales Assistant?
Are you a busy business person who always needs to work on travel time? Are you urging to find an efficient way to keep an eye on your e-commerce store without stuck with your bulky laptop all the time?
Understand the struggles of business managers and sale associate from all over the world, Simi Sales Assistant is the native app for Magento stores, providing a full set of innovative features to follow sales signal, communicate with your customers and improve your productivity.
Started with the name "Mobile Sales Tracking" over 2 years ago, SimiCart aimed to provide the first Mobile Dashboard App for Magento community. After a while of development, now the latest version – Simi Sales Assistant – have tons more of useful features.
With Simi Sales assistant just tap and all necessary detailed reports are at your fingertips.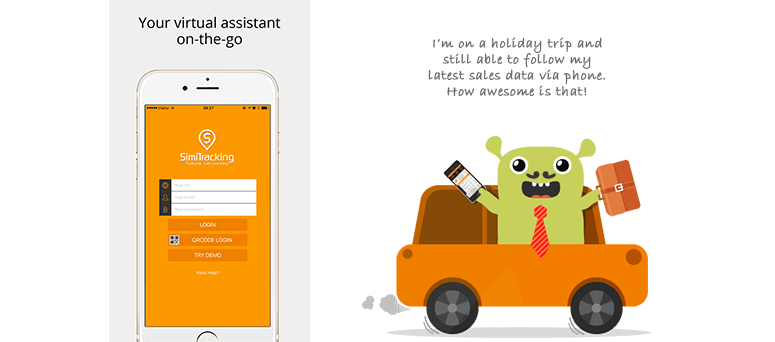 How to get started with Simi Sales Assistant
To get a free trial with SimiCart, all you need to do is do 2 steps:
Fill in the required information.

Features of Simi Sales Assistant
Provide general real-time sales statistics
Whenever and wherever you use Simi Sales Assistant, the updated overview report on data like revenue, Tax, Shipping, … awaits you on the dashboard. By bringing what truly matters to the forefront, Simi Assistant reduces the time you need to be up to date with new status since the last logout.
Real-time statistics allows you to monitor activity, check order status as it happens in your store. The reports are updated continuously and each hit is reported seconds after it occurs. Moreover, data described in form of charts with flexible navigation make it the easiest way to capture the big picture.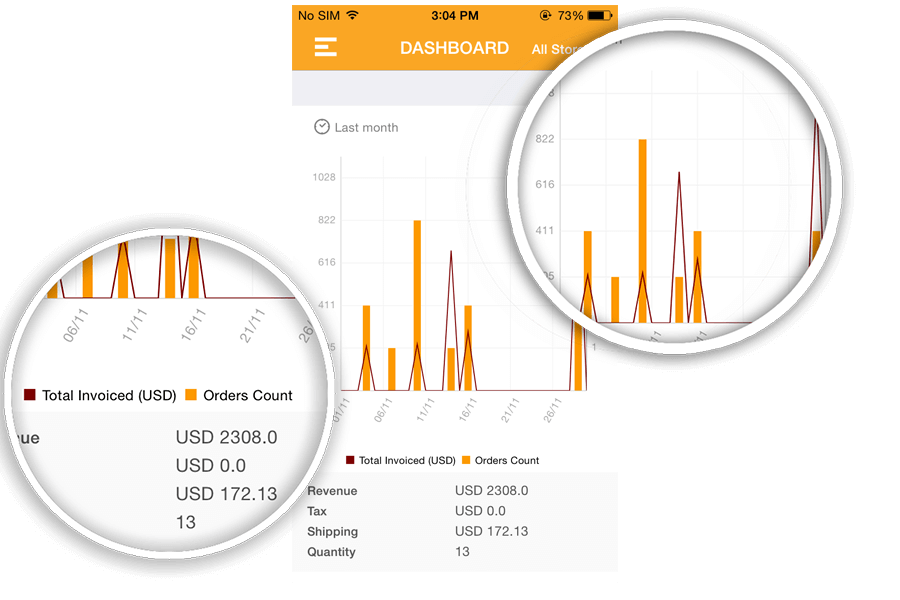 Orders reports right in your pocket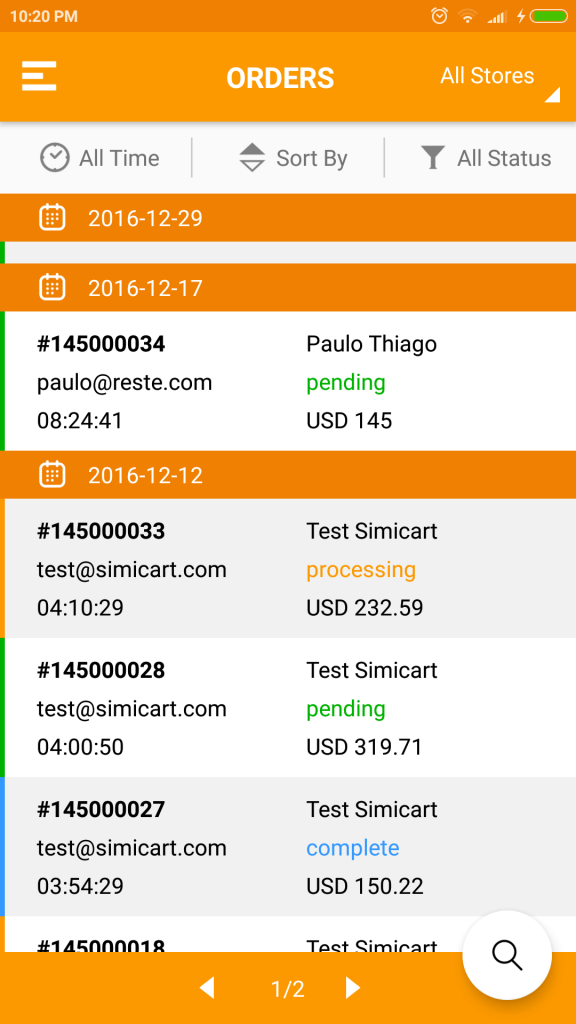 The main board of order report is already intuitive due to its way of displaying order with differences colors based on different statuses. Researchers have proven that human mind can process visual faster than logical information because visual is our nature while logical is something you learned in school.
To see if the improvement works, we set up an experiment. Two groups of people were assigned to find 10 pending orders in a list of 100 orders. The difference is that for the first group the word was "pending" (in green color) and the second group had to deal with "pending" order (in normal black color). And the result came as we had expected, the first group spot pending orders 3 times faster than the normal ones.
Our experiment pointed out that an app user can spot 10 pending orders out of 100 ones three times faster than canceled orders (with the normal black color).
You can also indicate other factors:
Time: View all orders and their details in any specific period of time, such as Today, Yesterday, etc
Sort by: Choose how to Sort the order from Id, Firstname/Lastname, Grand total, etc
Status: Use Filter function to view them by their status, such as Canceled, Closed, Completed, On Hold.
With Simi Sales assistant, finally, you can identify pending orders as soon as they appear. Thus, a phone call can be made to resolve anything is preventing your customers from completing orders.
See your hottest products
Simi Sales Assistant help you to know which products are being ordered the most in detailed. From now on, you will know to promote the right product at the right time.
Not only the Bestsellers, other product can be examined too in the Products section.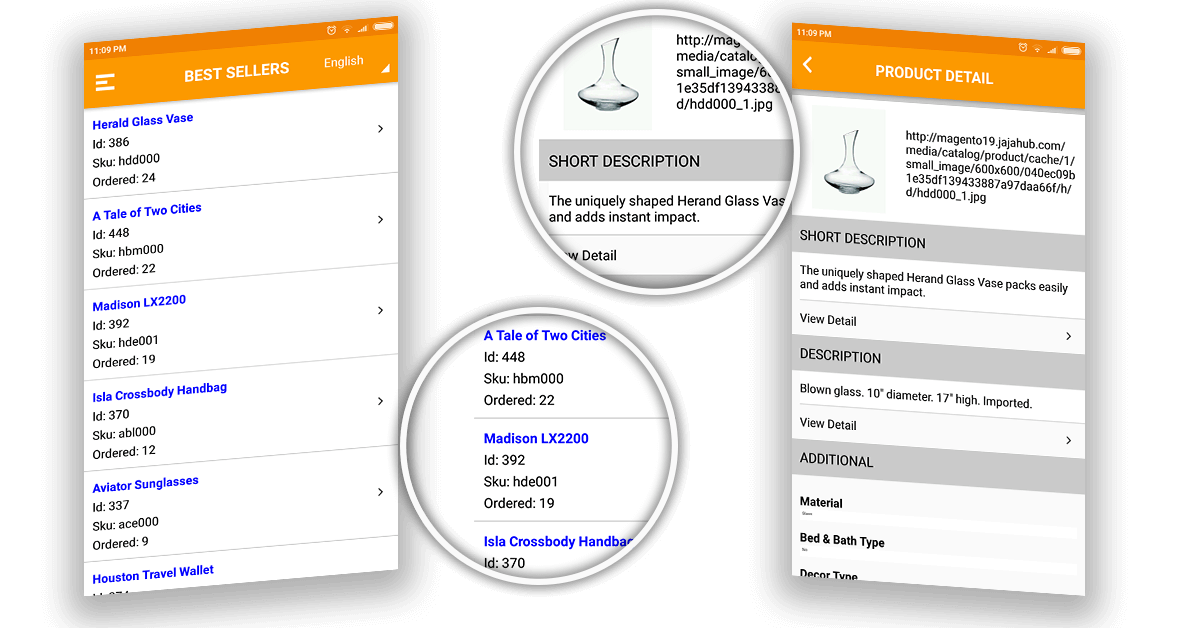 Customers' information available for tracking
The app shows an overview of customers in a chronological list. The detailed information of customers and the number of orders placed in a specific time are also displayed, helping you target right customers.
It's a clever method to manage your customer base right on your mobile devices.
And there are more brilliant features coming
Specific view for Manager and sale representative; Set of tools that help to solve particular problems in sale practice; Instant contact to your customer from anywhere in the app; … are the upcoming features. At SimiCart's Lab, we want to build the most helpful virtual assistant for you – our beloved customers.