According to a scientific report, 91% of U.S adult population owns a cell phone and 61% of these were smartphone users. Year to year the growing of shopping apps users have no signs of slowdown. The bellow statistic indicates the growing of each category based on consumer time spent. Lifestyle and shopping apps with a 174 percent growth are the largest gain.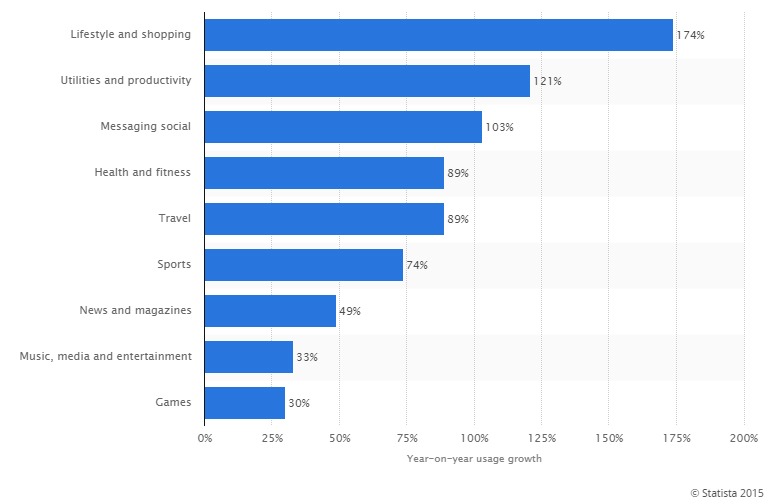 Recently, instead of be untouched and forgotten, many companies have decided to invest in this potential market. It's an incontestable proof of shopping apps' significant role with any online business.
Why are shopping apps creating the dawn of a new age
Shopping apps are dominating the e-commerce scene and make because they provide the chance to create a richer user experience than on mobile web and take advantage of all the capabilities:
A quick and easy checkout process for mobile payment

The opportunity to offer context-related content with GPS

Product barcode scanning with camera
These explain the results in 3x the conversion rate on shopping apps compared to mobile browsers. However, shopping apps are more than just converting – top shopping apps create a better overall shopping experience across channels, no matter where the conversion ultimately occurs.
More offline shops set up an online one with shopping apps
1 in every 2 people has downloaded shopping apps 
According to a survey made by Forbes, 47% responses have downloaded a mobile shopping app on their phone. Females were slightly more likely to have downloaded an app than males and a majority of those polled were on iOS.
So setting up an online shop with shopping apps and offline store are essential
The majority of retail sales realized that they need to set up both physical shops and online shops if they want to gain significant market share. Shopping apps are launched for not only sales function but also other special functions. For example, The Starbucks App – Skipping the Line. It takes the typical cafe experience to the next level. With the mobile order, coffee-lovers can order their beverage and pay through the app, allowing them to pick up their drink without waiting in line. This value-added functionality remains and increases a loyal community of Starbucks lovers. The results are more mobile transactions account with 20% of all in-store sales and a 4% increase in foot traffic.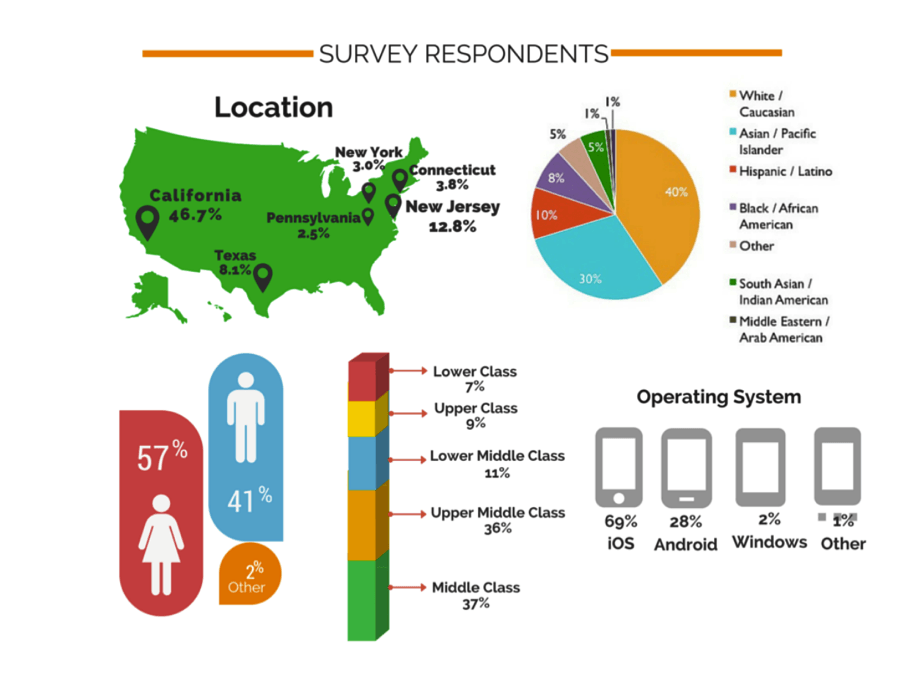 Mobile shopping apps trend
Context-aware Marketing
Improve user experience by utilizing person's interests, history, preferences and precise indoor location sensing to proactively anticipate content and personalize services. Shopping apps exploiting precise indoor locations currently use Wi-Fi, imaging, ultrasonic beacons and geomagnetic.
Preparing to be worn
As smartphones and wearable technology improves, shopping apps will need to keep in order to adequately deliver information in new ways.
Outside promotion
Getting noticed in the crowded. App stores is increasingly difficult, so mobile ads for shopping apps are on the rise.
SEE ALSO: Improving Mobile App Discovery As The Best Strategy To Improve Sales Revenue »