Why do you need a Shopify page builder?
Shopify is one of the most powerful eCommerce platforms for retailers, especially those in the B2C industry, to build an online store with lots of built-in features and available tools. However, that doesn't mean Shopify is the magic tool that helps you build your website effortlessly from A to Z. When it comes to page building, the available themes and templates are quite limited, and the default options can be restrictive sometimes.
That's why Shopify page builder will become a practical weapon that you cannot miss to enhance your Shopify store appearance. Page builder app lets you easily drag and drop all Shopify page types (landing pages, homepages, product pages, story pages, etc.) as you wish without any coding or design expertise. Also, it gives you access to lots of beautifully pre-made templates to save time and effort and provides you with many additional features to help you track data and conversion rates on your store pages.
What makes the best Shopify page builder?
Yes, there are many available page builder apps for Shopify out there, so how can we compile this list for you? There are some certain features that a wonderful Shopify page builder should qualify for to help you design your own professional and beautiful Shopify shop:
Ease of use: You can effortlessly drag and drop all pages in your Shopify store without any coding or design skills required.
Pre-made templates: The pre-made templates should be varied for many industries and fully customizable with huge element libraries.
Responsiveness: Customers now don't browse your Shopify store with their PCs or computers only. You need to make sure your appealing pages work perfectly on other smart devices as well.
SEO-friendly: A great app takes care of SEO factors, such as title, descriptions, images, page load to optimize your Shopify shop for better rankings on search engines.
Data tracking: How many visitors have come to your site but left unnoticed? Track their customer journey to better convert leads into customers thanks to third-party integrations (Google Analytics, Facebook Pixel, etc.).
Customer support: When an issue arises, you're surely in need of professional help. 24/7 access to support is essential for you to resolve unexpected problems.
Best Shopify Page Builders for your store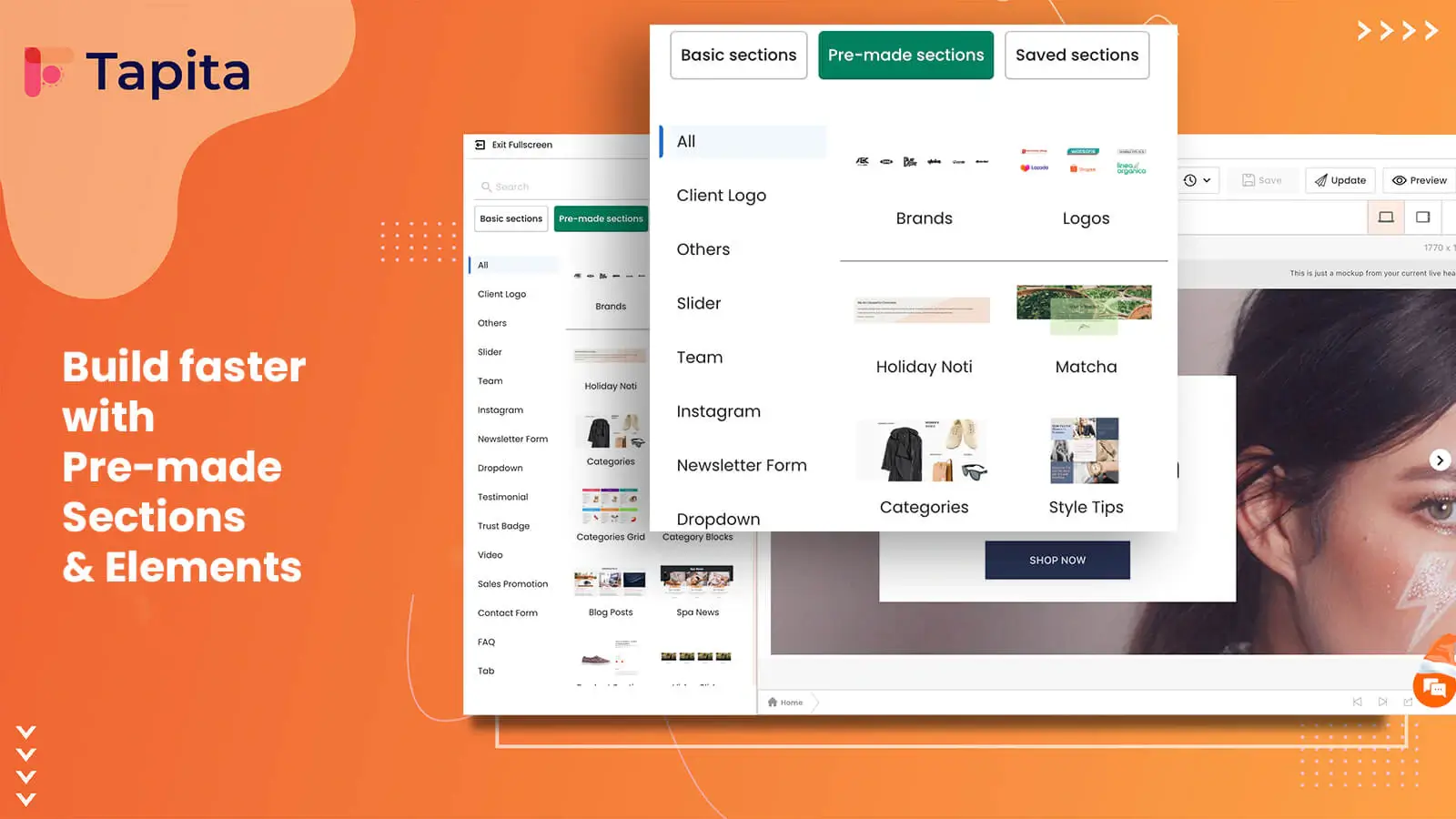 Tapita Landing Page Builder is an awesome page builder for your Shopify store. With Tapita, you can easily create a beautiful home page, landing pages, product/collection pages, and blog pages without any coding knowledge. They have a robust library of page and block templates with awesome layouts and effects, so you don't have to build your pages from scratch.
While pages are automatically responsive across all screen sizes, you can customize styles for desktop, mobile, and tablet specifically. Their saved blocks feature comes in handy to help you build pages in no time and make the most of their attractive templates. They also offer HTML, CSS, and Javascript for further customization, so it's obviously a great page builder for any Shopify store.
Rating: 4.9 (370+ reviews)
Outstanding features:
Build faster with 100+ beautiful page/section templates
Automatically translate your pages into multiple languages
Save your sections to re-use for later
Support custom HTML/CSS/Javascript for developers and advanced users
Customize styles for desktop, mobile, and tablet specifically
Import/Export Tapita pages to copy, backup, or transfer pages between accounts
Optimized for speed: lazy-loading available
SEO-friendly: fill your meta-title, meta-description & alt-tag easily
Integrates with OpenAI/ChatGPT to auto-generate content for blog posts, landing pages, SEO meta description
Price:
Free
Starter: $9/month
Standard: $29/month
Professional: $49/month
Enterprise: $139/month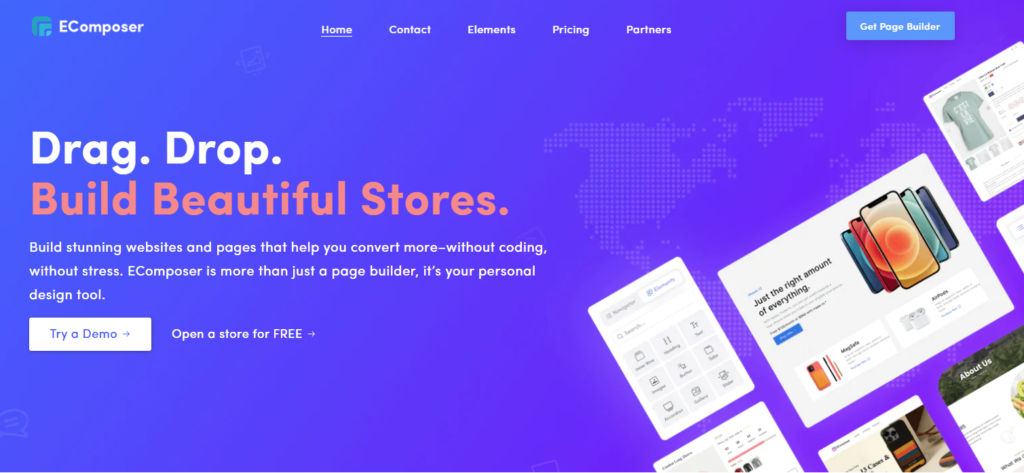 EComposer can be considered the next generation Shopify Page Builder for its beginner-friendliness. Without no coding skill, you can still drag & drop everything to build your dream pages.
Moreover, EComposer provides a layout library with tons of templates that are ready-to-use for all kinds of pages. Plus, users can find their favorite apps integrated with EComposer, helping their store perform seamlessly.
Also, with the support team available 24/7, users can get their questions/issues solved instantly.
Rating: 5.0 (1,000+ reviews)
Outstanding features:
Support all page types: Landing, Homepage, Product, Collection, Blog, Article, About Us, FAQ, etc.
Build specific content blocks and insert them to any theme with Section builder
100% compatible with Shopify themes
Easy page builder with beautiful pre-made layouts
Lots of build-in extensions: Image Compression, Sticky Add to Cart, AJAX Cart, Stock Notifications, Frequently Bought Together, Cross-selling products, Custom Swatch Colors, etc.
Integrated with top Shopify apps: Judge.me, LOOX, Yotpo, AVADA, Klaviyo, Omnisend, Growave, etc.
Price:
Free
Standard: $19/month
Pro: $39/month
Premium: $149/month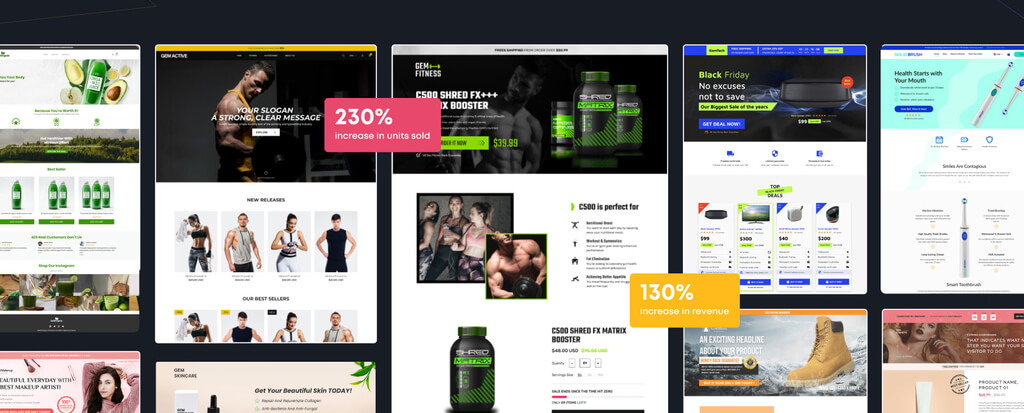 GemPages Powerful Page Builder can be considered Shogun's alternative at a fairly reasonable price. No matter which industry your business is in, GemPages supports you to create visually stunning and mobile responsive pages in minutes with their 65+ ready-to-use templates and boundless elements. They offer advanced design tools to make the page design process much easier even if you have no coding knowledge.
GemPages also leverages your Shopify pages to the next level thanks to their built-in marketing features, such as SEO optimization, A/B testing, and many sales & page booster features.
Rating: 4.9 (3,000+ reviews)
Outstanding features:
User-friendly interface for customization
Optimize pages for SEO & marketing
50+ pre-made templates designed for every industry need
Integrations with 30+ third-party apps
Many new features coming: Agency Mode, Autosave & Versioning, Password & Error 404 Pages, etc.
Price:
Free
Build: $29/month
Optimize: $59/month
Enterprise: $199/month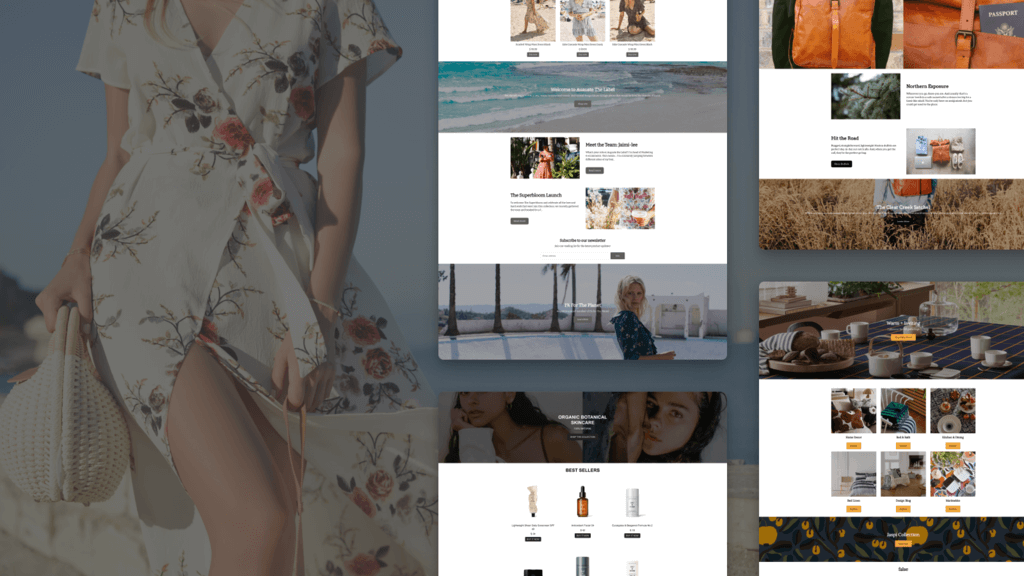 Automizely Page Builder is another free app with all features needed to help you build and customize your Shopify store.
You have full ability to create all pages from scratch or customize pre-made templates, edit and publish a responsive page in approx. 5 minutes without any coding or technical expertise needed. Their editor is fairly simple to use, with either individual blocks or flexible drag-and-drop options. Automizely templates are designed and coded by their professional UX/UI experts. You can enjoy some premium features such as track key page metrics, or advanced style settings without paying anything, making this app an ideal option for any Shopify business.
Rating: 4.8 (1,400+ reviews)
Outstanding features:
Create all types of pages
Hundreds of pre-defined templates designed and coded by UX/UI experts
Provide endless options for page design
Customize the landing pages with advanced text, color, and font functionalities
Display attractive product recommendations on pages
Analytics dashboard to track key page metrics: visitors, add to cart percentage, total subscribers
Price:
Free
Essentials: $35/month
Pro: $95/month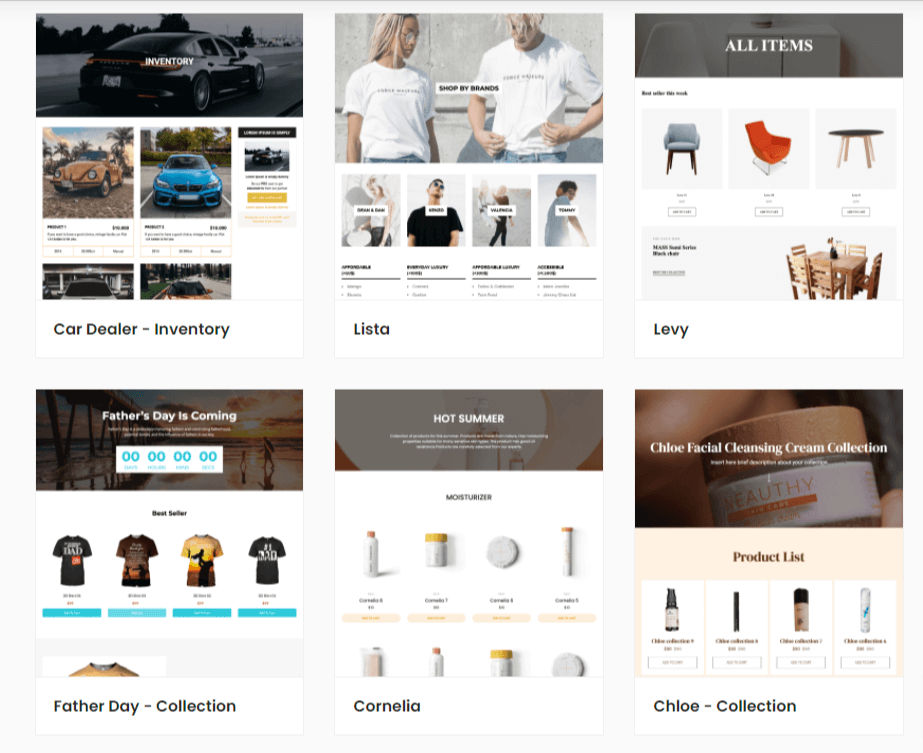 PageFly Landing Page Builder is a comprehensive tool suitable for both small and medium-sized businesses thanks to the extensive element library and page section with a lot of available templates for a variety of business types.
One outstanding feature of Pagefly compared to other Shopify page builders is that they provide Product/Collection Assignments to help you build all your pages in bulk, which saves you a lot of time when you design your product pages. Though their Free plan allows you to build only 1 page per type, you can experience all its available page builder features and page analytics to make a decision on upgrading to other paid plans or not.
Rating: 4.9 (7,000+ reviews)
Outstanding features:
Powerful and effective element library and page sections
Create all page types at ease
Build storefront in bulk or single page
Use HTML/Liquid, Javascript, CSS editor to make custom styling
Various content display types
Fully compatible with Shopify and Online Store 2.0
24/7 Support
Price:
Free
Pay as you go: $24/month
Enterprise: $199/month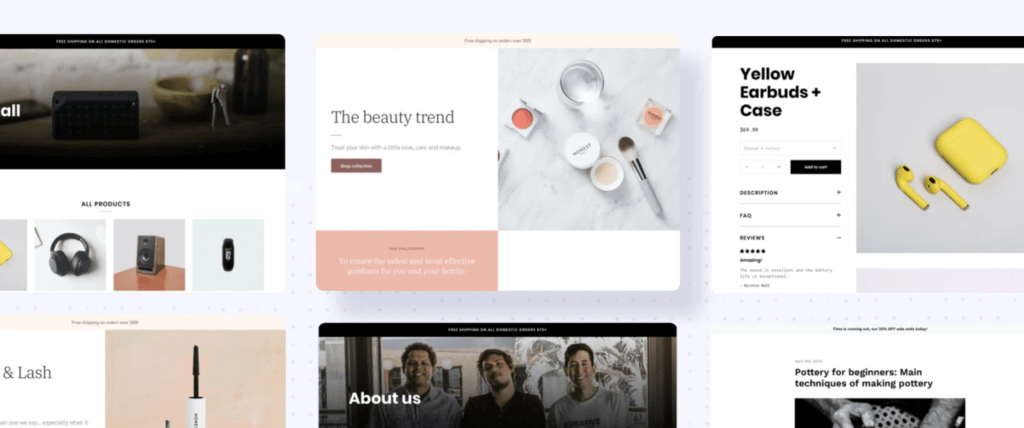 Shogun's website elements library gives you the full ability to design all page types with simple drag and drop functionality. For all plans, you can enjoy the best SEO functions to optimize your Shopify store for search and the marketing toolkit with AB testing, discount tags, countdown timers, etc.
The Shogun support team seems truly dedicated since they take all the issues reported by customers into the highest priority and make an all-out effort to mitigate the problem via email/phone.
Rating: 4.8 (3,000+ reviews)
Outstanding features:
Full website elements library
Create and edit unlimited number of pages with 30+ templates
Develop custom elements using HTML/Liquid, CSS, JavaScript
Image compression and lazy loading tools
Available marketing tools: Content, SEO, email capture, testing
24/7 access to support
Multi third-party integration partners
Price:
Free
Build: $39/month
Measure: $149/month
Advanced: $499/month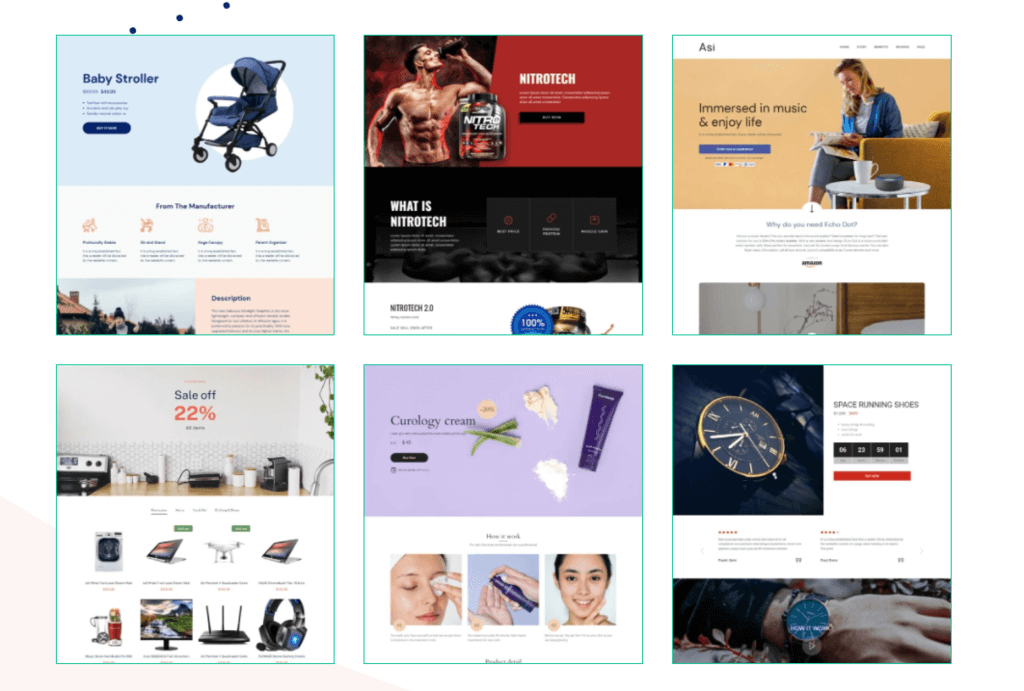 LayoutHub's goal is to provide the easiest page builder tool for any Shopify business owners, especially those having no coding skills and no design experience. You can select any layout or blocks designed by UX/UI experts from their library to build up all pages in your store, and they plan to release around 30 to 50 new designs per month to give you more options.
LayoutHub does include the SEO features, but there is no data tracking or marketing tools for you to utilize. Their price is relatively lower than Shogun's, so this might be a good selection for small businesses with little or no coding skills.
Rating: 4.9 (2,500+ reviews)
Outstanding features:
Support many design styles
High-speed page
SEO
Compatible with all Shopify Themes and Apps
Responsive and compatible with all devices
30 to 50 new layouts update per month
Price:
Free
Basic: $14.99/month
Pro: $29.99/month
Premium: $59.99/month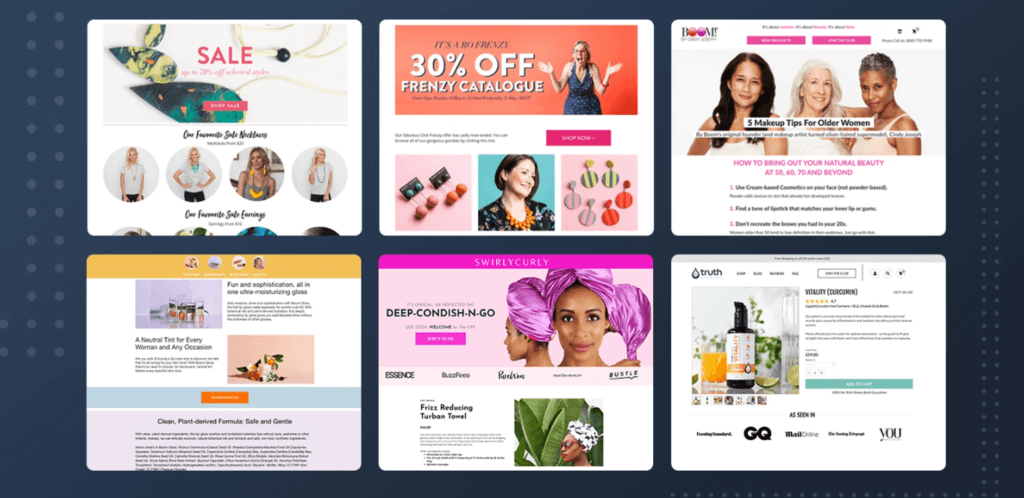 Shopify Page Builder by Zipify is the app charging the highest fee on our list. This might be because every page in their template is selected from a tested campaign that has generated millions of sales. You can utilize all these proven templates to customize any page type with great additional features, such as cross-sale, collections, order bumps, and opt-in features.
Zipify app appears to focus more on the marketing aspect compared to other page builder apps for Shopify. There are many powerful tools to help you track and compare data, optimize SEO, and integrate with third-party such as Google and Facebook. Zipify Pages Builder & Editor will be a perfect match for medium-sized stores with sustainable business growth.
Rating: 4.8 (600+ reviews)
Outstanding features:
Easily customize any page type
Marketing tools included
New templates added regularly
Improve SEO
Mobile responsiveness
Live chat support for plus plan
Price:
Basic: $67/month
Plus: $97/month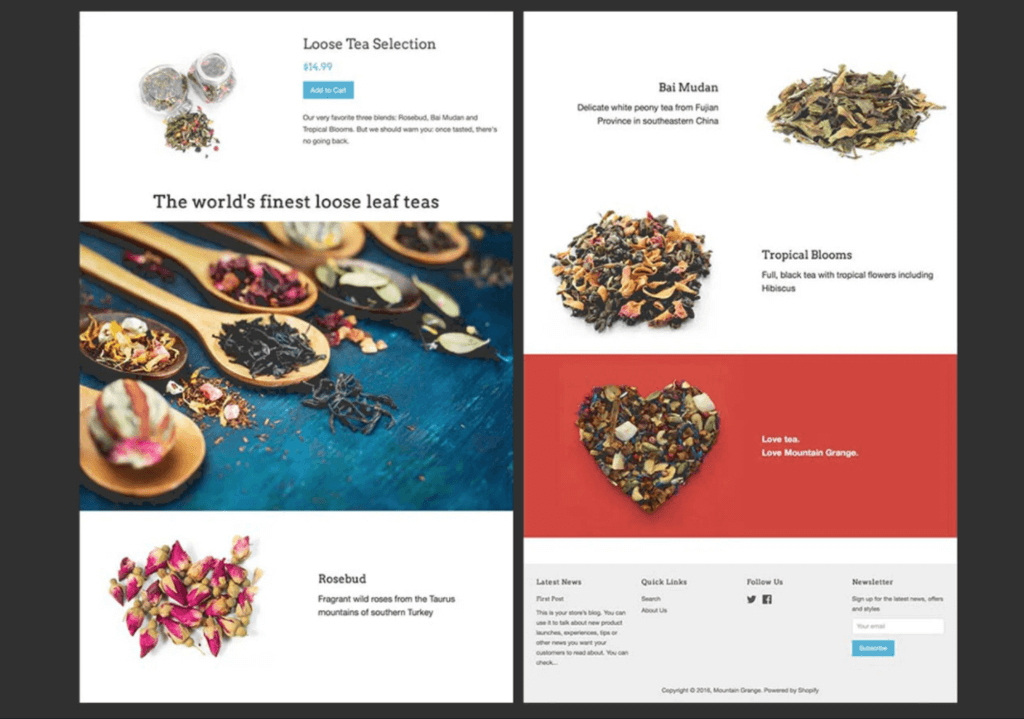 Similar to LayoutHub, Hypervisual also aims at simplicity to make the Shopify page building process become easier than ever. Rather than introducing a lot of available templates, Hypervisual advances all the elements that you need to customize your own Shopify store, such as videos, images, or product collections.
Other additional features, such as data tracking or SEO are really useful. Your store will be connected directly with Google Analytics and Facebook Pixel, and they make sure all the page content will be indexed by Google.
Rating: 4.9 (120+ reviews)
Outstanding features:
Embed add to cart forms for products or entire collections
SEO-friendly page content
Built-in email opt-in forms
Google Analytics and Facebook Pixel integration
No Hypervisual branding
Price:
Merchant: $9.95/month
Pro: $24/month
Ultimate: $49/month

Zeno Landing Page Builder helps you design any Shopify page you want by visually dragging and dropping from tons of available elements. With the aim of providing a simple page builder for absolute non-technical people, Zeno Landing Page Builder includes many premade sections, drag-and-drop elements, and stunning ready-made templates.
There are also many built-in add-ons to boost up sales at your Shopify store, such as currency converter, messenger chatbox, announcement bar, etc. This app is a good option for those having no coding skills with basic page builder features.
Rating: 5.0 (200+ reviews)
Outstanding features:
Various drag & drop elements
High-converting pre-made templates & sections
Full control of all page types
Design responsive pages across devices
Unlimited page revisions
Price:
Free
Starter: $19/month
Professional: $29/month
Conclusion
There's no perfect app that fits all Shopify stores, and you might have to overcome several trials and errors to decide on the best one. From completely free to fairly high-paid plans, we hope that you can select the best page builder that greatly improves your storefront and supports business growth at your Shopify store.