For the past few years, especially after the presence of the Covid-19 outbreak, the eCommerce industry has advanced dramatically with the purpose of providing customers with the most seamless and convenient shopping experience. In order to meet the demands of customers, online stores have to constantly strive for innovation and catch up with the latest technology trends.
Headless commerce seems to become the prominent one that has gotten plenty of hype recently by both small and medium-sized businesses and big enterprises. Shopify, one of the most dominant eCommerce platforms at the moment, has helped merchants dive into this trend by going headless with Shopify Plus. In this article, we will help you get a general idea of headless Shopify by going through the most successful examples.
What is headless commerce?
Headless commerce refers to the architecture behind an eCommerce solution in which the frontend of a website is "decoupled" from the backend. Simply understanding, headless commerce allows you to separate the digital storefront from all the backend commerce functions. The two separated sides will work independently and communicate through APIs (Application Programming Interfaces), which gives store owners more control over the customization of the frontend or "presentation layer".
If you are new to this technology, we offer comprehensive articles for a better understanding of headless commerce:
Headless commerce powered by Shopify
At the moment, Shopify is the leading eCommerce platform with over 23% market share and over 1 million users. It's true that Shopify is the best choice for small and medium-sized businesses – but it is only half of the story. In 2014, Shopify launched its upgraded plan Shopify Plus, which is specifically designed for high-volume enterprise brands.
With the aim of giving business a customizable enterprise solution, Shopify Plus always strives for the best-advanced technology, and headless architecture is one of them. When you go headless with Shopify, all the backend functions Shopify provides remain intact, while you have full ability to make use of different frontends to power the customer-facing side of your Shopify store. The headless approach saves you some limitations that come with the default Shopify – such as inflexible URLs structure and opens up a huge range of possibilities for customization and personalization options.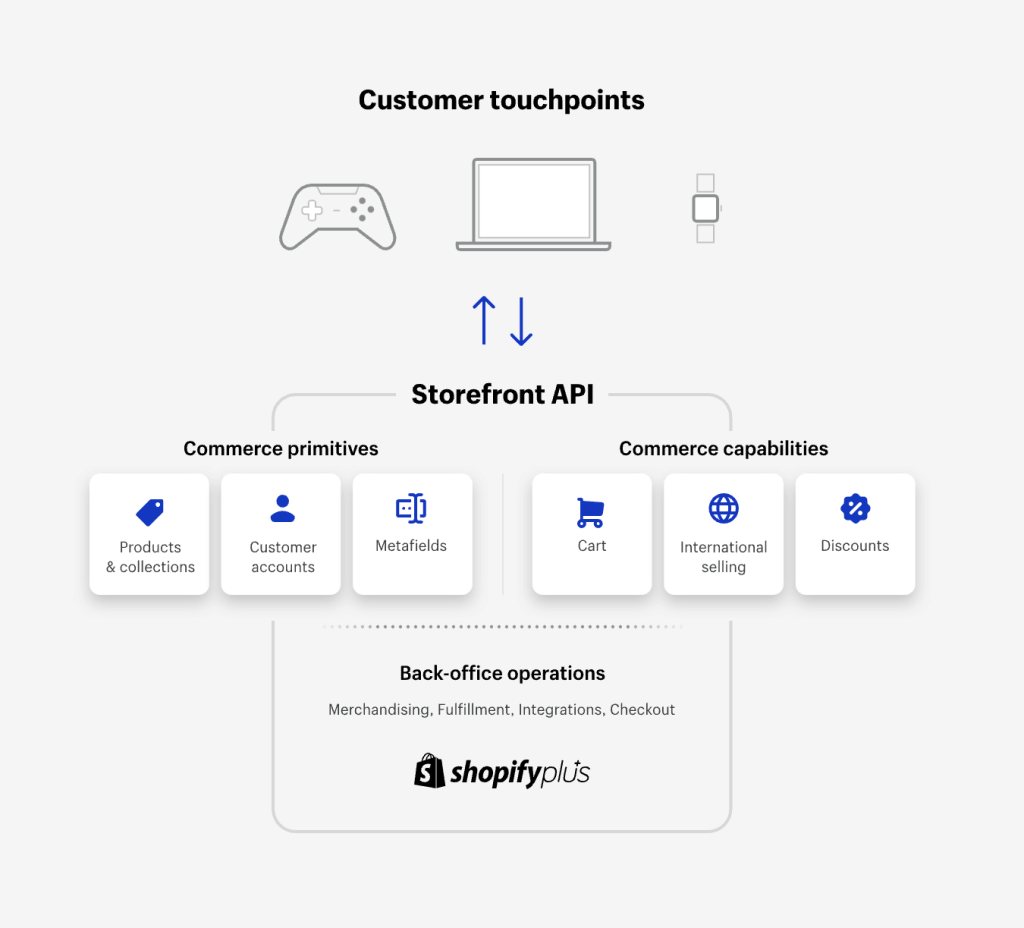 Knowing how headless commerce can have a profound impact on the way eCommerce merchants do business, Shopify is now developing Hydrogen – a React-based framework to help Shopify merchants and developers build custom storefronts that deliver the best personalized shopping experiences. Shopify Headless and Hydrogen are expected to be the game-changer in the eCommerce industry when merchants now achieve more control on the highest front-end performance while maintaining Shopify-optimized eCommerce components on the backend.
Best examples of headless Shopify store
In order to deeply understand how Shopify headless works, let's analyze the best example of headless stores powered by Shopify.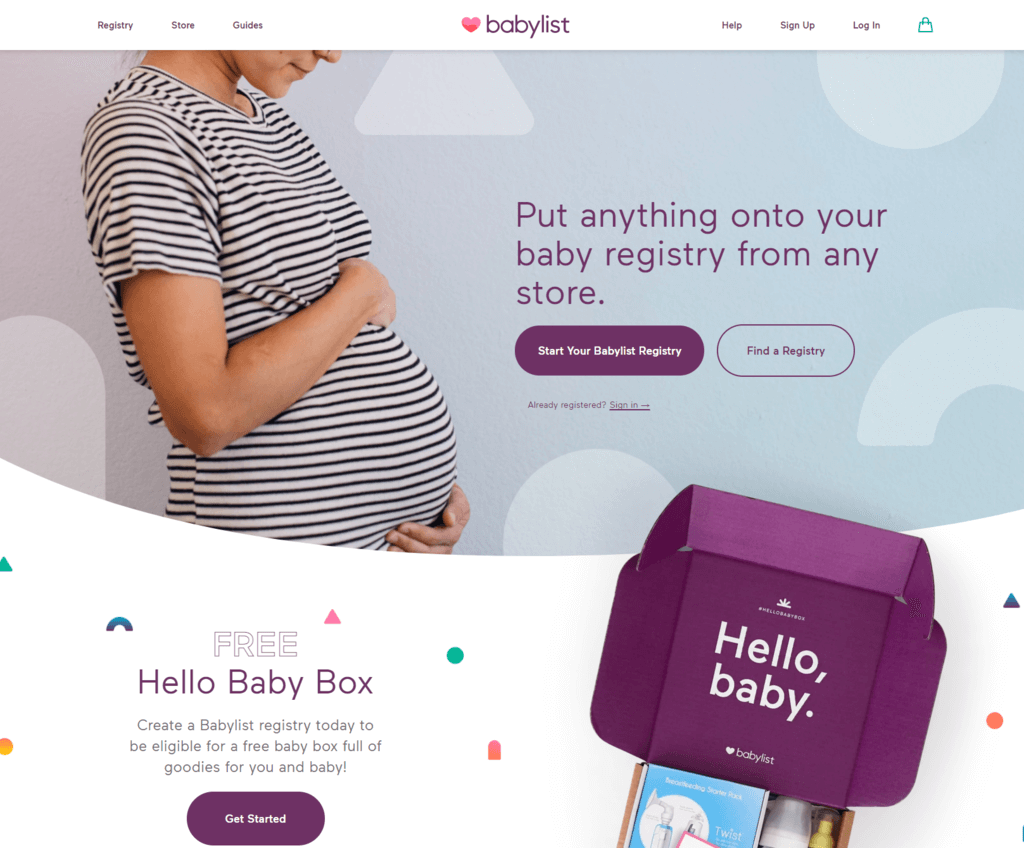 Babylist is an online platform for expecting parents to share their wishlist with gift-givers. The site pulls every product on the list from third-party providers to users so that they can compare, browse product recommendations and select the best options for making a purchase. Everything could be done from one website only, showing how complicated it would be if we create this site from a monolithic eCommerce platform. Therefore, Babylist has chosen Shopify headless and incorporated multiple platforms to maintain a smooth web performance, including a CMS (Contentful), order management system (Shopify), and checkout (Shopify Plus).
Since adopting the Headless approach, Babylist saw a 145% YoY increase in order volumes, a 300% increase in monthly iOS app checkouts after the first month, and their gifts given through the online platform grew 102% YoY.
Going headless is not only an advanced solution for eCommerce brands, but this approach is beneficial for stores selling on omnichannel as well. BonLook is a Canadian brand selling designed lenses and prescription eyeglasses online worldwide, and they have 37 physical stores across Canada. Selling prescription eyeglasses online can be quite complicated, as users must upload prescriptions and select various options regardings lens material, frame type and size, and glass design. Headless Shopify Plus allows Bonlook to run its omnichannel business perfectly when customers can shop on either online or offline channels, which increased the average order value by 18%.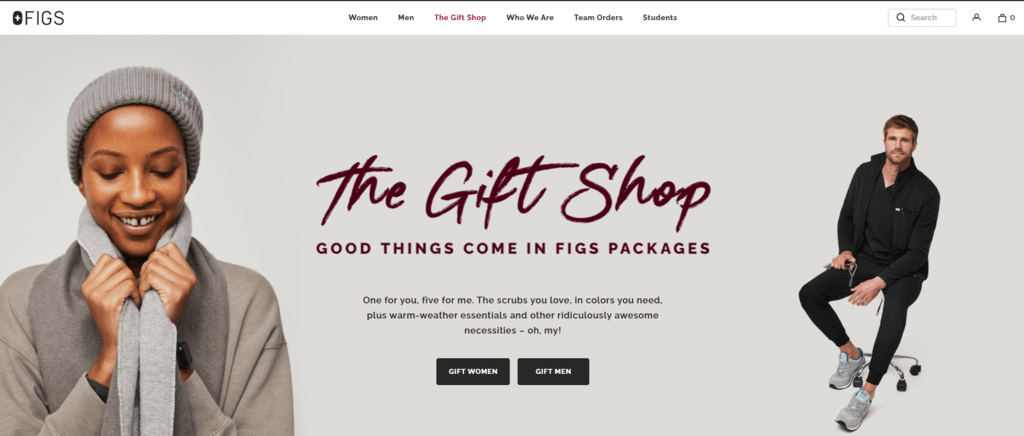 Another Shopify business making use of headless approach is FIGS, a healthcare apparel and lifestyle brand. FIGS utilizes Shopify Plus to manage the backend functionality, but as their online presence needs more flexibility on customization, they have turned to Unbounce and Next.js to control the frontend. The headless approach helps them to connect each custom-built landing page with a product page on Shopify, which greatly enhances the customer's online shopping experience at FIGS. Additionally, all data will be called back to Shopify Plus, and FIGS can manage orders and update inventory from here in minutes without any difficulties.
Bols, one of the oldest and best-loved liquor brands based in Amsterdam, also saw potential in Shopify headless. Since the creation of their new at-home product range, Bols decided to expand their business to sell direct-to-customer on an international scale. Their page loading speed increased 50% thanks to the headless Shopify Plus setup, and they gained full ability over the custom storefront to deliver a content-rich experience for customers.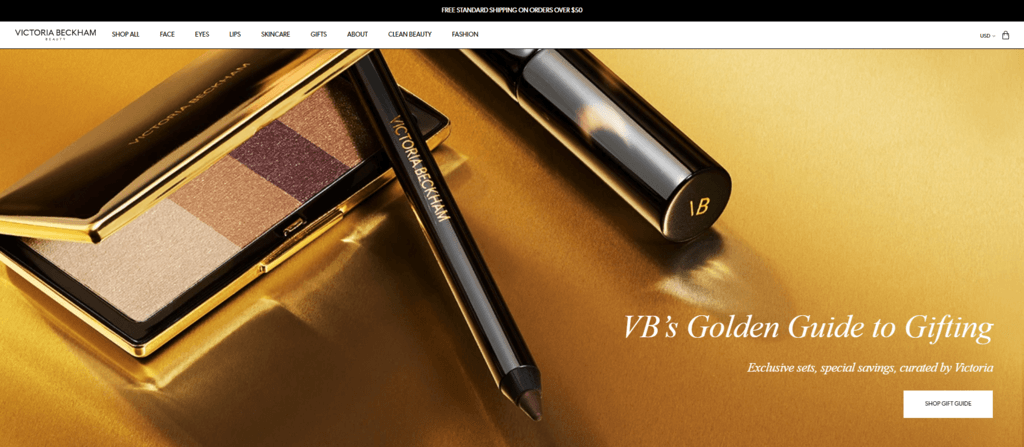 Victoria Beckham Beauty is a luxury beauty and cosmetics brand aiming at delivering a premium and bespoke online presence that matches its fame. That's why they have come to Shopify headless approach to achieve more flexibility on visual design, user journeys, and product organization. Victoria Beckham Beauty uses Shopify storefront APIs to manage the inventory and product information, while they design and generate the frontend by Contentful. Through a headless approach, the site enjoyed a splendidly fast app-like experience on mobile with no page reloads and increased speed at the top sales funnel has placed a positive impact on their conversion rate as well.
KOTN, an apparel brand based in Canada, is an excellent case study that has utilized Shopify headless API to consolidate two stores into one. Though KOTN's eCommerce site didn't start as a headless build, it is now fully headless powered by Shopify Plus. Headless architecture has given them the total ability to manage their storefront, and deliver a personalized out-of-the-box experience to their customers. Their storefront now can be changed in seconds, and the best thing is their site speed is incredibly quick, even during peak season and high traffic.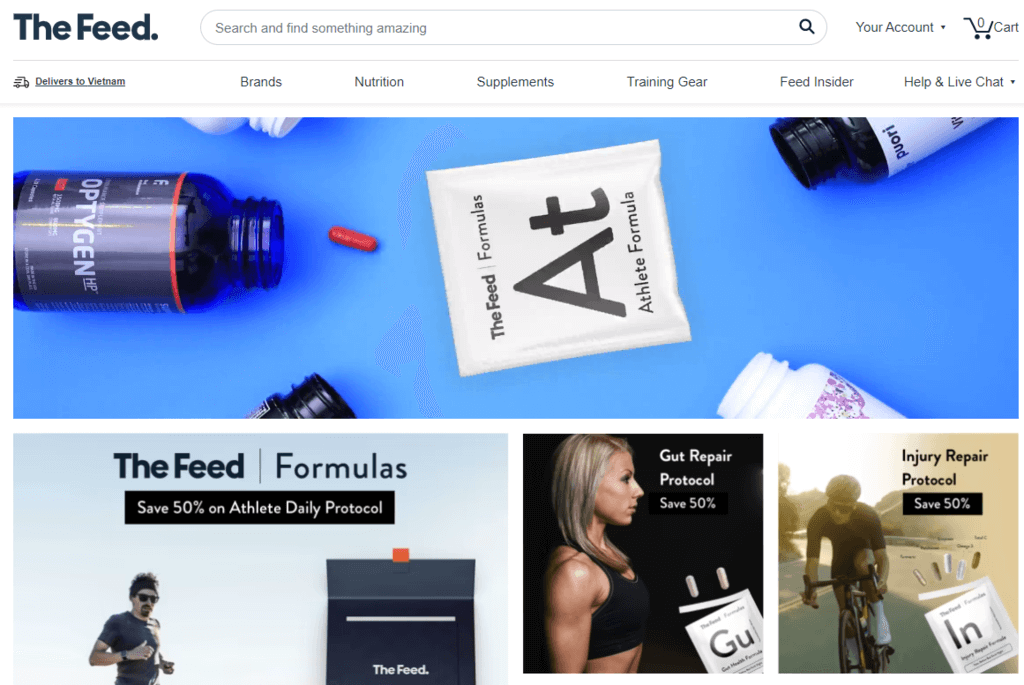 The Feed, a nutrition, fitness and wellness marketplace, was struggling with sluggish site performance and frontend design limitations before going headless. With the aim of providing a faster and more seamless website experience for consumers, and improving time-to-market for new products, The Feed has decided to relaunch their site using Shopify Plus as their headless platform, and Shogun Frontend to manage their frontend. Faster site performance and dynamic homepage features have decreased The Feed's bounce rate by 4.5% and increased the number of page views per session by 10.8%.
Bamford is the luxury organic body care and loungewear brand from England. When Bamford wanted to rebuild their website to reflect the customer experience of their stores and spas while still maintaining the simple communication and smooth shopping experience as before, they have relied on Shopify Headless as their solution of choice. Moving away from WooCommerce, Bamford re-platformed their eCommerce site with Shopify Plus as the headless platform and Contentful as the CMS platform. This integration maintained fast web load speed, enhanced backend performance, and enhanced security for users thanks to Shopify platform. Meanwhile, Bamford still gained unlimited creativity for the frontend, which they had utilized to deliver a simple and clean yet aesthetic web presence for customers.
The headless-based technology transformation has leveraged their web performance significantly. Within the first 6 months of relaunching, Bamford enjoyed a 140% increase in revenue, 35% increase in traffic, and 60% increase in conversion rate.

Grass Roots Farmers' Cooperative is a farmer-owned cooperative selling sustainable meats across the US. They believed headless is a cutting-edge technology that could help them create incredible experiences, so they picked Shopify Plus as their headless commerce platform of choice. Besides, they integrate multiple platforms such as Netsuite and Ruby on Rails to support custom product pages, checkout and business management. The headless approach also considerably enhanced PWA performance at their store as well.
Our progressive web app significantly increased our mobile average order value. With the increase in revenue, we support our sustainability efforts.

Cody Hopkins, Founding Farmer and CEO, Grass Roots Farmers' Cooperative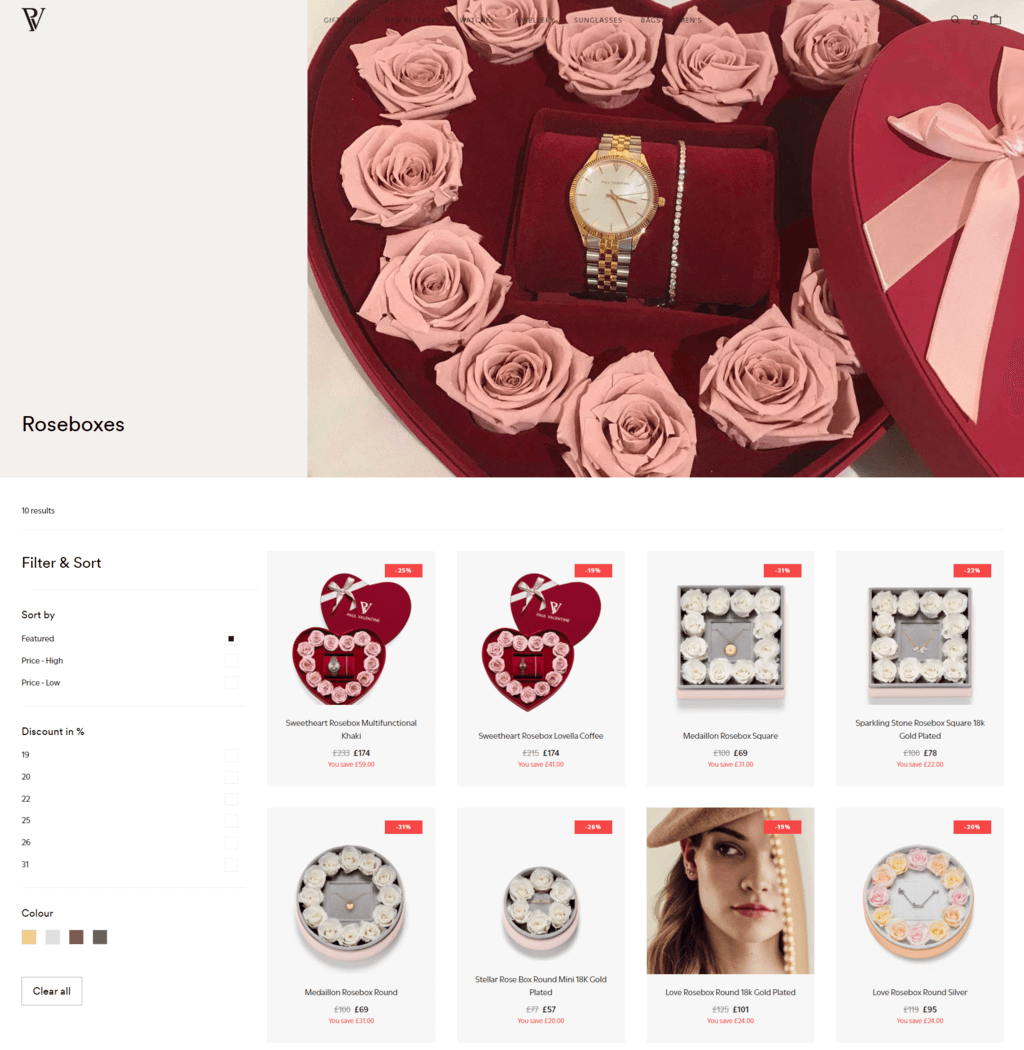 Paul Valentine is a luxury jewelry and accessories brand based in Germany. In order to achieve the ultimate goal that Paul Valentine would become a truly global brand, they knew they have to grow the market internationally, though this might pose significant challenges when trying to navigate multiple markets simultaneously. Shopify Plus helped Paul Valentine to launch 5 global stores spanning Europe and North America, and for the sake of total localization, no online stores are precisely alike. Going headless gave them the power to offer a more customized customer experience, and manage multiple global store infrastructure effortlessly. Today, Paul Valentine is available in 131 countries via 20 online global stores with 8 languages, making the headless approach well worth it.
Conclusion
Going headless is not a must option when it comes to designing your Shopify platform. But considering all the long-term benefits it can offer, such as the ability to ultimate customizability and flexibility, headless Shopify seems to be a web development approach that is going to be adopted by many brands in the near future. If your Shopify business is expanding, taking your store headless might be a reasonable development to leverage your site performance.
In case you want to catch up with the latest technology trend and empower your Shopify store with headless commerce using Hydrogen, SimiCart is here to help you with that. Our Hydrogen storefront development service simplifies your storefront design process with our built-in drag-and-drop page builder tool and delivers professional store presences that highly convert.