Get Your Business Out There With a Mobile App !
As technology develops, what customers expect from their companies develops, too. There was a time when companies could operate without corporate websites or email contacts; now traditional websites are the centerpiece of marketing and branding. Though acquisition cost was relatively high then, the main factor was lack of clear benefits to their operations. There's no question about that anymore.
Luckily, a new tool has emerged to do the same in this e-commerce era: mobile app, software or programs that run on mobile devices. While the media frenzy is about the game, location, and social media apps, masking the business benefits, this tool could be a dynamo for branding and business development.
This is especially true as consumers move to mobile. Our websites are for Bing, Yahoo, and Google search engines, but the apps are for Google Android, Apple iOS…etc.  When potential customers search an app store, will they find your brand? Does your firm have an app that gives you a footprint in these platforms? Asking these questions now is like asking, in the past, whether your business had a website or not.
Websites remains important, but the industry of mobile app on mobile devices is growing quickly. There are more than 3 million mobile apps on App Store and  Google Play. To get your business into the game, these are some recommendations:
Make your website mobile-ready: Your typical website is not optimized for mobile devices. It's time to make your website a mobile-ready version.
Build an mobile app: When budgets are too tight to build a full-fledged app, there are many low-cost app makers that let you organize the website via an app such as mobile app builders.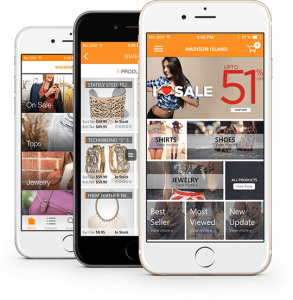 Retool Your Business with a Mobile App
We are living in a mobile age and our marketing strategies need to reflect this transformation and focus on building long lasting customer relationships in a mobile-first world. Studies have shown that mobile users prefer using a business's mobile app rather than its mobile website. The app is usually more engaging, quicker to respond and provides the specific experience they need.
Think about your outstanding mobile applications
The incredible growth of mobile devices has given businesses increasing opportunities to reach and engage with customers more directly and effectively. Think about mobile app for all platforms such as Apple, Android..etc which can help you manage your business from your tablet or phone and create exceptionally user-friendly experiences that engage, entertain and retain your customers.
Discover the world of online marketing with mobile app builder
Change is the key to survival and today's businesses need to turn their focus to the world of digital media if they want to survive and grow. You can build your mobile app on your own or find developers have experience in different mobile platforms to successfully market and grow your business online. However, having your mobile app yourseft takes qa lot of time when hiring developers waste a lot of money. Think about mobile app builder. It's the best solution especially when you are running a small business!
Now your mobile app works no matter where you are
The world is getting smaller and someone in Asia may buy products online from American via mobile apps. It's great that your mobile apps not only can be used by loyal customers but also can be used at any time, anywhere in the world, bringing your business to a truly global platform.
Mobile App Development
The modern marketer can see massive benefits from the mobile app revolution. Useful marketing software is becoming increasingly available in app form, making tools and data readily available on the go.  From uploading blog posts to tracking campaign metrics, apps allow marketers to access information at their fingertips quickly and conveniently.
The right apps can be the key to business success – from managing entire business aspects with a single touch to facilitating deeper consumer engagement. SimiCart is proud to be the best solution to develop feature-rich, fully functional Magento Mobile App for iOS and Android  platforms. These apps are guaranteed to provide high quality user experiences that expedite your online business and marketing goals. Talk to our expert app builders to create customised apps that can give you a leading edge in your business!
But of all the apps available, which are the best for your business? We put together a list of the mobile app of our customers, both to keep up-to-date, but also to make it easier for customers to choose the style of their mobile apps! See it HERE!
Take your business to the next level with our strategic and creative solutions!
SEE ALSO: Apply These 5 Secret Tips To Increase Online Sales