The popularity of Progressive Web Apps (PWAs) has increased recently. This technology is regarded as the greatest option to improve user experience because of cost savings, ease of usage, and exceptional efficiency.
Read the following article if you need to learn what a PWA is: What is PWA?
While the PWA technology offers a similar user experience to native applications, it loads pages far more quickly – almost instantly. Customers may purchase things using PWAs from any device, across any connection, and even using any operating system.
Customers benefit significantly from PWA's application to eCommerce, which also results in an increase in business profits. According to Google Report, eCommerce stores that convert to PWAs often get a 20%+ revenue bump, with mobile conversion rates occasionally tripling.
Here is the top 9 Progressive Web Apps (PWAs) eCommerce templates to help your business website to develop.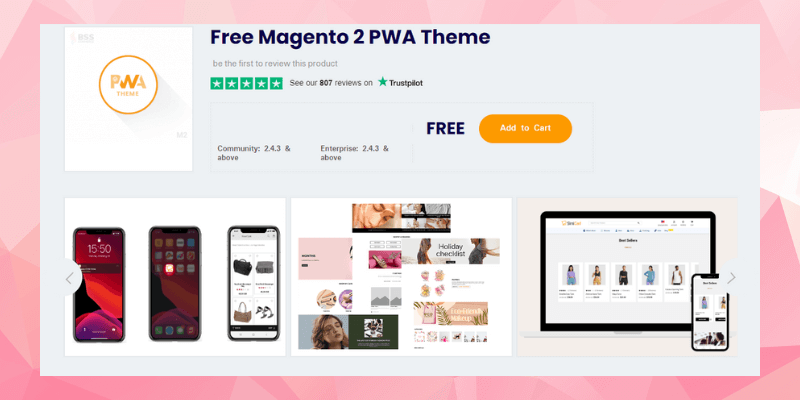 BSS is a reputable name to consider as one of the best Magento developers for eCommerce. If you are looking for a suitable Magento platform for your store, don't miss the Free Magento 2 PWA Theme from BSS Commerce.
This open-source PWA theme for Magento 2 is based on PWA Studio and is a simple way to change your store into a headless storefront that is quick, engaging, and mobile-friendly.
Furthermore, you may use the free page builder tool PWA Page Builder to create the layout you want for your Magento store!
Highlight Feature:
Offer a fantastic UI/UX similar to a native app.
Speed up the loading of your Magento shop.
With 70+ pre-built themes, website layout may be easily customized.
Price: Free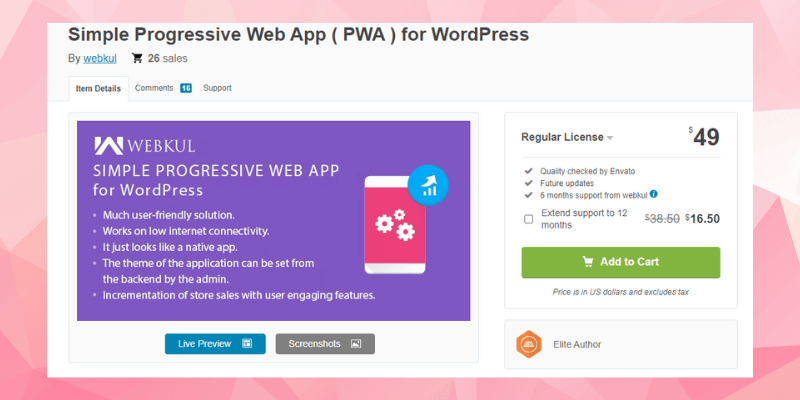 Webkul is an enthusiastic supplier with over 100 powerful plugins and 10 years of expertise in the eCommerce business. Simple Progressive Web App for WordPress is one of this provider's most popular products, with many positive customer reviews.
Not only are there services that help speed up your online store, but this program is also useful for blog websites because it includes WordPress integration. Users may now utilize PWA to view WordPress blogs as well.
Highlight Feature:
Works with limited internet connectivity.
It appears to be a native app.
Change the theme of the application from the backend.
Change the application's name and icon.
All WordPress themes are compatible, but the theme must be responsive.
The program may be used for both goods sales and blogging websites.
Price: $49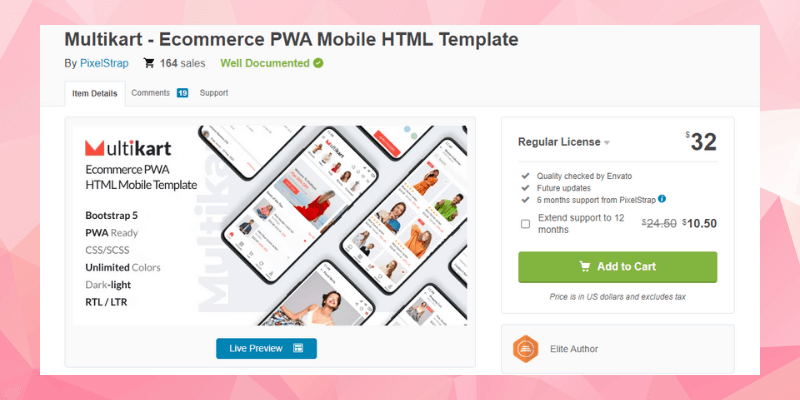 Pixel Strap is a creative team of designers, engineers, and problem solvers that are driven by a desire to make the web more attractive.
The original Multikart is a sleek and modern multipurpose eCommerce PWA app template designed specifically for fashion items. However, because of its use, this product is being produced and employed for any of your items.
Highlight Feature:
PWA Mobile Ready with the Add to Home Screen option
Dark & Light Mode
Highly Design Elements with Unlimited Colors
Total 35+ HTML Pages
Supports multi-languages with LTR or RTL
Fully compatible with all major browsers such as Firefox, Safari, Chrome, Internet Explorer 11+
Price: $32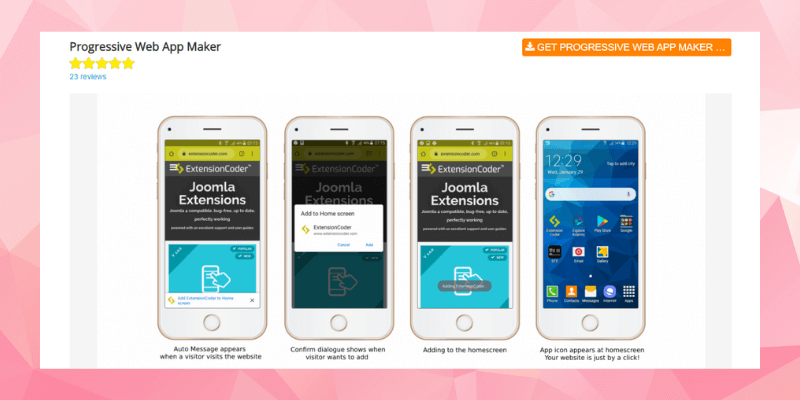 Joomla! is a free and open-source content management system (CMS) used for web content publishing. Throughout the years, Joomla! has received several honors that are based on a model-view-controller web application framework that can be used independently of the CMS to make an effective online application.
Joomla Progressive Web Application Maker is an extension that allows Joomla Websites to be quickly installed on any mobile device for a better user experience. It will support you in constructing a Joomla PWA in a matter of minutes.
Highlight Feature:
Easy to use with No Coding Requirements
Create your website's PWA super fast
Brings experience like mobile apps without installing an app
Drive engagement and revenue
Set the splash background with custom icons and transition
Support multi-languages
Price: 29€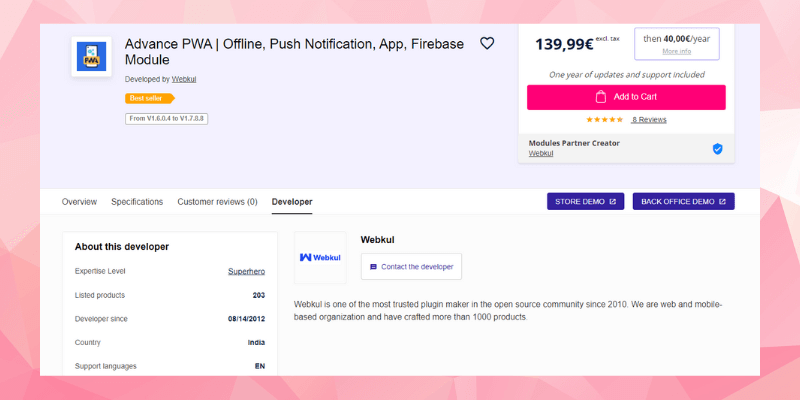 Advance PWA, which is also a plug-in solution for PWA from Webkul, offers excellent capabilities and greater assistance for delivering your alerts to clients.
This App delivers the appearance of a native app, improving the entire user experience and keeping them interested. It fully supports push notifications, improving your website's usefulness even more.
Highlight Feature:
Set the name of the application as it will be shown when the app is opened on mobile phones.
Set the application's short name as it will appear on the app's home screen.
The color of the splash screen's background.
Push Notifications can be edited, deleted, or sent.
Each Push Notification should have its own Notification icon.
Price: 139.99 €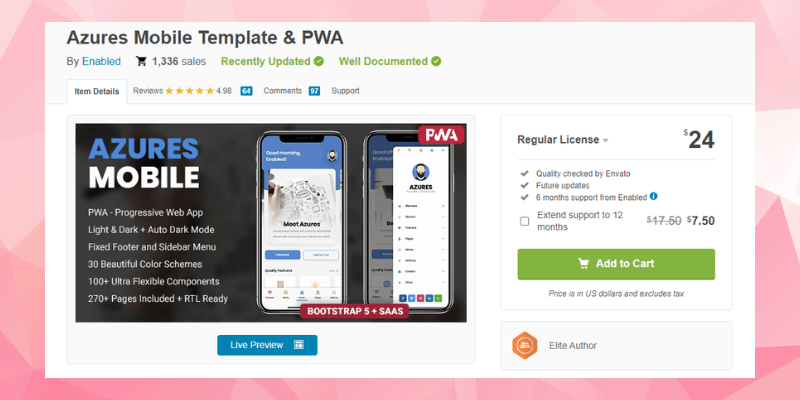 Enabled concentrated to bring the best Mobile Kits, PWAs, Mobile Site Templates & PhoneGap & Cordova Apps. With 12 years of development, and efforts to satisfy customers, it has become The Best Selling Mobile Author on Envato Market.
Like the vendor's reputation, Azures Mobile Template & PWA delivers a great customer experience. It is the perfect Mobile Kit for any project due to being ready for the latest web trends and powered by Bootstrap. Moreover, it's friendly for both IOS and Android devices.
Highlight Features:
Ready for the latest web trends and powered by Bootstrap with a familiar and easy-to-use code
Add Azures to Home Screen
Select Stunning Light Mode or Gorgeous Dark Mode
Reusable, App Styled Components
Diverse media elements to design your website
Price: $24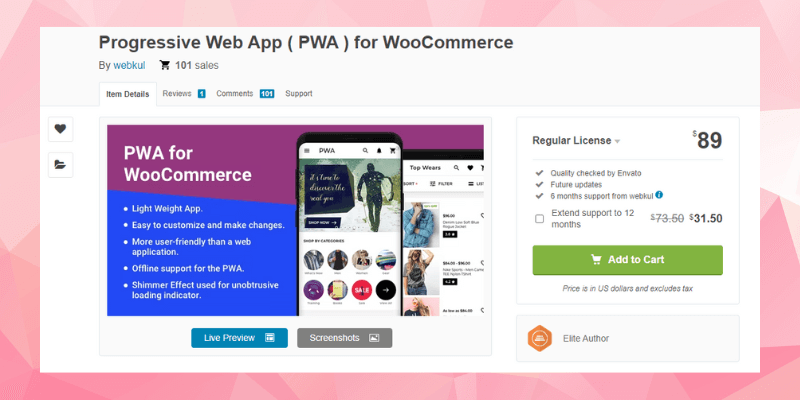 Progressive Web App (PWA) for WooCommerce is another PWAs template product from Webkul. However, instead of being dedicated to WordPress or providing additional advanced features, this product is for WooCommerce.
Progressive Web App for WooCommerce plugin can automatically transform your WooCommerce web-store into a Progressive Web App. Visitors to the shop will benefit from the high-performance features of the Progressive Web App, which is built on a headless architecture.
Highlight Features:
Light capacity app.
Changes and customizations are simple.
A web application is more user-friendly.
The PWA now has offline support.
Shimmer Effect was utilized to create an inconspicuous loading indication.
Working with low-quality internet is also an option.
The Progressive web Application does not need to be updated.
Price: $89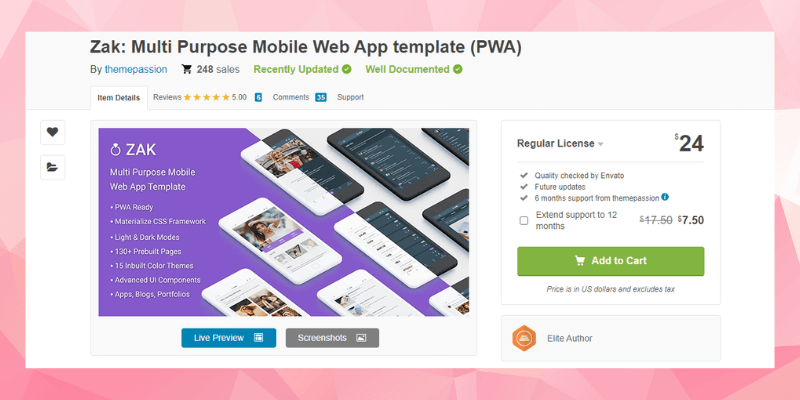 JBSofts worked in various industries and niches over the years, and PWA is one of the technology platforms for their development. Zak: Multi Purpose Mobile Web App Template is a high-end mobile Ui application.
It Zak is built with the Materiliaze Framework intended to be a Progressive Web App (PWA). It is a new responsive front-end framework built on Material Design principles. With this template, your mobile app is offered a distinct and appealing appearance. Moreover, you're not worried about the difficult technology to install, it has been coded in a developer-friendly manner, so you can be easy to set up.
Highlight Features:
Created with the Materialize CSS framework.
Designed specifically for tiny displays, but may also be watched on larger screens
Progressive Web Application (PWA) Ready
150+ Pre-Configured Demo Pages
Color Schemes in 15 Varieties Included
Modes: Light and Dark
There are four different header layouts and three different footer layouts.
Price: $24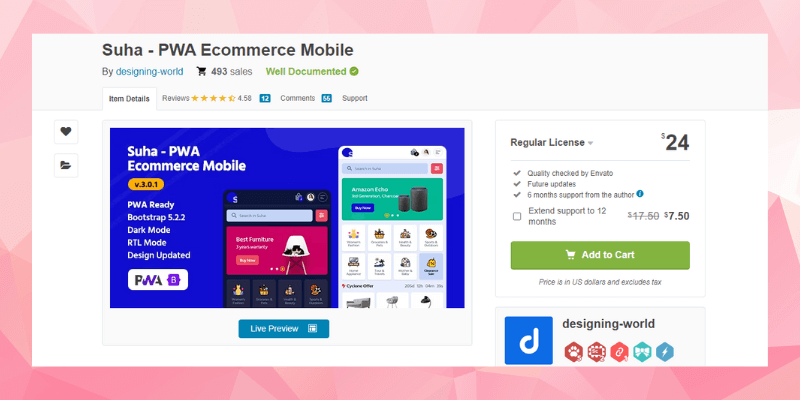 Designing World has a highly capable team of creative designers, and they know how to deliver results to clients. Despite their young age in the profession, they are trusted by customers because of their affordable low-cost graphic design & Website development.
Suha – PWA Ecommerce Mobile is a multi-purpose mobile e-commerce shop template. It is really professionally designed with many features, and layouts in the sample, and coded using cutting-edge technology.
Highlight Features:
Progressive Web Apps Ready
Up to Bootstrap 5.2.2
Included RTL and Light-Dark Mode
Adaptable eCommerce store template
Elegantly crafted with contemporary characteristics
43+ necessary pages
Free Coded with the latest technology
Price: $24
PWA is the most up-to-date technology for your eCommerce websites, offering the benefits of speed and a great customer experience. Don't put off starting a business with this amazing technology any longer.
Our above list is designed specifically for you – a savvy trader looking for the best solution.