M-commerce is one of the hottest trends at this present. However, there are significant points you need to consider before start doing M-commerce.
According to a recent analytic report from Google; nowadays, people tend to look for information by their own mobile phones rather than on desktop. Thus, thanks to the breakthrough of smartphone development in the last decade, we are now having a huge potential in mobile E-commerce businesses. As a matter of fact, 46% shoppers said that they would be less likely to shop around if they are using a mobile shopping app, which means a very good news for businessmen who intend to do their business via M-commerce. Nevertheless, there are important things that should not be ignored when starting an M-commerce business.
1.    The distance between traditional E-commerce and M-commerce
Some people think that given an existing website, the transformation from E-commerce to M-commerce is just about putting available features on the mobile phone. However, it is not that simple.
Desktop sites and mobile sites provide very different experiences for customers. Since the movement of fingers on the touch screen cannot be as flexible as the using of mouse/touch-pad on desktop, mobile site's functions must be simplified. Moreover, mobile screen is far smaller than desktop one; as follow, a catchy, simple yet informative layout for the site should be a notice for M-commerce developers.
Therefore, to be successful in M-commerce, businessmen must "think in a mobile way" first. A lot of complicated features and functions will keep customers out of sight.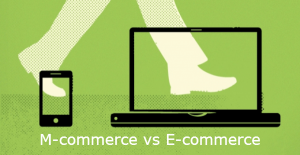 2.    Which products are and are not appropriate for M-commerce?
The most beloved features of shopping on mobile are fast and convenient thanks to its simplicity in all steps (searching, screening, check-out, etc.) relatively to desktop sites, thus, some goods such as clothes, processed foods and especially products with flash sales will go well with M-commerce. Still, not all the products can be purchased instantly like that.
You definitely can buy a coat or a birthday cake via your cell phone. However, does it make sense for buying a house, which needs a lot of time and efforts to consider before purchasing, through your phone? or will you use a mobile app to buy vegetable, whose value is usually very low and quality should be checked directly? M-commerce may not work properly in those situations.
Accordingly, clearly seeing the compatibility of your products with M-commerce before making decisions should be a clever thought.
3.    How to stand out among thousands other M-commerce

 businesses?
Always bear in mind that you are not the only one who can see the bright future of M-commerce. A lot more businessmen are seeing it just like you are; in this way, rough competition is a threat for your business.
How to stand out, how to make differences in customers' mind is on the concern of all M-commerce businesses. At this point, you should know methods to attract customers in the most effective ways.
a.      Create an appealing appearance for your mobile app
Building a mobile app is normally not an easy task. It requires a considerable amount of technical knowledge and even a good taste and creativity in design. If you are a professional developer, then it should not be a big deal. However, if technical and design skills are not your strengths, you might find yourself in troubles.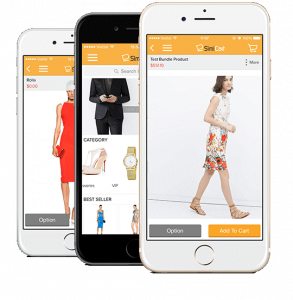 At this time, SimiCart is the ideal choice for you. SimiCart is All-in-One solution that allows Magento merchants to quickly build Magento mobile apps perfectly synchronized with Magento stores. SimiCart will help you automatically build your own customized native app with just simple steps. Using SimiCart, you can be assured that every detail in your mobile shopping apps is carefully designed and tested; even a shopping app like Zara is totally possible! Moreover, SimiCart supports all language and also has translated files, which helps foreign customers easily access to your M-commerce business.
b.      Focus on strong M-commerce

 marketing:
Marketing has always been a key factor on doing a business; and for M-commerce business, it is even more important. If you want to have a mobile app that promotes your business in a most effective way, you definitely should try SimiCart. First, SimiCart's products can send unlimited notifications to your users' mobile devices. Second, SimiCart's app use reward program for app's users to keep their loyalty, which is an intelligent exclusive feature that can be found only in SimiCart.
c.      Keep your business up-to-date:
Market demand is not a static subject that stays unchanged over time. Thus, to beat the market, your M-commerce business must catch up with customers' variable preferences and must be renewed day by day. SimiCart with outstanding features updated continuously will make sure your app keeps pace with the latest trends in the world.
Never to be left behind, visit us at https://www.simicart.com/