In the mid-1990s, an upgraded and utilized eCommerce platform was built and published, known as the Multi-Vendor Marketplace. There are many technologically advanced features in this new edition that makes it excelling compared to a traditional standalone web store. The store owners have never been seen to manage and grow their business more quickly and efficiently.
What is eCommerce?
At its core, eCommerce (or electronic commerce) is the online format of selling and buying services or goods. A multi-vendor marketplace is a type of eCommerce site where multiple sellers might operate their business alongside on a single website. In other words, it is where goods or services are provided by multiple third parties, whereas transactions are processed by the marketplace operator. As a result, there may be instances where one product is offered at different prices by different suppliers. Some of the best known multi-vendor marketplaces are Amazon, eBay, Walmart, Etsy, Alibaba, and Google Express.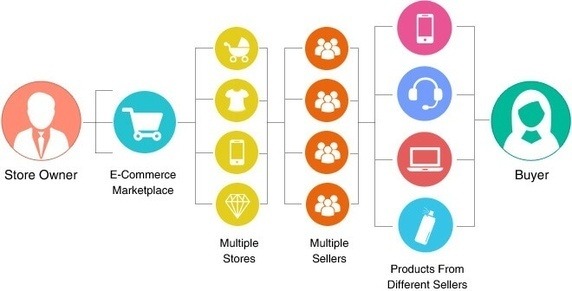 Today most people feel lost living without online shopping. However, only a few decades ago, the notion of eCommerce wasn't even born. Its history is deeply intertwined with the Internet. The first website was launched >in 1991 as online transactions became feasible. Yet eCommerce is not something we do on a daily basis until the emergence of multi-vendor marketplaces. The invention facilitated major advancements in the commercial use of the Internet.
The Emergence of Multi-Vendor Marketplaces
The first multi-vendor marketplace ever is Amazon. It opened to the public in 1995 in America as an online bookstore but is now recognized as the world's biggest online retailer. Today, Amazon sells not only books but gadgets, clothes, food, health and beauty products, deals, copies of music and video, etc. Being an online-only marketplace, Amazon can offer shoppers far more options than any physical store.
Since its earliest days, convenience, privacy and user experience of the platform have improved massively. It even gets to the point that a product can be returned if it does not suit the customer's expectation.
Amazon's multi-vendor marketplace has been the model to follow for the past 25 years, leading both in terms of customer satisfaction and shopping experience. Other successful multi-vendor marketplaces include eBay (since 1995) and Etsy (since 2005). By Q2 2018, it has a total of $901.7 million worldwide in gross sales.
Preference For Multi-vendor Marketplace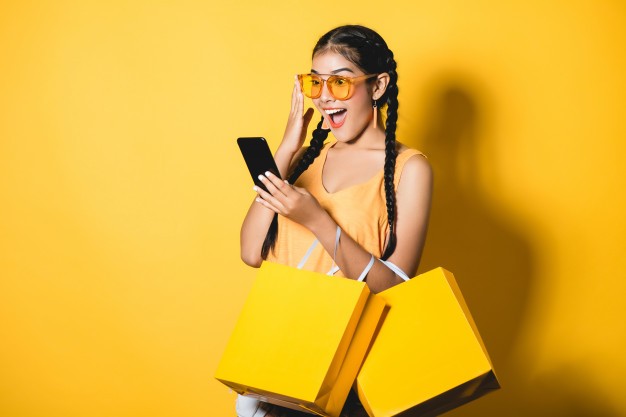 Recently, more people are being allured to online shopping via computers and smartphones. Thus, there's no doubt that the interest in multi-vendor marketplace platforms continues to soar amongst tech-giants worldwide. This month, the Malaysia government launched its first online single-stop solar panel marketplace, buySolar. With this move, they hope to reach the 20 percent renewable energy goal by 2025. OpenSys Technologies, buySolar's developer, has claimed that energy savings rate can be raised from 54 percent to 87 percent.
In Japan, Udemy online education business drives up the value of its mother company, Benesse Holding, from $50 million to $2 billion. On Thursday, online flea market operator Mercari Inc. said it would pursue brick and mortar activities in order to obtain 10 million customers. The company will sell its products on-site and handle everything from photography to shipment.
On another scale, smaller businesses are also tempted to step in the multi-vendor marketplace world. In fact, hundreds of multi-vendor marketplaces are now open to online shoppers, which can be found in the USA as well as abroad areas such as Asia Pacific, Latin America, and Europe.
Medium and small businesses are also blooming. There are specialized marketplaces such as Bonanza, Fruugo or Hollar; fashion marketplaces like Zalando and Fullbeauty; bargain marketplaces like Tophatter and Tanga, and the list goes on. A revenue potential of trillion dollars is open to be exploited.
Join with thousands of other enthusiasts to receive the latest Magento and Progressive Web App news & tips.
Turn Your Standalone Web Store Into a Multi-Vendor Marketplace
However, launching a multi-vendor marketplace is a difficult and hectic process. Amongst countless concerns, three major headaches are managing suppliers, orders and payments. The operator must also stay up-to-date on packaging, shipping, user interface, and user experience.
An effective and reliable tool is the only solution to those problems. Luckily, Landofcoder has created scalable extensions that allow Magento 2 shop owners to add supplier features to their standalone stores to convert their eCommerce into fully engaged multi-vendor marketplaces. With marketplace extensions help, a successful revolution for online stores is ensured.
Highlight features of a multi-vendor marketplace extension:
Seller-Oriented Cpanel
Perfect Mobile-Adapting Design
Seller Profiles & Media Profiles, Seller Credit Accounts, Seller Info on Products Page
M2 Themes Fully Compatibility
Seller Approval: Auto & By-hand
Product – Order – Transaction – Feedback & Review – SEO Management
Report – Notification/Mail – Vendor Messaging System
Vacation Setting
Upload products in bulk
Marketplace & Separate Vendor Shop Pages
FREE Installation Service & Extension Support
Multiple Websites & Multiple Language Support
Un-encrypted Source Code (100% Customizable)
There are 03 available versions of Magento 2 Multi-Vendor Marketplace by Landofcoder for diverse needs: Magento 2 Marketplace Extension (basic version for small scale business with basic stock management or warehouse), Magento 2 Marketplace PRO (for large retail business with multiple stores, warehouse, and suppliers) and Magento 2 Marketplace PRO – EE (for large scale business).
The Basic and PRO packages are compatible with Magento 2 Community Edition (CE). Both of them support your business comprehensively, however, the PRO is a more economic solution for larger companies.
While the marketplace basic package includes 3 popular marketplace plugins, the pro package comes with 30+ marketplace plugins included free so it will be a pile of money if you purchase them separately. Moreover, the PRO-EE version is specialized for Magento 2 Enterprise Edition (EE). 30+ free plugins are also included, plus 3 premium themes working seamlessly on the marketplace.
LoC Magento 2 Multi-Vendor Marketplace Extension is the best solution for just about any store sourcing products from multiple vendors. If you are a Magento 2 merchant planning on a new business venture, products from Landofcoder will definitely bring you work-oriented and optimized results.