[sg_popup id="1″ event="onload"][/sg_popup]Today, by chance I figure out that many merchants wish to have mobile shopping apps like Wish. It's not Amazon, it's not eBay, or Zara (btw, we are about to release an edition that helps merchants build mobile shopping apps that are alike Zara).
It's Wish that is the most favoured. So I asked myself "what is great about this app?". And after 2 minutes download and browse this app, I have to admit that "it's so great!".
Mobile shopping apps Wish, how does it look?
First, when I open the mobile shopping app, they ask to Sign in. Ok, it's no big deal, and I feel quite comfortable when they have a small link below to Skip. But just when I tap "Skip", another pop up appeared and ask to Sign up again. This time they give me reasons to sign up, such as discount, lower price, find more products, vv… It's not over yet. When I continue to skip, they ask for my personal details like Birthday and Gender. Don't know why but I often feel obliged to fill out these things. I have to say that this is a wonderful idea to engage and acquire new users. With such apps, merchants can get more information from their mobile users to approach later via email, or even send birthday gifts.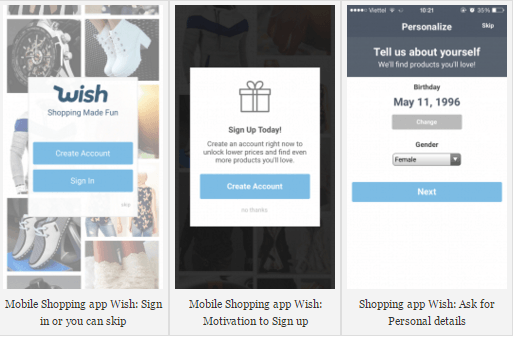 Next, they asked me to accept receiving their notifications. This is an essential feature of mobile shopping apps. Because, later you can send notifications whenever you have promotion campaign or new arrivals, automatically! It's 2 way street compared to mobile site and responsive theme.
Next they suggested me to pick a category for shopping. Yes, instead of letting us surf all the apps which might consists of large number of items, they  help us narrow our search. It's similar like you are standing at a physical store and the shop assistant asks you "What are you looking for Sir?".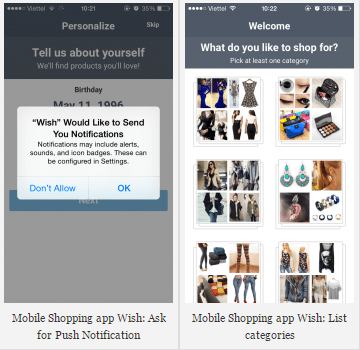 Shopping detail list is not something special. It's good that they have attractive Sale off with limited time. What I like the most is their product page, which consists a lot of Content! But neat! When you sell online, you don't have chance to talk and persuade customers, so you should give them as many details as possible. But how to write long and yet easy for readers? The answer is tab. And Wish uses it smartly.  They have tabs to let customers read more about materials and size, read comments from others and also related products.
And what impressed me the most is that they detect my location and say something like "Shipping to Vietnam…". How wonderful! I fall in love with this shopping app already!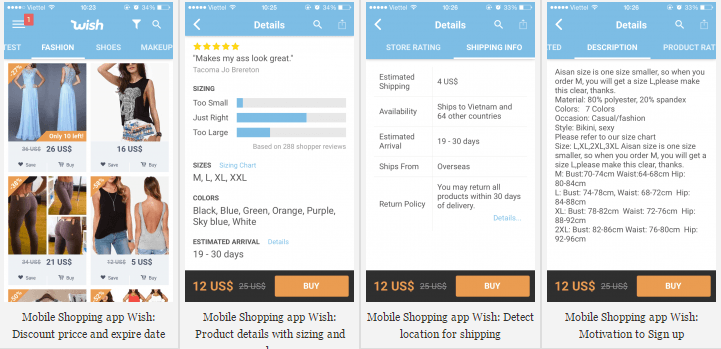 What Wish still hasn't have is Searching with bar code scanner and reward points for customers.
Guess what? You can have your own mobile shopping apps that are alike Wish. You can also have features like Sign up account, Push notification, Discount product, and even more at just $299. Checkout SimiCart.com right away! We are the NUMBER ONE mobile app builder that helps you create mobile shopping apps for Magento. We have 5 years working in Magento field. Our solution is unique as you can expand more features in the future easily by adding plugins.
Come and visit SimiCart.com and have a Wish mobile shopping app of your own.