Mobile commerce is having a significant impact on the way people shop online, and some mobile shopping apps are even reshaping businesses as we know it. 78% of people would rather access a store from an app compared to a mobile website. With more shoppers moving to smartphones and tablets, companies are looking for new ways to enhance the overall user experience.
Here are some of the app design trends which are emerging in mobile shopping app this year:
1. Functional animation
Animation is becoming increasingly important to interface design as it makes apps more user-friendly and intuitive. There are many ways in which functional animation can assist your interface, including directing user behaviours, confirming actions, highlighting changes, and showing system status. 
In addition, animated response and visual effects create an overall personality for brands for entertaining and fun interaction with users. With all these pluses, motion design is definitely one of the most popular trends in 2023.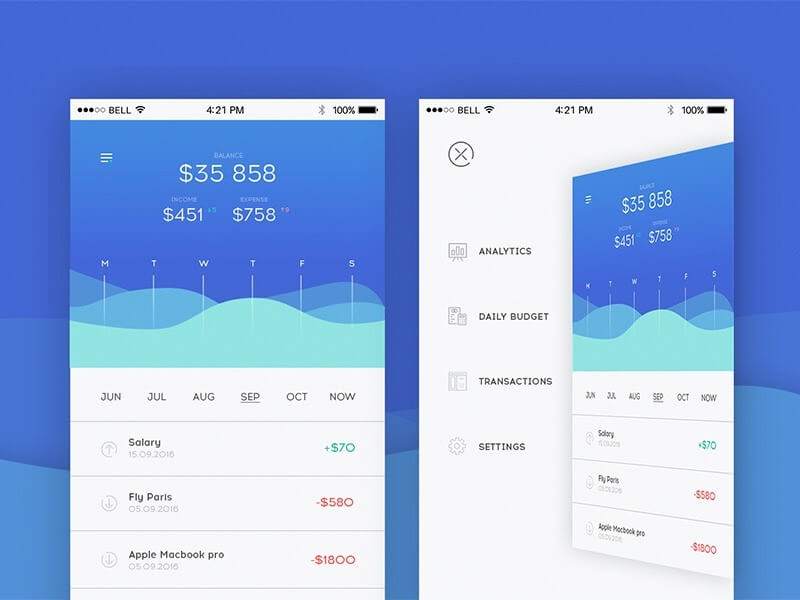 2. Buttonless design
With every new smartphone going button-less in its design, it's only natural that we're seeing a disappearance of in-app buttons. And if you think about it, button-less design is almost natural for us as most of the apps you use nowadays are button-less in their nature (think Instagram). And especially for the eCommerce world where unnecessary and complicated interactions might drive the customers further away from the checkout stage, it is even more beneficial to opt for the button-less design as it's the current best way to make shopping feel effortless. Need to add a product to cart? Simply drag and drop the product to the cart icon.
3. Calm color schemes
When it comes to app design, color is the second most important aspect, right after functionality. Color plays a critical role in user interaction. Color schemes help users see and interpret your app's content, interact with the correct elements, and understand actions. Calm colors have stayed in a trend for a while, which ultimately enhances the user experience visually. This trend provides great separation and balance, while maintaining a design which is a pleasure to use.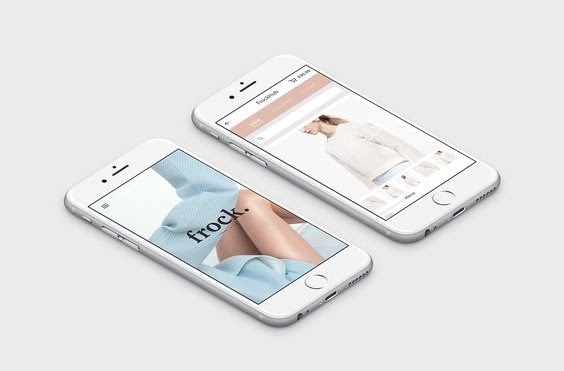 4. Using illustrations to elicit emotions
If you've been keeping up with the trends in marketing, you'd know that customers love brands with a personality. In fact, 65% of people surveyed have felt an emotional connection with a brand, and naturally, illustrations help reinforce this connection even further. With the right illustration representing your brand's voice and care for your customers, customers can have a more positive experience with your brand and consequently, making them more loyal and keep them coming back for more positive experiences.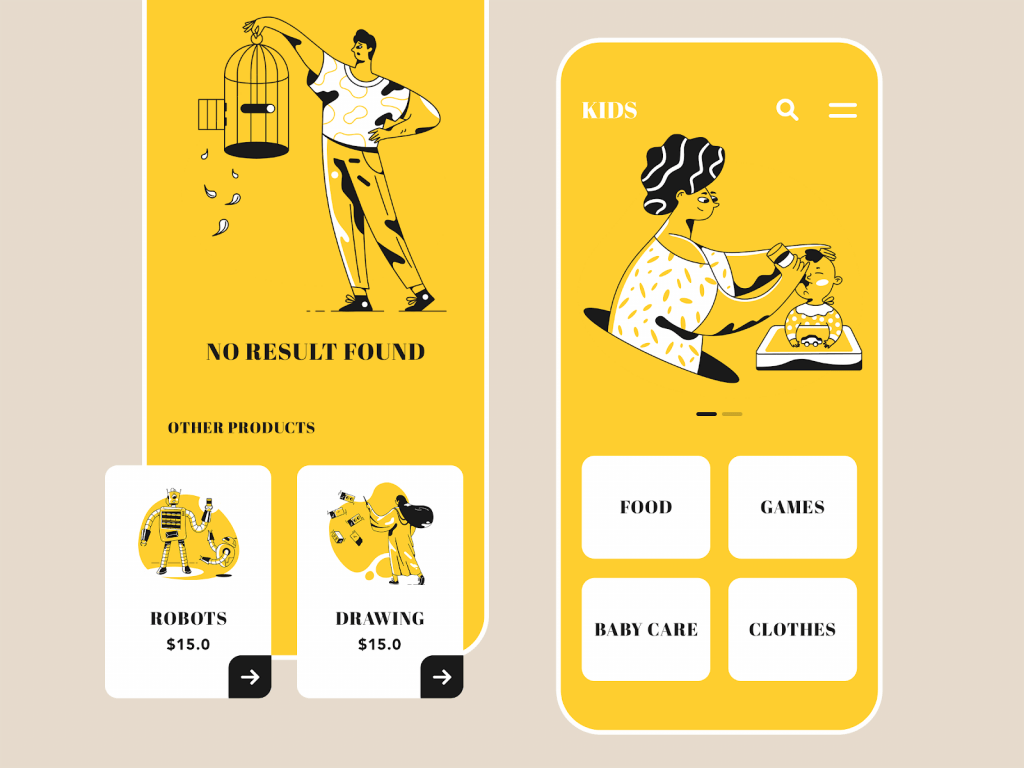 5. Card layouts
Cards design has been here for quite a while, and it seems like it will be here for a little while longer. The trend's main mission is to focus more on functionality rather than visual aspects as UX is becoming less about visual and more about functionality. From the user's perspective, card layout is attractive, convenient, and efficient. Cards divide content into meaningful sections, gather various pieces of information into one coherent piece of content. Users can easily access the content they want, and this empowers users to engage in any way they want. Moreover, card design visually pleases users on the screens of different sizes across multiple devices, which delivers a consistent user experience aspect of the app.
6. Gesture-driven
As mobiles are getting rid of physical buttons in order to make way for more screen space, it's only natural that gestures will get to become the new norm for in-app interaction. For product images, tech-savvy customers expect basic gestures out of it like the ability to double tap or pinch the product image in order to see it in greater detail. And of course, in-app gestures don't stop at just this. 
As the UX of mobile commerce apps gets more engaging, you can expect more gestures to come out of popular mobile shopping apps, and there will be more gesture consistency between mobile shopping apps in the future.
Conclusion
E-commerce is a very dynamic industry where businesses must react quickly to accommodate their shoppers needs. Not only big companies, even small, local businesses are tapping into the mobile commerce market. Given the growing popularity of mobile Internet and mobile shopping, failing to provide a mobile-friendly shopping experience will put your business at a disadvantage. The competition online is tough already, so your mobile shopping app should be designed to bring the best customers shopping experiences and consequently, generate more revenue for your brand.
---
Read more:
Leading Experts Reveal the Magento Trends Shaping 2023