Mobile shopping app is setting new trends in the online shopping segment.
Mobile commerce
is having a significant impact on how people purchase, and some mobile shopping apps are even reshaping businesses.
78% of people
would rather access a store from an app compared to a mobile website. With more shoppers moving to smartphones and tablets, companies are looking for new ways to enhance the overall user experience.
In today's fast-changing e-commerce world, it's challenging for any business owner to predict the future. What appears to be new today may be outdated tomorrow. To put your business one step ahead in the fierce competition, you as a designer need to constantly stick to the current design trends when building your mobile shopping app.
Here are some of the app design trends which are expected to emerge in mobile shopping app as we enter this year:
1. Functional animation
Animation is becoming increasingly important to interface design as it makes app more user-friendly and intuitive. Motion design can drive the entire user interface of your mobile shopping app. There are many ways in which functional animation assist your interface, including directing user behaviours, confirming actions, hightlight changes, showing system status. In addition, animated response and visual effects create an overall personality for entertaining and fun interaction with users. With all these pluses, motion design is definitely one of the most popular trends in 2017.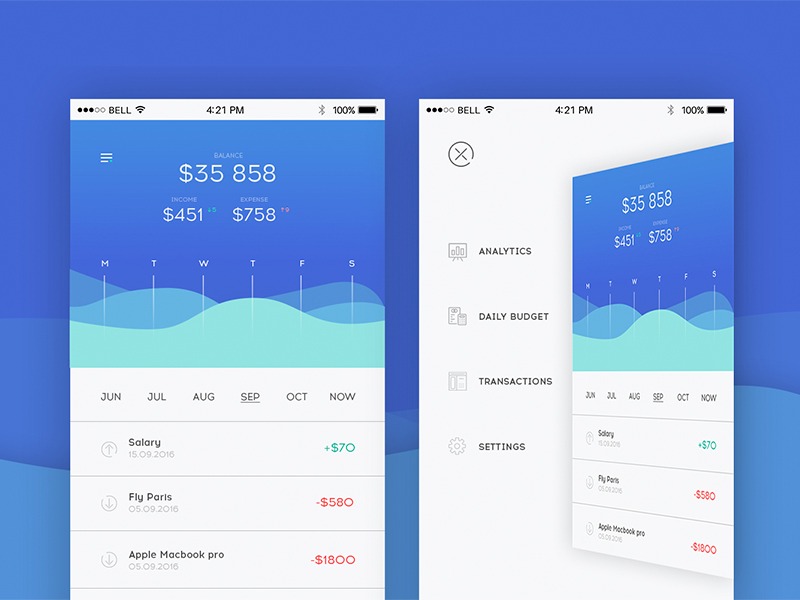 2. Hidden navigation
Users tend to be distracted by too many menus on the home screen. When it comes to small screens, space is a key consideration. As a result hidden navigation will be used in the design to save on space for mobile screen. Hidden navigation works with the aid of a navigational drawer to ensures that the navigation menu is only available when it is needed. Getting rid of bulky menus blocking app screen appears to be a boosting trend this year.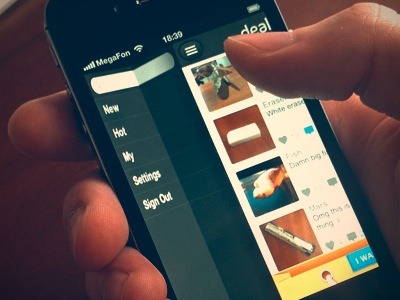 3. Material design
Originated from flat design, such types of design are very trending nowadays. Material design enhances the visual appeal and engagement aspect of a mobile shopping app. The main aim of this trend is to make it simple for users to engage with different mobile platforms while remaining rather functional and user-friendly. Through cleaner schemes, simple coloring, clear iconography and increased functionality, it delivers better user experience and easier interaction.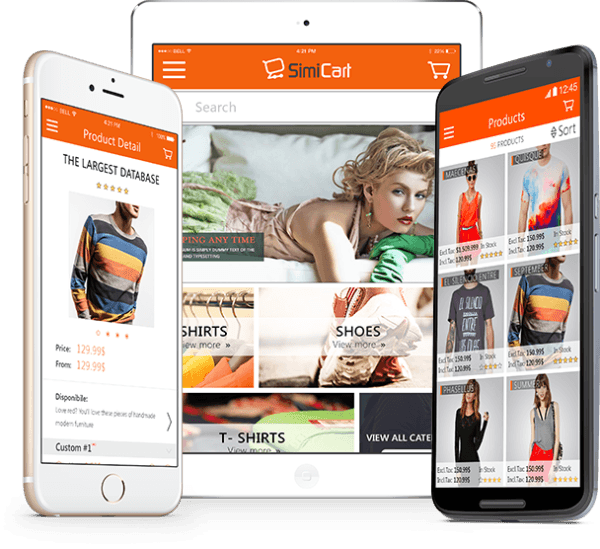 4. Calm color schemes
When it comes to app design, color is the second most important aspect, after functionality. Color plays a critical role in user interaction. Color schemes help users see and interpret your app's content, interact with the correct elements, and understand actions. Calm colors have stayed in a trend for a while, which ultimately enhances the user experience visually. This trend provides great separation and balance, while maintaining a design which is a pleasure to use.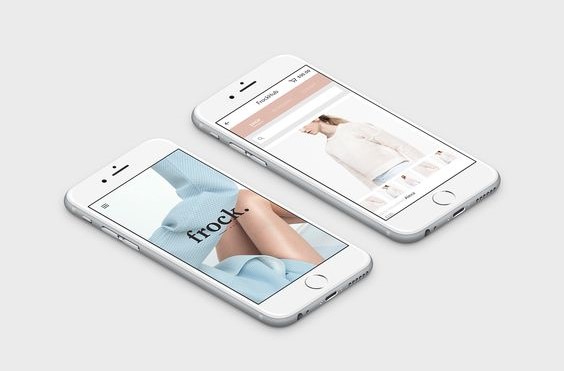 5. Typography
Typography is basically important for mobile shopping app design because communicating with customers through text is not completely out. The fonts, spaces, headlines and patterns of texts are going to improve the readability. A better readability generates more users for your mobile shopping app. Typography is considered one of the major instruments that positively affects customer behavior and enhances their responsiveness levels.
6. Card layouts
Cards design seems to remain its popularity in 2017. The main mission of the trend is to focus more on functionality rather than visual aspects as UX is becoming less visual and more functional. Card layout is attractive, convenient, and efficient from a user's perspective. Cards divide content into meaningful sections, gather various pieces of information into one coherent piece of content. Users can easily access the content they want, and this empowers users to engage in any way they want. Moreover, card design visually please users on the screens of different sizes across multiple devices, which delivers consistent user experience aspect of the app.
Learn more about mobile card design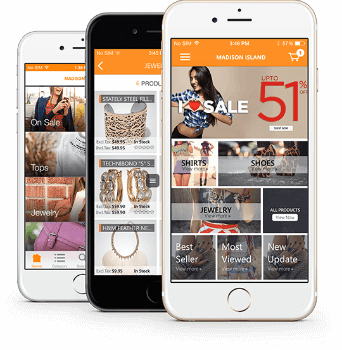 Conclusion
E-commerce is a very dynamic industry where businesses must react quickly to accommodate their shoppers needs. Not only big companies, even small, local businesses are tapping into mobile commerce market. Given the growing popularity of mobile Internet and mobile shopping, failing to provide a mobile-friendly shopping experience will put your business at a disadvantage. The competition online is tough already, so your mobile shopping app should be designed in the way to optimize customers shopping experiences and bring good revenue respectively.
*** UPDATED ***
In early 2018, Magento announced PWA Studio, designed to help developers constructs Progressive Web Apps for their Magento website. Turning your Magento website into an app (Don't believe? But it's TRUE!) by using PWA saves you time and cost developing an app, is accessible across platforms and devices, works with or without the Internet. It is also SEO-friendly and helps keep customers engaged with notifications.
Recommended reading: What is PWA? 
For Magento merchants looking for an all-around perfect mobile app solution for your online store, here at SimiCart we offer a complete package that takes your mobile commerce to the next level!