You decided to create your own mobile shopping app, but you are in a bit confusing of the choice between building a mobile native app or a hybrid app. Read this and you will find out the answer you need. 
1. Definition
a. Mobile native app
A mobile native app is an application for smartphone users that is built by a specific programming language (Objective-C for iOs or Java for Android system). They can access to a lot of mobile functionalities, such as the camera or even address book. Moreover, some mobile native app can be opened (though might not work properly) without connecting the Internet. In this sense, most of the video games we encounter nowadays are mobile native apps. 
b. Mobile hybrid app
Hybrid apps are a kind of mobile app that contain characteristics of both mobile native apps and web apps. Like a mobile native app, they live in app stores and can have access to many other device features. Like a web app, they are built in HTML and JavaScript.  It typically uses platforms such as Sencha, PhoneGap or Mosync.
2. The battle is on; a mobile native app or a hybrid app?
a. Mobile native app
Pros
Fastest speed for users

Highly responsive

Stable and best security assured 

Push notification/alert sending ability, keep customers updated about your products

Device features full accessibility

Best user interface, best user experience

Offline mode available (but often with the lack of some functionalities)
Cons
High development and maintenance cost (as a result of multiple code bases.)

Complicated steps of installation as well as maintenance 

Multiple and separate building, maintenance and management cost for different version (Android version or iOs version are totally separated 
(Note: For the two first concerns of native apps' disadvantages, is you choose to create your mobile native app with SimiCart, it should not be a big problem.)
b. Hybrid app
Pros
Faster and easier to develop

Easier to maintain and flexible with different platforms

Eliminates need to interface directly with device drivers by using APIs and plugins.

Single framework, meaning you don't have to use multiple IDEs with expert knowledge.
Cons
Limited access to some features on devices

Tapping into new features will not be immediate, and sometimes non-existent depending on the maintainer of the framework.  

Sometimes poor user experience due to homogenous interfaces for all platforms.

Lacking knowledge in the native frameworks will prevent you from debugging undocumented issues.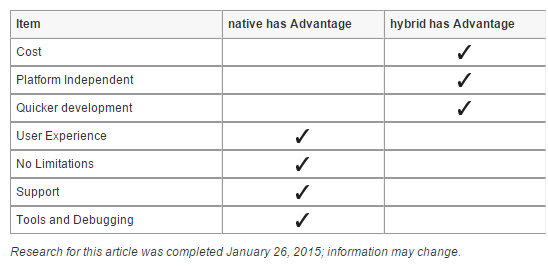 In conclusion, I want to say that if you have a limited budget, a hybrid app might be a better choice over a mobile native app. However, if you value user's experience, speed, and security; a mobile native app is the best choice for you
3. Building a cost-effective mobile native app with SimiCart
SimiCart will help you building your mobile shopping app in the most proper and fastest way with a very reasonable cost. According to your budget and preferences, you can choose the suitable package among the 3 editions that SimiCart offers.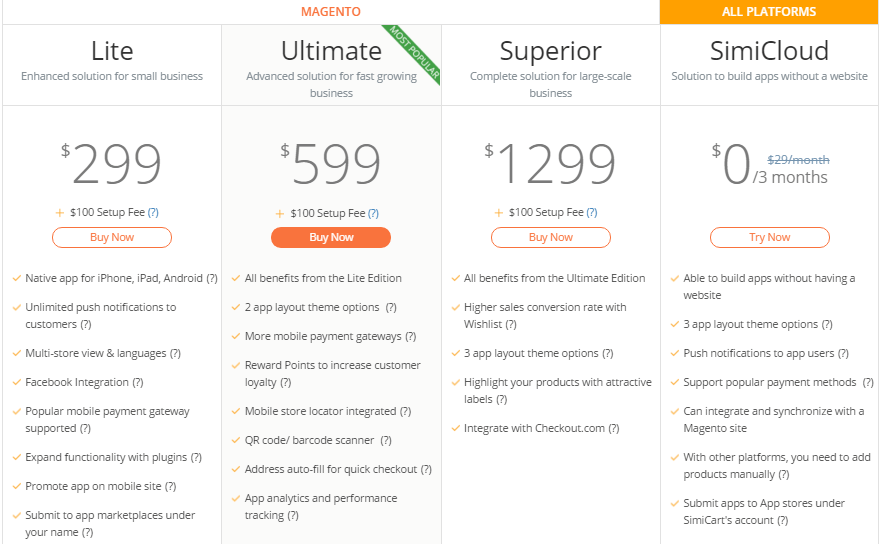 Just come to find us and we promise to bring you a wonderful mobile native app that assures the success of your business.