This post is the 1st one in the series " SimiCart around your corner", in which we feature the best practice of SimiCart mobile shopping applications in each area.
Emirati online shopping in hands of mobile users
With 5 in 10 people shopping for goods and services on the internet, UAE is the leading e-commerce market in the Middle East (MasterCard, 2013). The country's e-commerce is forecast to reach $10 billion (Dh36.7 billion) in value by 2018.
Especially, it is also forecast that more people will move away from traditional computers to mobile devices with 73 percent of smartphone ownership. Purchases on mobile devices, which now represent 10 per cent of the Middle East's e-commerce, are expected to double, reaching close to 20 per cent of transactions in 2015.
Some Emirati businessmen have quickly caught up this trend by introducing the mobile shopping app to their customers besides an already wonderful web store. Let' introduce  one of them, Mr. Fadi B.D from my5starhome.com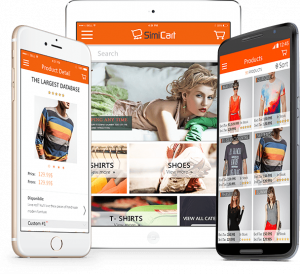 How to ccavenue integration in android
One of the largest direct sellers of homewares in the Middle East
S: Hello Mr. Fadi, thanks for joining our interview today. I am so happy to listen to your success story. First, could you please introduce you and your store to our readers?
F: Hello SimiCart, I am glad to be your first spotlight customer in your series. I am Fadi, CEO and founder of my5starhome.com .
As one of the largest direct sellers of homewares and décor in the Middle East region, we offer exceptional value on an extensive selection of high-quality bedding, bath, kitchen accessories and living appliances available online. With the motto "Luxury for less", we aim to provide our customers best selection of home wares at the most affordable prices.
The extensive selection and superior customer service coupled with the convenience of online shopping is what we are most proud of my5starhome.com!
Soon, mobile is the king in a tech-savvy UAE
S: You've referred to "convenience of online shopping", I see that your website is already a complete and nice online store. So what made you decide to implement a mobile app for it?
F: Thanks for your compliment. It's true that we are very satisfied with our complete website. However, as the CEO, I see a new trend in online shopping. Mobile has changed the landscape of consumerism in a few short years by becoming everyone's favorite tool for communicating, socializing, shopping, making decisions, watching news basically for everything. Especially for a country of tech-savvy citizens like UAE, mobile soon becomes the king.
As a result, I want to build mobile app for my5starhome.com as a powerful tool to stay connected with our customer and provide them easy way to shop with us.
S: So could you please let me know why you chose SimiCart as your Magento mobile app providers ?
F: There are 3 reasons:
The full integration ability of SimiCart to Magento through a connector. As you know, I have experienced with Magento only and a little understanding of mobile coding. I need a product that works well with my existing Magento store so that I don't have to manage 2 separate businesses. With SimiCart, everything is synced simultaneously.
The price of SimiCart is the most competitive on the market. In these days, you have to count single buck to have revenue.
Also, they offer a lifetime free support, which any newcomers in mobile shopping app like me would love to have as we have little experience in mobile, you know.

S: So after a while of using SimiCart and launching it to app stores, do you regret your choice?
F: To be honest, there are things need to be improved, but I am quite satisfied. I find it very easy to build, upload to app store and manage it.  With 120 downloads in a few days of releasing without any advertisements, I think it's very good sign to continue with SimiCart.
Special customization for UAE
S: I am glad to hear that. I know that UAE is quite a high-demanding market, how did you configure SimiCart to meet the local expectation?
F: Yes, you are right. Our biggest problem is payment method. Here we use some different methods. Actually we are working with SimiCart team for special customization with Checkout.com, our popular method here.
S: How is the work?
F: Quite good. There are some difficulties at first with mobile SDK but everything is okay now. They will deliver it this week. Guys at SimiCart are very supportive and always available on email, live chat or even Skype.
S: If you need SimiCart to update something for better localization with UAE, what will you suggest?
F: More local payment methods integrated!
S: Are you willing to recommend SimiCart to other stores in UAE?
F: Definitely, as long as they are not my competitors. LOL
S: Of course! Thank you a lot Fadi, I wish your my5starhome.com more success in the future and you keep being our loyal customer.
F: Thanks!
——
Link to try my5starhome.com's app
Google Play https://play.google.com/store/apps/details?id=com.dealcapture.mystarhome
Apple store https://itunes.apple.com/us/app/my-5-star-home/id937202479?mt=8
Are you from UAE or Middle East? Contact us for consultation and best price! support@simcart.com