To make a mobile app as sticky as possible, developers need to understand what keeps users engaged. Five following metrics to measure user engagement is expected to go hand in hand with your mobile app analytics.
#1 MOBILE APP USAGE
This is a great key performance indicator (KPI) to look at, as it really highlights how the app is being used. It gives you insight into your user base, usage trends and what they love/ hate about your app. Once you know how your users are using your app, you have a better chance of improving the user engagement. Better understanding means highlighting the areas that need improvement i.e. which important buttons you want your user notice more should be highlighted…
What screens are being looked at the most? Which screen seems to dominate users' time? Which mobile devices are your users on? iOS or Android is more effective? What time of day are users using your app? All of these factors can be put towards how to improve your mobile app, as your strengths and weaknesses quickly become apparent.
#2 SESSION LENGTH
With mobile apps' usage increasing year over year, having consumers spend longer in your app equates to more revenue in the long run. This ties right into retention rate, as longer app sessions indicate a deeper relationship and higher user engagement with an app, which lead to higher transaction rate, of course.
Caring about session length helps marketers measure session lengths and analyzing them based on segments and plan their campaigns better. Moreover, developers can understand what changes trigger change in session lengths and how it impacts business. Like if a checkout process is too complicated and there are many steps to make transactions, users might be dropping off at that point, negatively impacting your session length. Segmenting will help you identify your loyal users/customers and users/customers who are less engaged.
Now it's time to answer the question: What's the average session duration of your mobile app?  If users spend less time with your app than expected, start digging into why.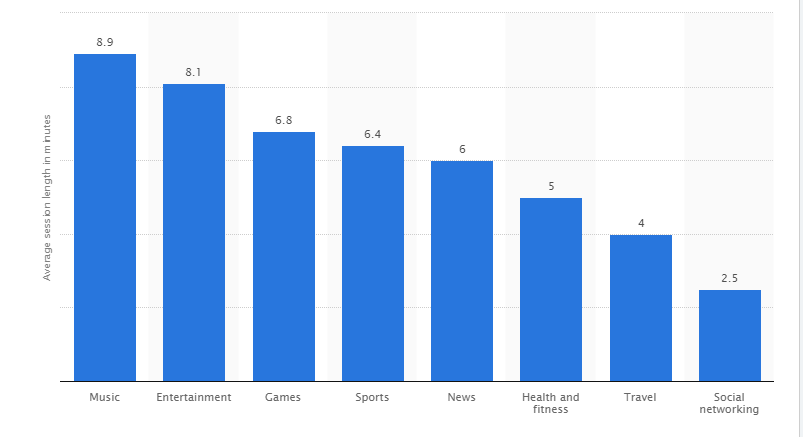 #3 SESSION INTERVAL/ FREQUENCY
Session Interval is often confused with Session Length, is simply the time between two consecutive sessions. Session length and interval both go hand in hand and play important roles in showing the user engagement in the mobile apps. It might not give you direct actionable inputs for improvements, but surely quantifies retention and stickiness value of your mobile app.
#4 RETENTION RATE
Mobile app developers & marketers are aware that the longer a person uses your app, the more revenue you stand to make. Unfortunately, people often wind up deleting apps from their device because they quickly become disinterested. Luckily, you can change this negative trend by improving retention rate. Retention basically means the percentage of users returning to your app in a given period of time. It comprise paying attention to the timing of each release of any new content or features, as well as using notifications in an intelligent way to encourage mobile users to return.
Retention rates lets you keep an eye on what's working and what needs improvement. Retention rate is a continuous process that should begin after any significant changes in your app to reflect changes in the user retention.
On an average, apps retain only 40% of their initial users after a period of 30 days. And since cost per install these days is getting higher, it is best to keep track of retention and focus on retaining rather than acquiring.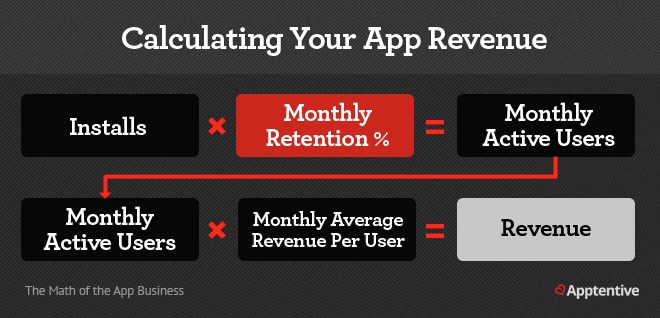 If your mobile app gets a solid retention rate, then it holds some true value for the e-commerce market. If it does not, finding ways to improve this rate right via last users. It's time to calculate the retention rate over a period of 1, 7 or next 30 days to see your mobile app's longevity in the e-commerce market.
#5 USER ACQUISITION
How are your users reaching your app? Organic search on App Store & Google Play, word of mouth, and paid ads are all common ways a person discovers your app. Knowing your target market and the best points of contact to them, will help to increase user acquisition. User Acquisition determines channels where your users are originating from, like organic search, direct, paid search, referral, social etc.
It can help finding who is downloading your app and what channels are most effective at bringing visitors and conversions. Using Acquisition reports, you can calculate the Customer Acquisition cost (CAC) or the cost of sales and marketing per new user over a given period of time.
Final Thought
Now it's time to apply these metrics to your mobile app. Be FREE to share your experience in the comment below! For more information: have a look at Mobile App User Engagement/User Experience.