Getting to know Magento shopping app means that you have got one of the best e-commerce models to develop in this market. And when mentioning Magento app, we cannot forget the list of Simcart plugins where the app can be completed in every aspect with the most updated and efficient plugins.
If you have ever heard about "Rich content" plugin or the provision of smart "Payment plugin", then it will be a big shortcoming if you do not know "Theme plugin".
Known for its flexible function and user-friendly interface, theme plugin is proud to introduce to customers two famous kinds of themes: Zara theme and Matrix theme. In the previous post, customers had the chance to discover Zara theme. So in this article, you will be exposed to the left one: Matrix theme.
Let's dive into Matrix theme to capture its benefits!
Some details:
First of all, Matrix theme is a theme developed basing on modern flat design style which is considered the hot trend nowadays. It brings about the best look and the mobile fully optimized experience for all of your customers who use smartphones and tablets. Moreover, the owner can intentionally change the interface of shopping app to meet his requirement.
Spelled like Magic, Matrix theme is really a desirable theme as it can display your featured categories and products in the most eye-catching layout as well as showcase the clear details of the checkout process, products listing,….to win the hearts of customers when they are on mobile shopping app.
Outstanding features:
Matrix theme, like Zara theme also offers some unique features and even more:
Work with Android, magento iPad, iPhone.
Easy to search/ sort for products
Grid layout, 2 products per row
Banners/ categories/ spot products slide on homepage.
Link banners to other URL
Allow configuring categories in homepage.
Allow configuring spot products in homepage.
Allow managing banners.
How to get Matrix theme?
With just $49, you can get the theme as you want provided that you purchase SIMICART first. It is a compulsory navigation. 🙂
The installation of Matrix theme is not so complicated. To get the user guide, you can download here.
Follow the detailed steps of installation and configuration, you will get the theme which can meet your requirement and even beyond your expectation.
Here is the example of the app using Matrix theme.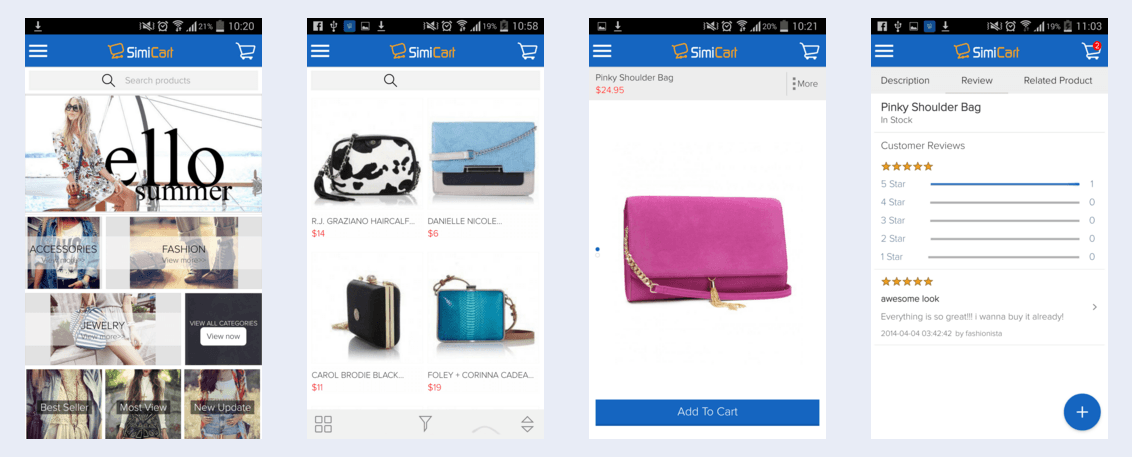 Try demo apps:
You must be so curious about how the theme looks like, whether the functions of it run smoothly or not, whether it can meet your requirement…It's time to get the demo apps for Android and iOS smartphones.

You just need to click on the two buttons and scan the code, then experience.
In short,
With the interesting information about Matrix theme, do you feel excited about getting it? Do not hesitate, come and get it in order to own the most friendly, effective and profitable Magento shopping app.
>>>Related: Longing For A Well-Designed Fashion Shopping App? Grab The Zara Theme Plugin Now!