Magento and WooCommerce are two of the biggest names that would pop up when a business looks between options for their future eCommerce platforms besides Shopify or BigCommerce.
Magento and WooCommerce are often put on the table for comparison, yet their potential target segments can be quite different. Nevertheless, both have been developed to support eCommerce businesses to achieve their best potential.
This article will compare the platforms to give you an idea about their advantages and disadvantages to help you in concluding which platform fits your business!
Brief introduction: Magento and WooCommerce
To address both platforms further in the article, it'd be helpful first to have a general idea about Magento and WooCommerce.
Magento
Magento is an open-source platform written in PHP, which helps programmers create eCommerce websites. It is one of the most used platforms by eCommerce businesses.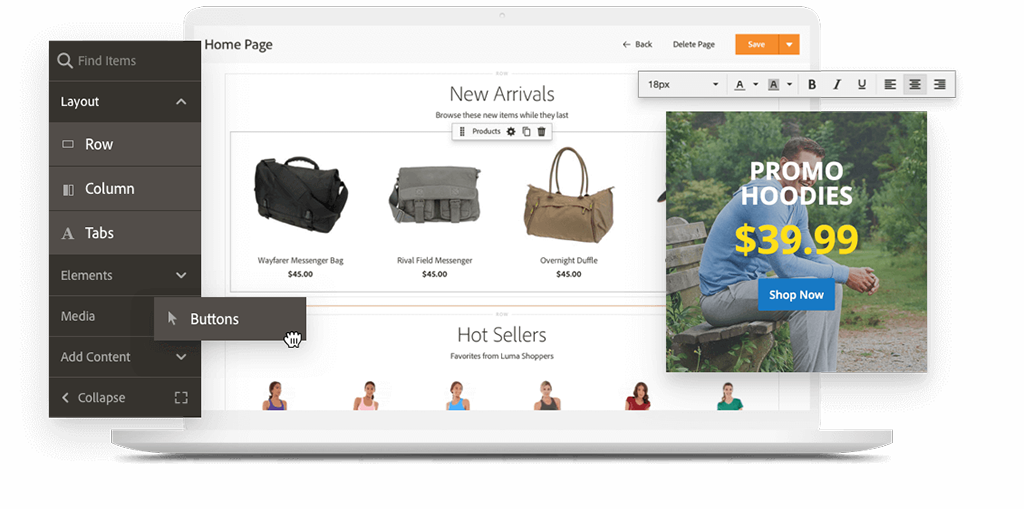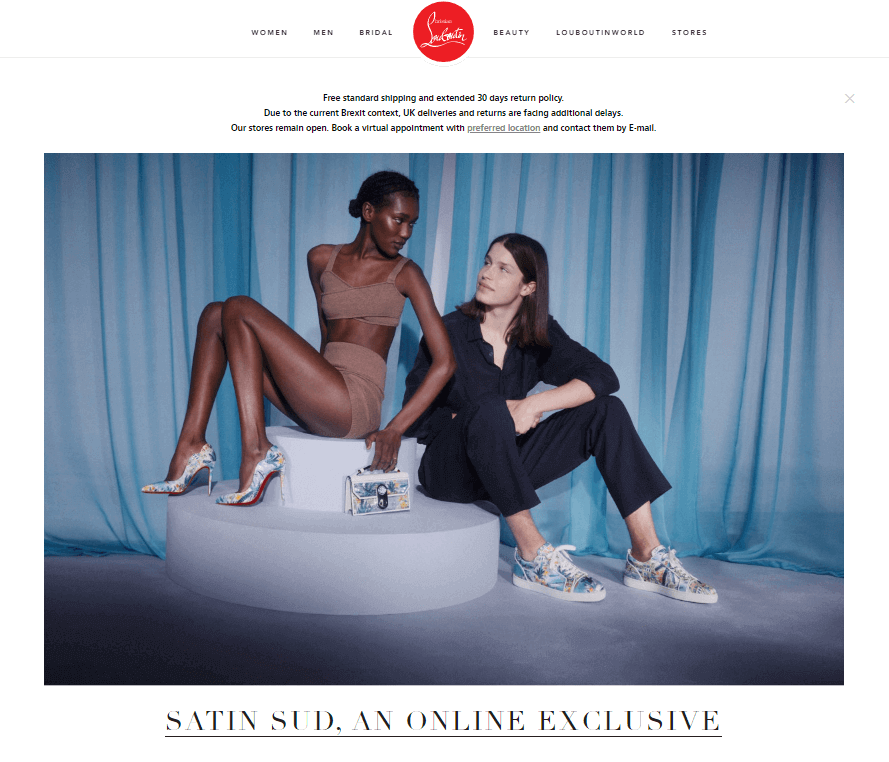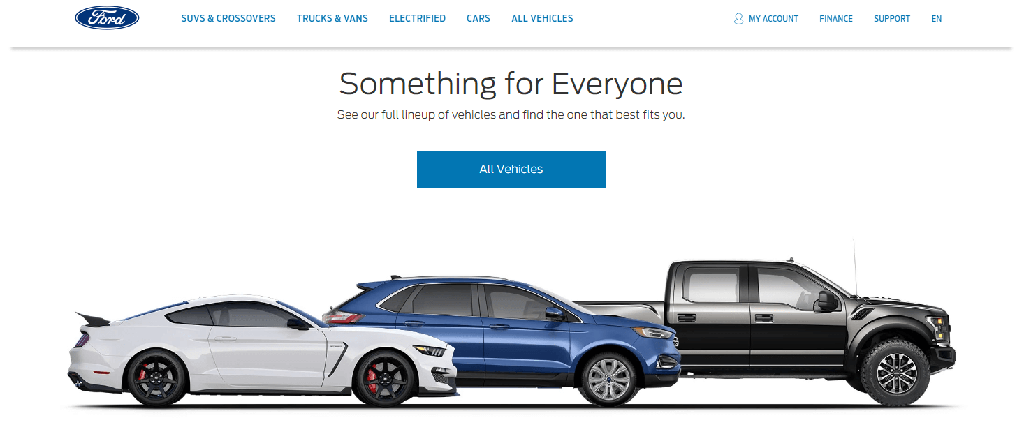 WooCommerce 
Provided by WordPress – the world's most popular website builder, WooCommerce has taken over the market and become a top choice for merchants looking to go online.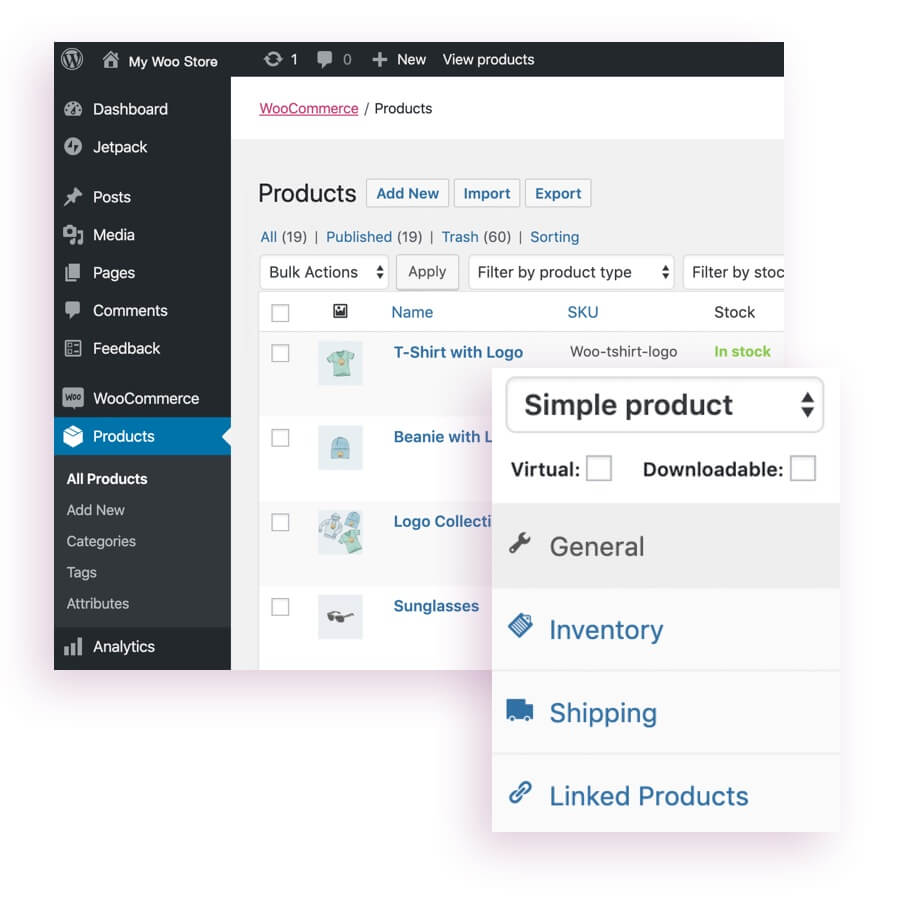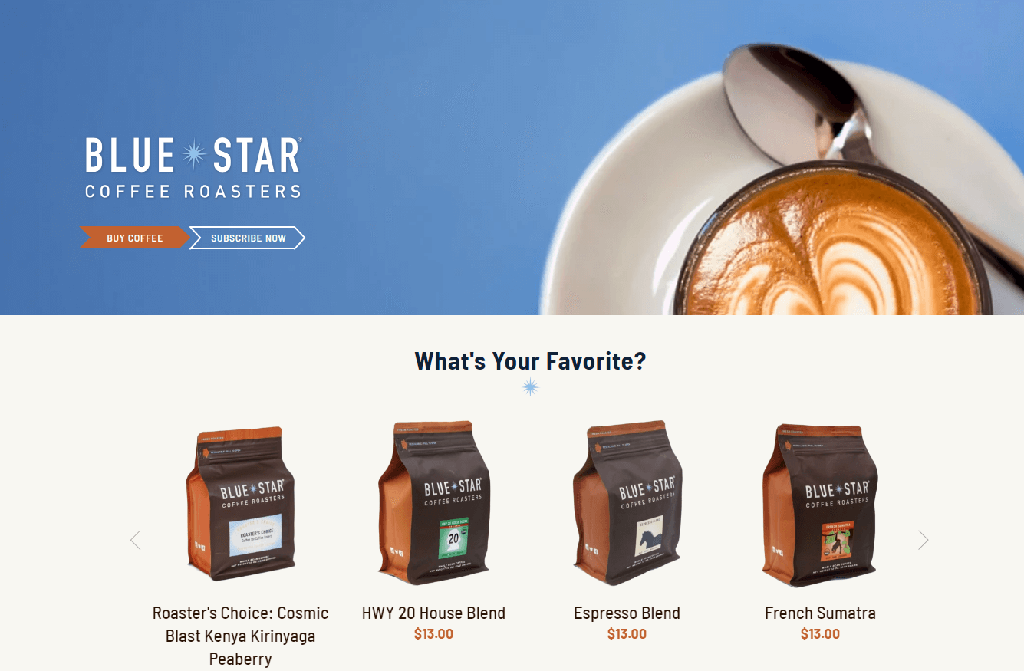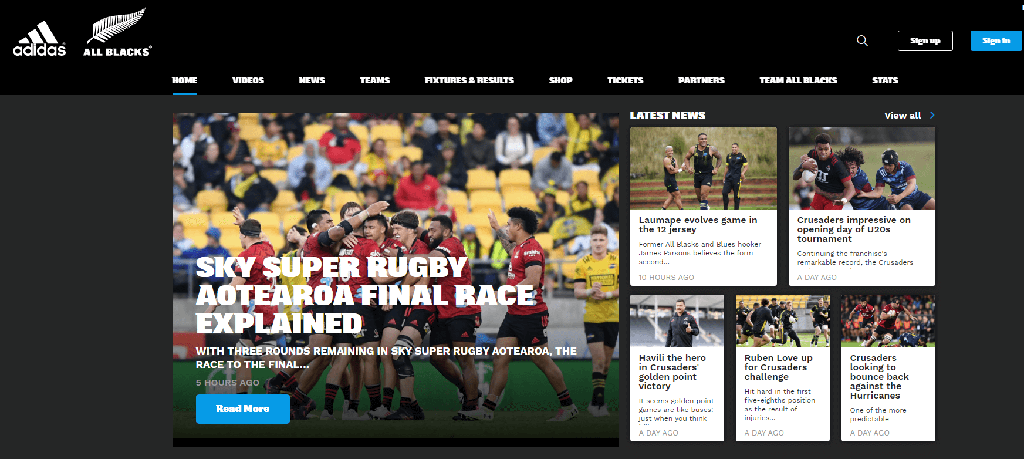 Magento vs WooCommerce: an overview
First, it's worth noting that Magento has two different versions: the free open source and the enterprise plan. Since the free one is far more in the same range as WooCommerce in terms of everything, we would only compare WooCommerce with the open-source version of Magento.
Now, let's take a look at how one platform is better than the other.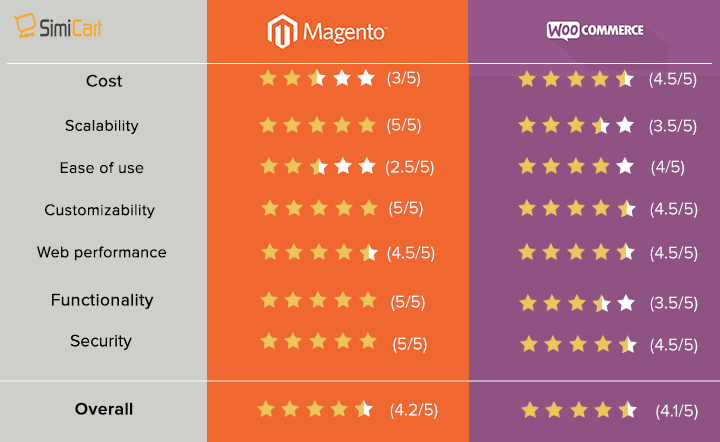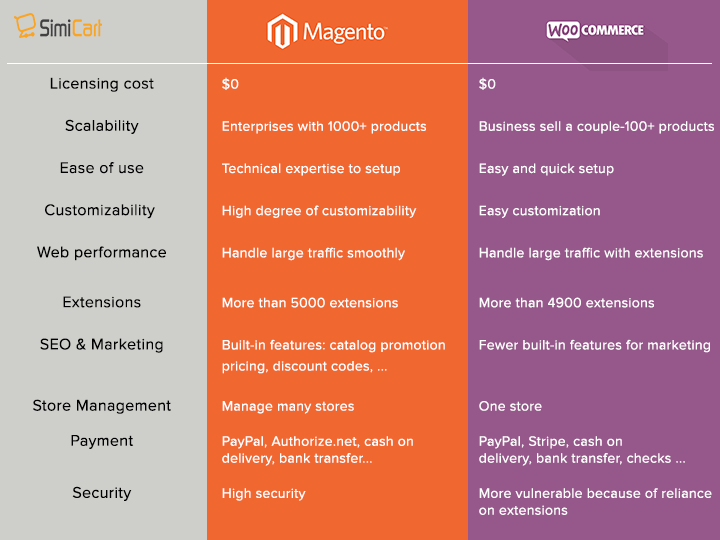 In a nutshell, both platforms can guarantee amazing performance and robust eCommerce functionality. While WooCommerce beats Magento in terms of cost and usability, Magento has more built-in features and is more capable of customizing, scaling up, and securing your websites.  
>> See more: Magento Open-source feature list
Magento vs WooCommerce: a detailed comparison
Ease of use
Magento's usability
Magento is built as an all-in-one eCommerce platform, designed to provide businesses with essential features right from the start. However, this leads to setting up your eCommerce business on the platform will require a certain level of technical expertise.
Moreover, in terms of maintaining or updating digital stores, it's not as straightforward to add new extensions or customize themes for Magento either. 
Ever since late 2021, a drag-and-drop page builder has been added to the open-source version, which grants store owners the freedom to adjust their store designs. Yet, the page builder still has lots of limitations compared to Elementor – WordPress's famous page builders for WooCommerce. 
For complicated projects, businesses may need to outsource Magento experts.
However, once the store is launched already, business owners can easily navigate the backend dashboard to manage their digital stores. Comprehensive user guides are available to reduce any friction to none.
WooCommerce's usability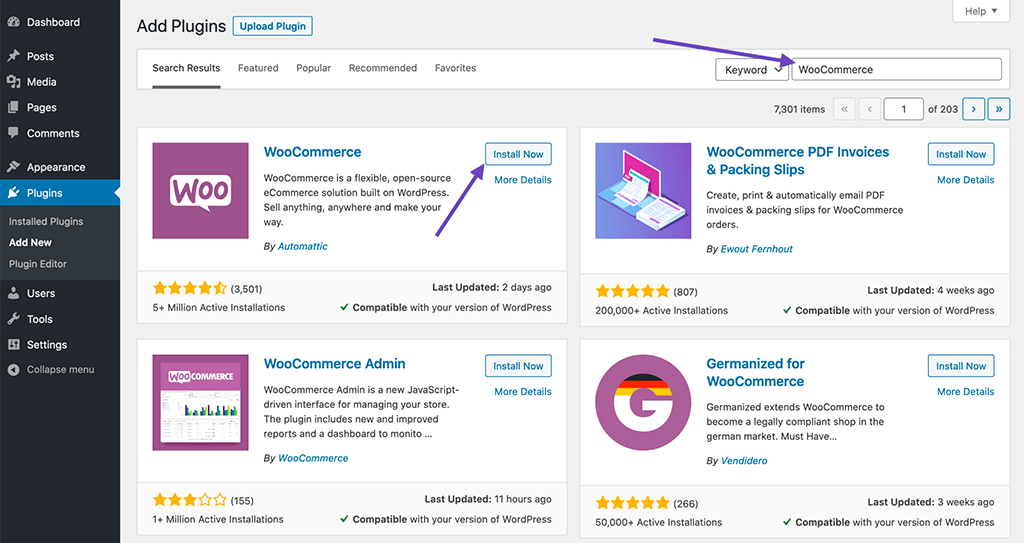 When it comes to ease of use, WooCommerce may beat Magento in this aspect. The plugin adds basic features to your WordPress website. 
If you are already familiar with WordPress, getting started with WooCommerce is quite simple. Even if you aren't, the process is straightforward, and with the help of online guides, it should not take you long to familiarize yourself with WooCommerce features.
? The winner: WooCommerce
Cost
Magento and WooCommerce both offer free versions for businesses to set up their eCommerce store.
WooCommerce has several built-ins with the platform to help businesses set up their website. For newbies jumping into eCommerce and planning to set things up themselves, WooCommerce would be the most appropriate choice.
Magento, on the other hand, requires non-tech-savvy store owners to hire a tech expert to build the websites at first.
Of course, setting up and running an eCommerce store doesn't end solely with a licensing cost. Here are what else you'll need to consider: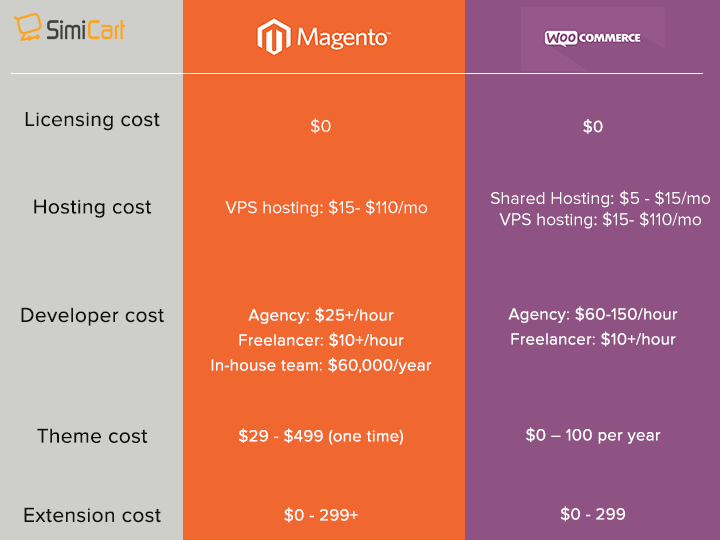 As each business has different needs and growth strategies, it's hard to tell which platform is cheaper. 
Magento's themes and extensions are often paid one-time, as opposed to the yearly subscription of WooCommerce's theme and subscription. 
Also, the open-source version of Magento already has lots of built-in functions, while you still need to buy some more plugins to start a functional WooCommerce store. Furthermore, if you need any customizations, finding Woo tech experts with affordable rates would be more difficult.
However, in general, WooCommerce sites are more likely to be less expensive. Moreover, Magento will require an initial investment, whereas, as for WooCommerce, business owners can start small with just about $1000 and pay more once their stores scale up. 
? The winner: WooCommerce
Scalability
Scalability is a platform's ability to handle a large number of SKUs and traffic, and operate smoothly when your store grows big. It is an important factor if you come from a mid-or-large company with lots of resources.
Aspirational store owners who set their minds to growing and expanding their eCommerce business should also take scalability into consideration. Once the digital store is set up already, it's a burden to migrate to another platform just because the former can not keep up with your business growth.
While both platforms claim no limitations for added products, they all have strengths and drawbacks:
Magento's scalability
Magento positions itself as a CMS for online shops with high aspirations, so scalability is the platform's strength. 
If your business provides somewhere from over 1000 products, then Magento is for you. It can smoothly handle businesses with many stores and thousands of products. There is a variety of Magento products and solutions available to meet the needs of the most demanding companies.
Take note that depending on how you want to develop your website with Magento, the cost may vary, and the process can sometimes be quite complicated.
WooCommerce's scalability
WooCommerce, too, claims that it has no limit on the number of products a business can manage online. The platform has solutions for scalability with plenty of extensions. The plus point is that there are several extensions that a beginner can work with, which allows a business with a limited budget to keep their cost relatively lower.
Be cautious that it may require more installations at once to be compatible with the business growth compared to Magento (with its built-in features). The issue is whether your WordPress hosting's resources can handle all the extensions.
Let LitExtension Experts Handle Your Migration
If you plan to migrate your store to another platform, LitExtension – #1 Shopping Cart Migration Expert – will take care of it accurately, securely, and at the highest speed.
? The winner: Magento
Customization
Customizability gives business owners total control over their digital stores and how to use them to drive sales. 
Whereas big enterprises with complicated operating systems are often the ones who need to customize the most, lots of smaller companies also feel the need to customize to stand out from competitors, optimize their sales & marketing channels or create unique sites for their visions.
Luckily, being open-source, both Magento and WooCommerce allow a great level of customization.
Magento's customization
Magento is widely known as one of the most flexible platforms.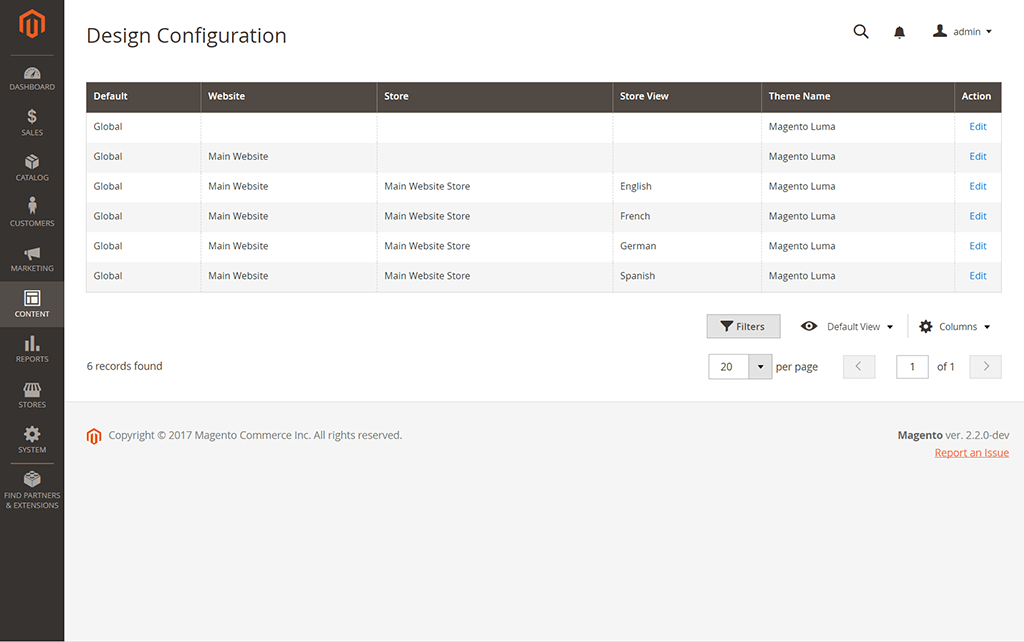 It offers a remarkable degree of customizability with out-of-the-box features. With the built-in essentials, businesses can set different languages, create product catalogs with detailed item descriptions, add images and features, etc. It lets you design your dream store as you wish.
Store owners can also customize every small part of their sites, from themes to extensions without any platform barriers.
Again, the setting process isn't the easiest and you may need to work with Magento experts.
WooCommerce's customization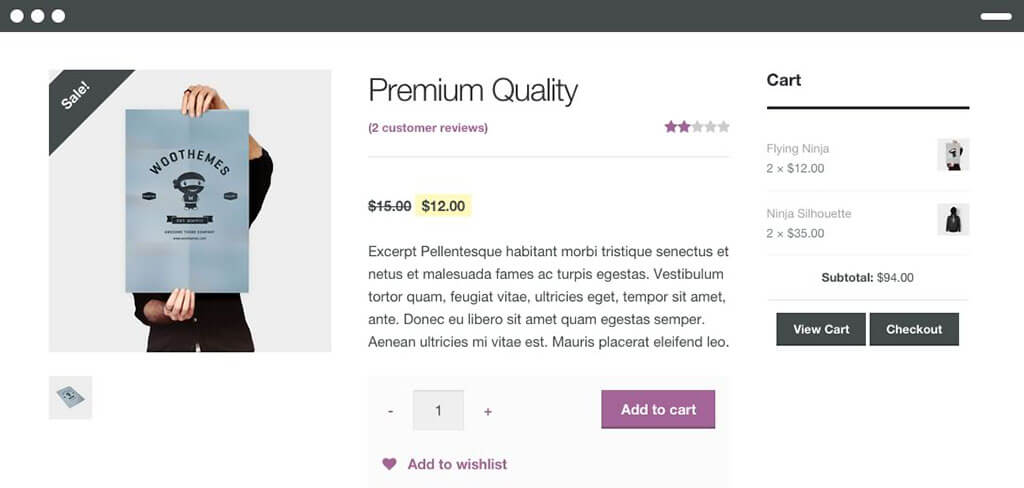 WooCommerce is more beginner-friendly and easy to customize for business needs. It helps when you have previously worked with WordPress.
All the pages, blocks, and design elements for your website can be modified with a few tweaks to suit your shop style. You can also configure currency, language, measure settings, add an unlimited number of photos, attributes, and tags to your items. 
Since it is built on top of WordPress, users also get access to plenty of WordPress plugins that can be installed and used. 
? The winner: Magento
It's a close-run thing, but we decided to choose Magento because of the platform's good reputation for customizing complicated enterprise-level sites.
Web performance
Your website performance will have different results considering its functionality and size. Whether your business is using Magento or WooCommerce, the performance relies on factors such as your web hosting provider, whether your images are optimized or not, and whether you are using a Content Delivery Network (CDN) or not.
Magento with its robust structure does not often work well with cheaper hostings like shared hosting, while for WooCommerce, it is totally fine. Thus, if you can only afford a cheap hosting plan, WooCommerce would be a better choice for performance.
On the other hand, it's worth taking scalability into account for web performance. In general, Magento deals much better with large amounts of traffic when compared to most other eCommerce platforms, WooCommerce included.
? The winner: it's a tie
Extensions and plugins
In this aspect, both Magento and WooCommerce cater to all issues through third-party extensions and plugins, ranging from free to paid.
Magento's extensions
There are more than 5000 extensions available for Magento users, offering endless possibilities for customization to match your demands. These are built by community developers for sales, marketing, content, and customizations.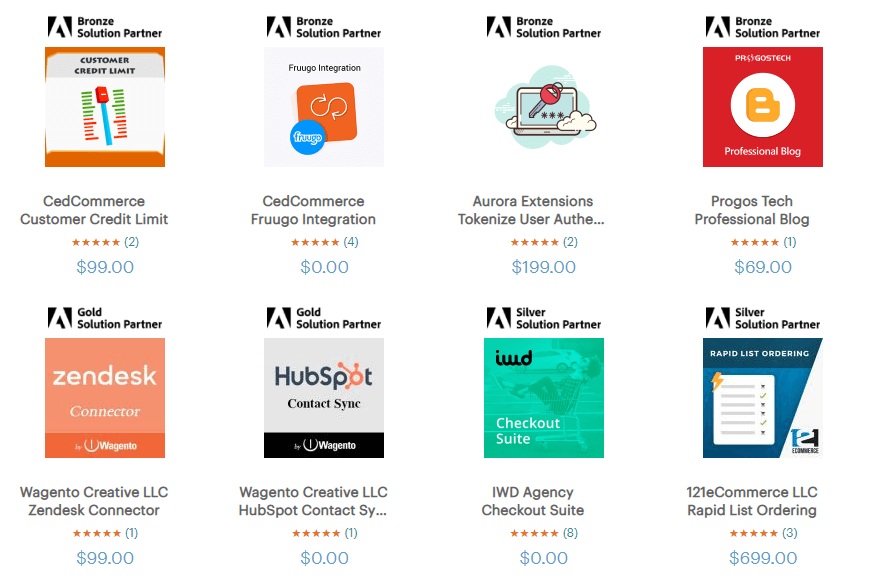 WooCommerce's extension
You have about 312 extensions on the official website Woocommerce.com, with an addition of over 4600 extensions on WordPress.org. Plus many of them are free.
Thanks to a wide variety of extensions, you can add contact forms, integrate payment gateways, or connect to Google Analytics…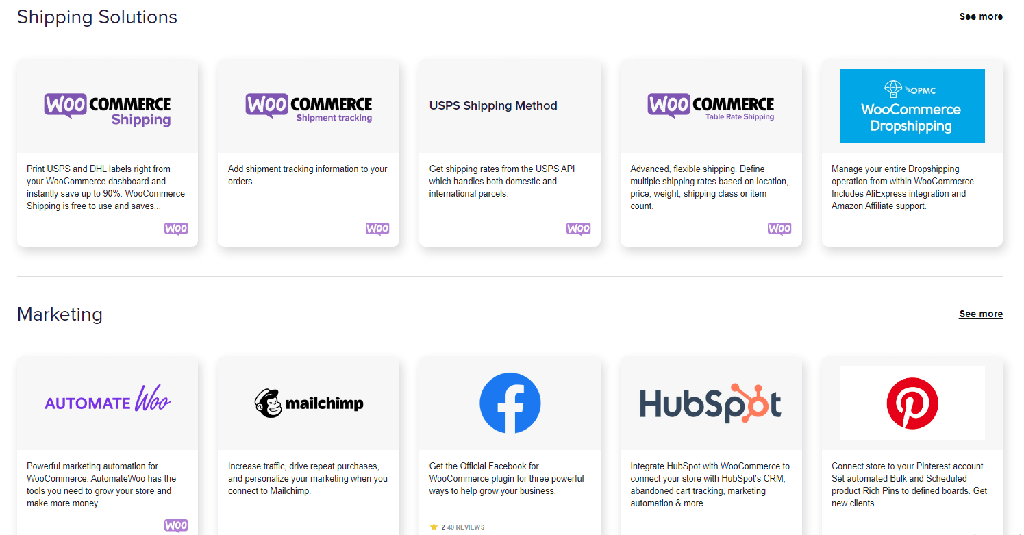 ? The winner: it's a tie
SEO & Marketing
WooCommerce's SEO & Marketing
WooCommerce is well-known for its SEO friendliness, as it's built on WordPress. There are also great SEO extensions like Yoast that assist store owners in boosting their website's popularity. 
Since WooCommerce comes with basic features, to use other marketing tools, you will need to buy extensions. You can add email marketing, coupon codes, points, a reward system and connect your store to Facebook,…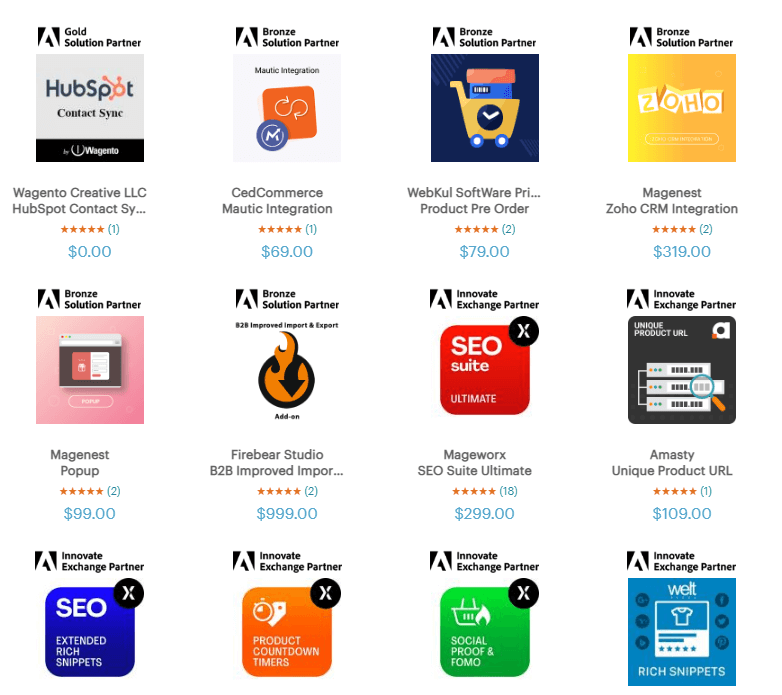 Magento: SEO & Marketing
When it comes to SEO, a business using Magento isn't at a disadvantage either. Magento is on par with WooCommerce's SEO support with plenty of SEO extensions developed. In recent research, Magento came at #4 for the best eCommerce platforms for SEO.
With Magento, it saves you time with several built-in and ready-to-use marketing features for your online stores. For example, catalog promotion pricing, discount codes, and newsletter management, … will all help your online store stick into your customer's minds.
? The winner: Magento
Store management
You can manage your online store easily whether it's with Magento or WooCommerce. 
Magento's store management
However, Magento provides more ability to manage several stores at once, in multi-languages, discount and coupon codes, and more options if you look into it. These features explain why Magento is preferred by international and large enterprises in the market.
WooCommerce's store management
WooCommerce provides a smooth store management experience as well, but it has its own weakness. The platform isn't meeting demands since it doesn't let owners create more than one storefront and in multi-languages. This is the reason many deem WooCommerce fitter for start-ups and small businesses.
? The winner: Magento
Payment
The two platforms offer diverse methods for online payments and support through extensions and add-ons if they aren't available already.
Magento's payment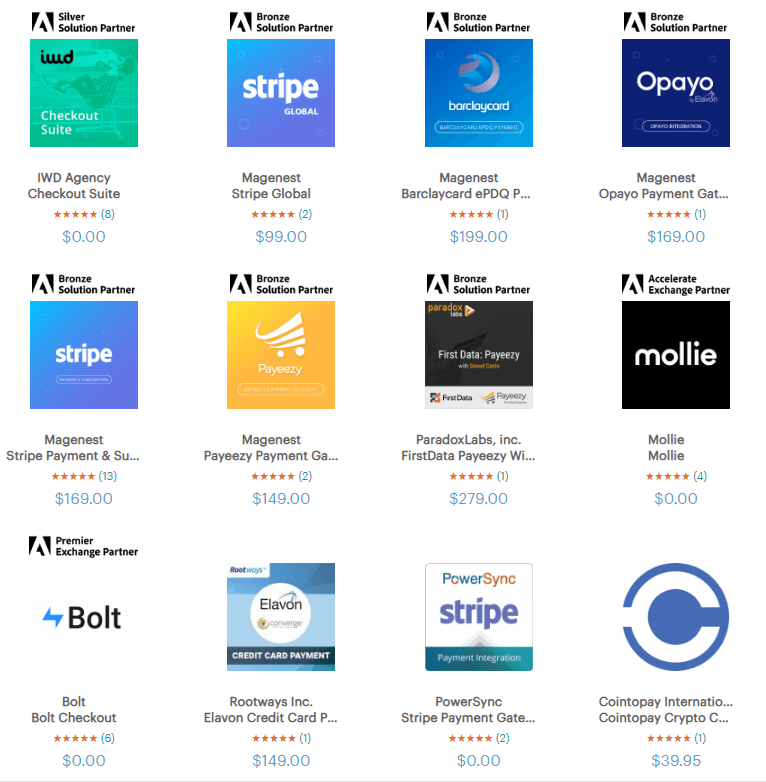 Magento has PayPal, Authorize.net, cash on delivery, bank transfer, and purchase order payment methods by default. And of course, there are more options available in store.
WooCommerce's payment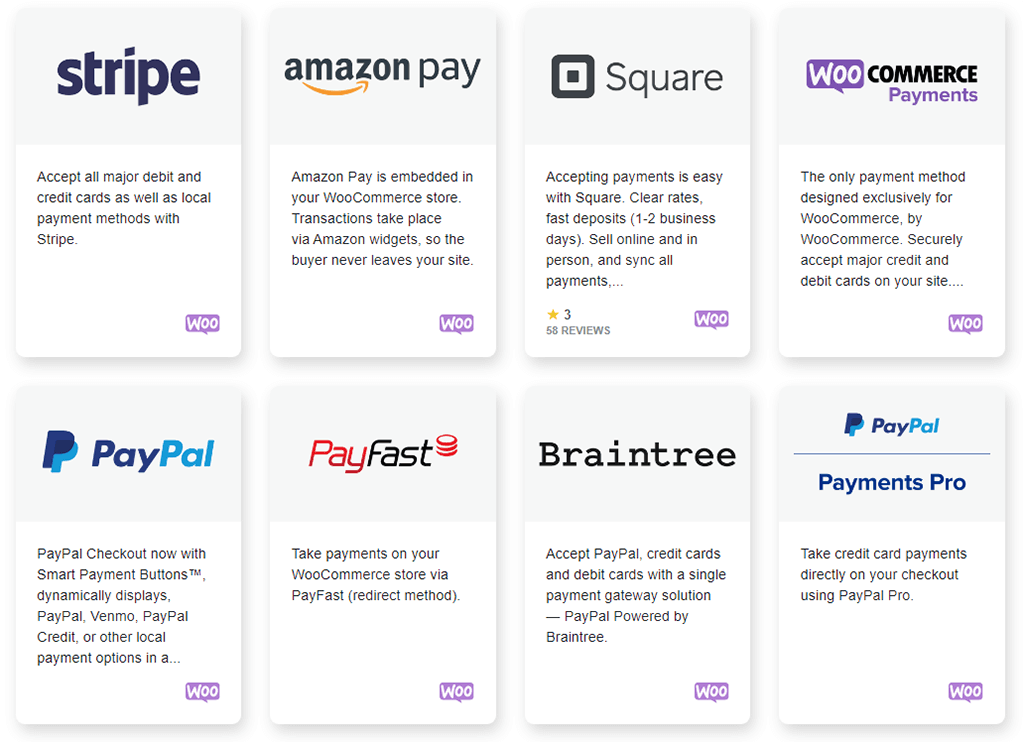 WooCommerce comes bundled with the ability to accept major credit cards, bank transfers (BACS), checks, and cash on delivery. It also has PayPal and Stripe by default, as well as other extensions to be integrated if required.
? The winner: it's a tie
Security
Magento's security
Magento has more security built-in as an eCommerce-specific platform and the provider takes security very seriously. They roll out updates for the security front and also offer a comprehensive best practices guide to enforce and strengthen an already formidable offering.
WooCommerce's security
This is not to say that WooCommerce does not provide a high level of security. But due to its nature as an eCommerce platform with basic features, it tends to be more vulnerable due to the reliance on third-party plugins.
? The winner: Magento
Support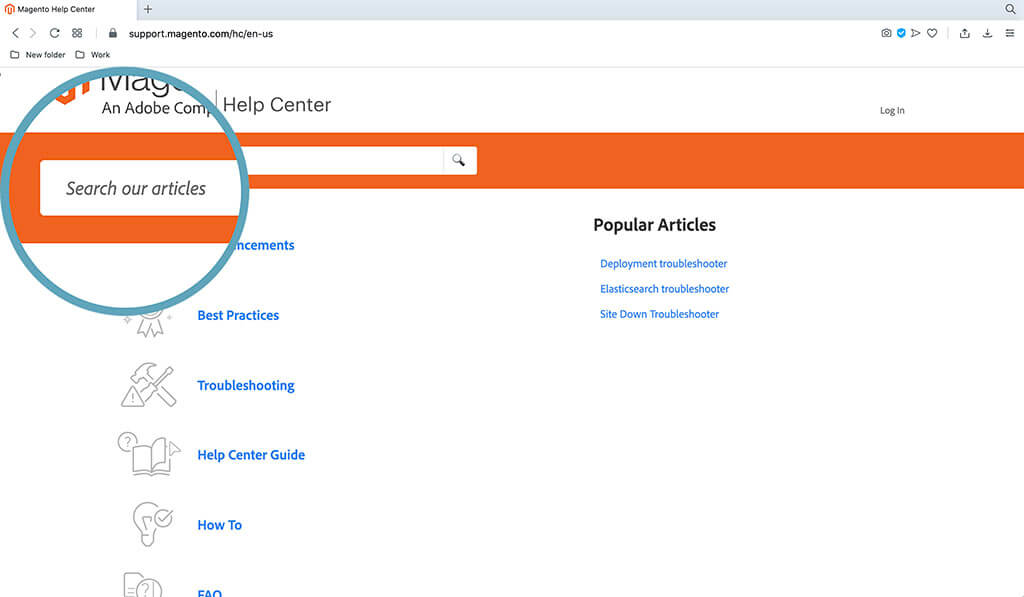 Those using the Magento Community version will have access to its official documentation and communities solely –  Magento Help Center, Magento DevDocs, Magento Forums, or technical blogs written by certified Magento partners.
WooCommerce is similar to the Magento Community version, with only support from official documents and help from the online community.
? The winner: it's a tie
Time to launch
The development time of an eCommerce website can directly affect a business's sales plan. While the setup process can vary depending on the scope of the project, in general, it takes less time to launch a WooCommerce site.
In fact, depending on the website's content, designs, and functions, a WooCommerce site can be completed as soon as a few days and as long as a couple of months. 
On the other hand, it takes at least a month to build a Magento site. A complex project needs about 4-5 months before launching. 
? The winner: WooCommerce
Wrap up
In general, WooCommerce is better for small businesses while Magento does best for mid and large companies. 
However, a Magento site can still be perfect for aspirational small business owners, while WooCommerce with the right hosting plan can still meet enterprises' needs. 
We think it's more about your initial budget, and how you want to set up and maintain the store.
For Magento, it requires a handsome amount of budget at first. Also, you will need to hire tech experts to set up and make adjustments to your store whenever you need to.
For WooCommerce, you can start with a small sum of money but the cost might add up over time. You will also gain more flexibility to change the stores on your own. However, outsourcing is necessary for fixing some bugs or advanced customizations.
---