In the age of online shopping, eCommerce solutions have expanded significantly, leaving retail stores many available online platforms to start their online website. Among many well-known shopping cart solutions, Magento vs PrestaShop is often put into comparison, besides Shopify and WooCommerce.
Even though these two names, Magento and PrestaShop, might sound familiar when a business look for an appropriate eCommerce solution, there are many overlooked aspects that online merchants should pay close attention to.
This article will provide a comprehensive guideline on both platforms to help you decide which one is the best fit for your business at the moment.
Overview: Magento vs PrestaShop
Magento
First released in 2008, Magento is an open-source eCommerce platform with built-in PHP that allows store owners to download and set it up on any desired servers.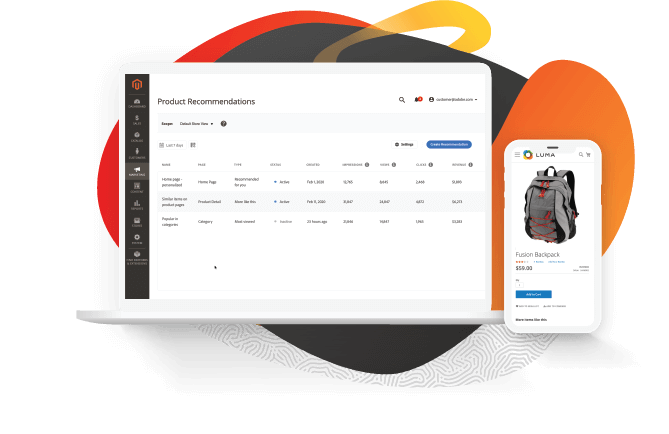 Until July 2021, Magento has powered more than 200,000 active eCommerce websites across the globe. Thanks to its powerful built-in features, Magento has been exclusively used for many large-scale and reputed eCommerce brands, including HP, Nike, Ford, Landrover, Nestle Nespresso and more.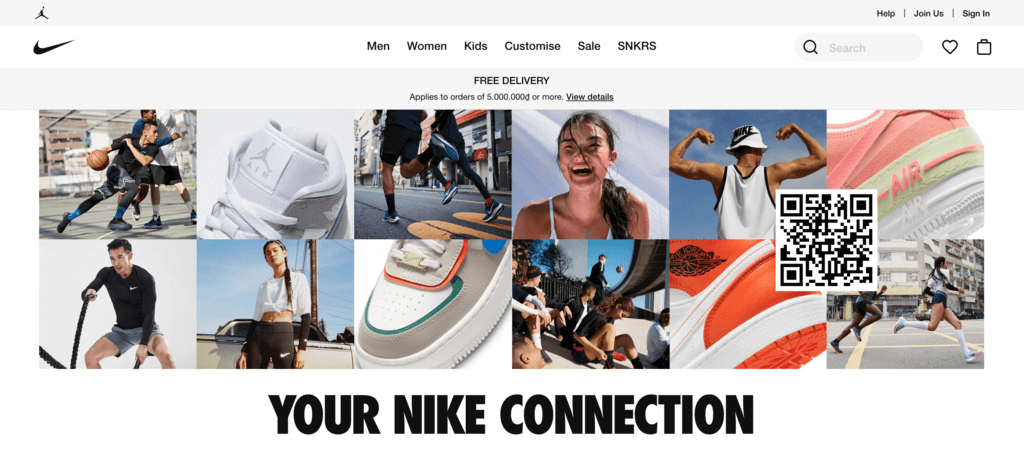 At the moment, Magento provides two available editions, which are Magento Commerce and Magento Opensource.
PrestaShop
PrestaShop is also a famous open-source online platform solution written in PHP.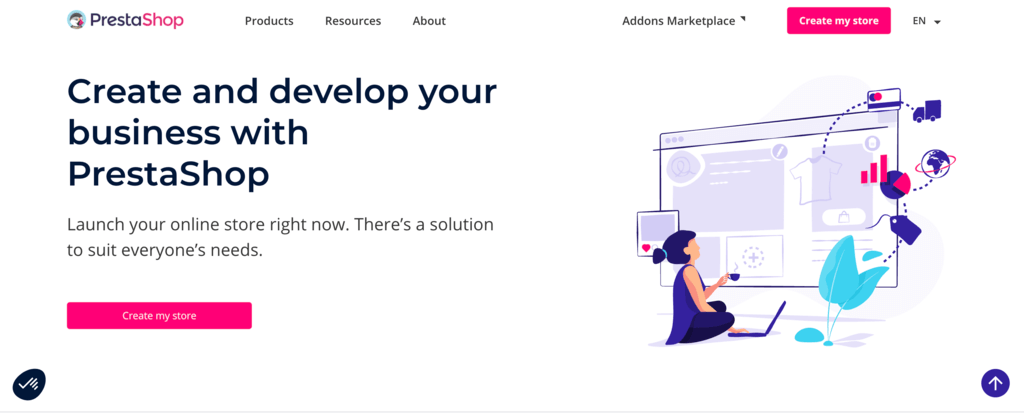 Prestashop is believed to be convenient and easy to use, with more than 300,000 live websites around the world running on this eCommerce platform, equivalent to approximately 6% of all online sites using eCommerce technologies in 2021. PrestaShop has become the eCommerce solution of many global brands such as Mcdonalds, Decathlon, Patrizia Aryton, Vissavi, and more.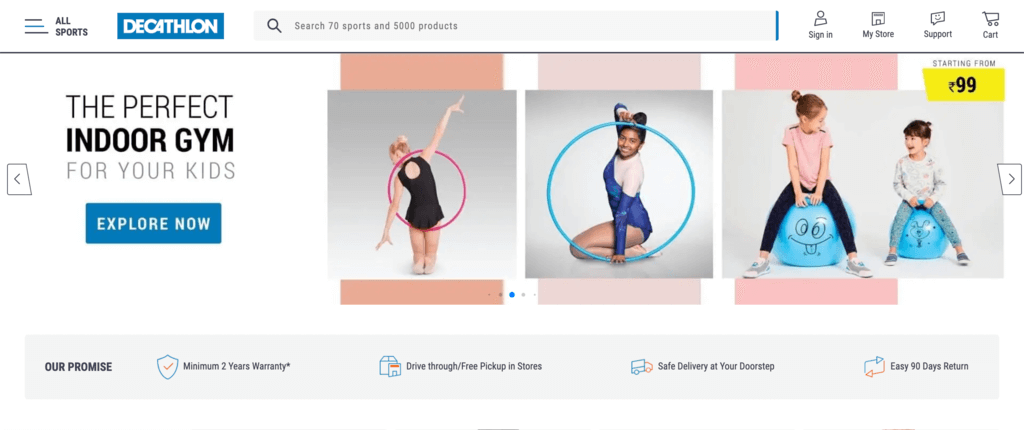 Currently, PrestaShop does not offer any enterprise edition.
Detailed Comparison: Magento vs Prestashop
1. Costs
Both Magento and PrestaShop are free to download, meaning online stores can experience a demo available to get a general picture of how the software works and its technical aspects as well.
As Magento is currently running two available plans, the Magento Open Source is free to download and install, while Magento Commerce pricing is based on store average gross sales revenue per year, starting from $22,000.
Prestashop, similar to Magento Open Source, doesn't require any licensing cost, meaning that it is completely free to download and use. However, it isn't a zero-expense eCommerce solution since businesses still need to buy hosting domains and modules to start online stores.
Along with licensing costs, there are a variety of additional costs that merchants need to cover:
Magento
PrestaShop
Licensing cost
$0-22,000
$0
Hosting cost
$10-25 (shared hosting)
$2000-$4000 per month
(dedicated & cloud hosting)
4$ – $14 per month
Developer cost
Agency: $25+/hour
Freelancer: $10+/hour
Inhouse team: $60,000/year
$50-$80/hour
Extension cost
$0-$299+
$35-$6000
Theme cost
$29-$499 (one time)
$50-$699 (one time)
2. Ease of use
In terms of usability, the backend interfaces of both Magento and PrestaShop are comparatively intuitive.
Magento is made for businesses with intermediate to advanced levels of web development knowledge, meaning that the installation and setup process might be complicated to some. Having said that, daily management of online stores on Magento will be fairly simple once you get the hang of this online platform.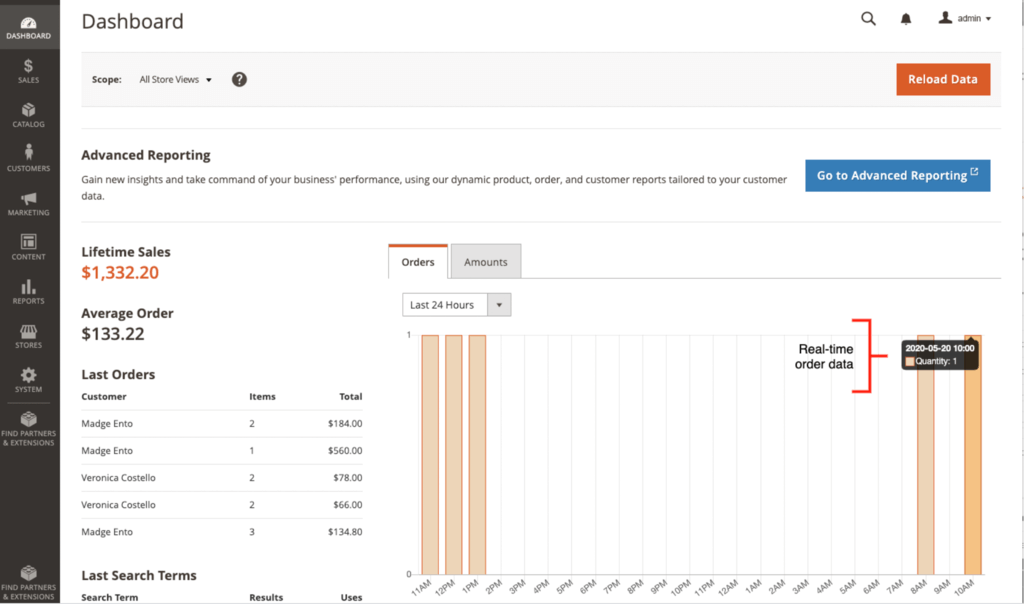 PrestaShop, on the other hand, seems to be a greater option if you don't have a high level of technical expertise. PrestaShop's backend interface is well-organized with a simplified management process to help businesses focus on major business factors. More than that, the admin panel of PrestaShop is accessible through smart devices like smartphones or tablets.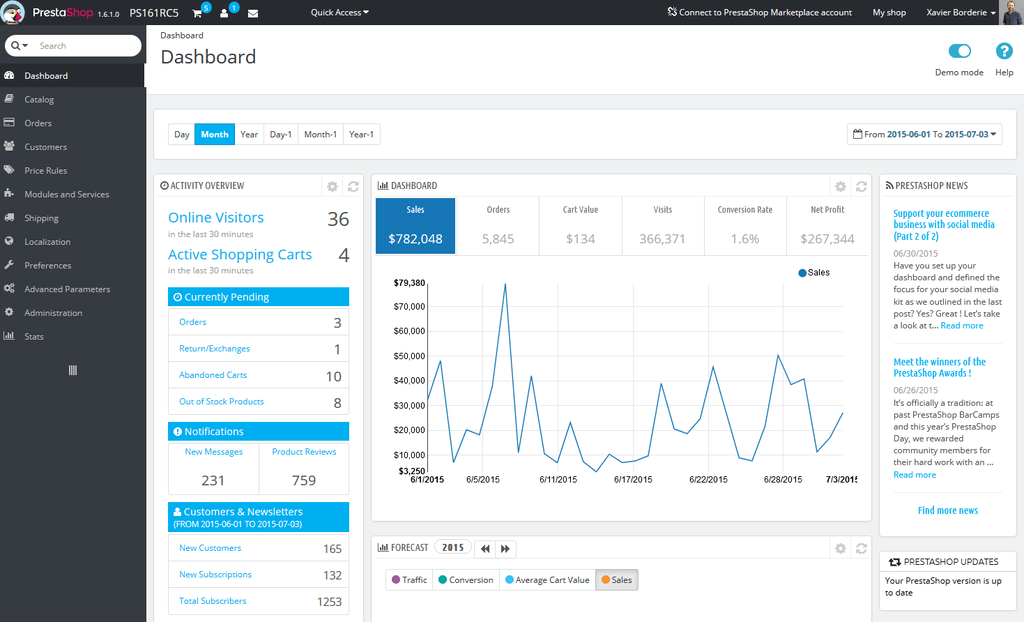 3. Performance and scalability
In order to scale up, businesses need to take into consideration the capability of your online server when handling traffic spikes. Having been well recognized as the eCommerce solution of choice for medium and large-size merchants, Magento is a powerful platform that is capable of handling around 500,000 visits per day. To maintain the stability and scalability that large enterprises require, Magento has made significant improvements in terms of client-side, server-side and database. Magento is also optimized to work with a big number of sales and thousands of products, with the best number ranging from 100,000 – 200,000 products. With proper optimization, a store powered by Magento can handle up to 500,000 items.
The ability to handle large amounts of traffic of PrestaShop is exceptional, yet still far from surpassing Magento. However, your website performance also relies on many other factors including its functionality and size, so a small or new online retail store still can gain benefit from PrestaShop performance. PrestaShop is suitable for small and medium-size brands with up to 100,000 items in the catalogue. Although they claim that the number of products a business can manage online can exceed 100,000, this might adversely affect the performance of websites.
4. Built-in features
PrestaShop offers merchants with more than 100 available built-in features that support all essential functions of an online business such as creating and managing products, reducing abandoned carts, adding multi-currency, multi-language, and more. Besides basic features, retail online stores can get detailed insights into the marketing campaigns and data analysis report to further enhance business performance in the future. Therefore, PrestaShop solution is suitable for B2C businesses across geographies with multiple currencies.
Similarly, Magento provides eCommerce stores with a comprehensive solution that covers all necessary aspects of online business. Even the free version Magento Open Source is already packed with first-class functions, including all aspects of online selling from sales and promotions to client segmentation. Magento Commerce version is believed to contain around 250 top-notch built-in features that can satisfy any business size and demand. Magento Commerce built-in features tend to be more powerful than PrestaShop because they can reduce the workload of installing many extensions and add-ons.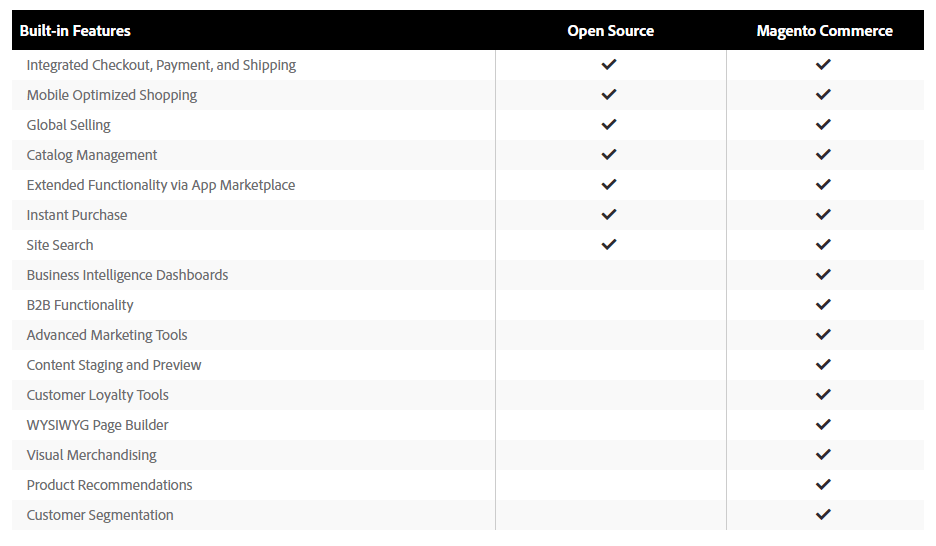 5. Extensions and plugins
In addition to built-in features, online stores always have the option of adding desired extensions and plugins to extend website functionality. There are around 4000 extensions and plug-ins for Magento on the marketplace that can come in free or paid plans. The number of useful extensions for your Magento stores is countless with a varied category such as Content & Customizations, Sales, Payment & Security, Shipment & Fulfillment and more. It can be said that Magento truly outperforms other eCommerce platforms regarding the number of available extensions, thanks to a growing third-party extension provider community.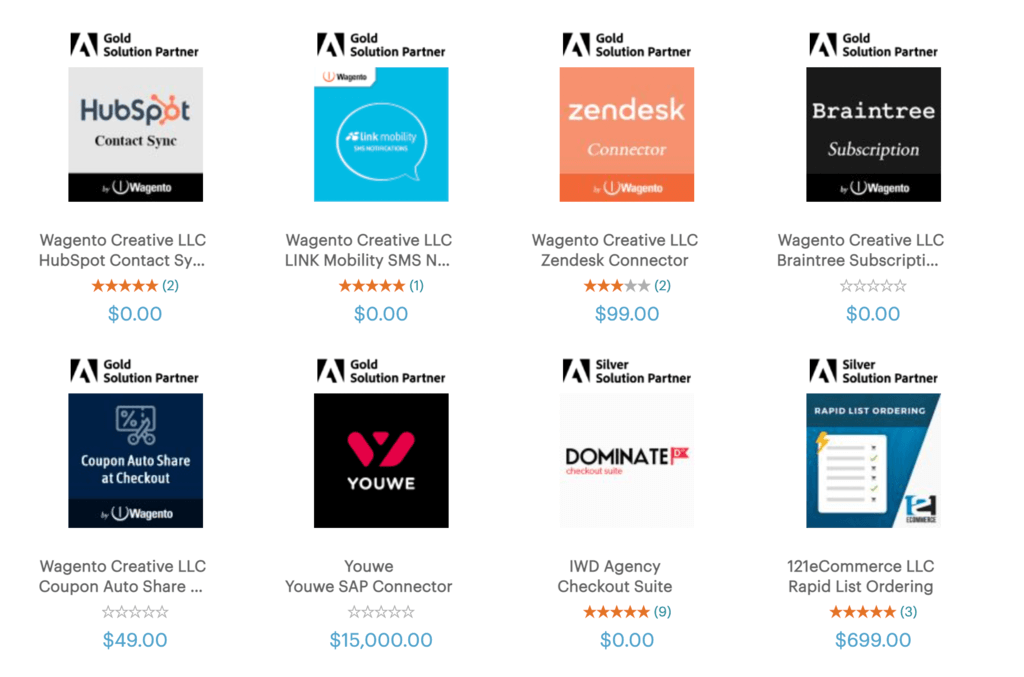 The number of extensions provided by PrestaShop is the same as Magento's, with around 4000 add-on modules that allow store owners to add new features in a few simple clicks. Every needed module to boost eCommerce business including traffic, conversion rate, and customer relationship is available at an affordable price.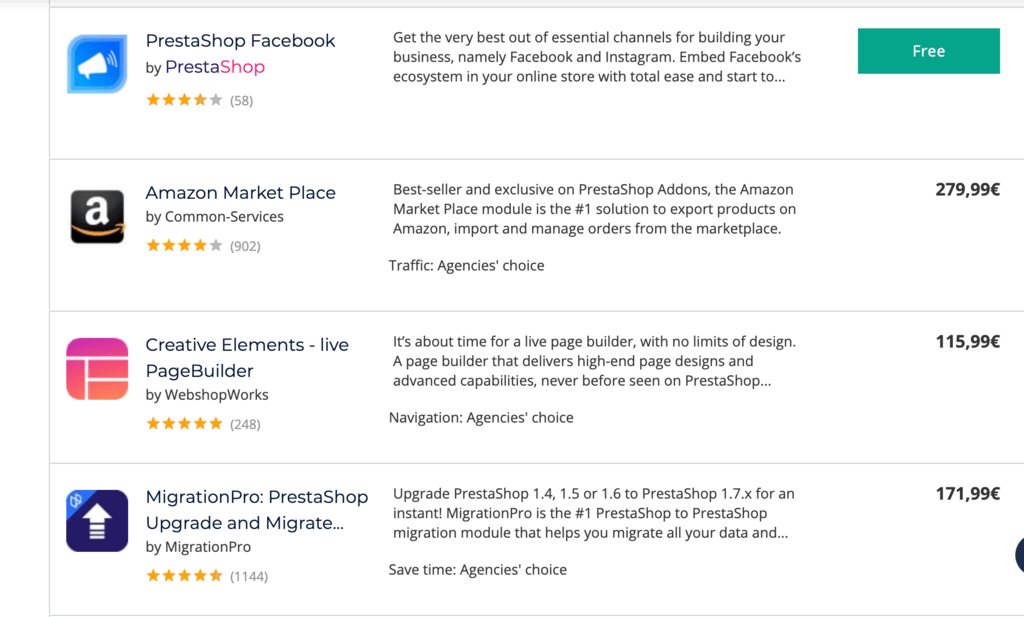 6. SEO
Regarding SEO features, both solutions ensure the best SEO optimization of your online websites. However, while most essential SEO features are already covered on the Magento platform, PrestaShop users need to install some SEO modules by themselves.
Some additional ready-to-use SEO features that are already covered in Magento are Sitemap and Google tools. When it came to the best eCommerce platform for SEO, Magento achieved rank #4, while PrestaShop stayed at rank #12.
7. Payment methods
The two platforms support diverse online payments methods via payment extensions and addons. The default PrestaShop module already includes frequent payment methods such as checks, COD or Paypal. Moreover, thanks to the PrestaShop Checkout Gateways, online brands have around 250 payment options from third-party service providers to ensure customers a smooth checkout process.
At the moment, Magento is offering Paypal, Authorize.net, cash on delivery, bank transfer, and purchase order payment methods by default. There are also various payment gateways that can be added through payment extensions.
8. Security
When it comes to online shopping, security is one of the top concerns that customers pay great attention to. Magento continually improves its security level by running Magento security patches every 10 to 15 days. Magento also implemented Magento Security Scan Tool to help eCommerce stores scan any malware or security breaches on their sites for free.
PrestaShop also takes security very seriously by offering many Prestashop security modules that store owners can install to ensure the platform's safety standards. Their set-up file is PCI compliant, which is a data security standard that every company accepting card payment needs to follow.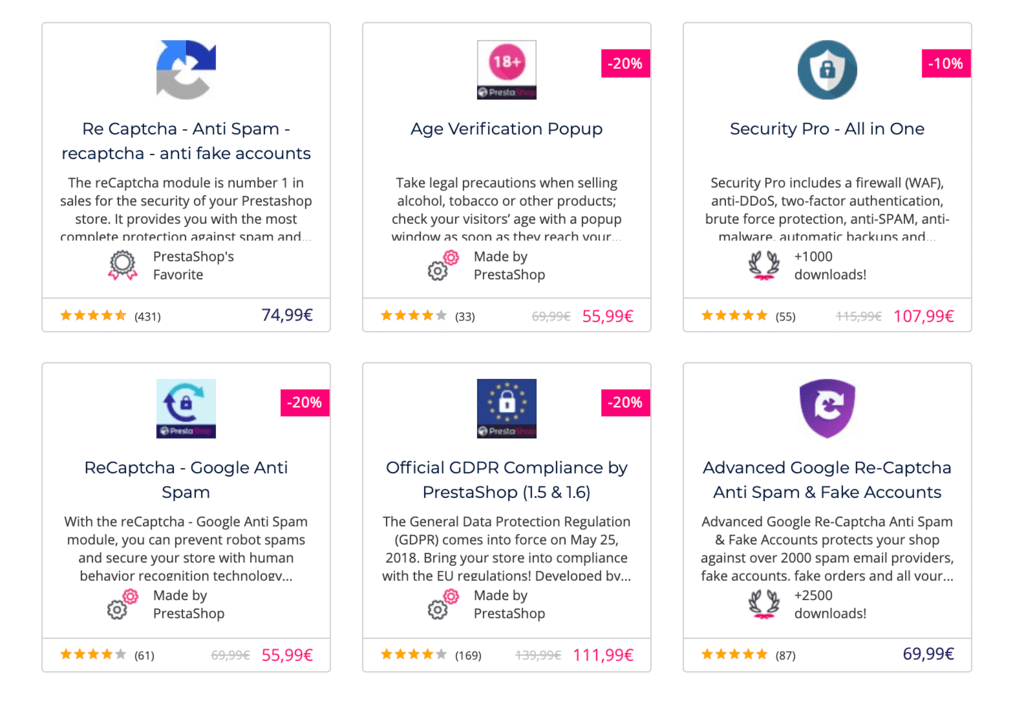 9. Themes
As an open-source platform, Magento allows online stores to customize the store theme on their own. Besides Magento default themes, there are hundreds of storefront templates and designs for Magento available from Magento Marketplace or third-party sites like ThemeForest. Typically, Magento themes are under $100 and they are compatible with all Magento versions.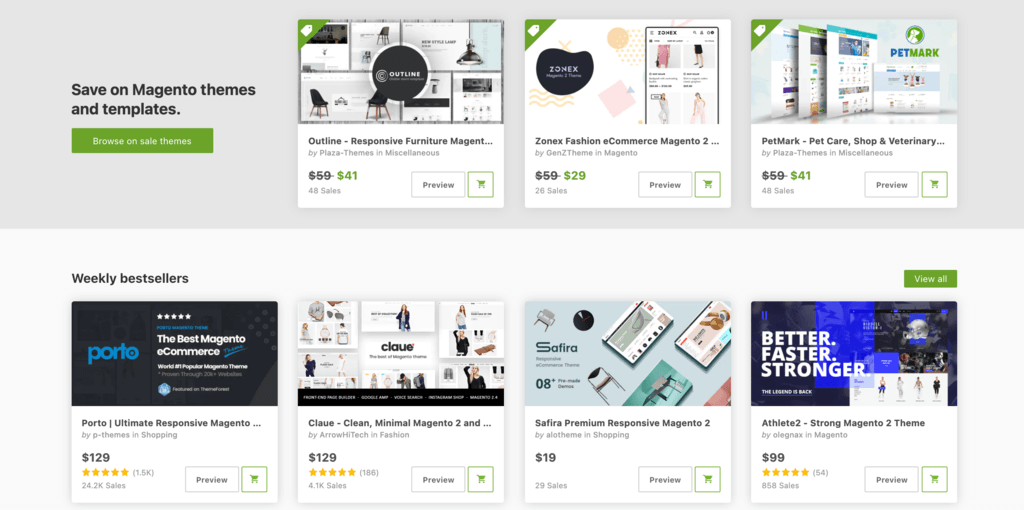 The number of theme options for the PrestaShop storefront is quite similar to Magento's. The default theme is easily customized by non-coders, and there are many online tutorials that guide you on how to customize your own PrestaShop. You can always choose the most professional and elegant one from almost 4,000 free and paid PrestaShop templates that give your storefront responsive features, theme colours and so on.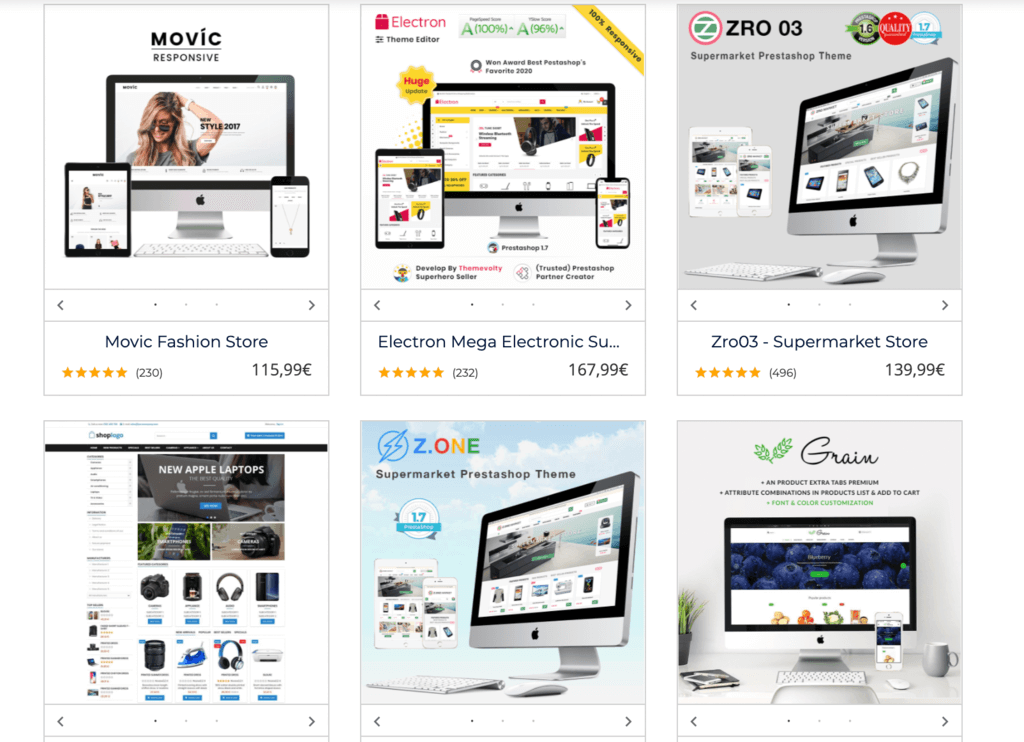 10. Support
Magento Commerce Cloud edition guarantees 24/7 technical supports for any issues that might come up. In case your online store is running on Magento Open Source, you can rely on Magento's guide for common problems, or reaching out to certified Magento solution partners. Asking for support from Magento Forums is also a smart choice, as this community is rapidly expanding with approximately 457,000 members.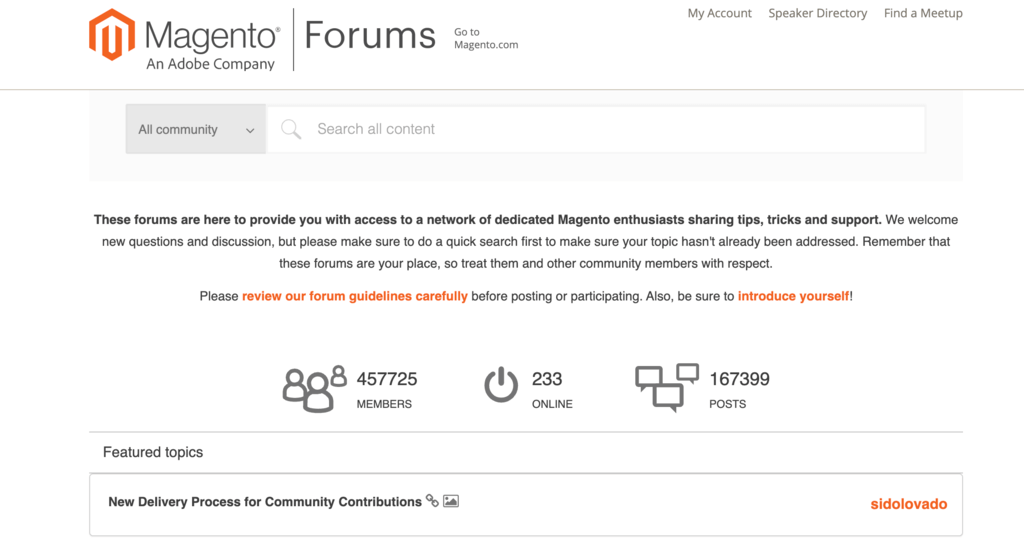 On the other hand, PrestaShop customer support requires payment with many PrestaShop Support Plans. If you run into any technical errors or complicated issues, contact PrestaShop Advisors and they will help you pick the most suitable Support Pack that fits your requirements. PrestaShop also offers a myriad of free documentation, videos and tutorials to help you address frequent problems by yourself.
Wrap up
So in the match between Magento vs PrestaShop, the final decision will greatly depend on your business size and available budget.
To sum up, PrestaShop is simple to use and cost-effective, making it a great solution for beginners or small-sized businesses. Meanwhile, Magento platform is more suitable for medium and large-sized enterprises thanks to its ability to handle thousands of products and massive website traffic.
Having said that, it can be seen that there is no absolute answer of which platform is better, so here is a summary of Magento vs PrestaShop comparison to help you make the best decision:
| | | |
| --- | --- | --- |
| | Magento | PrestaShop |
| License Cost | $0-22,000 | Free license |
| Ease of use | Require technical expertise | Simplified management process |
| Performance and scalability | Work excellent for large-scale business | Handle small to medium websites smoothly |
| Built-in features | Provide essential functions | Provide more cutting-edge features |
| Extensions and plugins | 4000+ extensions on marketplace | 4000+ addons |
| SEO | Powerful SEO built-in features | Require installation for some modules |
| Payment methods | Diverse online payments methods | Various payment gateways |
| Security | High security | High security |
| Themes | Available on third-party sites | Nearly 4000 themes available |
| Support | 24/7 Free Support for Magento Commerce Cloud | Require payment |