Along with Ads campaigns, SEO is another great way to bring your eCommerce site to a greater level, thus, generate better conversions. No matter if you have experience in SEO or not, this Magento SEO guide is perfect for Magento marketers to have a big picture, understand core concepts to plan your work effectively.
Also, not only does it provide best practices that matter, it is friendly for creative marketers who are not acquainted with technical works. In this guide, we utilize extensions so that you can save time and have an easy experience with Magento SEO.
Introduction to Magento SEO
What is SEO? Why does my eCommerce site need it?
SEO is short for "Search engine optimization". As the name speaks for itself, SEO is a set of optimizing practices for your website to be easily found on search engines like Google. As a result, your eCommerce store will get more traffic from potential customers.
SEO, in fact, is one of the most powerful marketing channels. It brings lots of benefits to your site in a way that no other channels can. Let's look at some undeniable SEO benefits:
Bring qualified organic customers to your store at no cost
Raise brand awareness and nurture leads
Improve users' experiences
Magento SEO guide: Key factors to bear in mind
Lucky for us, Magento is probably the most powerful eCommerce platform for SEO. It supports a wide range of features making optimizing web pages an easy-breezy experience. For example, Magento allows you to generate sitemap, give you control to write and redirect URL, and provide you with a great deal of extension to optimize further.
Before we get down to the most praised Magento SEO guide & practices, it is crucial to understand the key factors of SEO. And all complex SEO optimizations aim at enhancing these factors.
The three key factors of Magento SEO:
Authority: If Search Engines believe your website is trustworthy, secured, and helpful to the community, they will rank it higher. In our set of practices below, some such as blog posts, affiliate links will help with the authority. Also, the "https" practice will increase your site's rate of security.
Relevancy: Search Engines need to have a clear idea of your site's niche, your business, your true colour. Thus, they can send your site to users when they search keywords in your niche. For example, if you are a fashion shop, you have to make sure all of your content (images, text, blog post,..) are relevant to fashion. And it's the same for other niches,… Optimizing your image, on-page contents and researching keywords carefully are best practices for this.
User-friendliness: You would want the Search Engines' bot to get to know your website's structure well to index it without difficulties. You also want your website to be fast & smooth so your customer can have a seamless experience. Especially, ever since the introduction of Google core web vitals, site speed and UX affects SEO dramatically.
Best Magento SEO guide & practices
1. Crawling & Indexing
Crawling & Indexing is the process when Search Engines examines your site and indexes it into its gigantic website library. As a Magento SEO marketer, our goal is to help Search Engines understand closely our stores, their structure, what pages to index and what not.
So here is a guide to best practices you can do.
1.1 Generate XML sitemaps & HTML sitemap.
XML sitemap gives Search Engines an overview structure of your eCommerce sites, which URLs they should index and which not, while HTML sitemap makes this information easily accessible for users. A common practice is to set up an HTML sitemap for your most essential pages such as homepage, product page, important categories, subcategories and best-seller products.
Even though Magento 2 does not support an HTML sitemap, it is easy to generate an HTML and XML sitemap with SEO extension. These Magento SEO extensions would be extremely helpful in this case.
Moreover, you can generate XML sitemap easily by:
Go to Marketing >> SEO & Search > Site Map
Click Add Sitemap
Fill out the sitemap's name and path fields which is commonly sitemap.xml and /pub/ respectively.
Click Save & Generate
Submit sitemap to Search Engines. For Google, submit to Google Search Console.

Tips:
Keep your sitemap up to date. Go to Store >> Configuration >> XML sitemap (under Catalogue drop down) then set the scope value in the top left to default config. Scroll down to the generation settings, set Yes to the Enabled fields and enter the start time and frequency depending on your store business.

Create XML & HTML sitemap after you have done all other optimizations like rewriting URLs or removing unnecessary links. Your sitemap should be perfect before handing it to Search Engines to avoid bad indexing and further troubles.
1.2 Prevent duplicate contents
Duplicate content is when you have two or more similar contents whose URLs are indexed. As a result, they compete with each other to rank in search engines.
Here are two most common cases when duplicate contents can cause you troubles:
Faceted navigation: With faceted navigation, users filter and find their ideal products out of many in store based on, for example, size, gender, colour, brands. It's a common feature in every big eCommerce site. However, problematically, when a filter combination is triggered, there will be a new page, a new URL. In fact, a store of 200 SKUs can have 400,000 URLs for Google to crawl.
Internal search: People search a lot on your eCommerce site. You probably do not want search engines to index every page, since lots of them are low-quality and duplicated, which will affect your eCommerce store's domain authority. Yet, unfortunately, Google does index these pages as well.
In order to prevent duplicate content, you can learn to apply the robots noindex tag to stop Google from indexing or utilize the use of the all-in-one Magento SEO extension we have introduced earlier.
1.3 Use canonical tags to make sure product and category pages to be indexed
When there are two seemingly alike URLs with duplicated contents, the canonical tags tell search engines which one to index. In Magento 2, these are the problems: the canonical tag won't be set for product pages and category pages by default. Since a category page or a product page often has several URLs referencing them, we should add self-referential canonical tags for those pages.
How to set canonical tags for both product and category pages:
Stores >> Configuration >> Catalog >> Search Engine Optimization
Set the fields of Use Canonical Link Meta Tag For Categories and Use Canonical Link Meta Tag For Products to Yes
Click Save Config

1.4 Use Robots.txt to make sure unnecessary links are not indexed
Robots.txt can limit URLs that search engines crawl. To put it in another way, robots.txt tells search engines not to crawl certain links.
Here are some links you should consider blocking with the robots.txt.
Login pages
Internal searches page
Facet navigation
The user's shopping cart
Magento allows you to control the robots.txt with the following steps:
Go to Content >> Design >> Configuration
Choose the Store View to make a change and click Edit
In the Search Engine Robots dropdown, add your robots.txt commands in the Edit custom instruction of robots.txt File field.
You can use our robots.txt template to fill in the custom instruction.
Tips: you can also use the robots.txt file to submit your sitemap.xml to Google. Before generating a sitemap, simply:
Store >> Settings >> Configurations, choose XML sitemap (under Catalog dropdown)
Click Save config
2. Create SEO-friendly URLs
Clean & nice URLs enhance users' experience and allow Search Engines to understand your site's niche and topic better. Here are three key URLs practices for better Magento SEO performance.
2.1 Keep your URL short & descriptive
The best URLs are descriptive, brief, consistent, and keyword-focused. Moreover, you should remove special characters and use hyphens instead of spaces.
However, eCommerce stores have lots of pages, and it's hard to keep all URLs neat and clean. We advise:
Rewrite homepage, big categories page, about us and blog post's URL short & descriptive
Since it is difficult to keep product pages' URL short & unique, you should include SKU numbers to keep them short and avoid overlapping.
In Stores >> Configuration (under Settings) >> Catalog >> Search Engine Optimization, tick No in Use categories path for product URLs. This eliminates the category path in product pages' URLs, thus make it shorter.
Here is the example of a short product page's URL:
https://www.domain.com/Iphone-charger-jc5142545a
There are also paid extensions to help you automatically include SKU identifiers, automatically rewrite URLs, or improve the data import before you upload all products to your website for cleaner URLs that do not need rewriting.
2.2 Make sure redirection is done properly
Choose 301 redirects over 302 redirects:
Users often enter your site as domain.com rather than www.domain.com or https://www.domain.com. Of course, every marketer wants them to land the stores no matter what their users type. This is where redirection comes in handy.
Magento does enable this function, yet it is done with 302 redirects, which is known to have a bad impact on link equity. So for a healthy link system, you should change it to 301 redirects.
Stores >> Configuration >> Web (under General dropdown)
Select Url Options dropdown, change Auto-redirect to Base URL to Yes (301 Moved Permanently)

Also, ticks Automatic redirects when changing URLs for best optimization.
3. Optimize on-page content for Search Engine
On-page content helps increase the relevancy factors of your store. These simple practices will help you nail the on-page SEO content.
3.1 Title tags & meta description
Write short (30 – 60 characters for title tag and 135-160 characters for meta descriptions), keyword-centred and attractive title tags and meta descriptions on every important page.

To skip the exhausting of writing metatags for thousands of product pages, SEO metatag extension could give you a helping hand. You just need to apply simple rules then metatags are automatically applied for all pages. For example, SEO toolkit by Amasty let you set the maximum number for title tags and meta description tags, choose whether to replace meta descriptions that have been filled and set a template for all product URLs.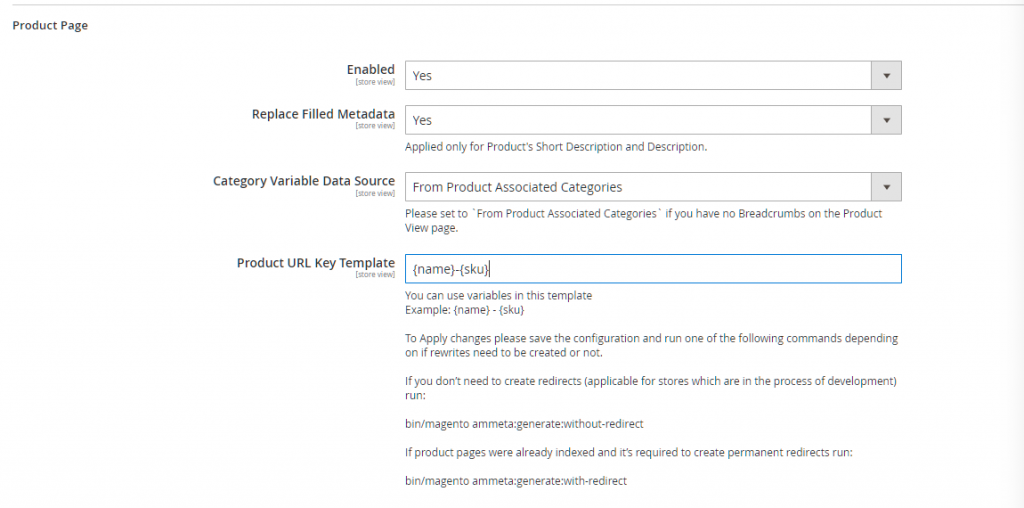 3.2 Make use of the related products feature
This does not only boost sales, increase user experience but also, in the SEO's point of view, increases session durations & strengthens internal link structure, which is relatively good for SEO overall.

3.3 Create SEO-friendly heading
Make sure your headings are related to the page's keywords & put them in a good hierarchical structure. This would help search engines understand your page contents & users navigate your site better.
4. Magento SEO guide for images
In order to maintain a seamless speed, products' photos should not exceed the 500kb limit. Thus, if you have heavy photo sizes, you should compress them before uploading them by using Photoshop or third-party online software. Both methods have to been done manually and are a bit time-consuming if you have tons of photos. Otherwise, consider using a photo compressing extension with a price ranging from free to 100$.
Furthermore, it is also useful to have short and descriptive names and alt title tags for your photos. Photos' names and alt title tags are also factors for Google to rank websites.
5. Create Structured data to leverage SEO performance
Structured data is another way of translating your store's page contents to Search Engine language. It is especially useful for commercial sites with a huge compilation of pages and links. Structured data, for example, enables search engines to tell the difference between your brand, your brand's products and other brands' products you sell.
As a result, search engines can make good use of the content it receives, and display your search results in a more attractive and informative way. In the following photo, you can see that price, rating and product's highlight features are well displayed to users thanks to structured data.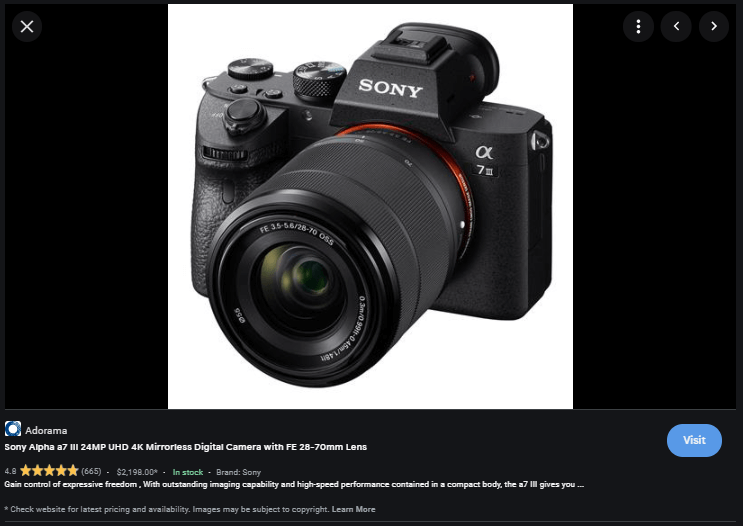 There are various types of structured data that fit your business. From products, local businesses to organizations, etc, Super SEO extension or other paid extensions in our previously suggested blog will help you with your structured data perfectly.
6. Speed up your digital store
As site speed is one of the most important factors for an eCommerce store, it also plays an important role to boost your site's ranking greatly. Since the introduction of the Google core web vitals, it's evident that Google now highly prefers sites with streamlined speed and amazing user experience.
If your eCommerce site does not perform well on PageSpeed Insights, you should work with the development team to fix this concern. Upgrading your eCommerce site to Progressive Web App could be your game changer. Since PWA not only significantly increases your site speed in both desktop and mobiles, it also comes with amazing conversion-driven functions.
Moreover, consider using a lazy loading extension to speed up your store a bit more.
Lazy loading explained: normally when loading a new page, your site will load all images simultaneously. Thus, it needs more time to be ready for users. With lazy loading, only photos in the top will be loaded first. Then photos in the middle and in the end of your site will be gradually loaded as readers scroll to the respective parts. 
7. Make your website safe and private
We all can tell that people take privacy more and more seriously now. So the privacy and security of your store is something both users and Search Engines care about. Luckily, you can easily change your Magento store into https, which is fully supported by Magento. In case you are a newbie, https is a more secure version of http for safer cyber activities.
How to change your Magento site into https:
Get an SSL certificate from a reliable SSL provider. Price ranges from 7$ to more 200$ a year based on your business size. Configure your certificate.
Stores >> Configuration (under Settings) >> General >> Web
Under Base URLs (Secure), make adjustments to the Secure Base URL and Secure Base Link URL so that they begin with https.
Set all values of Use Secure URLs on Storefront, Use Secure URLs in Admin, Enable HTTP Strict Transport Security (HSTS) and Upgrade Insecure Requests fields to Yes.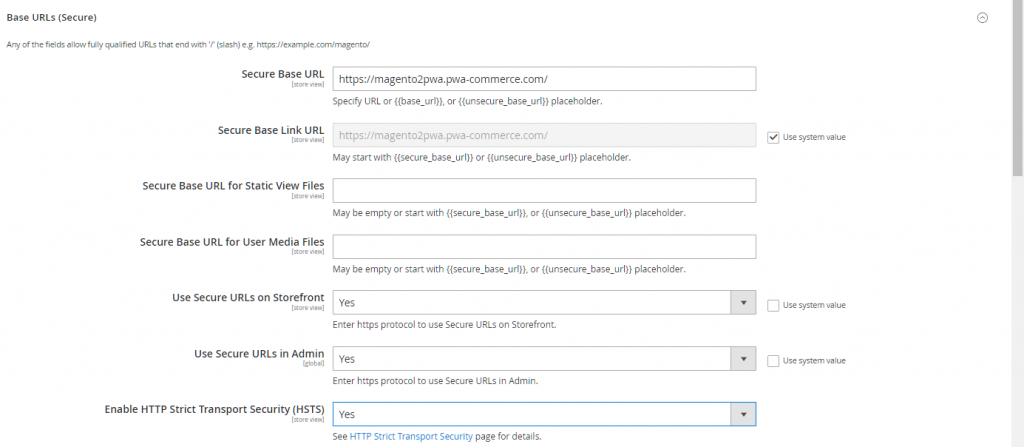 8. Blog post & affiliate links
As common sense, before buying new products, people often ask search engines for more information, from product reviews to price comparisons. Also, as the ultimate goal of search engines is to provide the most relatable and useful content for users, usually, the top Search Engine Ranking Result Pages (SERP) are not products or category pages but informational blogs.
Do a simple search on Google, it's spot-on that the top organic results pages are often something like this: "best 10 sunscreens in the summer", "top 5 affordable camera & reviews", etc.
Therefore, blogging is a great choice to bring more potential customers to your store. Try how to, top product list, review, brand introduction posts for your store's very first blogs
Besides apparent SEO benefits such as increasing traffic, strengthening the internal link system, blogs are also a great bridge to bring your store closer to your customer. Because it brings value to users & raises brand awareness.
Affiliate links are another clear path to Magento SEO success and lead conversion. When you have other sites written about your products and link back to your store, it tremendously increases your site reputation in Search Engines' eyes.
9. Keyword research, analytics, and report
Keyword research is the most fundamental SEO eCommerce practice, and it is not much different when it comes to Magento SEO. Every Magento SEO marketer should use keyword research tools to research & compile a list of relevant keywords, choose a number of prevalent pages to rank for their respective keywords.
There are many keyword tools available from free (Google's keyword planner) to paid plans (SemRush, UberSuggest).
After a period, use Google Analytics as it is a powerful tool to analyze if your blog posts are performing well, or which affiliate partners or sites generate the most revenue for your shop.
Conclusion – How to use the Magento SEO guide effectively
As you can see, all of the Magento SEO guide & practices above can be divided into two groups:
Practices that can be set up at once
Practices that need to be done from time to time
Of all the practices, it's advisable you list out what you can do right away, what you have to learn a bit, what extension you should buy, etc. If you decide to opt for extensions to save time and life force, an all-in-one extension is here to save the day (and money).
Our list of Magento SEO extensions free and paid provides some really good one that enables lots of the practices above.