A POS, or a point of sale is wherever your customers make a purchase for your products, from online stores' checkout pages to physical stores' cashier counters. Integrating multiple points of sale into an omnichannel sale system empowers a faster and more convenient checkout experience, which satisfies both customers and store owners. 
If you have an online store and a brick-and-mortar store, a POS system is a must, and there are many options available. This article will explore all of the best Magento 2 POS systems, their pros & cons so you can find the right one for your business. 
Do not know what a POS is? Learn everything about 
What do you need in a Magento 2 POS system?
It's critical to understand what major Magento 2 POS systems offer and what they mean to your business to make the best judgments. 
Here're crucial factors of a Magento 2 POS system.
Real-time data synchronization
Fast checkout
Various payment options
Employee management
Customer profiling
POS hardware
How do these benefit your business specifically? Let's get into each factor:
Real-time data synchronization
Every time an order is made or a new product is imported, your business's sales & inventory data changes. A POS system will sync all of these updates in real-time across your Magento websites, your physical stores, and your warehouses so you can view them in one dashboard. 
It also shows your stock level and alerts if you run out of stock to avoid overselling.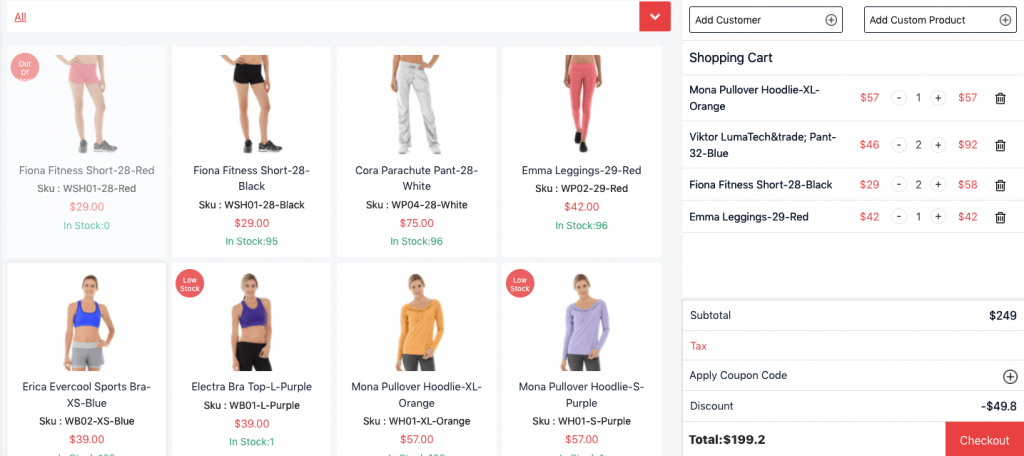 As a result, you can manage your multiple inventories effectively, as well as provide a consistent checkout experience for your customers.
For example, a customer has previously purchased via your online store and has his store credits accumulated. Now, he can go to your brick-and-mortar store, test your products and pay with his store credits. 
Fast Checkout
A good POS can speed up your cashier's process of finding products to add order information into your computer system, which makes checkout a breeze. She/he can effortlessly find products by name, SKUs, or even by scanning their barcodes.
The more efficiently they can find products, the less time your customers have to wait in the checkout line. 
Various payment options 
Offering various payment methods allows your customers to pay in the most convenient way for them. 
There is a diverse range of payment gateways and methods available:
Cash
Bank transfer
Credit/ Debit card 
Paypal, Authorize.net, Braintree
Mobile wallets such as Apple Pay or Google Pay
Barcode associated with bank accounts or mobile wallets
Store credits
Some POS systems provide you with more flexible forms of payment such as layaway, in-store pickup, split payments which means combining different methods in one transaction. 
You can also apply discount codes, coupons and loyalty rewards with no difficulties. 
There are many payment gateways and options and not all Magento 2 POS systems support similar methods. Therefore, it's important to consider which one is critical for your business to pick a suitable choice. 
Staff management
A POS system helps store owners understand their employee's performance better, thus, take appropriate actions. 
Magento 2 owners can be well-informed about sales generated by each store and working shift. Thus, they can quickly spot the leading store or the most sales-driving staff.
Plus, the tool can assign inventories and outlets to your respective sales agents, give them certain permissions and restrictions to use the POS. This clear hierarchical structure helps your businesses operate more smoothly without friction. 
Customer profiling
Customer's checkout data such as their previous purchase, demographic information, email addresses, are precious for businesses to run effective marketing campaigns or to upsell. 
For example, your cashiers can read this info to recommend better-personalized products during checkout. Also, basic information such as email addresses or phone numbers can be used for better-targeted ads or email marketing. 
Many great Magento 2 POS systems gather the data in one place for these purposes.
POS hardware
A POS system has two separate parts: software and hardware. While the software, directly integrated with your Magento's backend, offers all of these features above, the hardware refers to different devices to support physical payments. 
Here are some most common POS terminals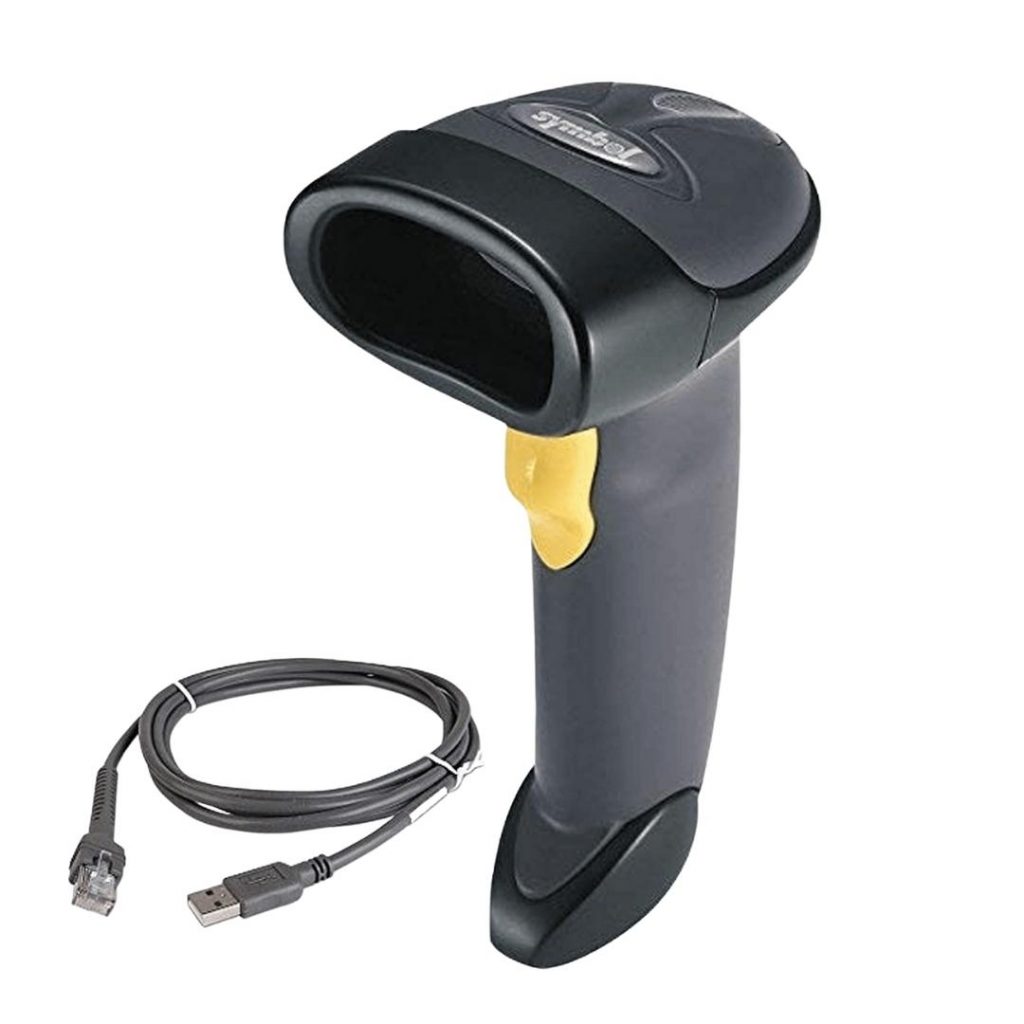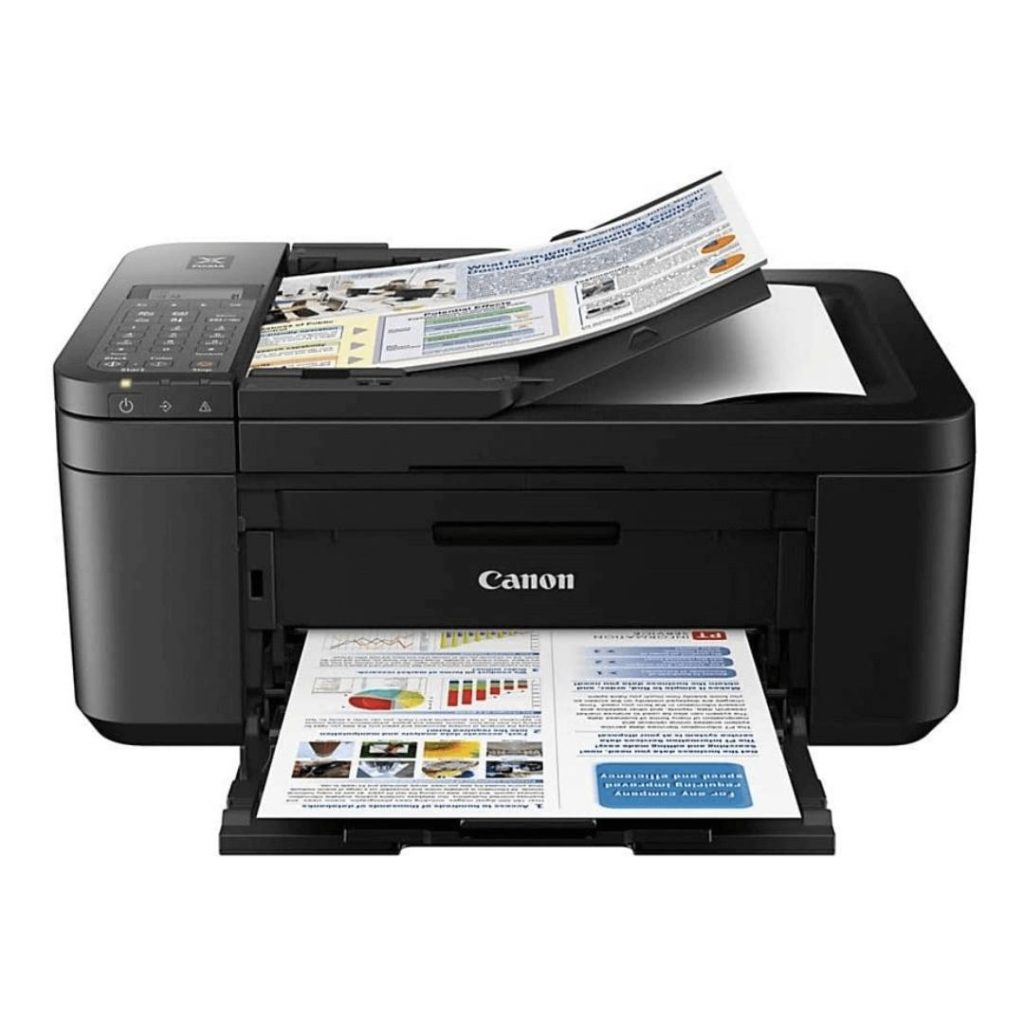 ​
Depending on your business, you may need different POS hardware. 
Traditionally, a business would need a registered screen, a cash drawer, a printer to print receipts, and a barcode scanner for their cashier counter. 
But nowadays, many POS systems can work on tablets or mobile devices. To minimize costs, some small businesses only need an iPad with a POS system, along with a credit card reader that is connected to the iPad to process transactions.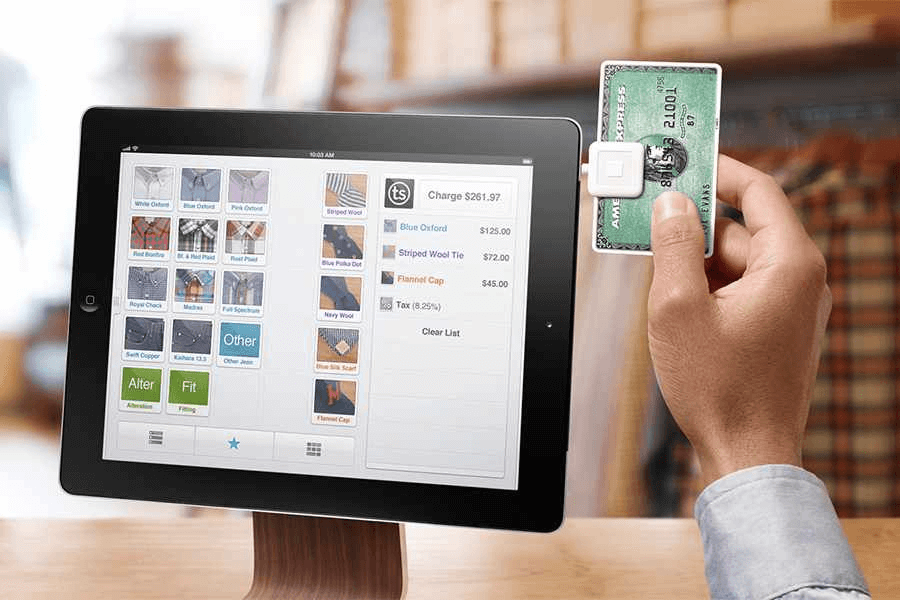 Best free POS systems for Magento 2 
Zettle was bought by PayPal in 2018, which then became one of the biggest POS providers in Europe.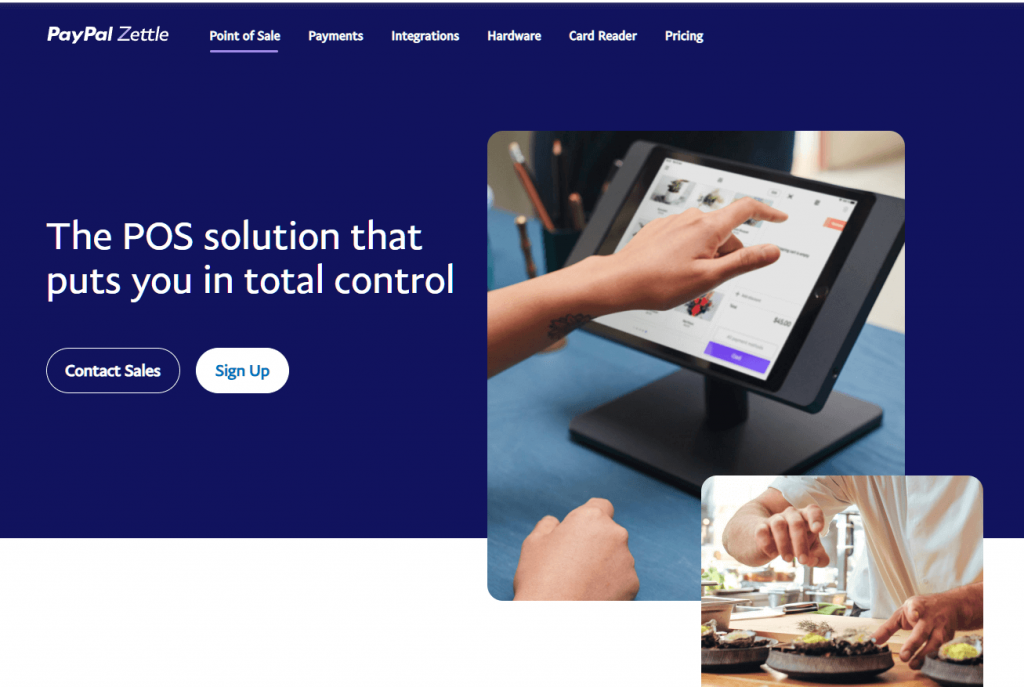 Highlight feature:
Report and analytics: product sales & refunds, category sales, customized time periods, and export Excel sheets.
Inventory management: easily import, edit, organize products and get stock levels automatically informed. Manage all inventories under one roof, sync real-time data. 
Add custom products that are not on the product list yet.
Digital and paper receipt
Manage working shifts and sales activities in one dashboard. 
Various payment methods: Paypal, Venmo, MasterCard, Apple Pay, Google Pay, Samsung Pay, American Express, JCB, Union Pay. Paypal-standard's payment protection
Easily use Paypal or Venmo (US) for QR code payments
Pricing:
Free to set up and use. 
Processing fee: 2.29% + $0.09
Hardware: $29 – $699. At a minimum, you can purchase a card reader which lets you accept chip cards and contactless payments via Bluetooth connection. The first one cost $29, from then, an additional card reader will cost $79.
Pros:
Support all major payment methods and contactless payments with a high-security standard.
Quick to set up and easy to use
Provide a comprehensive list of POS features with an attention to detail even though it's free
Cons: 
Offline mode is not available
Accumulated processing fees may cost enterprise businesses with high sales volume more. 
Payments can be made via Paypal only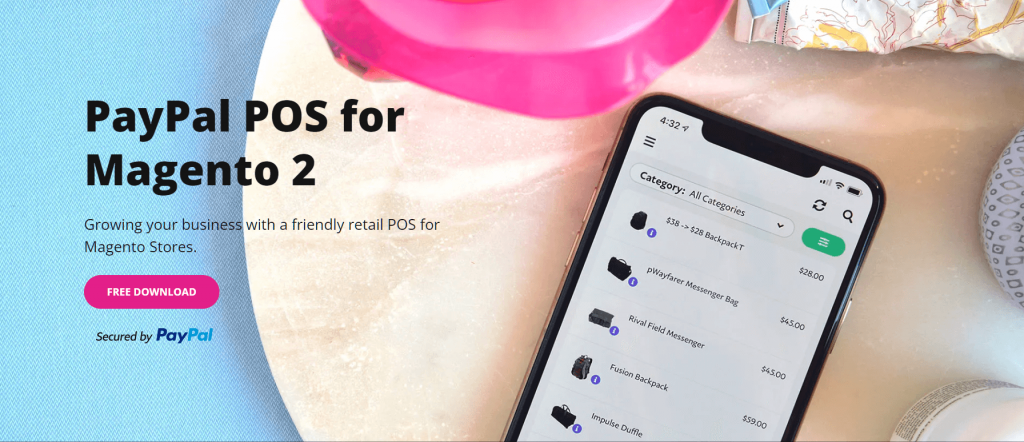 Designed by IWD agency, this Magento 2 extension integrates your online store with the POS system of Paypal.
Highlight features:
Automatically sync products, inventory, shipping, and payment methods from your Magento stores. 
Offline payment: accept payments in offline mode and process them when the internet connection is back.
Find your customers' account or create a new one during checkout easily
Add coupons and discounts
Issue a refund
Allow many in-person transactions: from check to cash to credit, pay with QR code. 
PayPal-standard's protection
Browse or filter products/orders easily.
Pricing:
Free to set up and use.
Card reader: $24.99
Other charges are related to PayPal transactions.
Pros:
Quick to set up and straightforward to use
The ability to generate a QR code for each order so that your customer can scan and pay. With this tool, you only need a PayPal account, a Magento store, and the POS app to work, no other hardware is required. 
Offline working mode to complete transactions even with poor internet connection.
Many options for flexible checkout.
Cons:
Payments can be made via PayPal only. Processing fees may cost greatly for stores with many sales. 
Do not offer team management and reporting features
Do not integrate with Magento's loyalty programs and extensions to use store credits and rewards for payments.
Do not have an app option for Android
Square is one of the biggest POS providers with over 2 million business users in the world. Its free POS version for Magento offers basic functionality which is easy to install and use.

Highlight Features:
Automatic data synchronization and multiple inventory management
Show your most sought-after items for a quicker checkout
Various payment processing options: major credit card, Apple Pay, gift cards, invoices, refunds
Save your customers' info & previous purchases 
Sales report: find gross sales, sales count, and refunds
Pricing:
Free to set up and use
Processing fee: 2.6% + 10¢ for touchless payments and card swipe
Hardware: starting from 0$ – 700$. At a minimum, you will get a free magstripe reader which allows you to accept credit card payments via mobile devices. 
Pros:
Easy to use
A decent sale reports and customers report
Square's assistance to handle transactions, refunds, voids, and cancellations
Cons:
This extension offers basic POS features only
Is not compatible with Magento 2.3 and 2.4
Best paid POS systems for Magento 2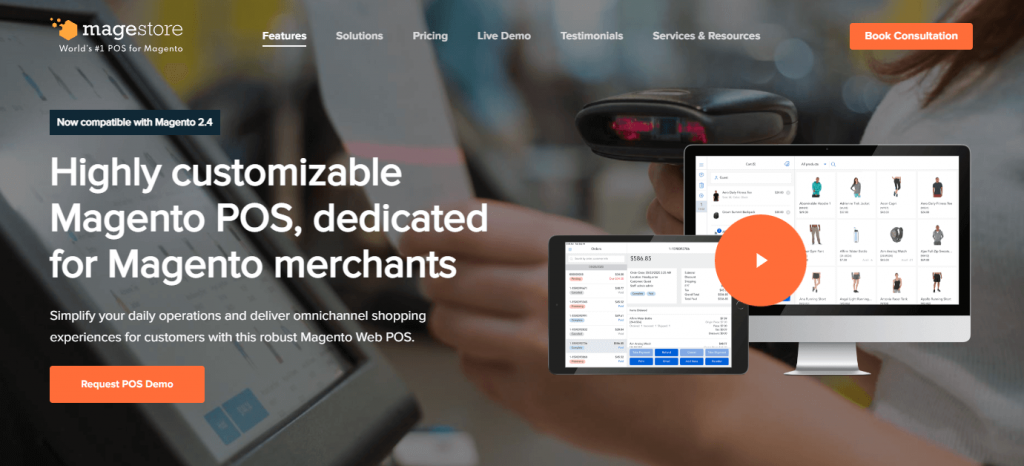 Magestore has 10 years of experience in Magento development with a strong focus on the POS system. They pride themselves on being the World's #1 POS for Magento. 
Highlight features:
Real-time data synchronization
Highly compatible with the latest versions of Magento and its updates. Seamless integration with other Magento extensions. 
Offline payment mode
Loyalty program: apply Magento promotion, reward points, gift cards, store credits. 
Various payment options: cash, cheque, cards, store credits.
Use Magento's discounts code and coupon, partial payment, reward points, and gift cards
Report for each working shift and daily report
Backorder: order out-of-stock SKUs and deliver them to your customers later. 
Pricing: custom pricing based on the number of stores, business requirements, and level of support. 
Pros:
Highly customizable for your business's specific needs. You can add any features you want.
Connect perfectly with Magento and its extensions, thus, minimize the risk of integration bugs and errors. 
365-day money-back guarantee
Since the extension use PWA technology, you can access it with any device (desktops, tablets, and phones).
Cons: 
With many features and customization options, it can be complicated to learn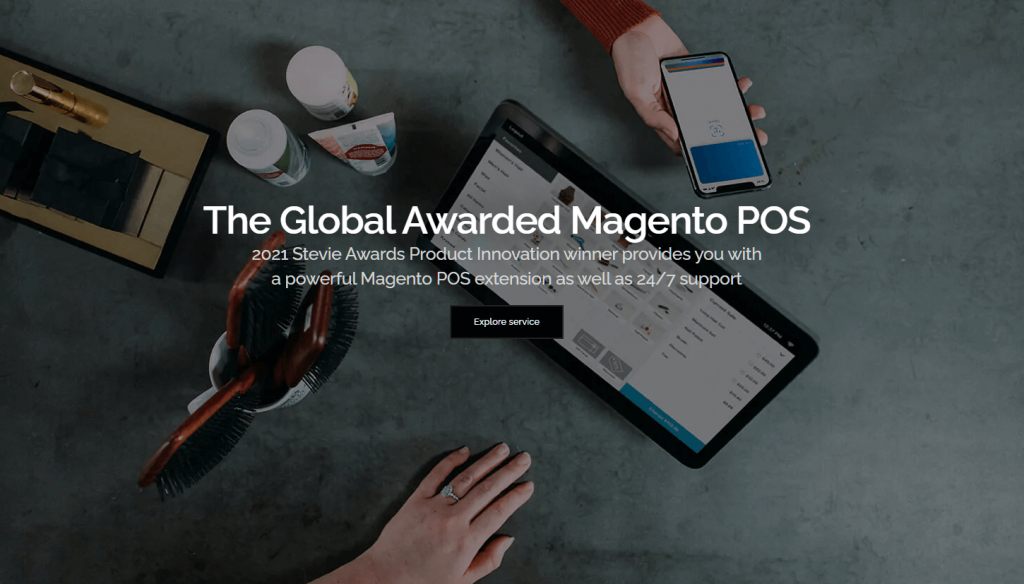 ConnectPOS is a world-renowned POS company that won the 2021 Stevie Award Product Innovation. The company brings about unique & effective POS features into the table.
Highlight features:
24/7 support
Automatically synchronization 
Manage stocks from all warehouses in one place, get stock updated in real-time, stocktake easily
Generate quotations for high-volume purchases.
Manage tax on and- offline easily for smooth international payments
Add custom products that are not in the inventory such as gift bags, etc.
Work in offline mode
Various payment options: store credits, gift cards, layaway, refund, and exchange, multi-method payment, barcodes, self-checkout, click and collect
Backorder and pre-order. 
Work with Magento's loyalty program as well as customer retention plugins by Aheadworks and Amasty. 
Team management: view performance reports, assign different roles and permissions
Pricing: upon requests. However, you can use their previous pricing plan for reference: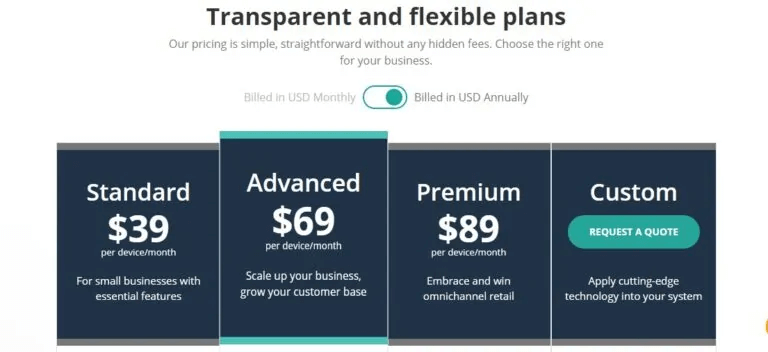 Pros:
A complete solution with strong built-in features for inventory, order, and product management.
Self-checkout solution: customers scan your QR code and get access to a ConnectPOS' web app where they can browse for product details, complete transactions on their own. 
Cons: 
Consultmozaic provides Magento users with a complete POS solution to streamline the checkout process, track performance, and run their businesses smoothly without breaking the bank. 

Feature highlights:
Real-time Inventory management
Add products using barcodes scanners, notify whenever you add an out-of-stock item to the cart by mistake.
Put orders on hold and continue the transaction later
Enable checkout as guests or registered accounts
Work in offline mode 
Add custom products that are not in the inventory yet
Payment methods: Stripe, Paypal, cash along with split & partial payment. Custom payments are available upon inquiry.
Use discounts and print invoices. 
Issue refunds and returns
Compatible with Magento's tools for customer loyalty to take advantage of its reward points, gift cards, and store credits. 
Assign different roles and permissions to sales representatives
Manage cash flow for each working shift, thus, oversee your team's productivity.
10 types of sales report
Pricing: $299/one-time. 
Pros:
A comprehensive list of POS features
Dedicated account manager' assist to install within 3 days as well as 2 hours of online training
100% customizable for your business
A great-for-value price that can be paid at once
Cons:
Not compatible with the latest Magento versions of 2.3, 2.4
With its rich built-in features, this is a great POS solution for Magento's retailers, wholesalers, and restaurant owners alike.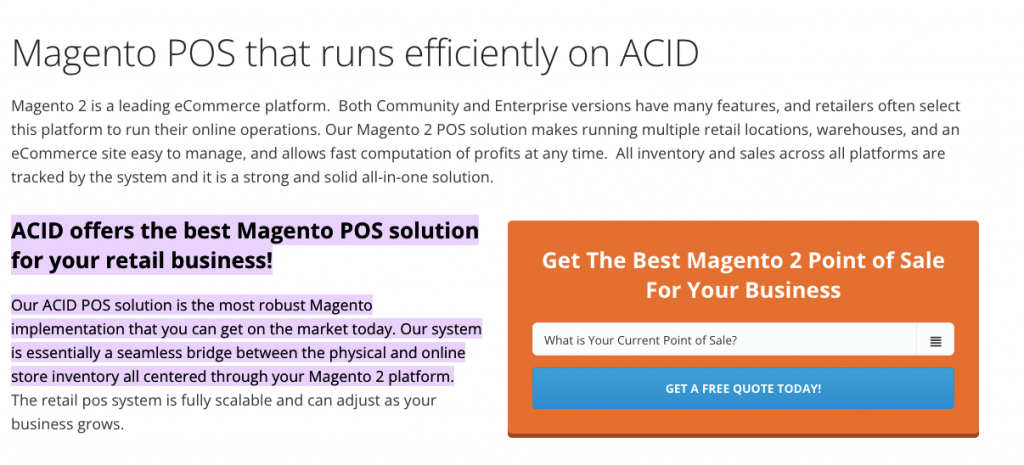 Automatically sync data among inventories, physical stores and online stores
Out-of-stock alerts, inventory forecasting
View customers' info and purchase histories. Add custom fields to acquire more information
Track staff's performance and attendance
Manage permission and roles for different users
Control on-hold payments and process them later
Configure products' size, colors, etc during checkout
Multiple payment methods: cash, check, credit card, authorize.net, store account, reward points, gift cards, point of banking
Flexible transaction: split payments, in-store pickups, discounts, layaway, invoices
Purchase order and supplier management
Refunds and exchanges
Labels and barcode management
Loyalty rewards and tier-based discounts
Comprehensive reports: payments, taxes, wholesales, sales by brands, etc
Tickets, tips, and donation management
Pricing: upon requests
Pros:
An extensive tool with all essential POS functionality
Various payments methods
Assist Magento's wholesale stores with features for purchase orders, invoices printing, wholesale reports, and more. 
Cons:
Hidden pricing
Does not work in offline mode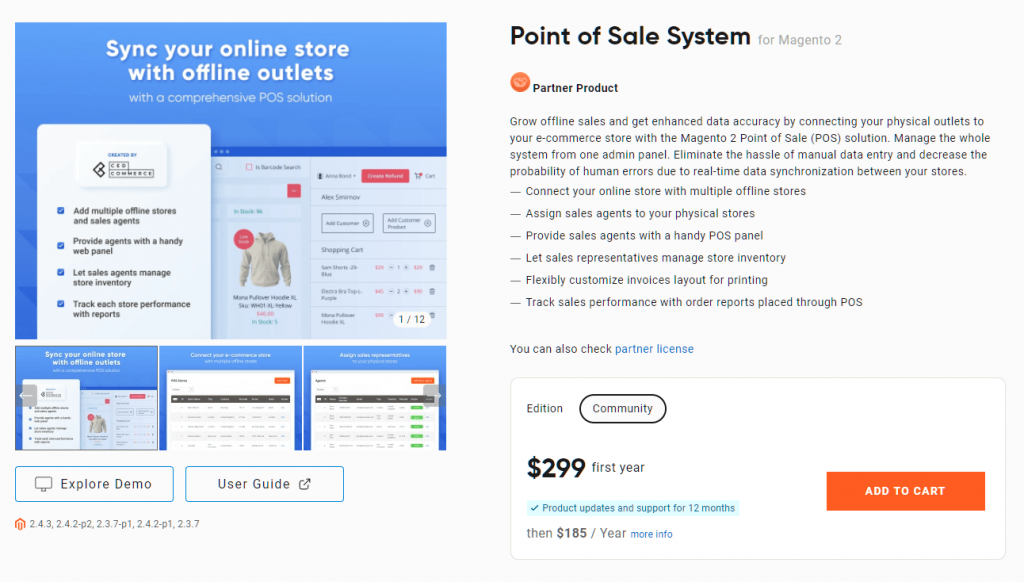 The POS for Magento 2 by Amasty helps you save time and avoid human errors with its automatic data synchronization and a useful inventory management tool. 
Highlight features:
Control orders and products from all stores in one place, real-time synchronization
Set representatives and views for each store. 
Show low-stock and out-of-stock labels.
Easily create a new customer account during checkout or find an existing one. 
Add custom products
Easily browse product using its SKU number or barcode
Apply discounts
Reports for each sales representatives
Support split payments between cash and card. 
Pricing: 
$299 for the first year. $185 for the upcoming year.
Pros:
Great flexibility to assign sales representatives
Able to create refunds for all order's items or some of them
Manage several orders at once
Cons:
Does not support a wide variety of payment options.
Lacks some POS functionality such as offline mode payment, customer loyalty. 
This Magento extension by Webkul offers all must-have POS features at a reasonable cost. The development team has paid great attention to detail so that Magento merchants can process checkout, manage stocks, and order with great convenience.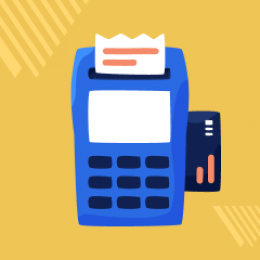 Highlight features:
Real-time data synchronization
Show stock status, assign each sales representative for each physical store. 
Work in offline mode
Search your customers' account by phone number or create a new one during checkout easily
Hold cart so that your customers can continue the payment process later
Major payment options: cash, credit/debit card, and split payments
Sales report: revenues, tax, shopping, etc
Pricing: 
The Magento 2 POS system: $249
Installation cost: $39.80
Pros: 
Affordable and one-time payment
A 30-day refunds guarantee
A basic solution with all essential POS features
Cons:
It can be complicated to set up at first. High installation costs
Does not support lots of payment options
Lacks some POS features such as integration with Magento's loyalty program.  
Bindo is a New York-based company that offers an efficient POS solution for retailers to leverage their customer journey in both online and offline channels.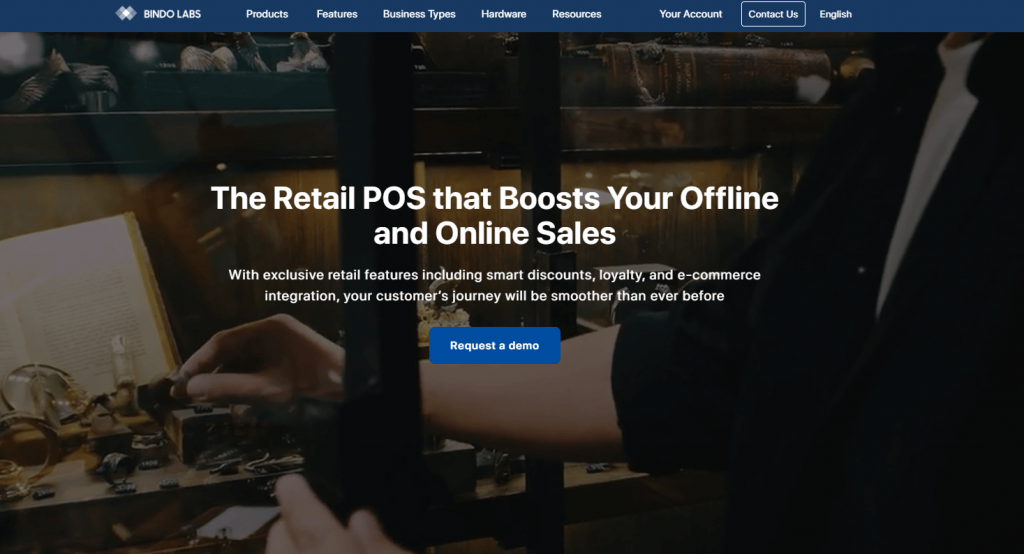 Highlight features:
Sync all inventories into one dashboard, create custom inventory reports, use QR codes to import products, search and sort products, view stock levels
Enable "bill now, pay later" 
Support major chip cards, contactless payments, and printing receipts.
A POS that can read EMV chip cards – a technology to enhance payment safety. 
Smart checkout: display your customers' data during checkout, recommend personalized products for them to upsell
Sales report
CRM & Customer loyalty: save customer data, gift cards, and store credits
Pricing: Upon request
Pros:
Great features to enhance your customer experience and upsell during checkout. 
A full-scale solution with lots of different POS functions
Cons:
The POS system is particularly created for iPad only
Integration and synchronization with your Magento store need to be customized by Bindo developers. 
Ebizmart is another reliable POS solution that is specified for Magento store owners to go omnichannel and satisfy their consumers.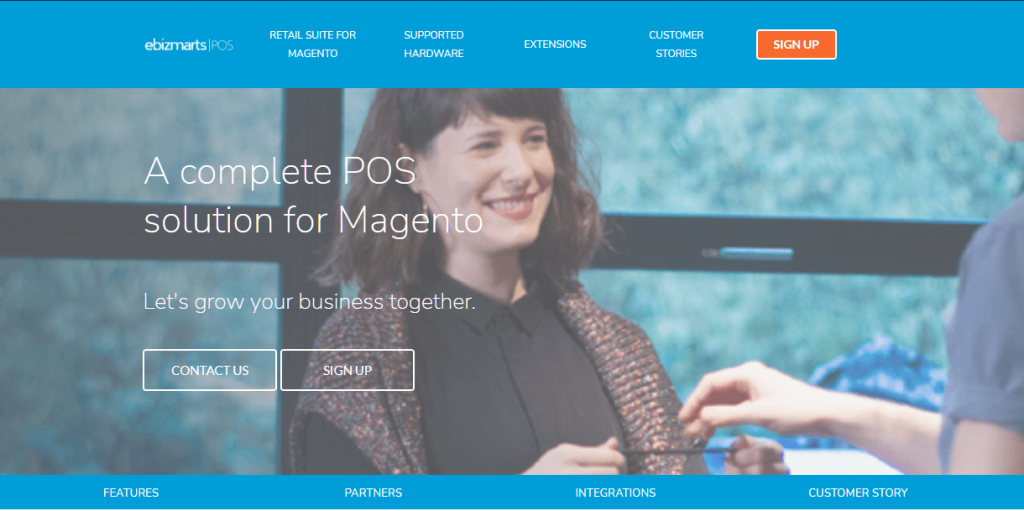 Highlight features:
Easy to set up and use
Real-time inventory synchronization and management, search products with barcode scanners
Search order online by entering customers' names or order ID
Support several payment methods: Paypal Here, Sage Pay, Ayden, gift cards, and cash. 
Easy to create returns & refunds
Assign roles and permissions to different POS-users
Shift reports to manage your revenue income.
Make versatile tax adjustments
Configure products, add discounts and order notes during checkout
Print & email receipts
Change the POS' theme color to match your brand's image
Pricing:
Enterprise: $350/one-time (including 1 POS device key)
Enterprise +: upon request
Pros:
Affordable price with a one-time cost and a free test account
A basic POS package with all must-have features included
Cons:
Can be used for iOS devices only
A limited number of payment methods supported
AgileCodec presents a robust POS solution with great purchasing versatility to meet the needs of various customers and enhance the checkout experience.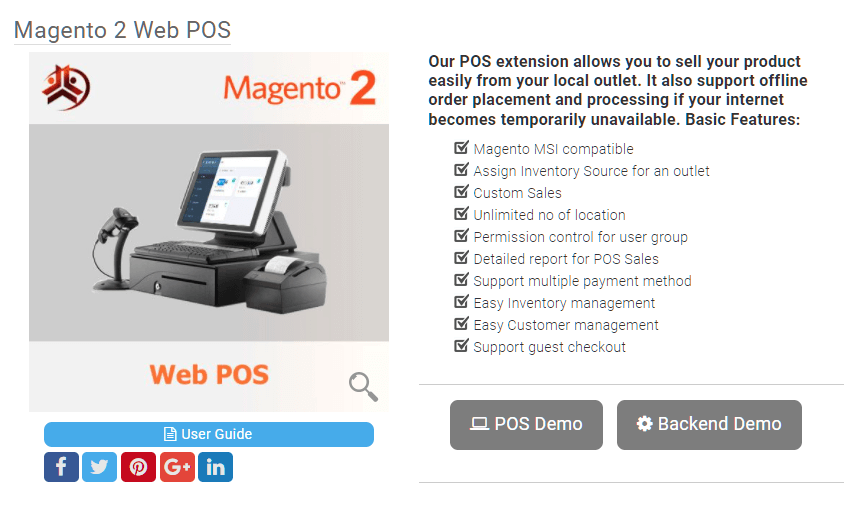 Highlight features:
Reports to track sales by staff or store locations. 
Inventory management and auto-synchronization, grant roles and permissions for various users.
Find customers easily by filling in their name, phone number, email, etc
Allow both guest checkout and account checkout
Process payment without internet connection
Multiple payment methods: cash, debit/credit card. Possible to split payments. You can add & customize another two payment methods for your business needs. 
Apply discounts and coupons
Pricing:
POS: $350
Installation fee: $12
Pros:
The ability to work in offline mode to process orders and sync data between your Magento store and your physical stores without trouble
A decent variety of payment options is available
Cons:
Until the time this article is updated, the tool does not support Magento version 2.4.3 
Can not integrate with your store loyalty program and use rewards points and store credits for checkouts. Lacks features for returns and refunds. 
Supermax's POS system's high performance is suitable for all mid-to-large Magento stores to speed up their checkout process and meet up their sales potentials.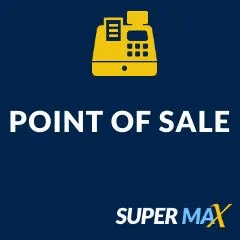 Highlight feature:
Operate in offline mode
Easily search products using the product name, SKU, type, and barcode
Create a new customer account or find an existed one during the checkout process
Import product with a QR code scanner
A popup window for product information
Hold the cart and restore it to continue the payment process
Add/ Remove tax, custom discounts, custom products
Split payments, custom payments
Assign outlets, inventory sources and grant access to POS terminals  for sales representatives
Access sales, customers, tax, and inventory reports sorted by cashiers and outlets. 
Pros:
Use advanced caching to reduce the POS' loading time
Free 3 months of customer support
Cons: 
Although guides are available, the setup process may be complicated and the extension provider will charge for installation. 
High cost
Does not sync with your inventory automatically
Boostmyshop offers an easy-to-use POS interface along with effective shortcuts and default settings to help Magento store owners manage online and offline checkout effortlessly.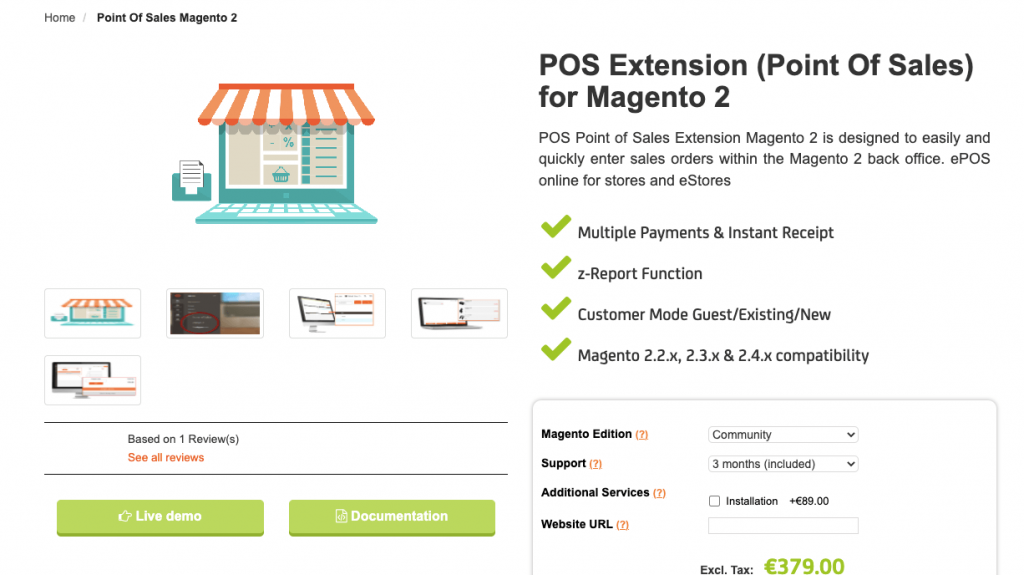 Highlight features:
Use barcode scanners to import products quickly. Shortcut buttons are available to find frequently-bought products in a minute
Guest-checkout: let walk-in customers purchase without create an account
Multiple payment options: credit card (Braintree, Authorize.net, Paypal), bank transfer, check, purchase order, and cash. Coupon codes, discounts and custom pricing are available. 
Sales report and daily reports
Create and print receipts automatically
View customers' detailed information and buying history
Pricing:
Open-source: €379.00 ($429)
Enterprise: €758.00 ($855)
Installation: €89.00
Pros:
Intuitive interface that's optimized for touchscreen
Support flexible payment methods including the guest checkout
Cons:
Does not support mobile wallets and QR code banners
Lacks some good POS features such as the ability to operate offline and integration with the customer's loyalty program
Wrapping up
So here are the best Magento 2 POS systems from reliable providers. Since there are not many differences in functionalities offered by these companies, it's best to list out some of your best choices for prices, features and try their demo versions.
Hope you can find the ideal POS system for your Magento 2 and bring your omnichannel sales strategy to the next level.