In the world of fast-paced growth in the technology, possessing a fully optimized e-commerce store is extremely an efficient approach to reach the high level of sales revenue.
With the profound impact of technology on people's lives, it is not strange to see that more and more customers are gradually moving to more modern channels to do shopping, instead of traditional channels as before. This pushes all businesses  to implement more efficient strategy including building up mobile sales app besides e-commerce website to reach the huge demand from online customers.
If your business owns a Magento website, then the trend nowadays is that online businesses not just focus on developing a website but the mobile app as well. It can be said that if small online retailers want to succeed, then they should carry out Magento mobile shop right now, certainly with low cost.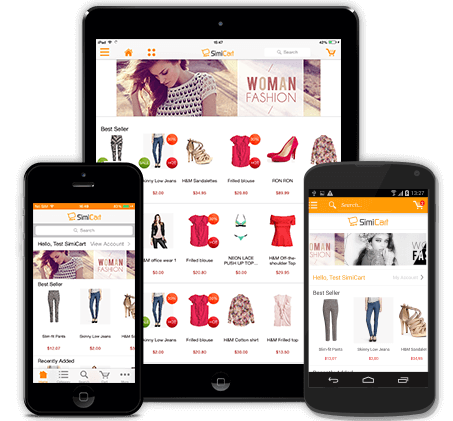 Best mobile shopping shop in the world
As you may know, with Magento platform, the best and most efficient mobile app builder to turn a Magento website into a fully optimized mobile screen is SIMICART. Equipped with unique app builder features, it is believed your Magento mobile shop will have the greatest functionalities which can attract millions of users to visit your m-store every day. As a result, the sales revenue will positively rise. Now, let's discover what a Magento mobile shop app has which attract the attention of several online businesses today.
Specific advantages of Magento mobile shop
Advanced optimization tools: Once mobilizing Magento shopping cart, you can optimize the content on mobile easily which means that you can modify the content, the images, the layout,…of your store and work on enhancing its aesthetics. In addition, you can promote the better navigation, menu and catalog display system which is meant so much for the mobile audience.
Extensive collection of native apps: As you know, the mobile version of e-commerce platform

supports native apps for Android and iOS

. Magento is also like that. Mobilizing Magento shopping cart is a very good way for online retailers to exploit the full benefits of all the features of such OS, including touch and motion sensation. By taking advantages of such features and optimizing the store design thoroughly, online retailers will have more chance to render powerful UI.
Appealing application interface: Magento app interface is highly intriguing and interactive and can allow the owners of the app to experience the consistency between their web store and mobile app. You are the owner of Magento website, then you can customize your store and take control of all the images and content placed in the app so that a large number of customers can get access to your Magento app with satisfaction.
Merchandising tools optimization: With Magento mobile shop, you can not only handle well the optimization of your e-store but also take control of your merchandising blues. Magento mobile store includes an array of merchandising tools allowing you to provide a better user experience. You can combine banners and themes in your site so that users can leave their comments on your store.
Requirements of mobilizing Magento shopping cart for high customer engagement
In this highly competitive market, to attain new customers and retain old customers, you should mobilize Magento shopping cart with the clear purpose of making it impressive with friendly user experience and catchy designs. You could customize the Magento shopping cart and make it unique as your brand. The changes in Magento website for the desktop then will be incorporated to your Magento iPhone app or Android app.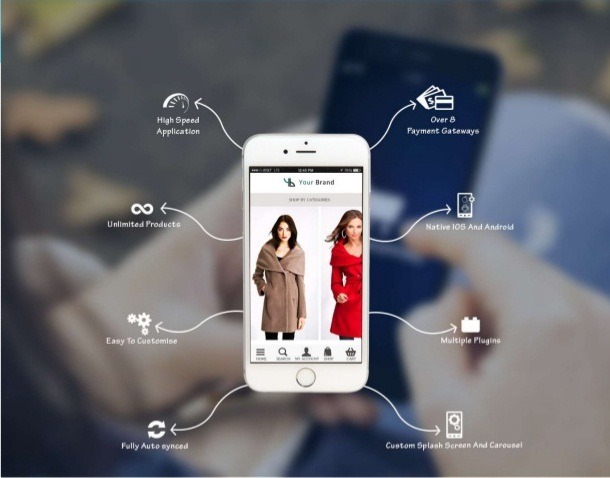 Full features of your next awesome magento app for mobile phone.

You should also keep in mind that however good your brand is, if after mobilizing Magento shopping cart, the app still not satisfy the customers, they will definitely abandon your app. Therefore, you should focus on the quality of the content, simultaneously optimize all the functions of your app such as check-in and checkout process, recently visited page, best seller products,….By doing so, you will give your competitors an exit out of the market.
In short,
Migrating to a mobile platform was never so easy! But if you miss the chance of mobilizing a Magento shopping cart, you will be likely to lose a large number of potential customers. Therefore, you should really take advantage of such great builder as SIMICART. You may wonder how to mobilize Magento shopping cart with low cost but still guarantee the quality, then Simicart is the greatest choice for you which both provides you with the most desirable mobile app just requires low cost from you.
You can track the price of it here! Then adopt one Magento mobile shop right now to experience fully all the advantages mentioned in this article. 🙂
Simicart
SEE ALSO: What First Time M-Commerce Entrepreneurs Should Know To Build Long Lasting And Profitable Business? »