Now, there is approximate 1,75 billion people using a mobile device in the world. So, if you succeed to access purchaser on mobile, you'll have 1,75 billion potential customers.
What do you think about this?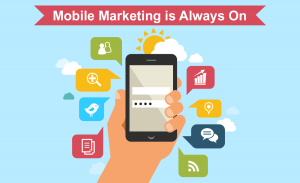 Accompany by increasing of mobile owners, mobile marketing was born and become a priority goal of business owners, especially small and medium business owners.
So, What is the mobile marketing?
"Mobile marketing is marketing on or with a mobile device, such as a smartphone." In other way, any marketing activity conducted through a ubiquitous network to which consumers are constantly connected using a personal mobile device.
Why should we use mobile marketing?
Mobile marketing has been becoming an effective way to access and sell the product because of two main reasons.
The first reason is convenient. Mobile marketing can provide customers with time and location sensitive, it's easy to personalize information that promotes product, service and idea. We can approach customers in all time not only eating time but also playing time if they turn on their mobile device. It's not inconvenient for your customer when your information sent them at that time; they'll stop everything to receive your message if these messages really meet their needs. You just need to know what they want and send it to them.
And another main reason is the quantity of people using a mobile device, especially smartphone.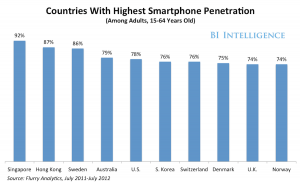 As you can see in the chart, the quantity of mobile user has been larger than the numbers of the desktop user in 2014 and continue to increase in 2015… So, mobile marketing is becoming an important field. Google and facebook are appreciating the website and advertise optimizing with a mobile device now.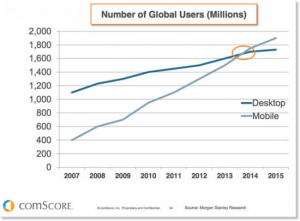 In the above chart, we can see the number of smartphone user from 15 to 64 years old in some country. The quantity of smartphone user are higher than 70% in the almost country, especially some country, these numbers reach more than 90%. All of them show that why should effort to dominate this market.
Some Types of popular mobile marketing
#1 SMS marketing
Marketing through cellphone became popular in Europe in the early 2000s and part of Asia when business started to collect mobile numbers and send off wanted (unwanted) content. On average, SMS messages are read within four minutes and making them highly convertible.
#2 MMS marketing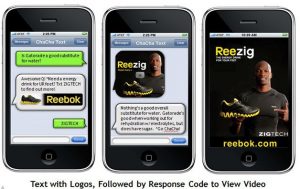 MMS mobile marketing can contain timed slideshow of image, text and video. This mobile device content is delivered through MMS (Multimedia Message Service). This type of mobile marketing can get highly convertible by viral content.
#3 App-based marketing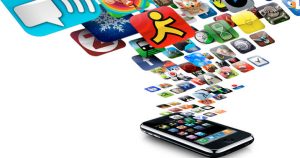 With increasing the number of the smartphone user, app usage has also greatly increased. Therefore, mobile marketing has taken advantages of the smartphone as a marketing resource. Marketers will focus on increasing the visibility of app in store leading to getting more download. Magento mobile marketing app is one of the most effective ways to get more engagement for m-commerce.
#4 In-game mobile marketing
There are essentially three main trends in the mobile game right now: interactive real-time 3D game, massive multi-player game and social networking game. This means a trend toward more complex and sophisticated. Marketers will deliver a promotional message within a mobile game and sponsoring entire game to drive customer engagement.
Magento mobile marketing
Magento mobile marketing is any mobile marketing activity conducted through object built on Magento platform. Magento is open source code having almost best supporting for the e-commerce website. Therefore, mobile commerce websites are usually built on Magento platform. If you want to succeed in mobile commerce, you need to prepare a Magento mobile marketing strategy.
Magento mobile app is a simple way to get succeed in Magento mobile marketing. Get a good Magento mobile app is getting a half of success in mobile commerce. Do you want a good Magento mobile app?
You can refer Simicart for a good Magento mobile app to get success in mobile commerce!
Conclusion
Mobile advertising has become more and more popular. However, some mobile advertising is sent without a required permission from the consumer causing privacy violations. It should be understood that irrespective of how well advertising messages are designed and how many additional possibilities they provide, if consumers do not have confidence that their privacy will be protected, this will hinder their widespread deployment. Mobile marketing is an effective way to increase your business, but it also has many risks. Therefore, you should have full preparation for "fight" and get the success in this field, especially Magento mobile marketing.
SEE ALSO: Mobile Marketing App – New types of mobile marketing »