Dear reader, welcome to the Magento Mobile How-to Series.
In the last few years, along with the evolution of the smartphone and tablet devices, there has been an increase in the number of visitors using the Internet from their mobile devices. E-commerce websites are no exception, and more and more customers are now using their mobile devices for the purpose of online shopping instead of their desktop computers. In order to attract more customers on your website and to make sure they visit your site through mobile devices, it is, in my opinion, a good investment to create a mobile application that will provide you with a full user-experience, and shopping satisfaction to all visitors, both old as well as new.

Read more : ccavenue payment gateway
Assuming that you are a Magento store owner, with some additional investments and a little time spent using Magento® Mobile services, you can build your own branded native storefront mobile application for iOS (iPhone, iPad) or Android based devices. Throughout this series, in easy and well explained steps, you will learn how to create and configure your own Magento® Mobile application from scratch through the admin panel of your Magento website. This courses does not require any extra programming skills; you just need to spend some time on it and I hope that you will enjoy it as much as I did while creating this tutorials.
What this series covers
Installing and configuring Magento Mobile Admin Panel (Must know), shows us how to identify to identify our installed Magento version and optionally install the necessary Magento Mobile Admin Panel extension in order to enable Magento® Mobile features for our site, since Magento Mobile support is not natively available on some older Magento versions.
Getting acquainted with Magento Mobile Admin Panel (Must know), shows that it is essential to get familiar with the possibilities available with Magento Mobile Admin Panel in order to better understand the next steps of this book. Also, we are going to look through most of the Admin Panel options and screens.
Creating a separate Store View for mobile application (Must know), will teach us the basic concept of the Website/Store/Store View scopes in Magento and also, how to create a separate Store View for our mobile app in order to separate layout, design, and the other logic from our main store on the web.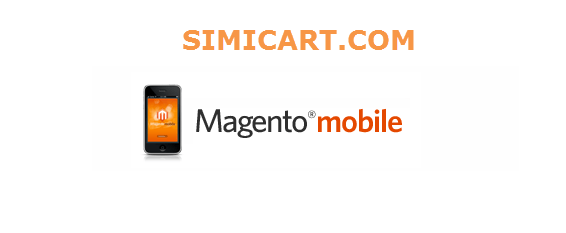 SIMICART – Best mobile shopping solution in the world
Configuring mobile themes for our Magento Mobile Store View (Must know), will help us determine if the mobile theme is already installed on our site and if not, how to install it. We will also learn how to configure Magento to recognize mobile browsers, and apply the mobile theme for these browsers as it is used for products/catalog display in our mobile app.
Preparing and updating product category thumbnail images for mobiles (Must know), will show us that mobile browsers mainly require different image resolutions than desktop browsers, and how to prepare and update separate category images for our mobile application.
Preparing your icons, logos, and other images for mobile applications (Must know), will teach us how to prepare all necessary images and logos for our mobile application and what formats and dimensions they should be in.
Updating an application's copyright information (Must know), will teach us how to update the copyright information for your mobile app through the Magento administration area.
Creating and configuring a basic mobile application (Must know), after all the earlier preparations, in this recipe we are going to learn how to create the basic configuration for our mobile app.
Styling your mobile application (Must know), having already created our first Magento Mobile app, it's time to learn how to design and configure its look and feel.
Adding static content (Must know), will teach us how to add and assign a static content to our app using the Magento admin area.
Configuring payment methods (Must know), shows that in order to have a fully functional mobile store, we need to configure the available payment methods used for a mobile checkout.
Configuring social networks integration (Should know), shows that social networking sites are a very important marketing tool these days, and here we will learn how to configure the implementation for the natively supported social networks, such as Facebook, Twitter, and LinkedIn from inside out in a mobile app.
Configuring the Push notification feature (Become an expert), will demonstrate that the Push notification is a very handy marketing and newsletter feature, and we are going to learn how to configure it so that we can use it with our app.
Installing and using the Magento Mobile previewer app (Should know), will feature the Magento Mobile previewer app, a free mobile application for iOS and Android that is provided by Magento in order to test the created mobile application configuration before publishing it to iStore/Google Play. We are going to learn how to install it and to use it in order to preview the mobile application we are currently building.
Enrolling into the iOS Developer Program (Should know), will teach us how to enroll on the iOS developer program in order to get the necessary credentials for iStore.
Enrolling into the Android Developer Program (Should know), is going to teach us all the necessary steps for enrolling on the Android Developer Program in order to be able to publish our mobile app on Google Play.
Application submission to Magento Mobile (Must know), after the application is configured, it's time to learn all the steps for application submission to Magento Mobile, who will deploy our created app on iStore/Google Play for us.
Application resubmission and monitoring progress (Should know), will teach us how to resubmit our application if we made some core changes to it, and also how to track the progress of our submitted app.
Push notification messages administration (Become an expert), will teach us how to create either a plain text or a rich HTML template for our Push notification messages, and also how to queue the messages and track their progress.
Who this series is for
This course is mainly aimed at merchants – Magento store owners, but also for developers and other curious readers, as it does not require any special knowledge about programming and Magento App. By following the simple, practical steps in this book, every interested reader can become a real expert in the planning and configuration of Magento Mobile applications.
Hope it help and you will enjoy this course!
SIMICART
SEE MORE: