Inventory management is always challenging for any store owner, as it takes a lot of stakeholders and tools to run smoothly. This data-based job also requires detailed and accurate reports on all activities and changes to keep track. For the time being, there has not been a default report for inventory management from the Magento platform. Fortunately, this demanding task is eased with the Inventory Report extensions or features brought by several leading Magento 2 providers.
What is Magento Inventory Report & How does it work?
Definition
The Magento Inventory Report is an advanced feature developed to capture inventory changes within Magento stores. Besides, it generates the inventory report in grid form for valuable insights and better decisions.
Key features
Automatically list all changes for keeping track
There are so many purchasing processes and orders every day that you cannot write down each and every one of them. You would want all stock activities to be recorded in the system, then generated into a clear report for you to have an overall view of the business.
Magento Inventory Report would list these changes in a grid view, including the total or each product quantity changes; when they happened, who did the orders, and purchasing history.
Generating detailed reports of all or each product
A Magento inventory report grid keeps track of and displays all information regarding inventory movements. It allows exporting data files in CSV format, applying filters to sort them out and view them properly.
Every modification to the stock from both buyers and administrators will be recorded, namely placing new orders, canceling, creating credit memos, importing products, and altering the amount on the product edit page. To see each product report, there is the Product Name and SKU (stock-keeping unit), all linked to the edit page, which you can click to view.
Users can sort the order quantity from the most recent date right on the detail page and do not have to check the Sales page. They also can choose to delete the Magento inventory report logs as their wish.
Monitoring user groups
In Magento, the three user groups that have impacts on stock change are admins, guests, and customers. An Inventory Report module will help admins identify the extent of change each group made to the inventory. In this way, store owners can check on the work of every administrator and guest visitor, as well as customer ordering decisions, and develop a suitable strategy for the best store operation.
Especially, some inventory report extensions include an information section/page for every customer who made orders on the site. This is a great feature for admins to have an overview of their buyers and a clear perception of customer personas.
Why do you need an Inventory Report for Magento?
Have a fully detailed and accurate report
Fully viewed in the grid, a detailed and insightful inventory report is ready for your use. You can choose to see the full report or each product report with some key metrics such as Product Name, Product ID, Product SKU, Date Created, Quantity, Quantity Change, Stock Status, Note, User, and Sales.
These reports are all tailored to the business's requirements. So it offers a personalized tool for users to view and monitor the number of orders placed, revenue, the number of items sold, the average order value, and customer data. Thanks to that, these reports come with great accuracy, which you can trust and base on to make any essential decisions.
Manage the warehouse effectively
Whether you are a novice or an experienced retailer, inventory management demands a lot of focus. Therefore, with the inventory report, you can keep a closer eye on the item status, whether it is filled, withdrawn, or sold. Moreover, you are able to monitor the warehouse's everyday operations, from goods transportation and storage to picking up. Your business may save a lot of time and effort with the assistance of the report.
As a result, you would know which items are popular and which are not to display in suitable positions in your store and adjust importing quantity.
Forecast stock demand and avoid stock problems
Did you know that out-of-stock situations can be more costly than you imagine? This is mainly because customers tend to move to other stores when the stock runs out. Chances are you cannot sell your products and lose your customers to competitors at the same time.
Therefore it is important to prevent this situation in the first place by having a demand forecast to store up the efficient amount. With Magento Inventory Report, you can see which products are hot items and which are not to balance the stock. Also, you can prevent wrong supply and miscount between the store and the warehouse.
Furthermore, your business is more likely to avoid over-ordering in the future after getting a broad picture of inventory changes through time from the report. And when based on a perfect understanding of demand and supply chain, your estimation will be more reliable.
Support business performance, sales, and marketing
Compiling information from all sites and warehouses, the inventory report allows store owners to see the overall inventory movements, which can be used to assess business performance. Accordingly, you can develop strategies to reinforce your business management and operation.
And again, thanks to the valuable and insightful data on stock and customers, sales and e-commerce marketing activities can be properly implemented, bringing more income to the company.
Suggested Magento Inventory Report extensions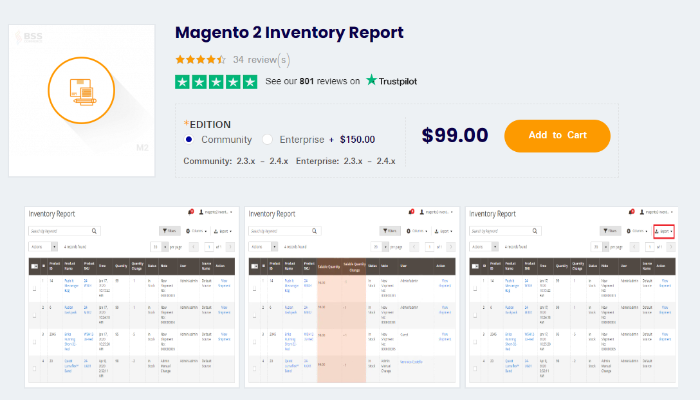 Highlight features
Automatically list all inventory movements (stock quantity changes only) of all products in your store in a grid
Track changes in quantity in the separate grid for each product
Conveniently export the inventory report in a CSV file
Easy to delete inventory logs in the grid
Price:
Community: $99
Enterprise: $249
Compatible with: Magento CE, EE, 2.3.x – 2.4.x
Customer service:
One-time payment
Free 1-year support
Free lifetime update
Free Installation
30-day money-back guarantee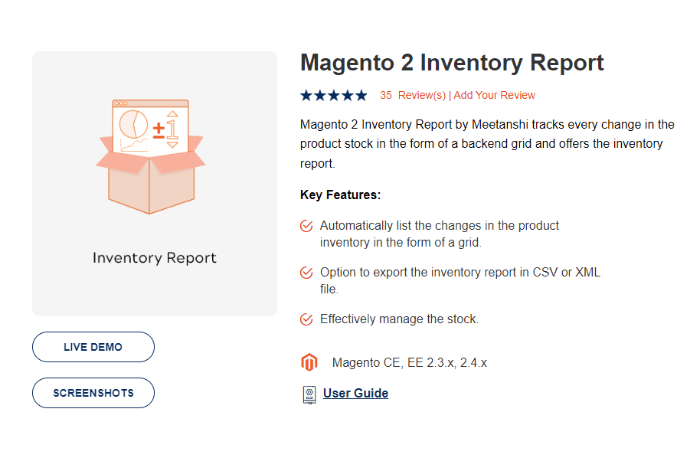 Highlight features:
Automatically list the changes in the product inventory in the form of a grid.
Option to export the inventory report in CSV or XML file.
Effectively manage the stock.
Price:
Community: $59
Enterprise: $259
Compatible with: Magento CE, EE, 2.3.x – 2.4.x
Customer service:
Free 90 Days Support
Free Lifetime Updates
25 Days Marketplace Return Policy
Multi-Store Supported
Demo: live demo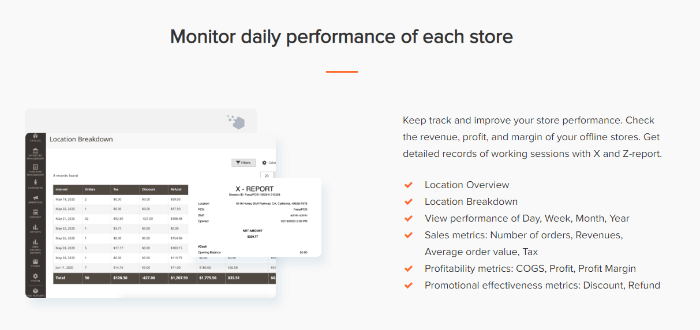 This Reporting feature allows users to audit the stock flow from all channels, keeps the inventory accurate, and gets real-time statistics to have a clear picture of their e-commerce activities.
Highlight features:
Real-time inventory sync across sales channels and warehouses
Manage product from locations and dates
Record and adjust inventory
Export report data for in-depth analysis
Customizable and open source
Price: Contact Magestore
Customer service:
1-year solution building
Free 1-year support
90-day money-back guarantee
Demo: Contact Magestore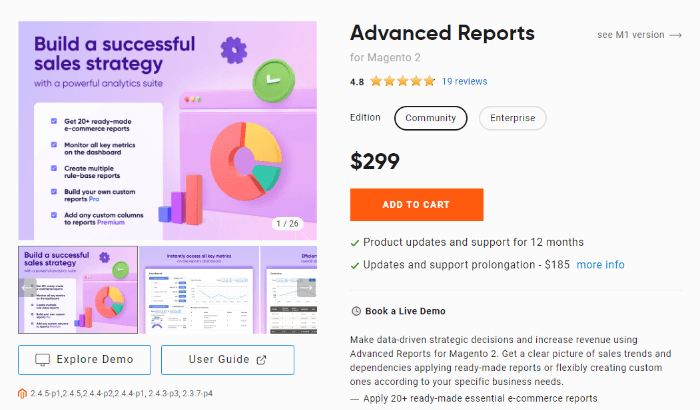 Even though this is not mainly an Inventory Report, this extension is the "ultimate" reporting tool that covers all the key metrics. Obviously, with the whole package, the price is much higher than only Inventory Report extensions. However, if you want a thorough look at your business performance in general and stock management in particular, you should consider this one.
Highlight features:
20+ ready-made essential e-commerce reports
All the key metrics at hand on the dynamic dashboard
Track sales performance and inventory changes in real-time
Build an unlimited number of custom reports
Use multiple filters for extra accuracy
Visualize with interactive charts
Enable multi-currency support
Price:
Community: $299 First Year, $185 From Next Year
Enterprise: $599 First Year, $365 From Next Year
Compatible with: Magento CE, EE, 2.3.x – 2.4.x
Customer service:
1-year product updates
Free 1-year support
Free Installation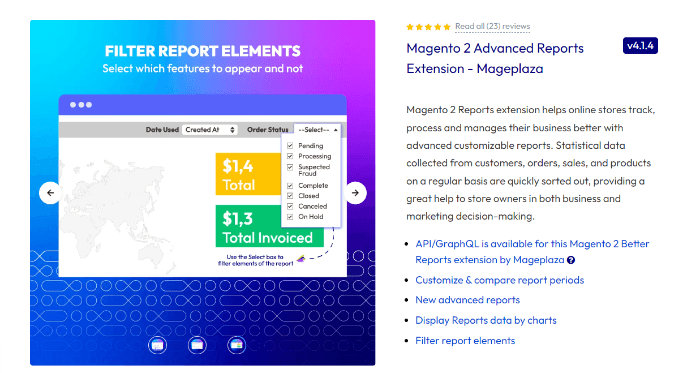 Providing the same features as Amasty's Magento 2 Advanced Report, this Mageplaza extension also helps online business track and manage better with advanced customizable reports.
Highlight features:
Customize & compare report periods
New advanced reports
Display Reports data by charts
Filter report elements
Flexible Dashboard layouts
Price:
Community: $99 First Year, $59.4 From Next Year
Enterprise: $299 First Year, $179.4 From Next Year
Compatible with: Magento CE, EE, 2.3.x – 2.4.x
Customer service:
1-year updates
Free 1-year support
Free Installation
60-day money-back guarantee
Demo: here
Conclusion
To sum up, Magento Inventory Report will assist you effectively in stock management and further business decisions. With detailed reports of many key metrics, we are sure you don't want to miss the opportunity to make this task more accurate and less daunting. So, don't be afraid to do some research and pick your match from the ones we've listed above.